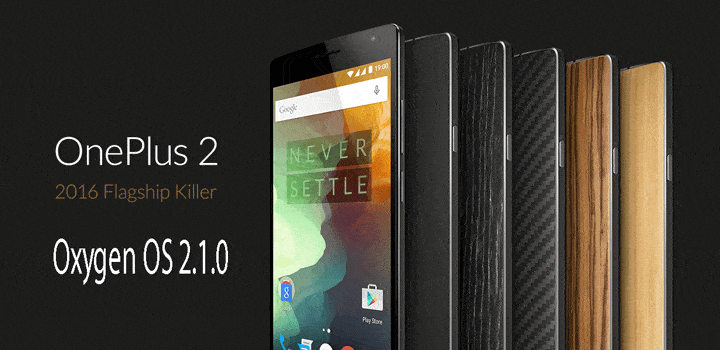 It isn't long that the OnePlus 2 received the Oxygen OS 2.0.2 update earlier this month and the OnePlus community has released yet another update to its new ROM. This will take the Oxygen OS to version 2.1.0. OnePlus 2 has been getting better and better with its Oxygen OS updates. The new update comes with important bug fixes and stability improvements. The update brings manual mode in camera settings, raw support for 3rd party camera apps, exchange support and more.
Here are some highlights:
Added manual mode for photography enthusiasts. This will give you more control for capturing that perfect moment.
Raw support is now enabled for 3rd party camera apps that support this format
There's a new color balance slider in Display for adjusting the color tone of your screen. You can now go warmer or cooler as you please.
Added Exchange support.
We fixed some issues that were causing problems with popular 3rd party apps.
Telephony service improvements so you no longer get the lag when you turn on/off airplane mode.
The Oxygen OS update v2.1.0 installs readily on the OnePlus 2 using the stock Recovery. However, to update to the latest version, you need to be on v2.0.2 and make sure you have not made any major changes to the system. If you have rooted your stock ROM, then you need to flash the full firmware via a custom recovery like TWRP. Make sure you have the latest TWRP recovery installed on your device.
Download Section
OnePlus 2 Oxygen OS 2.1 Full ROM update (File: OnePlus2Oxygen_14_OTA_008_all_1509191929.zip (1.1 GB))
Install Oxygen OS 2.1.0 OTA Update with Stock Recovery
Make sure you are already on Oxygen OS v2.0.2.
Download the Oxygen OS 2.1.0 OTA zip file from the Download Section.
Transfer the OTA zip file to your phone's internal storage.
Now, you need to boot your OnePlus 2 into Recovery Mode.
Once your phone boots into Recovery Mode, Select Apply Updates and navigate to the OTA file you just saved on your phone.
The installation process will start on your OnePlus 2 and take a few minutes.
Once the installation is successful, it will automatically reboot. Otherwise, go back and reboot to system
If you have a rooted OnePlus 2, then you can install the full ROM through TWRP. However, this process may remove all your previous apps, data and system except for the internal storage. So a backup or nandroid backup is highly recommended.
Install Oxygen OS 2.1.0 Full ROM with TWRP Recovery
Download the required ROM (full ROM) file for OnePlus 2 from the download section.
Now transfer the ROM into your device's internal storage. Place the file where you can easily locate it.
Now reboot into TWRP. To boot into TWRP, power off your phone and press and hold volume down button and power button at the same time.
It is highly recommended that you perform a nandroid backup. To backup your ROM, tap on backup option and select the following elements: System, Data, Boot, Recovery, EFS and swipe right to backup, where appropriate.
Wiping System and Cache is recommended. After performing the ROM backup, return to the TWRP main menu and tap the Wipe button and select Advanced Wipe. Then wipe Dalvik Cache, System and Cache. (If after the complete process system does not boot, try wiping the Data as well. But its will remove all your data)
Go back to the TWRP main menu again and tap on Install option. Navigate to the ROM file and select it.
Swipe the confirmation button to proceed with the installation. The ROM will be installed.
Once installed, reboot to system.
Once you boot into the system, you can now enjoy the latest Oxygen OS v2.1.0 on your OnePlus 2 device. If the system does not boot, you can restore the backup from TWRP. If you have a query, comment down below.