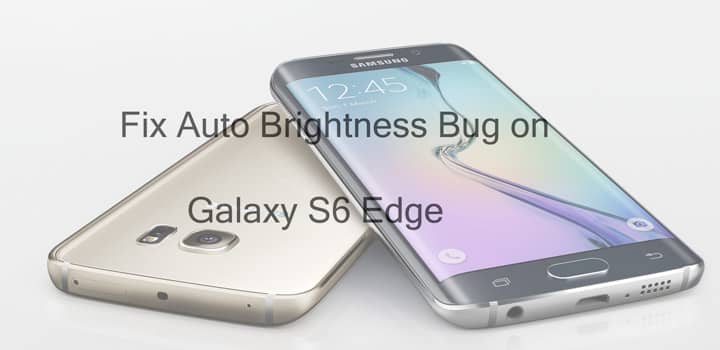 Galaxy S6 Edge is a powerhouse phone from Samsung that comes with some imposing specifications. Its Quad-core processor, 3GB of RAM and a QHD display, makes the flagship phone indomitable among its rivals. With the latest Lollipop firmware and confirmed Android 6.0 Marshmallow update, the software support from Samsung has always been content to its users. Although Samsung is good at pushing an update to fix any glitch in its firmware, the manufacturer seems to have left behind quite a few bugs like the RAM Management issue in Note 5 and the auto brightness bug in Galaxy S6 Edge.
The auto brightness bug, however, occurs only in Galaxy S6 Edge when compared with the regular Samsung Galaxy S6. When you put the screen brightness at max, the screen doesn't seem to be as bright on the S6 Edge, as compared to that on the Galaxy S6. The S6 Edge sometimes seems to keep the auto-brightness function active even after turning it off. However, there is a way to fix these issues. All you need to do is replace the services.jar file with a new one available in the downloads section. The two mentioned bugs with the S6 Edge brightness will be fixed without affecting other features of the phone.
This works for Galaxy S6 Edge and has been tested on the DEODEXED G925F OH8 and OH2, G925F OE3 and G925P OFE build. So if your device is not among these builds, then you can send a request for the services.jar file to the developer. You must have a deodexed ROM for this purpose. It is recommended that you backup all your apps and data before you proceed, just in case anything goes wrong.
How to Fix Galaxy S6 Edge's Auto Brightness Bug
Download the services.jar file from the download section for your S6 variant.
Go to system/framework, and you will see the original (services.jar) file in the folder. Do not replace it just yet. Copy the original files somewhere safe or simply rename the file with a .car or similar extension. This way you will have a backup if you want to revert back to the original file. In short, have a backup of the original file in case anything goes wrong.
Now place the services.jar from the zip in the same system/framework folder.
Set the file permissions to rw- r- r- from the properties.
Reboot the device.
Once you reboot your device, the auto-brightness bug should be fixed. For any queries, comment down below.