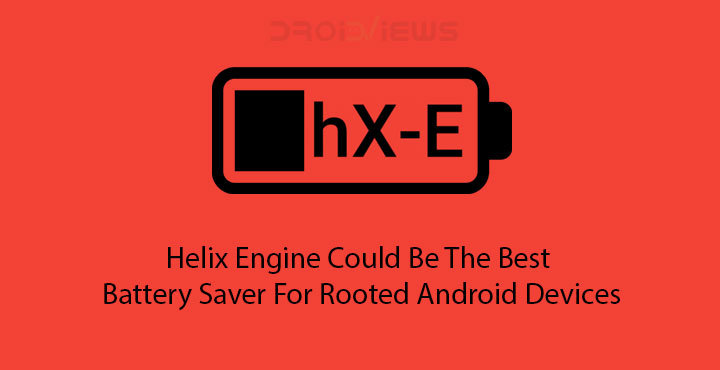 If you're into rooting and installing custom ROMs, that sort of stuff, you may be familiar with extreme battery saving measures. Things like fiddling with the ram management, CPU governors, prove way more beneficial when it comes to battery saving than the supposed battery saver apps. There were many apps that allowed a rooted user to do these things, but none became quite as popular as Kernel Adiutor. Perhaps due to it being the first, and at that time the only such app that also looked beautiful. Helix Engine by Team Helix is a similar app, yet it is quite different too.
For instance, Kernel Adiutor requires a compatible kernel because it works on the kernel. Helix Engine does not need a kernel management application. The greatest advantage it offers though is the automation. If the name seems familiar, it's because Team Helix is the same group of developers behind the Helix Kernel that is now available for a number of devices. Helix Engine takes advantage of Android's accessibility services to detect package names and apply a certain performance profile. By the way, yes, an app that is mentioned in the same article as Kernel Adiutor will most certainly require root access.
Install Helix Engine
Helix Engine is an Accessibility Service which automates dynamic performance profile switching (battery/balanced/performance modes) to provide better efficiency, improve battery consumption and performance depending on your usage. Each profile will correspond to which script, that is fit for the profile, is executed.
[googleplay url="https://play.google.com/store/apps/details?id=com.teamhelix.helixengine"/]
Don't miss: All About Smartphone Battery: The Facts, The Myths
Features
As already mentioned before, the best feature by far that the app offers is automation. Because it can detect the currently running app, it can switch your device's performance based on it. For instance, when you're playing a game you would want a smooth performance but you might not mind a few hiccups with a news app. The app has predefined settings and profiles data for a number of apps based on your specific processor. These settings can be manually changed, of course.
You can whitelist apps that you want to run normally. This can be helpful if an app shows unexpected behavior due to Helix Engine. While this doesn't often happen, it's good to have this feature because the app is currently still in beta. The app works on all Android devices with an arm64 architecture regardless of the manufacturer, ROM or kernel. Here's an official list of all the features:
App Engine
App Lists Customization
Profile Data Customization
Suspend Engine
Helix Engine Operation Modes
Background Task Smart Checking
Over-execution prevention
On-Boost Optimisation
While much of the app is free, some features are available only after a one-time payment:
Backup and Restore app lists
Backup and Restore profile data
View system apps
Search through App Lists
Grant Accessibility Permissions
Just as you open the app, you will be asked to allow root access to the app. Without root access, it would be impossible to make the necessary changes to the CPU frequency and profiles. Once you've granted the root permission, you'll see the app's homepage. It shows you the status of the Helix Engine, as well as information about your device such as the Kernel Type and SoC Model.
Must read: Fonts, and System Sounds with MidnightCore
Many manufacturers these days build their own power saving features which can conflict with the Helix Engine. Whether your device already has a power manager is also displayed. You can tap on the card to disable your device's inbuilt power manager if you want. Keep in mind this can be a bit risky, so make sure you back up your device before proceeding. Tap on ENABLE on the Helix Engine card which will currently show it as disabled.
This will take you directly to your device's Accessibility settings page. Tap on Helix Engine and then turn on the toggle on the next page. Tap OK to confirm. When you return back to the Helix Engine app, it is possible that it will still show that the engine is disabled. Simply exit and re-launch the app and the engine will be shown as enabled.
Settings
On the app's main page, you can easily select the mode you want your device to run on by tapping Operation Mode. You'll notice that all modes are dynamic, so there will still be some room for apps that need those extra resources. If you pull the side menu drawer, you can access the app's settings. Here you can basically Force or Disable the suspend engine. A little below the Settings on the side menu drawer are the various profiles which you can customize by tapping on them. Although, if you don't already know what you're doing, it'd be best to leave everything as is and let Helix Engine work its magic.
Useful tips: Does Lowering Screen Resolution Increase Battery Life?