Google announced Stadia a few months ago and if you're interested you already know what it is. In short, it's a new subscription service for games. That makes most people think, "so a Netflix for games" but not, if only. Google Stadia is a very different approach and frankly, it's hard to see it explode like YouTube or Android. Google Stadia has some glaring problems and Google is not Apple. Their track record is proof enough.
Games Available On Stadia
Before we get to the negatives, here's something that's great about Stadia and it is the selection of Games. At launch, only 12 games were available. As of this writing, however, there are 45 titles available on the platform:
Anno 1800
Assassin's Creed Odyssey
Attack on Titan 2: Final Battle
Baldur's Gate 3
Borderlands 3
Cyberpunk 2077
Darksiders Genesis
Destiny 2
Destroy All Humans!
DOOM
DOOM Eternal
Dragon Ball Xenoverse 2
Fary Cry 5
Far Cry New Dawn
Farming Simulator 19
Final Fantasy XV
Football Manager
For Honor
Get Packed
GRID
GYLT
Just Dance 2020
Marvel's Avengers
Metro Exodus
Mortal Kombat 11
NBA 2K
Orcs Must Die 3
Power Rangers: Battle for the Grid
Rage 2
Rise of the Tomb Raider
Samurai Shodown
Shadow of the Tomb Raider
Steep
Superhot
The Crew 2
The Elder Scrolls Online
Thumper
Tomb Raider Definitive Edition
Tom Clancy's

Ghost Recon Breakpoint
Rainbow Six Siege
Splinter Cell Blacklist
The Division 2

Trials Rising
Watch Dogs: Legion
Wolfenstein: Youngblood
That's not all either. Ubisoft's Uplay+ subscription service is also available for $14.99/month and it brings over 100 games, including upcoming games and DLC packs, etc. This is on top of the aforementioned standalone titles. Neither EA nor Google has said anything about EA access being made available. And yes, you will have to pay for these existing subscription services on top of your Google Stadia subscription.
Google Stadia Problems: Cost
Now Google Stadia is starting to sound more like Apple TV+. You get to stream some stuff and you can also stream stuff from your other subscriptions within the same service. But this is when it gets even weirder. Sure, Google will release a free game here and there like PlayStation Plus or Xbox Games for Gold. It is more likely that you will still have to buy most of the games you play, just like you do now. So there is a Google Stadia subscription, any other subscriptions you may have, plus the cost of the games you will most likely have to buy anyway.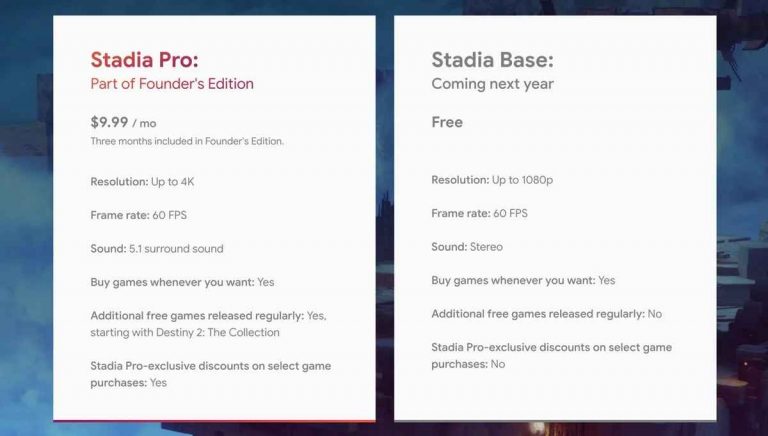 Google Stadia, at least it seems, aims to bring high-end gaming to the masses. One way to bring something to the masses, no matter how problematic, is to make it affordable. Who should know that better than Google, they brought us Android. Android was a garbage bin of problems in the beginning. But it was way cheaper than anything that ran iOS. Google Stadia seems to have cost as a problem, rather than an advantage.
Don't Miss: Map Any Button to Launch Google Assistant
Google Stadia Problems: Lag
When Google announced its game streaming service, lag was the first thing on everyone's minds. Google knew it would be, so they assured that Stadia will be mostly lag-free. They promised a gaming experience that you would have on a high-end gaming machine. But here's how Google Stadia works. It streams a video of the game footage on your screen. You can interact with it using the Stadia controller. The game is running at a server far away from you though. So the controller needs to send the input all the way to the servers. The game will then respond to the input and that data will be streamed to your screen.
Naturally, people were skeptical of Google's claims. Now that Stadia is out, and early reviews are in, those fears have been proven true. now the lag isn't as bad as you would think. Games are certainly playable barring a few hiccups here and there. But if you have a high-end gaming rig or even a console, you know what even a second of lag can do to your online multiplayer experience. For most people, it's better than not being able to run a game like Destiny 2 at all. Google Stadia's problem of lag can't be denied, however, and it ruins the experience.
Google Stadia Problems: Internet Speeds and Data Caps
The image above shows the recommended internet speed requirements for Google Stadia to function properly. So if you want to use it lag-free, without stutters, you can only play at 720p if you have internet speeds of 10Mbps. This is the bare minimum with no support for HDR or 5.1 surround sound. For 4K, you'll need a nearly 35Mbps connection. That's simply not affordable in most parts of the world, just like a high-end and expensive gaming PC.
Not to mention, a whole lot of people even in Google's home country don't have access to unlimited data. Data caps are an even bigger problem for Google Stadia than internet speeds.
Google Stadia Problems: Google
Yes, Google itself is a huge problem that makes many like me skeptical of this new service. Time and time again we have seen Google try their hand at something, fail, and then kill the service. I don't even remember all the communication platforms Google tried creating like Hangouts, Allo, etc. Google+ had to die after years of existence, abandoning the small communities that were thriving on the platform.
What if against all the skepticism, you decide to invest in Stadia. You're subscribed, you've bought games, you're building your library, and then one day Google decides it's over. The games you buy stay on Google Stadia. much like the books or movies you've bought on the Google Play Books or Movies platforms. Games are a whole lot more expensive though.
When I said earlier that Google isn't Apple, this is exactly what I was talking about. I love my Android, wouldn't exchange it for iOS even if you paid me anything short of $500. But, credit where it's due, Apple makes things work.
Why? You ask?
When the iPhone originally launched, it wasn't the best phone money could buy. It had glaring ommissions. Before 2019, I don't even remember the last time an iPhone was the best smartphone of the year. 2014? But Apple made it work. The iPad was called a blown-up iPhone, and a decade later, the iPad is its own brand. In the meantime, Google tried and gave up on tablets altogether.
The original Apple watch was nothing special, it was exactly what Samsung did with their first watch. And yet, years later, everything pales in comparison to the Apple Watch. I recognize these are hardware,  while Google is trying to sell us on service. So let's take Apple Music as an example. Google got into music streaming way before Apple did.
Google Play Music was pretty nice too. When Apple Music launched, its Play Store rating was laughable. It was a bad product and service all around. In 2019, Google has no idea what to do with Google Play Music, they also have YouTube Music. Neither of these is as good as Apple Music which is gaining ground faster than Spotify can lose it.
So yes, forgive me for not having a lot of confidence that Google will fight for it, fix the problems, get its mess sorted out and deliver us a service we don't regret opting for.
Read Next: Android vs iOS Users: Who are More Loyal?