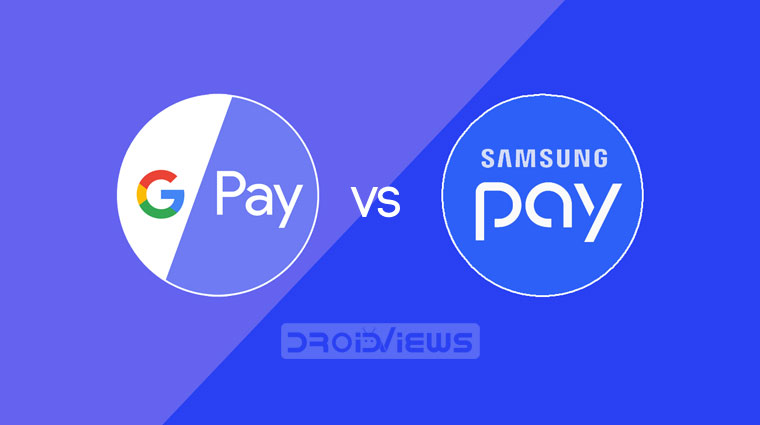 In the recent past, our payment systems have gone digital. You now rely on the digital payment systems like the UPI, wallets or the pay framework. If you are using these digital payment methods then, surely you know about the Google Pay and Samsung Pay. Let's check which mobile payment service is the winner in the Google Pay vs Samsung Pay battle.
Nowadays, most of us use digital payment mediums for shopping or buying anything. We do not rely only on the cash payment method. Moreover, due to enhanced security and tight payment laws, we are more inclined towards digital payments.
This article and guide will help you get a clear picture which one of the payment methods is better. Both are available for Android and can be compared on the same grounds. Let us understand and compare Google Pay and Samsung pay in more detail.
What Do You Mean By The Suffix "Pay"?
The easiest way to understand the term Pay is, they are basically digital payment apps. You have to download and install it in your Android smartphone. Then, you have to enter your credit/debit card details and use it securely to do over the counter payments. This is still is the adopting phase in India and is expected to be accessible nationwide.
Now, you might ask another question. You might think, What makes them so smart? The answer to this is pretty simple and straightforward. It allows you to go completely cashless or carry very little cash. You can make your payments via your smartphone directly. No need to carry your wallet or anything.
The method may vary on both these platforms but the basic concept is the same on which they are built. Moreover, Google Pay was launched almost 3 years ago and was previously called "Android Pay". It is said to be an evolution to the already existing "Google Wallet". Later Google decided to merge both the platforms and hence came Google Pay.
Google Pay was launched in India in 2017 and since then it is a huge hit. Moreover, the transaction on the Google Pay hit $81 billion in March 2019.
Read Also: 10 Best Samsung Themes for One UI / Android Pie (2019)
Samsung Pay was initially launched in South Korea in August 2015. It came to the USA a few weeks later. However, it arrived in India in 2017. And, instantly it became a hit for the company as it became the 3rd largest market. But the fact that this payment method is exclusive for a user who has Samsung smartphones.
So, it has a straightaway limitation but, there is a huge bunch of population that is using Samsung's Android Smartphones.
Google Pay vs Samsung Pay
How Does It Work?
Google Pay uses the NFC technology for its payment mechanism to work. The point of sale technology also uses the same NFC technology to interact with the Google Pay framework. You just need to download the app and enter your credit/debit card information. The payment process is much simpler. All you need to do is tap your smartphone on the machine and the payment is done.
This is where Samsung Pay works a bit different from Google Pay. Moreover, it can use the NFC technology as well to make the payments. But, even if the point of sale machine does not support NFC, you can use Samsung Pay.
Thanks to the MST technology that is being included in the latest Samsung Smartphones. MST or Magnetic Secure Transmission interacts directly with the machine and allows to the payments. MST is also sometimes referred to as Magnetic Strip Technology.
Don't Miss: Enable Gesture Navigation on Google Chrome for Android
Added Features
Google Pay lets the user save information like card details, visa supported cards, loyalty points, etc. You can also send and receive money directly within the app.
Moreover, the supported financial institutions include American Express, Discover, MasterCard, Visa, and other banks. In addition to India, Android Pay is available in the U.S., Japan, Ireland, Singapore, Australia, New Zealand, Hong Kong, and Poland.
Samsung Pay, on the other hand, lets the user earn reward points from their Samsung Rewards System. For every transaction you make there is a set reward point you get. Samsung Pay currently supports most cards in India such as Standard Chartered, State Bank of India, ICICI Bank, HDFC Bank, etc. Paytm mobile wallet can also be utilized.
Security
Google Pay uses all your biometric and facial recognition system to provide security. You have to use these biometrics to confirm the payment. Moreover, if your smartphone does not have a biometric feature then you can also use passcode or pin.
Samsung Pay uses a different method for enhanced security. It uses tokenization. In other words, with each purchase you make, your smartphone sends a 16 digit token representing the credit/debit card. And, then your phone generates a one time code using the phone's encryption key. But what gives Samsung a more edge in this department is that it offers a free service. Using this service you can erase or remotely lock your device.
Other Differences Between Google Pay and Samsung Pay
On the whole, we can detect a few differences between these two payment methods. They are;
Samsung Pay is available only for Samsung devices whereas Google Pay is available for any Android Device.
You can find some of Google Pay's functions on the iPhone. However, there is no case of such similarity between Samsung and Apple.
Google Pay can be used in places where NFC machines are installed. But, Samsung Pay can be used on any terminal that accepts credit/debit cards.
Google Pay can also be used to send and receive the money within the app, whereas Samsung pay does not have this feature.
Google Pay is available for desktops but Samsung Pay is only available for Samsung Smartphones.
The Verdict
I wind up my Google Pay vs Samsung Pay comparison here. You can get a clear picture once you put all the information related to these two payment methods on the table. Clearly, both have their advantages and disadvantages. But overall, you get a seamless cashless payment experience using either of the two.
If you use a Samsung smartphone and travel to places where there is no contactless payment point of sale available, then Samsung Pay is your bet. Otherwise, if you have any Android smartphone, then you can use Google Pay. Moreover, you can also send and receive money from friends and family via the app.
One weird advantage for Samsung smartphone users is that they can anyhow enjoy both the payment method. Google Pay is for non-Samsung phone users. Overall, both are aligned to take our future into a cashless economy. And, with the increase in transaction numbers for both the Payment Gateways, you can understand the fact that people are accepting these methods of payments over the cash payment methods. Let us know in the comments which one out of Google Pay or Samsung Pay you use for digital transactions.
Read Next: Samsung Wings Fonts 3 (APK): Custom Fonts with One UI Support