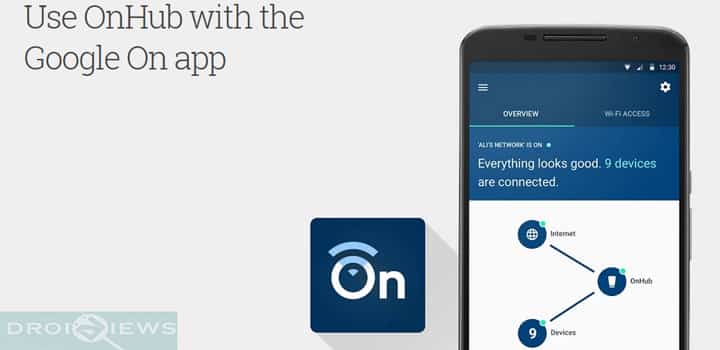 Google has been getting its hands on everything possible with its new innovative technologies and has a great vision for the future. Following Android Auto, YouTube Gaming, Android pay and many more, the tech giant has recently partnered with the networking product maker TP-Link to make a unique router called OnHub. OnHub is a good looking cylindrical Router, unlike the regular ugly looking routers, and has a lot to offer besides routing.
It is a smart router that can automatically adjust channels and bandwidth according to your usage. It has an inbuilt speaker on the top and also sports Bluetooth connectivity with your device. It remembers your device and opts for the best available bandwidth for you. Moreover, using an app, you can control and configure the OnHub smart router as you want.
The companion app for OnHub goes by the name Google On. The Google On app lets you set up and control your OnHub right from your mobile device. It guides you through setup procedures, provides tools to help you monitor and manage your connection. Moreover, if you come across any issues in your WiFi connection, then it guides you to troubleshoot the problems.
Using Google On, you can easily test the speed of your connection and if any problems persist, the app provides you with simple ways through which you can get the best available performance. You can also view all the connected devices to your Wi-Fi and check which of the devices is consuming the most bandwidth. The best part about Google On app is that you can control your connection from anywhere; using which you can troubleshoot right from your home or even enable a friend to help you remotely.
Here's what Google On has to offer:
• Set up your OnHub in just a few minutes
• Learn how to improve your Wi-Fi connection if there's a slowdown
• Run a network check to test your connection speed
• Easily share your network name and password to friends & family
• Make changes to your settings, such as your network name or password
• Remotely provide or receive help from friends and family
Google OnHub is available in many countries and you can but the device from  Google Store and other e-commerce websites. If you already own Google OnHub and want to control your network and use other facilities OnHub has to offer, then get the Google On companion app.
[googleplay url="https://play.google.com/store/apps/details?id=com.google.android.apps.access.wifi.consumer"]