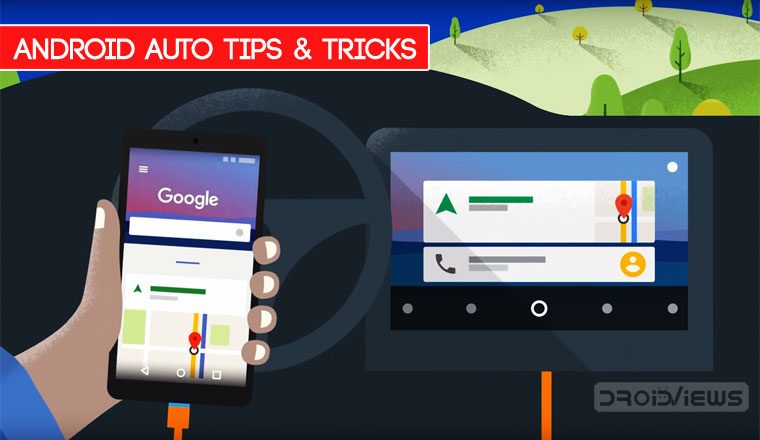 Google is one of the most trusted companies in the world. They are a technology giant. And when it comes to android apps, they are the safest bet to put our trust into. Android Auto is a multimedia/navigation app for four wheelers. You get a lot of benefits for having Android Auto installed in your car. Today, we've come with a host of Android Auto tips and tricks and some of its hidden features.
Almost all the new generation cars are coming equipped with Android Auto. Moreover, you get seamless integration with your other Android devices. This app lets you use your beloved smartphone apps while you are on the road driving. It has a powerful Google assistant, simplified interface and more.
Over 400+ car models support Android Auto. It provides easy connectivity and intuitive features. But hang on! There is a lot more you can do with Android Auto. This article at DroidViews aims at the top tricks for android auto that you should know. Let us get into them one by one.
Android Auto Tips and Tricks
1. Use Hands-Free Function To Make Calls
This is the most basic thing that you can do with Android Auto. Talking to someone while driving is fatal and could be a cause for an accident. To avoid such danger, you can use the "Hands-Free" feature of the Android Auto.
You have to say "OK Google" to activate the Google Assistant and say "Call XYZ" (XYZ is the name saved on your contact list). This is similar as you would do on your smartphone. Besides, you can also dial the number with the dialing pad at the bottom of the screen.
This is a great way to use Google Assistant in your car. You don't have to worry to pick up your phone and make the call. Just sit relax, drive and use Android Auto.
2. Do More With Google Assistant
Google Assistant is the best Android-based Voice Assistant. Other assistants are still not able to match up to it. The flexibility of doing a thing with our voice is incredible. And we get the same flexibility in our car with Android Auto.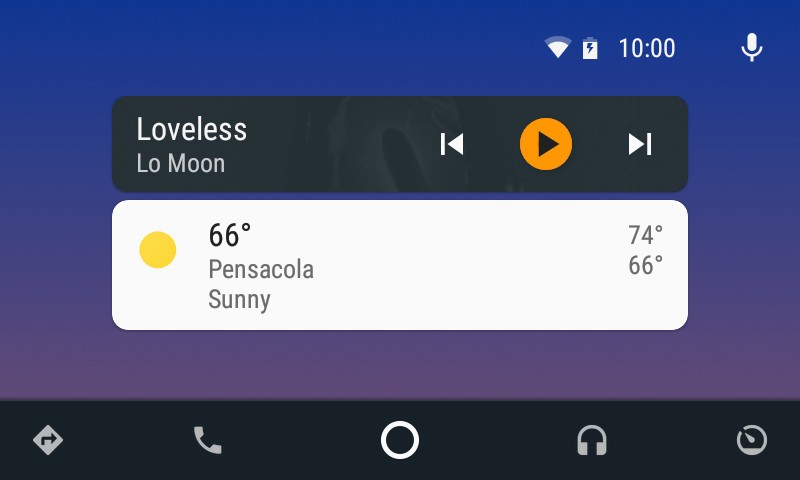 These questions or queries might not sound relevant to you, but it is a functionality which your car was lacking. With Android Auto, you can ask Google questions like "What's the news?", "What is the Weather Today?", "Remind me to go shopping?", etc.
You have to make sure that you activate the "OK Google" detection ON "While Driving".
Don't Miss: List of 70 "OK Google" Commands for Google Assistant
3. Use Navigation with Ease
While traveling, we need navigation help. Google Maps is our go-to direction assistance app on our smartphones. Now with Android Auto, we can have the same functionalities in our car. Android Auto makes this so much easier as we are more familiar with the Google Maps navigation system.
You just have to say "OK Google" with the destination name and it will be fed to the Maps page. The available routes to your destinations will be shared via Android Auto. The best possible or fastest route will be suggested via voice assistance. Another way to use Google Maps is to manually enter the destination and start the navigation.
4. Control Music Playback
Car plus music is something that comes with default. We love to carry our music collection on our mobile phones. What better way to use our favorite music player right in the car with Android Auto.
You are not limited to play songs stored on the pen drive or your smartphone.
Moreover, you can connect your smartphones music streaming services and listen to songs online. Besides, you can also use the voice assistant to play the song of your choice without even touching the car's interface. Before, using this feature you might also want to specify the music player or streaming service you want to use. Because your voice assistant might get confused with so many music apps on your device.
To set a specific music app go to your phone's Settings>Google>Search. Under Google Assistant header select Settings. Then tap Music, where you will see the list of installed music services. Select the default app you want to use with Google Voice. That's it!
5. Set Up Auto Reply
We have become habituated to pick up our smartphones every now and then. But, while driving it could be dangerous to type or even use the phone. Android Auto will help you with Auto Reply feature.
To set up this feature you can set up Auto Reply. Just go to the settings menu of Android Auto and turn this feature ON. You can also set a custom message or response. Besides, you can also opt to read the text messages aloud to you.
Must Read: 20 Google Maps Tips and Tricks and Hidden Features
6. Auto Launch Android Auto
For starters, it could be a bit lengthy process to connect your smartphone with Android Auto. But, there is another way which will connect your smartphone with Android Auto. The "Auto Launch" feature lets you automate this process.
This feature will open Android Auto in your car, whenever you connect your smartphone to the car's Bluetooth. To use this feature you have to go to Settings and tap on the "Auto Launch" under the Phone Screen Settings. There, you just have to enable the option of "Auto Launch".
Besides, there is another option of "Pocket Detection". This feature lets you connect your device to the car only when it is out of your pocket. Moreover, you can select the option to turn ON the Bluetooth whenever the Android Auto app is launched. You'll find this Android Auto tip interesting.
7. Install Third-Party Apps Supported by Android Auto
What better way if you could use your smartphones apps in your car. Android Auto allows you to do the same with ease. You can install third-party apps from the Google Play Store. You have to open the Android Auto app and then tap the hamburger sign on top to bring the list of menu.
Then select "Apps for Android Auto" which will show you the apps that you can install and use with Android Auto. You get messaging apps like WhatsApp, Telegram, Facebook Messenger, Skype, and others. Moreover, the list also includes various music apps like Google Play Music, Gaana, Saavn Music, etc.
Editor's Pick: 7 Best Android Auto Alternatives to Use in Your Car
8. Save Data and Battery
Our next Android Auto tip relates to saving that data consumption and battery juice while using the app. The point to note is that while using Android Auto in your car, it's your smartphone that is doing the majority of things. You are using the smartphone for data connection, Bluetooth, apps and more. This could result in your phone getting hot and also drain out the battery.
To save battery you can preload maps and other stuff when you are WiFi frequency range and then turn off the WiFi to save battery. Moreover, you could also use the "WiFi Suspend Mode" to stop searching for a WiFi signal. This will save your battery and won't heat up your device.
9. Stay Up to Date
Like your Android Device or Applications, Android Auto also receives frequent updates. These updates add more features and functionality to your Android Auto experience. You can subscribe to keep yourself updated about the latest news and updates.
You have to enter your email address at the bottom of the Android Auto's webpage to receive the latest news and other information.
See Also: Remotely Erase Android Phone Data without Internet
10. Appointment Settings For Google Calendar
This a great tip if you use Google Calendar to add reminders. You can add your meetings, interview, shopping dates, etc as a reminder on the calendar app. While setting a reminder on your Google Calendar through smartphone or computer, make sure to put in the address of the appointment.
This allows the Android Auto to directly launch the Maps and show the address of the destination. Moreover, this will also help you to get warnings of when to leave for the appointment based on the traffic situations in the route to the destination.
11. Enhance Your Music Listening Experience
The in-built music system in cars are good but, we do not get many settings for equalizers. On the other hand, our smartphones have dedicated equalizers for music listening. When you connect your phone to Android Auto, you get the same music settings of your phone in your car.
This is bound to improve your music experience and also it pulls out the real capabilities of your car music system.
12. New Update Brings Freshness
Google has released a new update for Android Auto. These improvements and new look were revealed in the Google I/O Event. The most noticeable change is the new look of the interface. You now get a dark theme with new fonts, and colors.
This is a great feature as it is convenient to use dark mode at any time of the day. Especially at night, this feature is a home run. Moreover, you also get improved notifications. Drivers can now select to view, listen, and respond to messages and calls more easily.
This update also brings changes to the navigation feature of the Maps app. Now the driver can see turn-by-turn directions. Besides, these added features have made this already great app the best.
Conclusion
Android Auto is almost a perfect app for integrating your smartphone experience with your car. It was launched in 2015 and since then, it has been adopted by the majority of Car manufacturers. Apple also introduced its own app called the Apple CarPlay. Moreover, it is a great app and lets you drive without fuss and hassle to distract yourself. With the hope that our Android Auto tips and tips articles would help you use this app more efficiently, I wind up here. Thanks for your patience!