Android continues to provide flexible, innovative and comprehensive technology that gives users freedom and complete control with what they can do on their mobile devices. From customization, entertainment and applications that make life easier,  Android has it all built into their devices or simply downloadable from the app market.
What is Android Auto
https://www.youtube.com/watch?v=Az8TgdsYdo8&feature=youtu.be&fbclid=IwAR2dz8OLrzCPzrbag8spmr46kQYnUfgr47UHZKWUgnVytHtjGBBlwsHXkc8
– Android Auto or AA by Google is a mobile application developed to mirror features from an Android device, such as a smartphone, to a car's head unit for the main purpose of GPS mapping/navigational assistance. It has a simple and straightforward interface that makes it easy for drivers to understand and control on the road. It can be connected via bluetooth or hardwire. Integration from the mobile device to the head unit is quick and easy. Later on, we'll give you an easy step-by-step process on how to navigate through the app.
Features
So what really makes this app a 'must-have' for drivers these days especially to Android users? Google packed it with the most innovative technology that offers convenience while driving. Here are some of the best features of Android Auto:
Google Assistant
With Google Assistant integrated into Android Auto, you can execute tasks without getting your hands off the steering wheel. Just simply say "OK Google" or "Hey Google" and it will open the Google Assistant feature. A variety of tasks can be done by Google Assistant such as calling or messaging someone, giving directions, play music, etc,.
Navigation Tools
Google Maps and Waze is also integrated into Android Auto which gives the user a real-time, turn by turn directions when traveling from one location to another, give an estimated time of arrival (ETA), route options, traffic updates, and even gas stations along the way. Simply ask your Google Assistant to give you directions to your destination and it will open the navigational tool.
Communication
Google Assistant on Android Auto can make calls and read messages aloud. You can also reply or send messages by talking so you don't have to fumble on your phone and just keep your eyes on the road. You can ask your Google Assistant to open messaging apps that you want to use. Android Auto works with a variety of messaging apps such as the local SMS app, Hangouts, WhatsApp, Skype and many more.
Entertainment
You can take your road trip entertainment to the next level with this Android Auto feature. Simply tell your Google Assistant to open your favorite music app, listen to radio, news, and podcasts.
For a full list of compatible apps, go to http://g.co/androidauto
Installation
Here are three easy steps on how to install Android Auto on your phone and what to remember:
Check your car. Your head unit should be compatible with Android Auto. According to Google Play, over 400 car models now support the app. Check the owner's manual or contact your car's manufacturer to find out.
Check your phone. Your phone should be an Android 5.0 to a 9.0 version for the application to run. Devices with Android 10 have Android Auto built into the system, no need to install it manually.
Connect and you're good to go! Download the app from Google Play if you don't have it built into your phone yet. Install and set permissions. Connect via bluetooth or with a USB cable. You're ready to go!
6 Most Common Issues and Solutions
Android Auto is a very good travel companion but it's still just an app, made by humans, therefore, it's not entirely perfect and also has limitations.
These are some of the most common issues Android Auto users have encountered.
App Crashing
There are different reasons for apps to crash. follow these possible solutions and see if this works out for you.
Check to see if your app is up to date. Apps aren't perfect that's why you will frequently see your favorite apps updating from time to time. Developers are trying to solve issues reported by their users. That's why you have to always check for new updates and install them on your phone.
If you use your app a lot, temporary files and data pile up. These temporary files take up a lot of your storage space making it congested and unable to run applications smoothly. You may want to clear your app's cache. Just go to your phone's Settings -> Apps -> Android Auto -> Storage ->(click) Clear Cache button
If the previous solutions don't work out and the app still crashes, try uninstalling the app and installing it back. After uninstalling, clean all temporary files, make sure you start in a clean slate. Then install it back.
If you're still having issues, send a report to app support by clicking "Help & Feedback" from the app menu. Talk to the experts.
Not working or connecting

One thing we mentioned on the installation steps is to see if your device is compatible with Android Auto, both on your car or on your phone. It is very important to check this prior to installation.
Check compatibility for vehicles and stereos here: https://www.android.com/auto/compatibility/
Check the physical or wireless connection from your mobile device like the bluetooth connectivity or the cable used to connect to the head unit.
If it's your first time connecting Android Auto to your car, add it to the 'connected cars' option under settings. If you've connected it before, try checking it there and try disconnecting-reconnecting it.
Also, check the head unit side and make sure Android Auto is enabled on the list of applications on the head unit's settings.
Wrong Location. This may be due to issues with GPS services or it's low accuracy. Here are a few things you can try if this happens:

Make sure your Google Play Services and the map is up to date.
Set the GPS accuracy to HIGH

Go to your phone's Location settings(which can be under Connections or Security Settings)>Locating Method>Set to High Accuracy
Disable mock locations by going to settings>Advanced>Developer Options>Select mock location app>NOTHING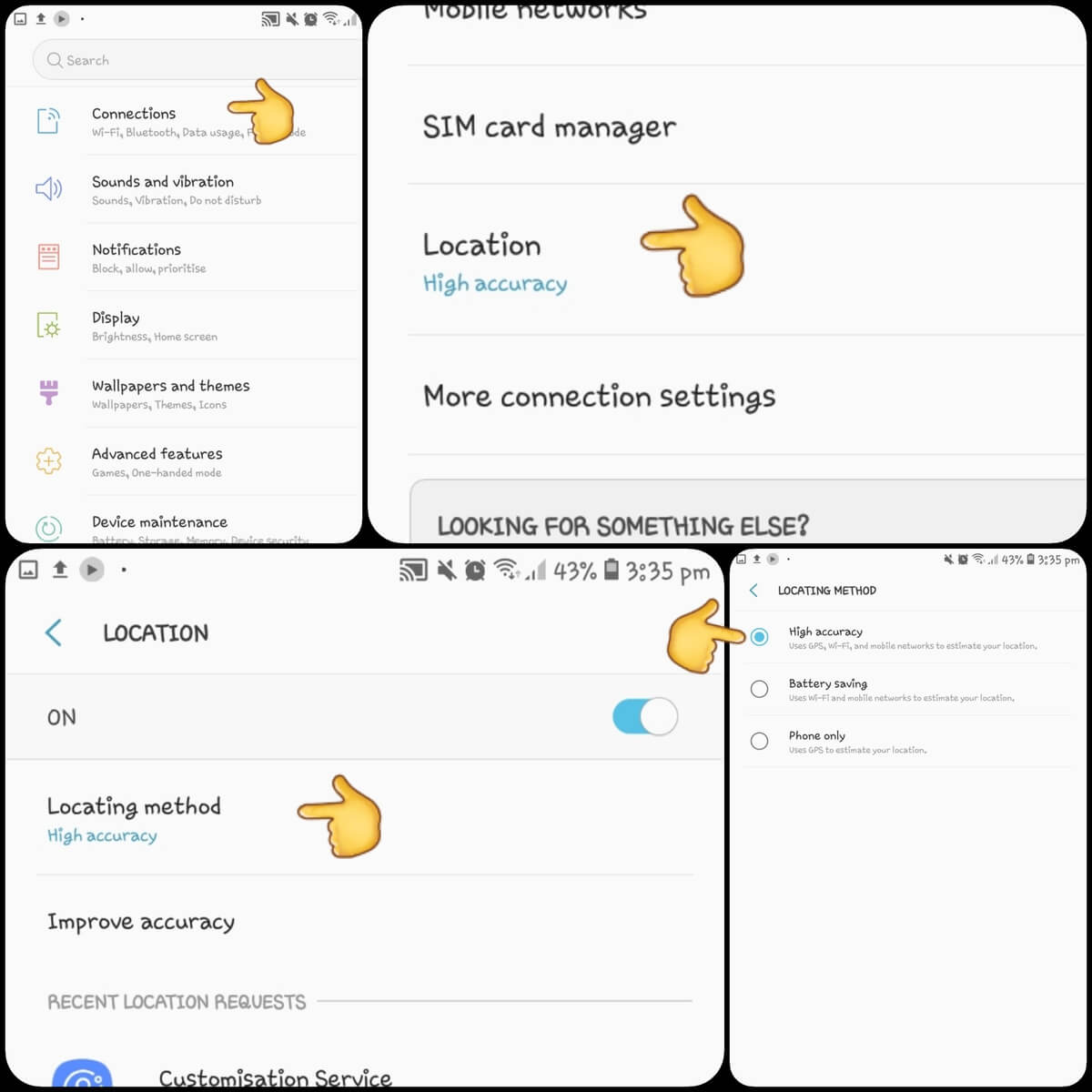 Communication apps not working
If you can't make calls or send messages on the head unit by instructing your Google Assistant, try these options:
Make sure the connection from the head unit to the mobile device(vice versa) is stable and uninterrupted. It's not just enough to use a working USB cable, you also need to make sure you use a high-quality cord for durability, stability and good quality of connection. Refresh the connection by disconnecting-reconnecting it from your head unit to the mobile device.
Make sure the app is up to date.
Make sure the permission is set to access your phone/messaging. Upon installation, you were asked to set this, you can double-check this by going to phone Settings>Apps>Android Auto>Permissions>Check phone and SMS is enabled
Clear your cache. This can be the culprit. Temporary files tend to affect the performance of your apps. Just follow the steps that we mentioned above on how you can clear the cache.
If these steps don't work, try uninstalling and reinstalling the app.
I can't see my apps
If you installed an app and it doesn't show on your app tray, try these solutions:
Check to make sure that the app you installed is supported by Android Auto.
If it's compatible with Android Auto, check the app launcher setting and make sure it's not hidden

follow this: open the app>Android Auto options(upper left side)>Customise launcher>make sure the check box for your app is checked, if it's not, that might be the problem, check it.
You can try closing and opening the app again to refresh it

Check app permissions on your phone's settings
Maps stopped showing
If this happens on the road, check these possible solutions:
This can potentially be a physical connection problem, check the connecting cable, try unplugging and plugging it back in to refresh the connection. If it still not showing, try changing the cable
Clear your cache. This may be affecting the current performance
This issue has been raised several times by users in the Android Auto Help Community. Google claims to have solved this issue. Make sure your app is up to date.
This can also be due to GPS problems
A lot of problems can occur during the use of Android Auto, simple issues tend to be solved by simply clearing cache, reinstalling the app or going over your settings and permissions. For some new and unknown issues, you can always reach out to the developers by visiting the Android Auto Help Community.