In some circumstances, you need to browse through the internet on an unknown desktop. These may include the PC situated at your office desks or even the cyber cafes that you occasionally visit. Although you might always log out of these devices before leaving, yet some traces could be left behind. And with cases of data leaks and misuse on a rise, this could prove to be quite disastrous for you. This is where portable apps come in handy. In this guide, we will show you how you could use Google Chrome as a portable browser on any PC. But before that, let's understand what exactly is a portable browser and why there is a need for the same.
The Need for a Portable App
Portable apps could easily be installed on any removable device like Pen Drive. You just connect it to any PC, carry out your work and eject the USB stick. All the activities that you have performed will stay within the portable device only and will leave no traces on the PC to which the device was connected. In case of using Google Chrome as a portable browser, you could use all of your bookmarks, saved passwords, browser extensions, etc. right from your device itself. There will be no hint whatsoever, not even in the Windows Registry of your PC.
Moreover, these browsers are much faster than the regular ones and don't consume your PC's or memory or storage. So let's proceed further and see how could we use Google Chrome as a portable browser. Apart from Chrome, there exist portable versions of FireFox and Opera as well. This guide explains the installation and use of Chrome as a portable browser. But the steps for the other two are similar as well and could be followed in the same manner.
Download Google Chrome Portable for Windows
You may download the portable version of your favorite browser from the below links:
Installing Chrome as a Portable Browser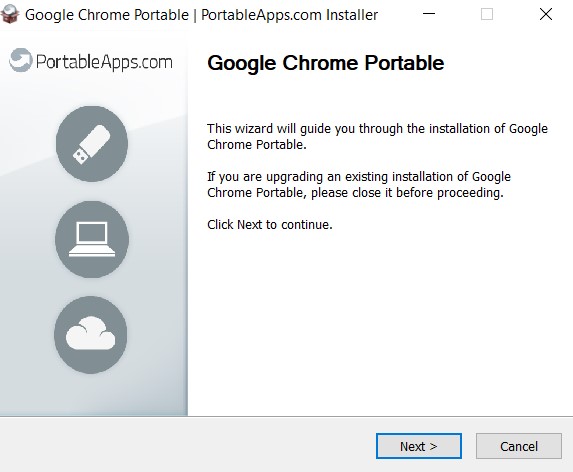 To use Google Chrome as a portable browser, download the setup file from the above link.
Select Language, agree to the Terms and Conditions and then choose the desired installation directory. Make sure that you have connected the portable device on which you are going to install the browser.

It will take a minute or two for the installation to complete. You will also be needing an active internet during the process. Click Finish as soon as the setup completes to close the dialog box.

Now navigate to the portable device on which you have installed the browser. There will be a total of 5 files. Click on the GoogleChromePortable.exe file. Using this .exe file, we could use Chrome as a portable browser.

You will now be taken to the Chrome's Welcome screen. Beneath the Get Started button, you will have the Sign In button. Proceed with the sign-in process and all the bookmarks, extensions and passwords will automatically be ported over to this portable Chrome browser.

That's it. This was all about how to use Google Chrome as a portable browser. If at any stage you wish to uninstall it, simply delete it from the portable device. Moreover, if you face any issues while setting up the browser, do let us know in the comments section below.
Read Next: How to Get Faster Data Speed on Android