To making the process of sharing webpages more easier and a streamlined process, Chrome is testing a new Sharing Hub. This new section currently holds the QR Code scanner, Send to your devices and the Copy Link options, with the option to add Screenshots as well. The first option enables you to share web pages by creating and scanning the QR code of that webpage. The second option allows you to share pages across various devices, granted that they are signed in with the same Google Account. The additional Screenshot feature does what the name says i.e. it allows you to capture screen grabs.
As mentioned before, these features are in the testing phase and not all of them work as intended. For example, tapping on the QR Code feature opens a new window with the option to share or scan a QR Code. But that's it. The option doesn't work as of now. While the other sharing features are up and running. If you wish to enable Chrome's new Sharing Hub, here are the steps to be followed. On the other hand, here are some useful Chrome tips you should definitely check out.
Chrome's New Sharing Hub
As is the case with other Chrome updates, Google first tests any new feature in Chrome's Canary build. And similar is the case here. To try out Chrome's Sharing Hub, you'll have to download the Chrome Canary browser. This browser isn't quite stable and isn't recommended for your daily use. Moreover, this new feature is hidden behind a Chrome Flag.
These flags are experimental features that are hidden from normal users. You could enable the below-mentioned flag and try out this new section. However, if you experience any stability issues, consider disabling that flag right away. With that said, here are the steps to enable Chrome's new Sharing Hub feature. On the other hand, follow our separate guide to place all Chrome tabs in the bottom bar on Android.
Steps to Enable the Chrome Flag
Open Canary browser and enter chrome://flags.
Now enter Chrome Sharing Hub in the search bar.
Tap on Default and select Enabled from the drop-down list. This flag will help you in enabling Chrome's new Sharing Hub.
This unlocks the sharing hub in your browser, but without the Screenshot feature.
To add that feature as well, search for the Chrome Share Screenshots flag and enable it in the same manner as mentioned above.
Once you have enabled both the flags, tap on the Relaunch button to restart your Chrome browser.
Now you may go ahead and try out Chrome's new Sharing Hub. To do so, tap on the overflow menu situated at the top right and select Share from the options. You will now get the four different ways of sharing a web-page. But what about the third-party apps sharing method that existed earlier? Well, it's still present there. To pop up that option, tap on the More option.
Don't Miss: How to Preview any Link Before Opening in Chrome for Android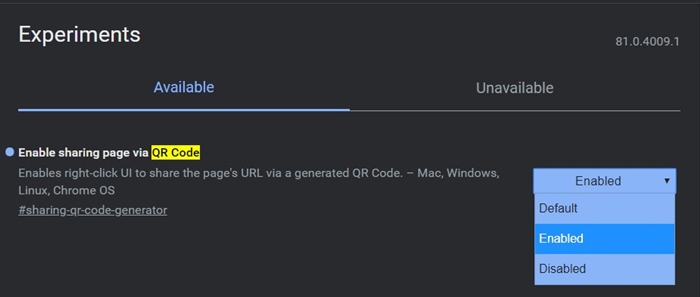 Similar to Android, the QR Code feature has also made it's way over to the desktop version of Canary. But it shares the same fate as it's Android counterpart.
So this was all about Chrome Canary's new Sharing Hub. As mentioned before, this is still in the testing phase and not all features work as of now. It remains interesting to see when all these features get active and ported over to the stable Chrome browser.