There arise many instances where you wish to preview a link before opening it in Google Chrome. Fortunately, the browser provides a very handy feature using which you could actually do so. But why would you do so, might be the question in your mind? Well many a time, you might come across a link that you might want to check it out but are not curious enough to actually open it in a new tab, switch to that tab, check out its content and come back to your original tab.
To minimize these steps, Chrome provides a Sneak Peek feature. apart from that, there are certain other Google Chrome tips that definitely deserves your attention. Do have a look at them too.
As the name suggests, you could actually sneak in the contents of the desired link, without actually leaving on your current webpage. The preview link's content doesn't take up the entire section of your screen but rather places an overlay over your current tab. You don't have to switch tabs to go back to the original content.
Simply click on the cross icon and you will be taken back to the previous tab. If you wish to check out this feature of previewing links in Chrome for Android, head over to the below instructions. Also, don't forget to check out our guide on how to effectively manage Chrome tabs.
Preview Links in Chrome (Android)
To carry out these steps, we will be taking the help of Chrome flags. These are the experimental features that are buried deep inside the browser. It goes without saying that being in experimental stages, these flags may result in the browser's instability. If that's the case, you should disable it right away.
Without further ado, now let's move on to the steps to preview links in the Chrome browser. Another thing worth mentioning is that by links, we don't only mean the webpages. It includes hyperlinked images as well. Moreover, if you wish to disable Cache on your Chrome browser, we have that covered as well. Do have a look at it as well.
Steps to Enable the Chrome Flag
Head over to the Chrome's Omni box (address bar) and enter chrome://flags.
Now search for enable-ephemeral-tab.
If that doesn't show up anything, try typing in the complete flag name: An ephemeral tab in an overlay panel. This flag will help in previewing links in Chrome browser.
Initially, it will be in its default state. To enable it, tap on the Default keyword and tap on Enabled from the menu.
Finally, restart your browser once. This could be done by tapping on the Relaunch button at the bottom of your screen.
Don't miss: How to Integrate Google Lens into the Chrome Browser
That's it. You have successfully enabled the flag to preview links in Chrome for Android. To check out the functionality of this flag, open any webpage of your choice and long press on any link. You will now get a Preview page option in the pop-up menu. Simply tapping on it will load it in a new overlay page. This will be in the minimized state. You just have to drag it all the way to the top to view its contents. However, to open webpages by default in Incognito mode, check out our separate guide on that topic.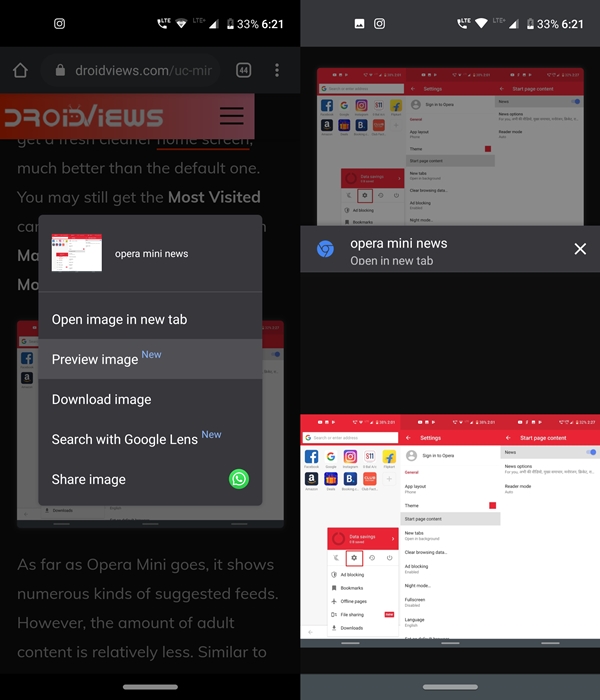 Once you are through with the webpage, just tap on the close icon and the tab will be closed. During the entire process, your original tab wouldn't be affected and will remain open as is. The steps to view images are exactly the same as it is for previewing links in Chrome. Just, instead of the Preview page, you will get the Preview image option.
So, with that, we conclude this guide on how to preview links in Chrome (Android) without actually opening them. Do stick with us for more such Google Chrome tips and tricks. Don't forget to drop your views on this handy Chrome trick as well.
Read next: Clear Cache and Browsing Data in Chrome for Android