Did learning a new language land on your new year's resolutions' list? It may have happened because you want to better yourself, travel a bit more or because you want to hit a new job opportunity. Whatever the reason may be, the 5 best Android apps to learn foreign language listed below can help you learn a new language and quite fluently actually.
5 Best Apps to Learn Foreign Language
Duolingo
If you've tried an app before then it probably was Duolingo. This app is the giant of language teaching and for a good reason. It makes learning fun!
The lessons are bite-sized and your progress is absolutely trackable. Of course, you start with baby-steps but as you progress the lessons become harder and harder. The developers claim that "34 hours of Duolingo are equivalent to a semester of university-level education".
So what are you waiting for? Jump in on the action and teach yourself another language.
[googleplay url="https://play.google.com/store/apps/details?id=com.duolingo"]
Memrise
Another app that focuses on making learning enjoyable. Some of Memerise's best features include:
Learning with locals. You can watch videos of real people that can help you learn the everyday language in context.
Games. You can test your abilities and learn by playing games such as Speed review or Listening Skills.
Pronunciation guide. You can record your pronunciation and pit it against that of a native speaker. See how well you fare.
Offline availability.
On the downside though, some of its features are available only to those that have subscribed, so the app is not completely free. However, you can start by learning the fundamentals for free. In case you like the app you have the opportunity to subscribe at any moment.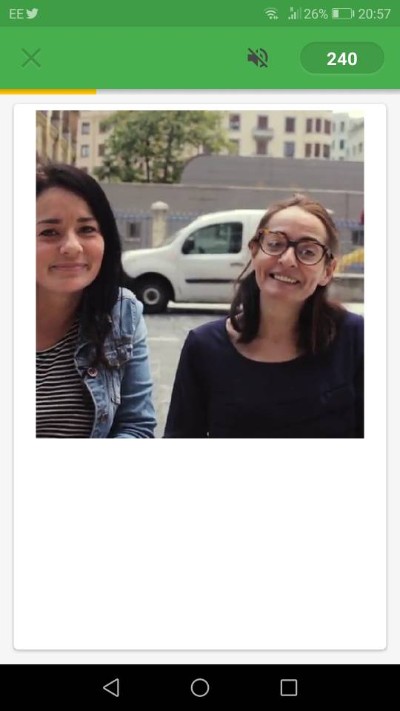 [googleplay url="https://play.google.com/store/apps/details?id=com.memrise.android.memrisecompanion"]
LingoDeer
Maybe you think that apps that try to do many things right do the majority of them wrong. LingoDeer might be of the same notion since this app is focused only on Korean, Japanese, Vietnamese and Chinese.
At first, you get an introduction to the language's alphabet in order to "build a solid foundation for successful independent learning. Like Memrise, the app also features authentic recordings from native speakers and a huge variety of exercises that target specific language skills. You can also watch videos and learn language through stories and games.
The best part of this app is that it features many of different dialects for each language, like Kana, Kanji and Romaji Japanese for example.
[googleplay url="https://play.google.com/store/apps/details?id=com.lingodeer"]
You may also like: 5 Best Educational Apps for Kids
Beelinguapp
Beelinguapp is yet another option if you are looking for the apps to learn foreign language. What's with all the animals on the apps' logos? We have an owl a deer and now a bee. In case you didn't like the way some of the previous apps worked then Beelinguapp is your best shot.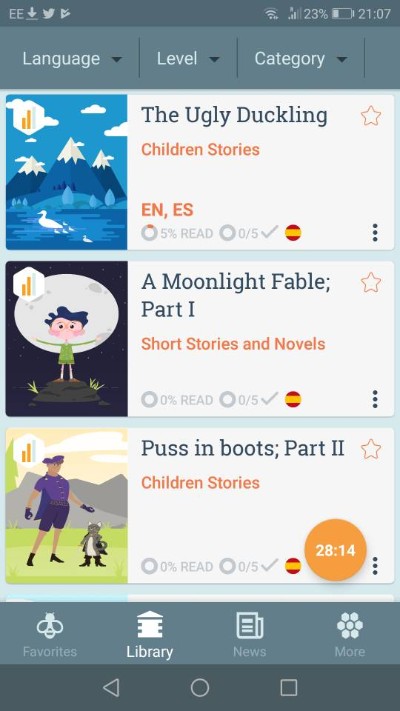 This app will help you learn a language of your choice mainly through reading and listening to stories. One of the best features is that you can read the story in your language and use it as a reference in order to find out what each word means.
The languages that you can learn by using Beelinguapp include Korean, Hindi, Turkish, Japanese and more. Try it out now.
[googleplay url="https://play.google.com/store/apps/details?id=com.david.android.languageswitch"]
Drops
Drops offers another approach to learning a foreign language. It teaches you visual means only. That means that this app is vocabulary focused and helps you learn new words by showing pictures to you.
One interesting feature is that the learning sessions are 5 minutes long. You can't do anything to change that fact and the developers believe that this is what makes their app so addictive. The learning pace in this app is quite quick compared to others in our list, but if you want to learn as fast as possible then it probably suits you.
As far as languages go, developers try to add a new one each month. Currently available languages include Korean, Arabic, Hebrew, Portuguese, Russian and more. Some languages also have the option for different dialects such as Mandarin or Cantonese Chinese.
Give Drops a try by clicking on the app box below.
[googleplay url="https://play.google.com/store/apps/details?id=com.languagedrops.drops.international"]
With these apps, you'll soon have no need for a translator. If we forgot a useful language app then feel free to comment below. Thank you for reading!
Read next: Disable or Freeze Background Apps on Android Without Root