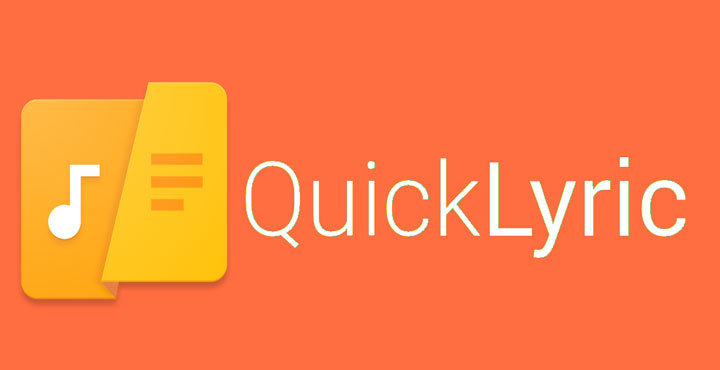 Okay so first of all, yes, there are many apps on the Google Play Store that offer song lyrics like Musixmatch Lyrics which offer a lot more functionality as well. So why am I mentioning QuickLyric? No, there's no transfer of money involved in any way. Musixmatch is a great app, nothing against it. But there are people who prefer a small, lightweight and pretty app that does one thing instead of everything. Count me in that group and that alternative is what QuickLyric is.
The app is quite simple to use. It automatically picks up which song you're listening to on your phone and displays the lyrics for it. Even if it doesn't, making it display lyrics is as simple as tapping a floating refresh button. None of the floating window mess.
Also read: Download and Install Sony Music 9.3.5.A.0.0 on Any Android Device
Install QuickLyric
So first let's get the app installed for you. It's a free app and also follows Google's Material design guidelines which are always a plus in my book. Not only that but the app is open sourced, just like Android.
[googleplay url="https://play.google.com/store/apps/details?id=com.geecko.QuickLyric"/]
Using QuickLyric
As mentioned already, using QuickLyric is a breeze. You don't need any tutorials at all. Just give the app any necessary permissions and you're good to go. Whenever you play a song, using any music player of your choice, QuickLyric will identify the song and pull up lyrics from its impressive database. Of course, this needs an active internet connection. But don't worry, there's an offline option, which we'll get to soon.
Don't miss: How to Edit MP3 Tag and Album Art on Android
When you change tracks, the app will automatically change the lyrics as well. You can choose the lyrics to be synchronized, meaning the app will display only a portion of the lyrics that is currently being played. This is enabled by default. Or you can choose to see the entire text of the lyrics and scroll through it at your own pace. All you have to do is tap the three-dot overflow menu in the top right-hand corner.
QuickLyric almost always does the job as its supposed to do but that does not mean you won't ever find a song that it can't get the lyrics for. But to be fair, that song in the screenshot is some random song I can't find on the internet anymore either. It's a cover of Best Friends from Pokemon. Ah, the days.
Settings
The app automatically saves the lyrics for the songs that you play. This ensures that the next time you play the song, the lyrics are already available offline. You can see your saved lyrics by tapping Saved Lyrics on the side menu drawer. You don't have to go through playing every song, though. The app allows downloading lyrics for your entire music library. To do this, you just have to tap on the cloud icon in the top right corner here. A popup appears and you can choose to download lyrics for your local library, your Google Play Music library or your Spotify library.
Must read: Open All File Types on Android with These Apps
In the hidden side menu drawer, you will also find the app settings. These are worth a look. You can choose to keep the screen on while reading the lyrics and use a special Dyslexic font to display the lyrics. There's also automatic album art download and synchronized lyrics can also be disabled from here as well.
There are also a total of 7 themes and a night mode but they are only available if you pay for a $4.99 monthly or a $1.99 yearly subscription. The subscription also unlocks support for Android wearables.
For Spotify users
Spotify users may have to enable Device Broadcast Status in Spotify settings in order to get QuickLyric to work.
Conclusion
In any case, it is not necessary to make a payment so we shouldn't mind much I suppose. Overall, QuickLyric is a nice and simple app that's definitely worth a try. Especially if you are looking for a simple lyrics app that is easy to use and free. The app's extensive lyrics database doesn't hurt either. Payment is kind of weird I admit. A subscription for getting themes? It should've probably been a one-time payment. What do you think?
Recommended for you: Some Secret Codes for Android Phones that You Must Know