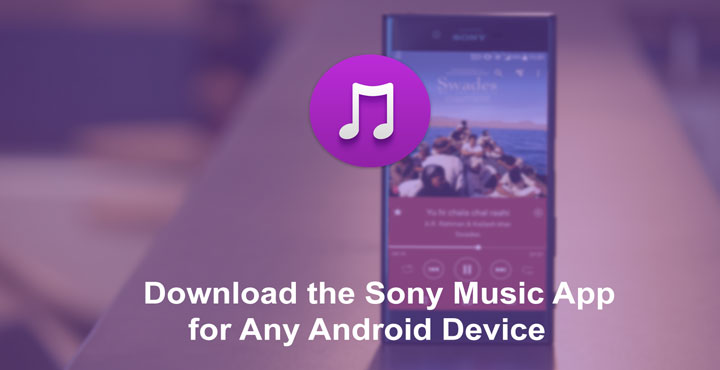 When you're talking about the best smartphones, Sony isn't a name that usually makes it into the debate. Even though the Xperia line isn't selling like hot cakes, the Sony feel is still there in the hardware design and the stock apps. I've used almost every version of the Sony WALKMAN app and I will say this, it has always been one of the best looking music player apps. With the entry of material design, Sony soon ditched the WALKMAN tag for a simple name – Music and it wasn't just the name that became generic but also the UI. Still beautiful by the way. So today we have for you the Sony Music app that you can install on any android device.
Download Sony Music 9.3.12.A.2.0
Just download and install Sony_Musix9.3.12.A.2.0.apk ported by developer mizdrake7 for any Android 5.0+ device. This is currently the latest version of the app. You may need to enable Unknown Sources from Settings>Security (Lockscreen & Security for Samsung devices) if you haven't already.
Also read: Install Latest Xperia Keyboard on Your Android Device
Sony Music – Home
When you first launch the app you should feel right at home thanks to the simplistic, rather generic but still somehow unique UI based on Google's Material Design guidelines. The home shows your current playlist that you can scroll through by swiping left or right. Below that are your recently played playlists and songs and even below are your newly added songs. Notice the purple floating button in the first screenshot above. It's a quick play button which can be customized to shuffle and play your most played, newly added, favorite or all the songs in your library. You can also hide the button.
Recommended for you: Play YouTube Videos in Background with Modded YouTube APK
Sony Music – Menu
The hidden side menu contains various shortcuts to your music library. The Music Library is pretty standard compared to any other music apps these days. You can swipe left and right to jump between Playlists, Artists, Albums, Songs, Genres, and Folders. But that is where the similarity begins and ends. Unlike other OEM tailored music apps, Sony's app provides a number of nifty features that are not very difficult to find.
Sony Music – Settings
If all the whiteness is a bit too bright for you there's a dark theme available much like any other media app from Sony and when has an optional dark theme ever been a bad idea?
Also download: Download Sony Xperia XZ Premium and Xperia XZs Stock Wallpapers
You can also select which tags should appear in your Library. Sony's Music app does provide the option to download information about the song, like the Album Cover or Artist name etc. but it tends to sometimes (not often, but sometimes) mess it up especially if the song is not as popular. You can also individually edit the song information from the three-dot menu and set a custom Album cover and such.
If I had to choose the best thing about this app, I'd choose the Sleep Timer. If you're a person who needs his music at night before falling asleep, you must've wished that there was an option to stop the playback when you're asleep. That option is here available via the three-dot menu. There's no "when I fall asleep" option here but there are options to turn off playback after 15 minutes, 30 minutes, 1 hour or 2 hours.
Conclusion
The company is going through a down phase, which is not new for them, but if you were alive in the 80s and 90s, you know what the Sony logo stood for. It was like Apple back in its day. Some people will still associate Sony with music and audio. So it's not surprising that the Sony music app is perhaps the best OEM made music app ever.
Unfortunately, though, Sony's audio expertise is limited to Xperia devices and it means that the app does not have an equalizer of its own. So no Clear Audio+ or any other Sony sound settings but it does have a Sound Effects option in settings which directs you to your device's inbuilt audio equalizer. I'm no audiophile but you ask me, most equalizers are more or less the same so it doesn't make much difference.
Have you tried the app? What do you think about it? Have you used any other Stock Music apps made by the OEM that you think fares better than Sony's offering? Let us know in the comments below.