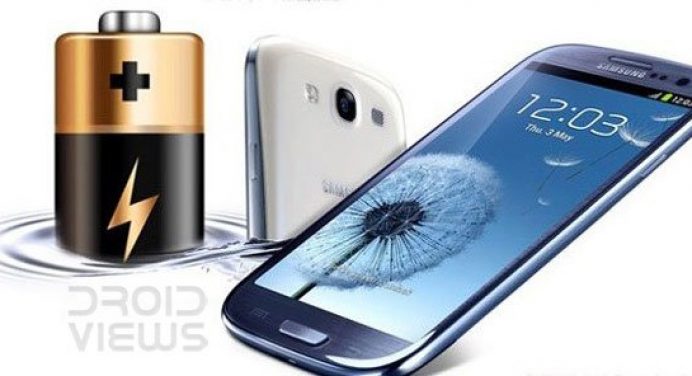 If you remember, Samsung had rolled back the very first Jelly Bean update for the Galaxy S3 for Poland due to battery performance issues. The problem was fixed later and the company pushed the Android 4.1.1 to select European countries. While the rest of the world is still waiting to get the latest version of Android firmware, Android mongers have started reviewing the performance of this mighty beast with a powerful 2100 mAh battery.
The folks at GSM Arena have recently conducted a benchmark test on various phones, including the Galaxy S3, to find out what effect the Jelly Bean update has on the battery performance of the device. The tests were conducted on 3G mode by performing various tasks like web browsing, video playing and talking. The results were surprising and reveal that the Korean manufacturer has worked hard to ensure that the 2100 mAh battery of the Galaxy S3 with JB performs better than it did with the Ice Cream Sandwich firmware. Even more striking part of the result is that our beloved SGS3 left many other high-end devices far behind in battery performance.
Talk time Test on Galaxy S3 on Jelly Bean
When the Samsung Galaxy S3 with Jelly Bean has put the talk time test, the battery survived for 10 hours and 15 minutes on a single charge. This is only 5 minutes less than the Galaxy S3 with ICS firmware. The Galaxy S3's battery performed better than devices like HTC's One V, HTC One S, Galaxy S2 and even the iPhone 5. The winner of the talk time test, however, was Motorola Droid Razr Maxx that survived for 20 hours and 24 minutes.
Web Browsing on Galaxy S3 on Jelly Bean
As for the results of the web browsing test, the Galaxy S3 with Jellybean survived for 6 hours and 27 minutes that is significantly better than the 5 hours 17 minutes performance of the ICS variant of the device. The winner of the test was the iPhone 5 with 9 hours and 56 minutes of web browsing on a single charge.
Video Playback Test:
The Galaxy S3 (JB) was not that good when it was put to a video playback test. While the Jelly Bean variant ran for an hour less than the ICS one. The news, however, is that the video playback duration of the Galaxy S3 with Jelly Bean was far better than devices like the Galaxy S2, Galaxy Note, iPhone 5 and HTC One S. With 14 hours and 17 minutes performance, the Droid Razr Max topped the charts in this department.