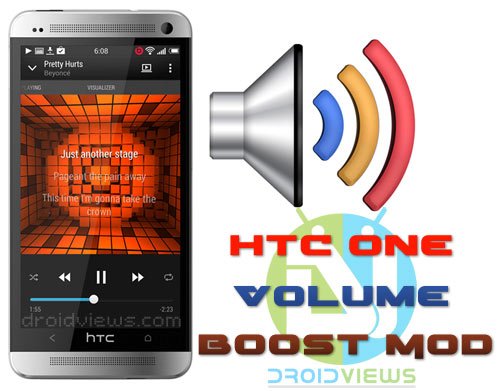 Before the launch of the HTC One, the most dominant trend among smartphones was, and is still there, placing the speaker grills at the back or sides of the hardware panel. HTC's decision of placing the speakers at the front side above and below the display of the HTC One was really wise at it yields good sound output. That is not to say that our HTC One's volume output is loud enough.
After spending a handsome amount on a flagship smartphone, the user has all rights to expect loud volume along with other nice features and specs. And when it comes to audio loudness level, most smartphones fail to meet our expectations. The intensity of system, UI and ringtones must be loud enough to be heard even when the user is not at an enclosed or calm place. The popularity of volume boost hack mods among Android users reveals the very fact how desperate people are to increase the volume of the phone they own.
The best thing about Android is its amazing developer community that keeps looking for solution for any issue a device owner might be facing. All you need to do is to root your device and install a custom recovery on it. And once you have met this prerequisite, a huge ocean of magical root apps, mods and ROMs becomes accessible to you.
HTC One Volume Boost Mod
Do you think that the volume of your HTC One is not loud enough? Have you a rooted device? If your answer to both the questions is in affirmative, it's time now to enjoy louder volume! ZeroInfinity, whom we lovingly call an "audio god", has finally released his HTC One Volume Boost Mod. I tested the mod just a few hours back and I can confirm that it really does the magic.
ZeroInfinity's volume boost mod for HTC One is available in 3 versions:
Louder than stock volume
Maximum possible volume without audio distortion
Ultimate level of volume (not recommended)
Requirements:
A rooted HTC One with a custom recovery (CWM or TWRP) installed on it. To root your HTC One, you can refer to our rooting tutorial:
How to Root HTC One and Install CWM/TWRP Recovery on It
Downloads
The volume boost hack is available as CWM/TWRP flashable ZIPs. Download the first mod if you want slightly louder volume than found on the stock firmware. In case you do not find the first mod loud enough for you, flash the second one (namely Maximum Edition). In case you want insanely loud volume on your HTC One, download the Ultimate Edition from below. We strongly recommend not to try the ultimate volume boost mod. If you want to revert to the original (stock) audio level, flash the last ZIP.
How to Install:
Download and copy your preferred volume boost mod file to your phone.
Boot your HTC One in CWM/TWRP recovery mode.
Tap on Install option, navigate to the file and select it.
Confirm the installation.
When the mod is installed, wipe dalvik cache and reboot your phone.
When your device boots up, play some audio file. You'll notice that the speaker volume of your HTC One is significantly louder. Enjoy!
More Interesting Stuff for HTC One