Everyone's so engrossed in his or her smartphone these days that it had begun to affect their physical as well as mental health. Some are addicted to games, while some are addicted to social media. There's a huge number of people who are addicted to YouTube. Believe it or not, but a lot of people spend hours on YouTube watching videos. I mean, there's a reason YouTube is the second most popular website on the internet. Anyway, the point is people are addicted to smartphones and YouTube is one of the culprits.
During the I/O 2018, Google introduced their "Digital wellbeing" initiative in the hopes of reducing the time people spend on their smartphones. While most of the features are Android P exclusives at the moment, Google recently released one such feature for YouTube.
Via a back-end update, Google has enabled break reminders in YouTube app to remind to that it's time to stop bingeing YouTube for hours & make appropriate use of your time. Here's how to enable YouTube's Take a Break Reminders.
Enable YouTube's Take A Break Reminders
Before you follow the steps, make sure that you are running the latest version of YouTube.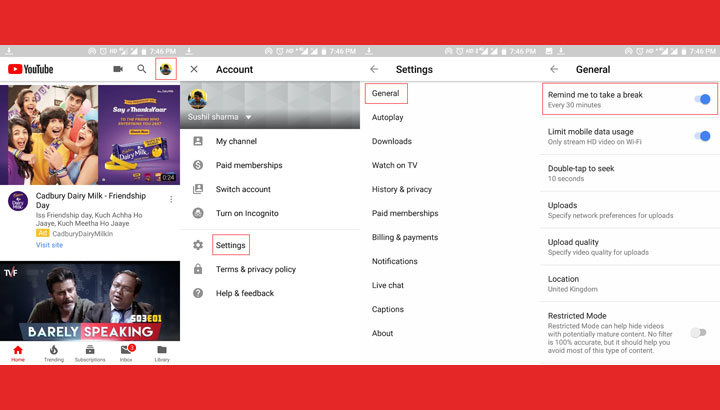 Step 1: Open the YouTube app on your Android device.
Step 2: Tap your profile picture in the top right-hand corner.
Step 3: Tap Settings.
Step 4: Tap General.
Step 5: Turn on the toggle for "Remind me to take a break".
Don't miss: Download Modded YouTube APK with Dark Mode, No Ads, and Background Playback
When the toggle is turned on, you will see several different frequencies for the reminder. These frequencies vary from five minutes to 24 hours. Once the timer has run out, a pop-up will appear on the screen suggesting that it is time to take a break. Now, you can either take a break or dismiss the pop-up & get back to bingeing.
Honestly, sitting for hours doing nothing but watching pointless videos on YouTube is one of the worst things you can do for your body & your brain. Reminder or not, take a break from bingeing & go outside, get some fresh air & use your time productively.
I, personally, am a big fan of Google's Digital wellbeing initiative. What do you think about it?
Must read: List of 70 OK Google Commands for Google Assistant and Google Now