WiFi tethering has now become an essential feature in modern smartphones. This connectivity feature is very useful, especially for those who own more than on devices or a laptop. As I write this tutorial on my laptop sitting at a railway platform, my lappy has been utilizing the data of my HTC One M8 wirelessly via WiFi Hotspot feature. It's hard to imagine working on laptops on the go without WiFi tethering.
Almost all Android devices come with WiFi and USB tethering pre-enabled and they just need turning the feature on. Unfortunately, the feature is not available to some carrier-branded devices because network operators usually tend to block it. If you wish to use this feature, they force you to get a separate subscription for a certain amount of monthly charges.
I think it is a kind of relentless exploitation of the user. Why the heck should we pay more for sharing our phone's data with other devices if we have already subscribed to a data plan? Fortunately, Android is blessed with a great developer community that keeps toiling so that the common user might get rid of such restrictions and other issues. For a couple of days, we have been sharing mods that enable native WiFi tethering on a range of US variants of Android devices.
Today, we'll see how we can enable WiFi hotspot on Sprint HTC One M8 and also get the WiFi hotspot QuickSetting hotspot toggle to access and enable it quickly. XDA member's Ph33zy's native hotspot hack for the Sprint M8 unlocks the tethering restrictions imposed by the carrier. So, if you have a rooted One M8 and have a custom recovery on it, you can enjoy free WiFi tethering on your device by flashing a mod file via CWM/TWRP recovery. The hotspot mod has already been tested by hundreds of people and has been confirmed working for both 3G and 4G connections.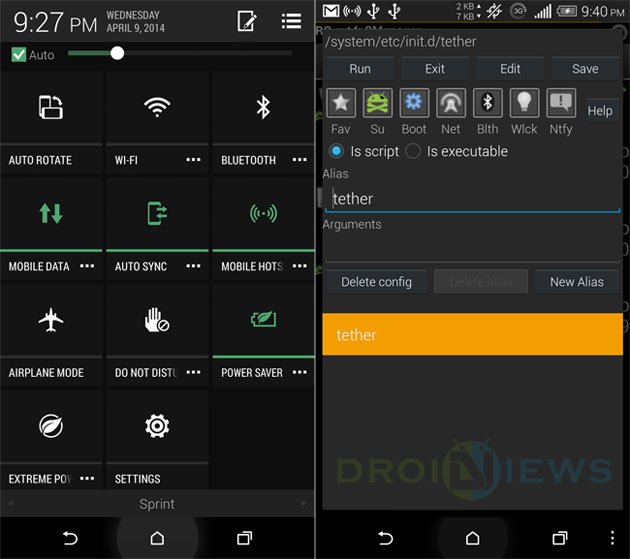 If you have landed this page, you must be a Sprint One M8 owner who is interested in enabling WiFi hotspot and if that is so, you must be too restless to get it as soon as possible. So, without much ado, let's see how you can install the WiFi tethering hack mod.
Prerequisites
A rooted Sprint HTC One M8 with TWRP or CWM Recovery.
Download and copy the hotspot hack mod flashable Zip and copy it to your phone: Sprint_M8_Tether_Hack_V2.zip
Enable WiFi Hotspot on Sprint HTC One M8
Note: The mod works only with the stock Android 4.4.2 firmware. If your M8 has a newer firmware, trying the mod might screw things.
Reboot your Sprint HTC One M8 into recovery mode. Don't know how to do it, here's how: turn off your M8 and then press and hold the Volume Down + Power buttons together for a few seconds until the screen lights up and the device enters HBOOT mode. Then scroll to RECOVERY option using Volume Down and press Power button to confirm. Alternatively, you can use Reboot Manager:
We assume that you have TWRP on your phone. First of all create a backup of your ROM using the Backup option.
Go back to main menu and tap the Install button. Select Sprint_M8_Tether_Hack_V2.zip and confirm installation.
When the mod is flashed, wipe dalvik cache.
Finally, reboot your phone using Reboot> System option.
When your M8 boots up, open phone Settings> More> Mobile network sharing. You should find Portable Wi-Fi hotspot option there. Just configure it with your desired hotspot name and password and you are good to go.
Fix: Hotspot Doesn't Work on 4G
Having enabled native hotspot feature on your Sprint One M8, if you discover that it's nt working with 4G network connection, you'll have to edit some system codes. See below:
Install Script Manager – SManager app from the Play Store. 
Open the app and grant it root access when prompted.
Now, navigate to /system/etc/init.d and tap "tether" script.
Click on SU and Boot (Android skull and gear icons, respectively), then click on Run and Save options.
The issue should be fixed now. Enjoy!