The Honor 8 Pro is not what you would call a beast, not in today's terms where you have a phone with the Snapdragon 835 around the same price range as the Honor 8 Pro. But while it's not the raw powerhouse a OnePlus 5 is, it can handle the heaviest tasks you can throw at it with ease. Considering the price point and the fact that it is pushing EMUI 5 on a Quad HD display compared to just a full HD on most devices within the price range, the Honor 8 Pro doesn't disappoint. The display is really nice and has some deep blacks for an IPS LCD panel. Of course, in no way is it better than the blacks an AMOLED screen offers, but it's not very far behind either. And with a display that makes blacks look so good, you might prefer a dark theme instead of the eyeball bursting white themes.
Mostly, you'll see tutorials for enabling dark themes on devices with an AMOLED panel. It does make more sense since darker themes look better on an AMOLED screen. Not only that but it also helps save some battery life, however insignificant the savings may or may not be. As already mentioned, an LCD still doesn't beat an AMOLED when it comes to blacks nor they ever will. That's a flaw (if you will call it that) by virtue of design. But today's LCD screens are quite capable of producing darker blacks compared to previous generations. And blacks do look amazing on the Honor 8 Pro. Don't take my word, set up a dark theme on your Honor 8 Pro and experience it for yourself.
Huawei's EMUI has come a long way and the 5th iteration of it running on the Honor 8 Pro is a lot smoother and fluid. However, it is still not quite there. The themes available on the built-in Themes app are mostly all about wallpapers, lockscreen style, and icons. They don't do a lot when it comes to changing the entire UI. Luckily, there are quite a few themes available outside the Themes app and it is quite easy to install them. EMUI themes are available in as files in .hwt format. Place the file in the HWThemes folder on your internal storage and it becomes available in the Themes app.
Also read: Get the Most Out of EMUI 5 on Honor 8 Pro
Download A Dark Theme
[googleplay url="https://play.google.com/store/apps/details?id=com.emuithemesfactory.emuithemesfactory"/]
You can also find many themes on EMUI Themes Factory, an app you can download from the Google Play Store. There are a few dark themes available for EMUI 5, but the one that we're going to use is called DailySpaceDark v1.1 by mr.mrcn.
Install the app, launch it and just scroll down to find the theme named DailySpaceDark v1.1. Tap on the theme and then tap on the Install Theme button at the bottom. What this essentially does is download the .hwt theme file into the HWThemes folder on your internal storage. Wait for the theme to download. Once the download is complete, it is time to apply it.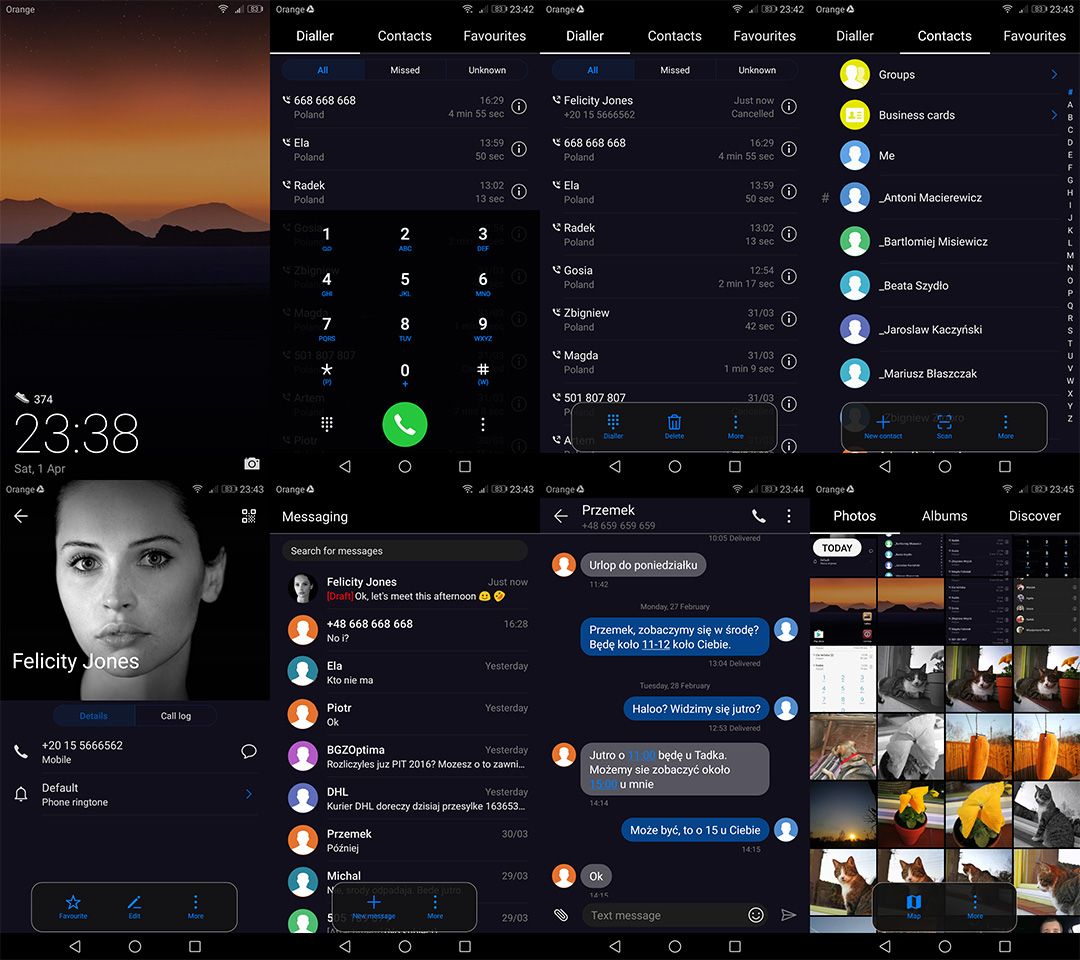 Open the Themes app and head over to the Me tab. Here you can see all of the installed themes on your device. Select the DailySpaceDark theme and hit Apply. And there you have it, a dark theme for your Honor 8 Pro or in general any device running EMUI 5.
Don't miss: Install Fonts on Huawei Devices with EMUI 5.0 without Root
Take it a step further …
I've personally tried a few dark themes but DailySpaceDark is the one that I found was not causing any glitches. No random unreadable texts or battery icon issues here. In addition, it has a blue accent color which sort of is natural for a black theme and looks elegant. But, I am not a big fan of the default wallpaper included with the theme nor the icons. A dark theme doesn't mean a dull theme. The Themes app on EMUI 5, fortunately, lets you choose which parts of a theme you want to apply which makes for interesting combinations. You can use icons, fonts, and wallpapers from a different theme.
To do that just go to the Me tab in the Themes app and tap on the floating button at the bottom that says Customize. Tap on anything that you would like to change and you will be presented with respective options to do so. If you prefer, a custom launcher like Nova Launcher can take the experience even further with a black app drawer and folder background.
Related post: Unlock Bootloader, Install TWRP and Root Honor 8 Pro