It is a known fact that Internet usage has grown leaps and bounds in the last decade. This is due to the fact that many people have started to come on the Internet for searching as well as interacting with other people. Also, there are many social networking sites like Twitter, Facebook, Instagram, Google+ and more.
Twitter is currently one of the most popular social networking sites out there on the world wide web. Regarding Twitter, there is a general perception that it is mostly used by famous celebrities and journalists. But, that is not the case anymore as more people have started to use it nowadays.
Some of the people also feel that Twitter is a bit harder to use. We would say that Twitter takes some learning for sure but once you get used to it, you will feel at home. Now, we have also noted that Twitter has started to implement several features on its network that are useful to the users.
Also, Twitter had a very strict limit of posting within the walls of just 140 characters. Earlier this year, Twitter finally announced that users can now post a tweet of up to 280 characters. This way, the company doubled its limit of posting tweets for its users which was a welcome change.
Also, the company recently announced that they have implemented a new feature on Twitter called "Twitter Threads". Basically, this feature will let you post more than one tweet of 280 characters at a single click. With the help of this feature, you can complete one tweet and click on the + button below the tweet to add another tweet.
However, there is one feature that is being asked by almost all the Twitter users for a long time. But, it seems as if Twitter is in no mood to implement this feature anytime soon. This feature is the 'Edit Tweet' feature which lets you edit tweets once they are posted. The feature of editing posts is available on almost all the platforms other than Twitter such as Facebook, Google+, Reddit and so on.
Related article: Twitter Now Allows You to Bookmark Your Favorite Tweets
Now, we have finally received a working solution which lets us edit tweets on Twitter by a developer named Corey Gwin. This is with the help of a Chrome extension named as Covfefe. The name of this Chrome extension is apt as well because Donald Trump, the US President, once sent out a tweet in which he wrote Covfefe by mistake while it was meant to be covered as seen below. This was clearly a typo and this mistake could not be corrected as there is no edit tweet feature on Twitter once it has been sent.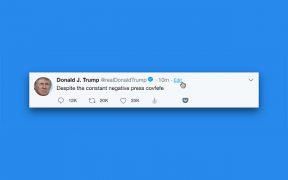 What is Covfefe?
Covfefe is a Chrome extension, as we mentioned earlier, and it can be downloaded on your PC or Laptop from the Chrome Web Store. Also, you would have already realized that this will only work on Google Chrome so if you are using Safari, Firefox or any other browser than you still can't edit tweets.
[chromewebstore url = "https://chrome.google.com/webstore/detail/ccdjnhaifeigaidilnnajickpbjhbfom"]
How does Covfefe Google Chrome extension work?
Talking about the working of Covfefe, we should make it clear that there is no loophole or hidden feature that has been unearthed with his Google Chrome extension. Basically, this is just a workaround in order to easily correct our typos and mistakes.
So, Covfefe will show an edit button next to the tweet once you have sent out a new tweet. After that, you have a time duration of 10 seconds in which you have to correct the mistakes if any. For this, you will have to click on the Edit button which will open a new tweet window. Then, you can type out your new tweet with corrections and post it on Twitter.
In the background, Covfefe extension will delete your earlier tweet once you have posted your new tweet. Thus, your old tweet will be replaced with your new corrected tweet in a matter of seconds and it will seem as if the tweet was edited. However, if someone has already commented, liked or retweeted your old tweet then it will also get deleted along with the tweet.
Edit Published Tweets with Covfefe
Once you install Covfefe extension on Google Chrome from here, you will see that it is added to your Google Chrome toolbar. After that, click on the extension and give it access to your Twitter account. Once the Twitter authorization is done, you are ready to edit your tweets (sort of). Just go to Twitter.com, create a tweet and send it to the world.
Once you click on the Tweet button, you get a dialog box on the bottom-left of your screen. This will let you undo the tweet before sending and it will be gone after 10 seconds.
Now, if you click on the Undo button then the tweet will not be sent. However, if you have sent the tweet and realize the mistake later then you can still edit your tweet. You will see an edit button next to your tweet as seen below
Now, you have to click on Edit button in order to edit your tweet. Once you click the Edit button, a new window on your browser will be automatically opened as seen below.
Now, you can correct the old tweet and click on the Replace Tweet button. You can also see that the text below the box says that "editing will delete the old post" so you should proceed with caution.
All in all, this is not a perfect solution for editing tweets and we know it. However, if you are someone who makes too many mistakes in your tweets than this should be tried by you to save yourself from the embarrassment.
Don't miss: Improve User Interface FPS on Android with a Simple Build.prop Tweak