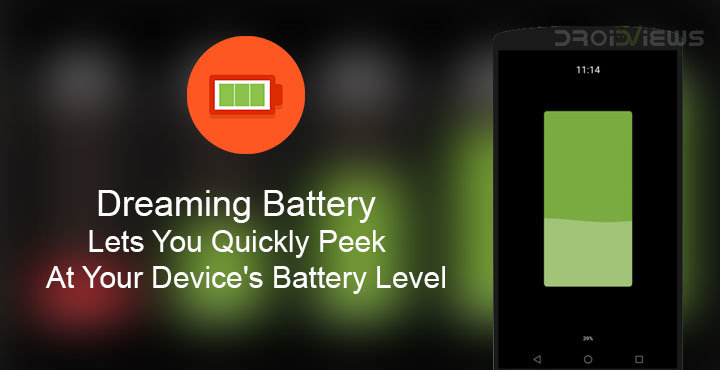 Not many of you may remember a small 4.7-inch phone from Sony, with a wide notification bar, instead of a tiny LED. The Sony Xperia SP may not have had mindblowing specs but it had something unique. The LED strip at the bottom was not only beautiful when it lit with different colors when music was being played, but it also was quite functional. Just with a glance at the phone, lying at a distance, I could tell which app just pushed a notification. One could also similarly get an idea of the battery while the phone was being charged, all thanks to the LED strip. These days though, you may need this little app called Dreaming Battery.
Of course, I am not suggesting phones these days don't have notification LEDs. They're not as quite common somehow as they should be. Even so, they're tiny compared to some of the notification LEDs from the past. I remember the Galaxy S3 had a bright and big enough LED. With the move towards Always On Displays, albeit only on some phones, notification LEDs are also losing their purpose. But if notification LEDs aren't as common as they should be, Always On Displays are almost rare. Even if your phone does have an LED, it may simply be a mono-color white LED. Those are not very helpful.
If you have a Google Pixel 2 or a Samsung flagship, you probably won't care. Dreaming Battery is for all the others who would like to know how much of their device's battery has been charged, without having to turn on the screen. It uses the built-in Screensaver functionality on Android which is present on every Android phone. Although, some OEMs tend to mess with things they shouldn't, like the Screensaver feature. For instance, this does not work on my Huawei/Honor device because it doesn't allow selecting the app as a screensaver. If you have a device from such an OEM, it might not work for you. You'll just have to give it a try and see.
Install Dreaming Battery
Similar app: Energy Bar for Android Adds a Cool Battery Bar at the Top of Your Screen
Features
The app is pretty straightforward and simple. If there was an award for the simplest, on point apps, Dreaming Battery would be one of the contenders. When you launch the app, you're immediately shown all of the settings there are, with a unique interface even though it is quite based on Material Design which many other apps use. Here's what all you can customize:
Time display can be enabled/disabled as per the preference.
Time format can be set between 12 or 24 hours format.
Color of the Time can be customized.
Battery percentage can be enabled/disabled as per the preference.
Color of Battery can be customized.
How to use Dreaming Batter
Launch the app and change any of the settings you wish to change. Customize how you want the screensaver to look.
Once you're ready, tap on the floating cogwheel icon at the bottom.
This will lead you to your device's Settings app, right on the page where you can enable Daydream. Daydream in the built-in screensaver feature on Android smartphones, which some manufacturers simply relabel as 'Screen saver'. Toggle it on.
Select Dreaming Battery as your screensaver.

To preview the screensaver, tap on the three-dot menu button in the top-right and select Start now.
Tap When to start screen saver to select between While docked, While Charging or Either of them.
Dreaming Battery will now be activated any time you dock or charge your phone, depending on your preference. You have to keep in mind though that screensaver on Android doesn't appear if you lock your screen using the power button. You'd have to plug your phone in (or dock it) and let the screen timeout. Therefore, Dreaming Battery too does not work if you lock your screen using the power button. The developer makes it clear on the app's development thread, that this is a limitation of the Android screen saver feature, not the app.
Don't miss: How to Turn off Battery Optimization for Individual Android Apps