I still remember the LG G2 which I owned for more than 10 months. It has been one of my favorite phones of all time. The G2 really seemed to pose a serious challenge to Samsung's Galaxy S4 then. I then switched to the G3 but could not love it as much. It has now been more than a year since the G5 was released but the phone could not do the wonder the manufacturer wanted it to do because of its design, build quality and performance.
As it was expected, the Korean giant unveiled its latest flagship the LG G6 and to a great extent, the future of its maker depend on how it fares. While the G5 created a lot of fuss because of modularity, the G6 shows no such trace. We expected the G6 to come with the latest Qualcomm 835 Soc, but LG decided to go with the good old Snapdragon 820 chipset because, according to the LG spokesperson, the G6 will perform a lot better with the older Soc. Only the time will tell if the company's decision is right or not.
Moreover, the LG G6 will have some region-specific features. While the Asian and Middle East variants of the phone will support dual-SIM, the non-US models will not have the wireless charging feature. The LG G6 is unique in another way and that is its display with as aspect ratio of 18:9. We've seen 16:9 as aspect ratio on most smartphones until yet. The 5.7-inch display of the G6is much taller than other phones. The good thing is LG will also give the users option to switch to 16:9 and 16.7:9.
If you love to play videos on your phone, you'll be glad to know that the LG G6 will support HDR10 and Dolby Vision playback, It means that you'll be able to enjoy brighter and sharper videos than HDR. The phone comes with IP68 certification that means the G6 is dust resistant and can survive water submersion up to 1.5 meters of water for 30 minutes. As for the build quality, the front of the G6 is covered with Gorilla Glass 3 and has an aluminum frame on all sides.
As for other hardware specifications, the LG G6 has a quad HD display (1440 x 2880 px) with 564 PPI pixel density, Quad-core processor, Adreno 530 as GPU, 4 GB RAM, 32/64 GB internal storage, microSD slot with up to 256 GB support, Dual 13 MP primary and 5 MP front camera, 3300 mAh non-removable battery and rear-mounted fingerprint sensor.
Download LG G6 Stock Wallpapers
The G6 comes with 10 QHD stock wallpapers with unusual 1440 x 2880 px resolution. All wallpapers look great and a bit taller that normal wallpapers. To download or save the wallpapers, just right-click the images and select "Open link in a new tab" and save them or simply use the "Save link as" option.
Also Download: Download Samsung Galaxy S8 Stock Wallpapers (Official) & Ringtones
Update:

LG G6 Stock Themes' Wallpapers

Below are 6 more stock wallpapers from LG G6. They have been extracted from the stock themes that come with the LG G6.
Update:

Download LG G6 Modded Wallpapers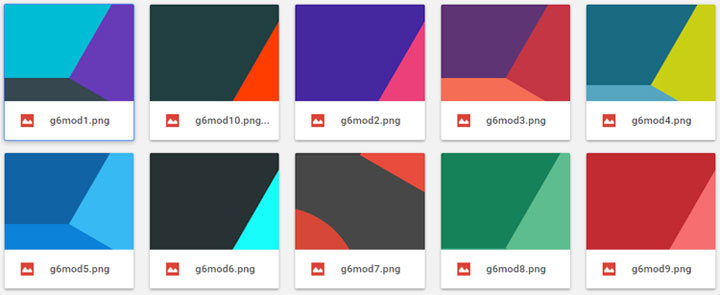 Download LG G6 System Dump
G6_US997_v09l_7.0_xpirt.zip | Mirror
Download LG G6 Stock Ringtones
LG-G6-Stock-Ringtones.zip | Mirror
Download LG G6 Inspired Icon Pack
XDA member glfsd has created an LG G6 inspired icon pack that can be enjoyed with all major home launcher apps listed below.
ADW Launcher
Arrow Launcher
BlackBerry Launcher
Evie Launcher
EMUI Launcher
EverythingMe Launcher
Hola Launcher
Holo Launcher
Lucid Launcher
New Launcher
Nova Launcher
Nougat Launcher
Smart Launcher
TSF Launcher
XMarshmallow Launcher
Yahoo Aviate Launcher
ZenUI Launcher
Download: G6_Inspired_UX5.apk
Also download: