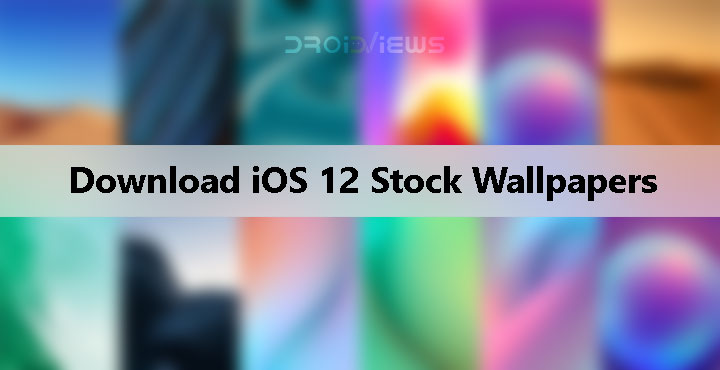 Apple is set to announce the next update to iOS, the OS behind its most popular products, at WWDC on June 4. The new update is expected to extend the NFC capabilities of the iPhone beyond Apple pay. According to The Information, iOS 12 will allow iPhones to act as hotel room door key and as a virtual transit card. This is speculated to be possible because Apple might be opening up the NFC chips on iPhones to third-party developers. The update will also bring performance improvements and cross-platform apps for iOS and MacOS. iOS 12 is not expected to be a major update in terms of aesthetics but it will definitely bring in some changes. One of those changes will be iOS 12 stock wallpapers which you can download right here.
iOS 12 rumored features
The update has been codenamed "Peace" and will be focusing majorly on bug fixes and performance improvements, perhaps to give users some peace with the OS. Improvements to augmented reality and digital health along with more robust parental controls and improvements to FaceTime are also expected.
According to Bloomberg, Apple initially planned iOS 12 to be a huge update with many new features such a redesigned home screen (finally), a revamped files app, new CarPlay home screen, new Pencil features, Multiwindow mode for iPads, multiple windows of the same app side by side, muting specific mail threads, etc. The website reports though that Cupertino decided to push all these changes to 2019. Instead, it will be focusing on improving the end user experience with iOS 12.
Enhanced NFC capabilities:
As already mentioned, iOS 12 might open up the iPhone NFC chips to third-party developers. In addition to being able to unlock hotel doors, users can also unlock doors of their home or car. Thanks to a partnership with HID Global, the company responsible for the security systems on the Apple headquarters, Apple employees have already been using this feature to access office buildings.
New Animoji and Facetime integration:
Some of us may have made fun of Apple for its "innovative" Animoji feature at first. However, the way Android OEMs have tried to copy it right and left shows Apple still knows what it is doing. Animoji is getting an update with iOS 12 which will introduce new Animoji characters as well as make the interface simpler to navigate. Furthermore, Apple is looking to integrate Animoji with Facetime, thus allowing people to use animated emoji during video calls. Animoji will also be making their way to the iPads.
Cross-platform functionality:
iOS 12 will support cross-platform apps along with macOS 10.14. Developers will be able to develop apps that work with touchscreens on iPhones and iPads as well as with the mouse and keyboard on Macs. This feature is also rumored to be delayed for iOS 13 next year instead.
Parental Controls:
Apple will be introducing a new Digital health tool that will allow parents how much time their kid has been spending on using iOS devices.
Other changes:
A redesigned Stocks app.
Support for FaceID in the horizontal orientation.
Deeper Siri integration in Photos for search purposes.
Enhanced Do Not Disturb which will offer users more options to automatically reject calls and silence notifications.
Revamped interface for importing photos into iPads.
Multi-person augmented reality games.
Revamped iBooks app with "Today" section.
Download iOS 12 Wallpapers
We shared the iOS 11.2 stock wallpapers just a couple of months ago and today we have got the iOS 12 wallpapers for you. iOS 12 is yet to be announced, and it will be a few months before it officially releases for compatible iOS devices. We've still managed to get our hands on some iOS 12 wallpapers. Some of these are the expected iOS 12 stock wallpapers while others are concept wallpapers from around the internet and some more designed by the Facebook team. We've packed all the wallpapers into different zip files according to the category they fall into.
The images below are compressed JPEGs, but you can download the full-sized images from the download links provided under each category. There are a total of 15 wallpapers of which 4 are stock wallpapers, 3 are concept wallpapers and 8 of these are designed by the Facebook team.
iOS 12 Stock Wallpapers
Here is the wallpaper that came out just a few minutes ago. We have these wallpapers in the original quality and resolution for the iPhone X, iPhone, and iPad.
iOS-12-Wallpapers.zip  |  Mirror
Don't miss:  Download macOS Mojave Wallpapers (4K)
These are some more iOS 12 wallpapers with a resolution of 1125 x 2438 px.
iOS 12 Stock Wallpapers  |  Mirror
Also download: Apple Stock Wallpapers
iOS 12 Concept Wallpapers
iOS 12 Concept Wallpapers  |  Mirror
You can download thousands of stock wallpapers in high quality here.
iOS 11.2 Facebook-designed Wallpapers
The following abstract wallpapers have been designed by Facebook designers. The really look awesome. The resolution of the following wallpapers is 1200 x 2600 px.
Facebook iOS 11.2 Wallpapers   |   Mirror
Don't miss: Download iPhone X Stock Wallpapers (53 Wallpapers)