Who doesn't like to hear music? Be it a morning in a metro or while doing regular boring work, music is our companion. But the problem comes when we want to download music for our offline playlist. We either have to search really hard for a good website to download our favorite songs or we have to buy it from digital music stores. Here comes KeepVid Music for our rescue.
KeepVid Music is free software which can easily and directly download music from YouTube and other music/video sharing websites. Apart from downloading music, it can record, play, transfer and manage your music easily. Here's a full review of KeepVid Music.
System Requirements for Using KeepVid Music
KeepVid Music works fluently on Windows 7/8/10/XP/Vista and Intel-based Mac (32 bit or 64 bit) 10.6 Snow Leopard to 10.11 EI caption. The operating system for devices supported by KeepVid Music are:
Android: Android 2.1 and up
iOS: iOS 5 and up
iPod: iPod OS 1 and up
User Interface of KeepVid Music
The interface of KeepVid Music is as neat and simple as a music player and downloader should be. While using KeepVid Music for the first time, you will realize you have got your hand on all the controllers and notifiers at the right place and all of them are easy to access. The main page of KeepVid Music has 6 active areas where you can perform different functions: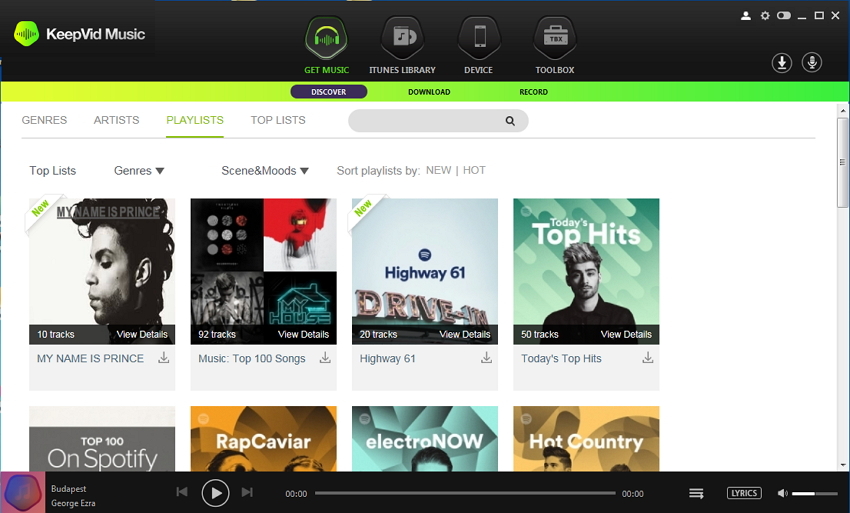 Get Music: Here you can discover music by searching it on YouTube and other websites and download it. You can also record any music you like from streaming sites as well as from online radio.
Device: It shows all the devices connected to KeepVid Music, their songs, and shortcuts for transferring music from device to PC and vice-versa.
Music Library: It shows all your content available in your music library be it songs, movies or any type of videos and playlists.
Settings Toolbar: With this toolbar, you can log in and log out your KeepVid Music account, check download status change download format and edit downloaded media path etc.
Toolbar: This toolbox performs various functions like library cleanup, the rebuilding of iTunes library and removing DRM.
Music Player: With this music player, you can play music present in your music library or play directly from your device.
Features of KeepVid Music
Download, Discover and Record Music
KeepVid Music allows you to search music on the basis of Genre, Artists, and Top list. Just input from keywords in the search bar and you are ready to go. You can download your favorite music in MP3/MP4 format from popular websites like SoundCloud, Vimeo, MTV and YouTube etc. You can also record Music playing on your PC or from sources like streaming online music.
Device
Here you will be prompted to connect your device to PC when no device is automatically detected. After connecting your device, KeepVid Music will show the media files present in the device. You can transfer music to and from PC, delete duplicate, music and perform many such tasks.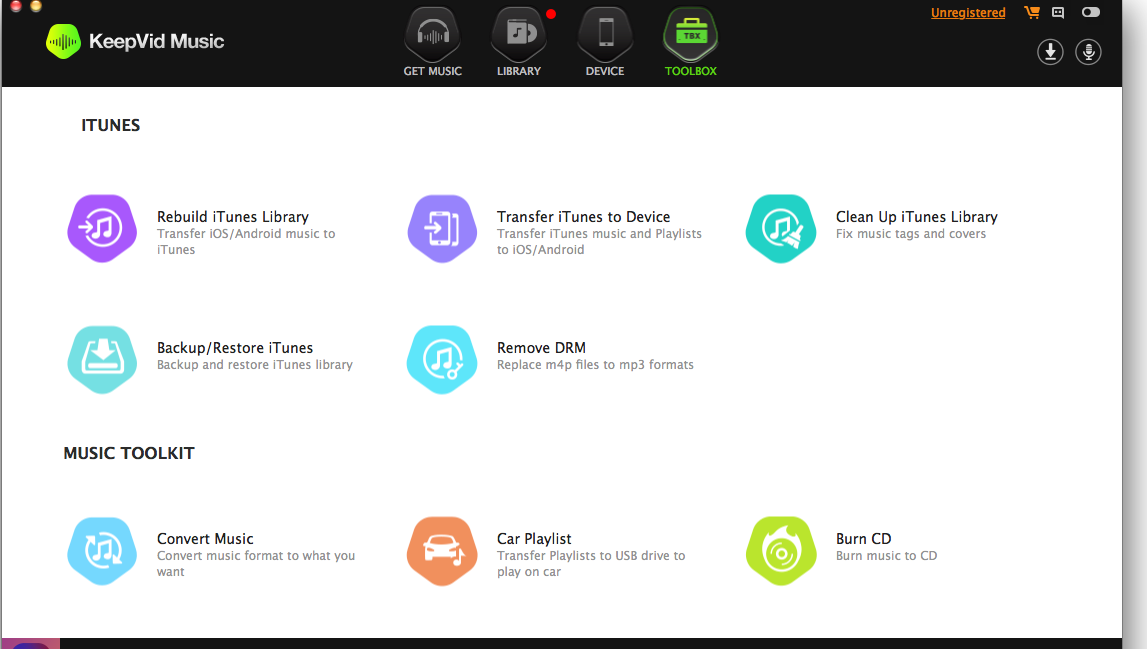 Music Library
Here you can view content present in music library like Music, Playlists, Downloads, Recordings etc. For Mac, the music library is named as iTunes library and for Windows, there are 2 options: If iTunes is installed on your PC then it is called iTunes library otherwise it is called Music Library.
Toolbar
The toolbar present in KeepVid Music performs following functions:
Transfer music to the device.
Rebuild iTunes Library/Music Library.
Backup/Restore iTunes.
Remove DRM
Burn CD.
Clean up iTunes Library.
These were some of the awesome features of KeepVid Music. You should Download KeepVid Music to try all the features of this wonderful software.
Pricing and Our Verdict
KeepVid Music is first available for free to try. If you love the software you can buy a licensed version of it. KeepVid Music is available for both Windows and Mac PC. The premium version of this software varies from $39.95 to $899.25. The price is based on license type (personal or business) duration of license (1 year or lifetime license) and the number of PC's it will be installed on.
In my view, if you are a music fanatic then you should definitely try this software for once. If you like it, then you should go for the premium version of KeepVid Music. We bet you won't regret as KeepVid Music makes easily accessible for everyone.