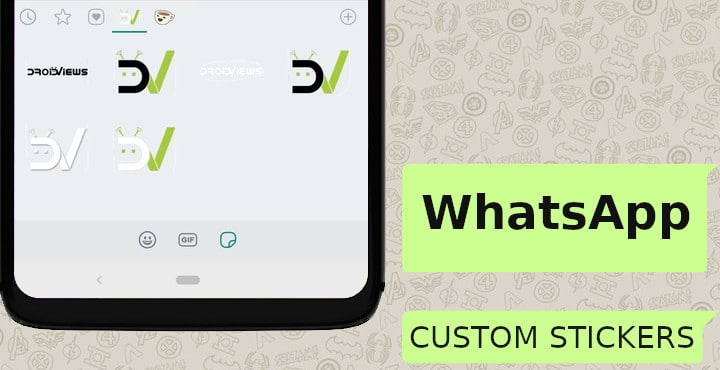 Quite recently, WhatsApp finally gave users the ability to send stickers. It also added support for third-party sticker packs right away, so that designers and developers around the world could create stickers for WhatsApp. The company included a set of APIs and interfaces that allow anyone to build sticker apps that add stickers to WhatsApp on Android or iOS. This is very similar to how Telegram does it, if not the same. But why should app developers have all the fun right? That's what the developers of the app Sticker maker for WhatsApp though too. This is why they've come up with this app that lets you create custom WhatsApp stickers on Android devices.
For those who've used other messengers such as Hike or Viber, you'd already know how fun stickers can be. Before the GIFs, stickers were the thing to play with and they still would be if your new favorite messaging platform had that. Well, now that it does, we're already seeing stickers coming back into the mainstream.
During the Indian festivals of Diwali and Kerala Piravi, WhatsApp stickers in regional languages were a huge hit. Now with users having the ability to create their own custom WhatsApp stickers, you can only expect the trend to rise. To create your own custom WhatsApp sticker, you'll need the Sticker maker for WhatsApp app on Android.
Install Sticker maker for WhatsApp
[googleplay url = "https://play.google.com/store/apps/details?id=com.marsvard.stickermakerforwhatsapp"]
Don't miss: 25 WhatsApp Tips and Tricks – Use WhatsApp Like a Pro
How to create your own custom WhatsApp stickers
Launch Sticker maker for WhatsApp once installed.
Since this is the first time you're using this app, the only option you'll see is Create a new stickerpack. Tap on it.
Give your stickerpack a name and an author name so everyone can know who created this stickerpack. Once you do, you should be able to see the name of your new stickerpack on the main screen.

There are no stickers in your pack yet so let's add some. Tap on the stickerpack that you want to edit.
Tap on the first square box and select an image from your gallery or take a new photo. Remember, this is the tray icon and the image you add here will not show up in the sticker pack. You can crop out the image by selecting an area with your finger without lifting it. When you're done, tap the YES, SAVE STICKER button.

Similarly, tap on the other boxes and create your stickers. Selecting an area from an image using your blunt finger is definitely not ideal but it's something. And something is better than nothing. Galaxy Note users can probably finally make some good use of that S-Pen.
Apart from the tray icon, you'll need at least three stickers in your pack in order to publish it. When you are ready, just tap on the floating PUBLISH STICKER PACK button in the bottom-right and then tap YES, PUBLISH.
You'll then be asked if you want to add the stickerpack to your WhatsApp so select ADD.

Go to WhatsApp and you should now be able to see your stickers in the stickers tab.
Read next: 5 Ways to Read WhatsApp Messages without Alerting the Sender