Nowadays, lots of people choose Android phones that are economic and functional. Especially, Samsung Galaxy series Android phones have become increasingly popular in the mobile phone crowd. In other words, Android Smartphone becomes hotter and hotter all over the world. Would you like to send or receive short messages like important notice or business information with your Android phone? Or would you like to take photos with your Android phone as it lighter than any common camera? Over enough time, huge text messages, photos, videos, contacts, documents and other data will be accumulated by your Android phone which you won't lose.
Therefore, have you got the same decision that transferring data from Android phone to computer including text messages, contacts, photos, videos, app and other files; for fear that your Android phone might be stolen or broken? However, do you know how to transfer data from Android phone to computer? And which way is the quickest and easiest way to move multiple data from one Android phone to PC?

Now, Coolmuster Android Assistant can solve your problem. With Coolmuster Android Assistant, you can transfer data such as contacts, text messages, call logs, bookmarks, mms, system settings, videos, audios between Android phone and computer easily. Coolmuster Android Assistant tool provides great convenience to Android phone users, who love video & music, text a lot on Android phone.
Key Features of Coolmuster Android Assistant:
Backup or transfer the whole Android contents to computer with one click;
Edit or manage your contact list on your computer directly;
Download, install or uninstall, backup and export apps as you like;
Works well as the best desktop SMS assistant.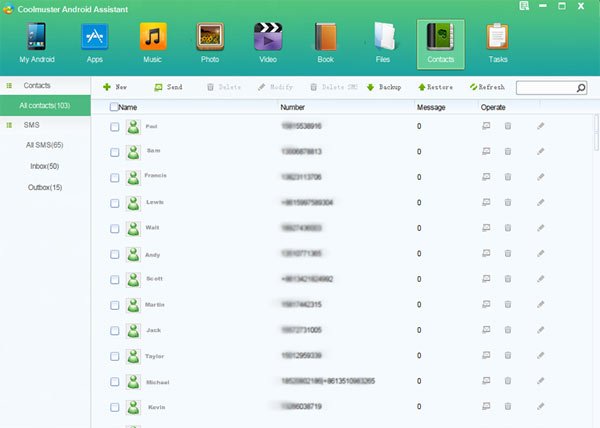 Apart from the stolen or broken occasions, buying a new Android Smartphone could be an exciting thing. Congratulations that you have got a new Android Smartphone! But you may feel frustrating from trying to transfer data from your old mobile phone to your new one. As you know that the task isn't an easy thing to do. You need a professional tool to do that. Coolmuster Android Assistant, which is a tool that capable to transfer data from Android phone to computer, could be one of the best choices for your new Android phone. Like pictures, songs, contacts, text messages, videos and other data will be transferred by this tool. If you need to back up your text messages, this is step by step guide: how to save sms on Android phone to PC.
With Coolmuster Android Assistant, your data transferring problem will be well solved and you can feel free, safely, easily and effectively. Transfer all data from your Android phone to computer without any quality loss. Fast download it and have a try.
Note: This is a sponsored post!