Android Apps
If you're someone who all in for customizing your Android phone, you're in for a treat. We've rounded up 5 excellent
Snapchat offers a ton of features and one of these useful options lets you quickly clear multiple conversations in Snapchat feed.
Thanks to UPI android apps, many people don't have to go through the hassle of logging into internet banking for sending or
Gboard is one of the best keyboard applications for Android. However, if you often end up making a bunch of typos, then you might want
We've often discussed WhatsApp's dark mode for some time now given how long it took the company to bring it to users.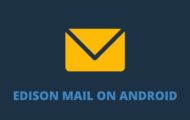 Edison Mail is one of the best email clients for Android and other supported platforms. The latest update to the app brings along a
Back when Facebook was getting in on the online gaming scene, before smartphones, a certain farming simulator was quite popular. These
By this point, if you're an Android enthusiast you already know just how good the Google Camera app is. Well, it is good if