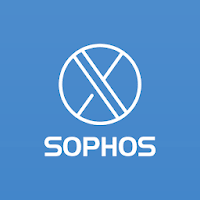 In this article, we will review Sophos Intercept X for Mobile. You will see why Sophos is one of the top mobile security apps for your Android phone. The built-in Android security isn't enough to protect your Android device. That's why downloading Sophos might be a good idea.
If you want to check more antivirus programs for your device, click here.
Sophos Intercept X Overview
Sophos is a well-established security firm that has been offering antivirus and encryption software since 1985. Sophos defense products evolved in tandem with the complexity of cyberattacks. Its endpoint defense capabilities have expanded to include artificial intelligence. To provide holistic endpoint security software, the Sophos Intercept X app combines technologies such as deep learning AI and endpoint detection and response (EDR). About 400,000 organizations are now covered by the company's goods. The Sophos Intercept X product is perfect for companies with a large number of endpoints to defend and an IT team. Sophos Intercept X is a powerful security solution if the company has hundreds or even thousands of endpoints.
Unlike many free apps, the Sophos Intercept X for Mobile antivirus app does not contain any advertisements. Sophos Intercept X for Mobile safeguards the Android device and personal information without sacrificing performance or battery life. Apps are automatically checked for malware when you mount them, thanks to up-to-date information from SophosLabs, to shield you from data loss and unexpected costs. Sophos Intercept X does an excellent job of combining efficient security with sophisticated technologies that can help any size company take a brighter, more strategic approach.
Dashboard
The Sophos Intercept X for Mobile dashboard shows you the protection status of your device. The color of features varies based on their situation: 
Green: No issues found
Red: Issues found
Blue: Feature is disabled
Gray: Feature is disabled or not configured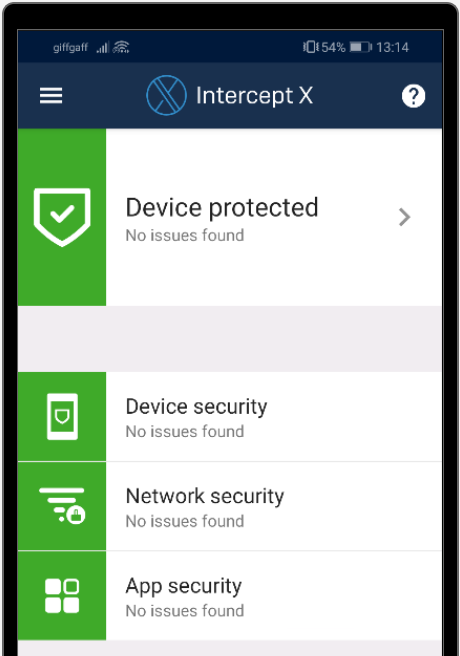 Malware Detection
For over 30 years, Sophos has kept endpoints secure from malware. Artificial intelligence (AI) is used by the Intercept X platform to efficiently detect malware threats. Deep learning is a form of artificial intelligence that mimics the neural network of human brains to solve complex problems. Sophos Intercept X aims to track both identified and unknown threats in this way. How effective is this? Sophos Intercept X stopped 100 percent of malware samples in independent testing by the AV-Test Institute, which included thousands of them. When it came to false positives, the program outperformed competitors. It's a problem when security prevents you from accessing legal apps. With Sophos Intercept X, this won't be a problem. Sophos incorrectly identified only one legitimate item as a threat out of over one million software samples, compared to the industry average of 27. Sophos earned a perfect score in the AV-Test Institute's usability category as a result of this. Sophos Intercept X identifies potential threats that could be investigated further. 
Anti-ransomware and Exploit Prevention
The security layers of Sophos Intercept X provide ransomware and exploit protection. Sophos created solutions, especially for these two very harmful threats.
CryptoGuard

: Ransomware is one of the most expensive forms of cyberattack. If you don't pay a ransom, criminals will prevent you from accessing your own files. Sophos Intercept X uses CryptoGuard technologies to detect and avoid encryption processes that try to hijack your files. CryptoGuard tracks attempts to change the files in the background. It immediately restores any files that have been encrypted as a result of the cyberattack.

Exploit prevention: 

Exploits take full advantage of software weaknesses that are yet to be fixed by the developer. With traditional security applications, zero-day attacks are tricky to detect. Intercept X uses Sophos web protection to avoid browser-based vulnerabilities and searches for the tools and methods used in such attacks. Sophos Intercept X blocked 97.8% of zero-day attacks in zero-day attack experiments with almost 400 real-world threat samples.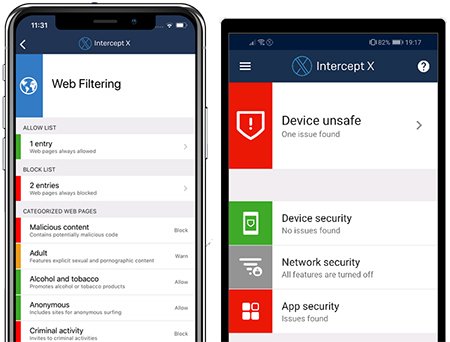 Features
Web Filtering

. Web Filtering allows you to decide which websites you want to be warned about before visiting. This prevents you from visiting sites that contain malicious, inappropriate, or illegal material.

Link Checker.

 You use Link Checker to check for malicious or offensive material in links in an email or text. All links you tap in non-browser apps are processed by Link Checker.

Wi-Fi Security.

 Wi-Fi Security is a tool that scans the Wi-Fi connection for network-based attacks.

App Security.

 You can scan your phone for malicious applications or files.

Authenticator. 

You use Authenticator to create one-time passwords (also known as verification codes) for multi-factor authentication accounts.

Password Safe. 

You use Password Safe to keep track of all your accounts in one location, which is protected by a master password.

QR Code Scanner. 

You search QR codes with the QR Code Scanner and then process the embedded data.

App Protection. 

App Protection allows you to create a list of applications that can only be used when you've authorized yourself.

Privacy Advisor.

 The Privacy Advisor tool shows details about the permissions granted to the applications on your device.