Lock Screens on a smartphone are there to prevent any unauthorized users from getting access to your device. It includes a few different options to give access to your device like face recognition, fingerprint, a password or a PIN code. However, you can use them to extend your productivity through unique features. Today we will check out some of these Productive lock screen apps for Android.
There is always an inbuilt screen locker in every phone to ensure proper security. However, these in-built lock comes with a minimal variety of themes and options. So, if you are tired of using the same screen locker for a long time and want to change the appearance of your device, you can go for some third-party lock screen apps. And with these third party productive lock screen apps, you can extend or improve your workflow.
Best Productive Lock Screen Apps for Android
Today, a large variety of these apps are available on the market. You can find an unending list of such apps on the Play Store once you search for it. Lock screen apps are great to use. But most of these apps come up with different problems and can make your device slow. If you are looking for a third-party application, then we have listed the top 6 screen lock apps based on their functionality and performance. Check out the list below:
 CM Locker
If you are looking for proper security, then this app perfectly fits your demands, it lets you lock your phone screen and also works as an app locker too. This app supports various methods like pattern lock, password, PIN and also fingerprint. It protects all your data and also provides with Anti-Theft Protection that helps locate your phone in case you lost it. This app also provides an Intruder Selfie system that captures the photo of any person who tries to open your phone without your concern. It also contains a great collection of themes and wallpapers you can download from.
[googleplay url="https://play.google.com/store/apps/details?id=com.cmcm.locker"]
LokLok
This app is amusing to use. You can download it for free from the Play Store. We thought about mentioning it in the 2nd place because of its unique feature. It replaces your regular Android lock screen with a shared whiteboard that you can sync with your friends, family members and anyone you would like to. It allows you to create a group with many people and share photos, notes, and drawings directly on their lock screen so that they get your message whenever they check their phones. If anyone changes their lock screen, it is automatically updated on everyone's phone who is in the group. Though it has a rating of 3.6 on Play Store, yet it can be a very good and fun app for users who like to be connected with their loved ones.
Looking for drawing apps? Checkout 5 best drawing apps for Android.
[googleplay url="https://play.google.com/store/apps/details?id=co.loklok"]
Start
The start is another free screen locking application which you can download from the Google Play Store. Though its rating is just 2.9 on the Play Store, it is effortless to use. It allows you to get access to almost everything on your device without even unlocking your phone. You can check your notifications and messages, make calls, open all necessary apps, take pictures and many more on the lock screen itself. It makes your phone using experience very easy and also saves your time.
[googleplay url="https://play.google.com/store/apps/details?id=com.celltick.lockscreen"]
Hi Locker
Hi locker is a simple screen lock app that gives you an experience of a mixture of new and something familiar making is much easier for you to use. It allows you to customise your lock screen. Hi Locker provides two different modes to unlock your phone, it gives a PIN and a drawing option. It also supports fingerprints but only for Samsung devices. It also offers some smart features like hiding notifications, turning off passwords, etc.
[googleplay url="https://play.google.com/store/apps/details?id=mobi.appplus.hilocker"]
AcDisplay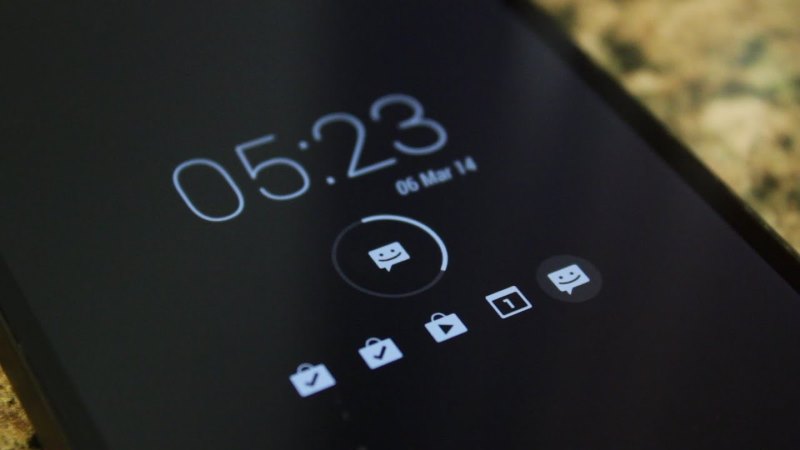 AcDisplay can be a good option for users looking for screen locks with simple UI. This app provides an Active mode that makes use of your phone's sensors. You can view your notifications from your lock screen. You can download this app for free on Google Play Store, and there are also in-app purchases if you want to get free from all annoying ads.
Latest: WhatsApp Dark Mode now Available in the Beta Build
[googleplay url="https://play.google.com/store/apps/details?id=com.achep.acdisplay"]
C Locker Pro
C Locker Pro is one of the best Productive screen lockers with amusing features. The only reason to mention this app in the last is that it is not free. You can use its free version for limited days and then buy it if you want. It provides you with a lot of features such as different unlock options like PIN, pattern unlocks, fingerprint and also provides security selfie option. It takes auto selfies and emails you if there are failed PIN/Patterns attempts made. You can customize your lock screen the way you want. It offers re-sizable and movable app widgets on your lock screen. The new update also supports the Samsung Galaxy S series fingerprint unlock.
[googleplay url="https://play.google.com/store/apps/details?id=com.ccs.lockscreen_pro"]
Wrapping Up
If you're a student, a businessman or an IT employee, you will definitely find these productive lock screen apps. These apps will help you to schedule your time and will show you import updates without interactive with your phone. So do check out these apps and let us know which one among them you like the most. Also, bookmark us for more such informative articles.
Read Next: 6 Best WhatsApp Sticker Makers for Android