After playing the hide and seek game for quite some time now, WhatsApp has finally welcomed the Dark Mode. Although there already existed a workaround to enable dark mode, yet that required a rooted Android device. Moreover, a bug or two also recently resurfaced, which partially enabled this mode. But now, the Dark Mode is officially available in the latest beta build of WhatsApp.
However, there's one thing to keep in mind. This update isn't yet available in the stable version that you could easily download from Play Store. To try out this feature, you'll have to sideload it from a third-party website. Or there's also another method that requires a couple of extra steps, but on doing so you could directly download the APK from the Play Store itself. We'll be having a look at both these methods plus the steps to enable the Dark Mode in WhatsApp Beta. On that note, also have a look at 25 WhatsApp tips and tricks to use WhatsApp like a pro.
WhatsApp Dark Mode Makes its Way to Beta Build
WhatsApp Dark Mode has made its way over to version 2.20.13 beta. As already mentioned, there exist two methods to download this build. The first one involves sideloading the APK from the APKMirror website. Once you have downloaded the file, you'll also have to enable installation from Unknown sources. For that, a pop-up will appear that will take you to the required permission screen. Simply enable the Allow from this source toggle. Then go back and complete the installation process.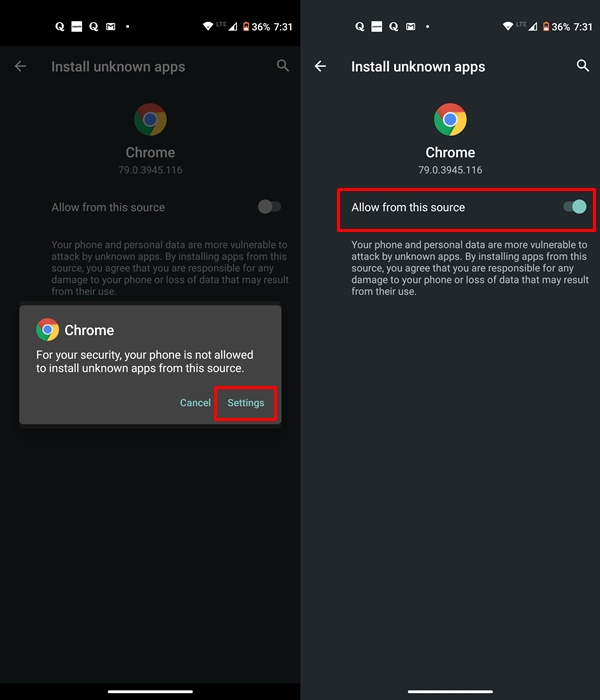 However, if you don't wish to download the app from a third-party website, there exists another method, albeit a slightly longer one. First of all, you'll have to become a beta-tester by signing up on the site. Now, wait for a few minutes and you will receive an update from Play Store. Or you could manually update the app from the store as well. Once done, follow the below instructions to enable the Dark Mode in WhatsApp Beta.
Don't Miss: Enable WhatsApp Dark Mode on Windows & Mac
Steps to Follow
Open WhatsApp on your Android device.
Tap on the overflow icon situated at the top right.
Go to Settings > Chats and tap on Theme under the Display section.
Finally, choose Dark from the menu.
That's it. You have successfully enabled the Dark Mode in WhatsApp Beta. Although it isn't doing full justice to the AMOLED screen as it looks more of a dark blue hue than the complete black that Instagram has to offer. But still, it's a welcome change, nevertheless. Let's just hope it makes its way over to the stable build pretty soon too.
Read next: 10 Best WhatsApp Sticker Packs for Android