LG G6 is LG's latest flagship device and it was launched amidst huge expectations a few months back. The device received a lot of positive reviews among the users for its beautiful Quad HD Display and the solid battery life. The LG G6 was launched with the Snapdragon 821 processor and a massive 3300 mAh battery. Check out our list of 5 best custom ROMs for LG G6.
Since it has been a few months since the LG G6 launch, Custom ROMs and kernels have been flowing in the XDA Forums for the device. A lot of stable ROMs are currently available for download and some of them are even based on the latest stable version of Android Nougat 7.1.1.
The LG G6 was launched with Android Nougat. You can install a Custom ROM on the device to get a closer stock Android experience and also uninstall the system apps you don't need. Custom ROMs also come with the latest security patch updates along with a lot of customization options and features. Here is a list of 5 Best Custom ROMs for the LG G6 that you can download and install right now.
5 Best Custom ROMs for LG G6
1. Fulmics ROM
Fulmics ROM for the LG G6 should be the most downloaded custom ROM as of now and the community is highly interactive. The ROM was updated just 2 days back and it runs Android Nougat 7.0. So basically it includes all the default features of Android Nougat like split-screen multitasking and enhanced doze mode. Along with these, the ROM also comes with several tweaks like volume button actions, power menu customizations and more.
The ROM also comes with the stock kernel pre-installed which means that it might have the same performance and stability as the stock ROM for the LG G6. Fulmics ROM supports Magisk Module by default, so you can make use of the modules it provides. Best of all it comes with Fulmics OTA update, so you don't have to flash every new update from the recovery menu of your phone.
Download Fulmics ROM For LG G6
2. Lineage OS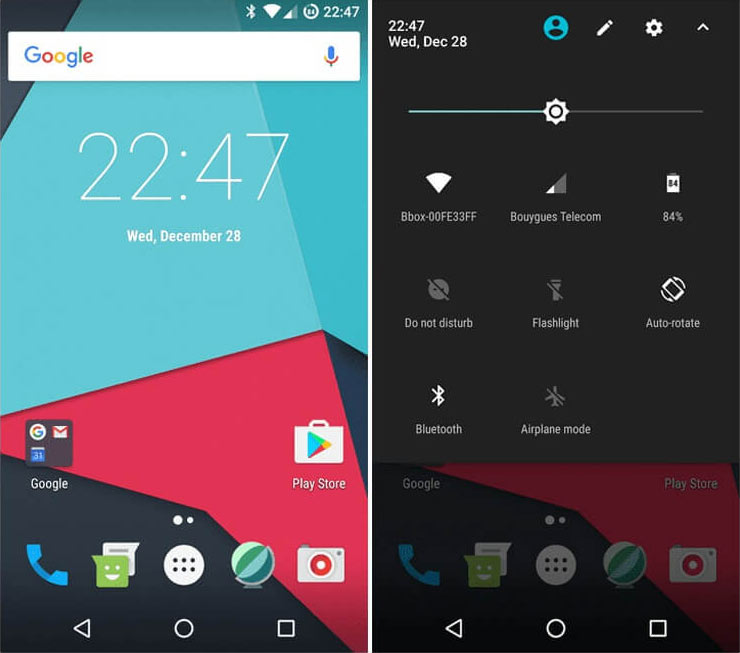 Lineage OS as we all know is the replacement of Cyanogen MOD and most custom ROMs are built using the Lineage OS source code. It aims to provide near-stock Andr experience and stable performance without compromising much on the customization side. It is currently running on the latest stable version of Android Nougat 7.1.2 which includes new features like rounded icons, Google Duo App, app shortcuts, quick settings icon and more.
The developers of this ROM release a nightly build every night so if you encounter a bug or an issue in this ROM, you don't have to worry much as it would probably be solved in the upcoming builds. The ROM is currently very stable with only minor issues like Camera focusing and Optical Image Stabilization not working sometimes.
Download Lineage OS ROM For LG G6
3. Resurrection Remix
Resurrection Remix for the LG G6 H870 variant though unofficial as of now is highly stable and customizable and probably one of the Custom ROMs with most features out there. It is also very simple to use and has a solid battery life despite the number of tweaks available. Almost all the essential features like WiFi, Camera, NFC, and Bluetooth are working without any issues in this ROM.
It is currently running Android Nougat 7.1.2 with the latest security patch update. Even though it is unofficial, the community support for Resurrection Remix is very good and the developers are making sure to release major upgrades to the ROM. If you want to customize your phone in every possible way but also want a ROM as a daily driver, then this is a perfect choice.
4. crDroid
cr Droid is a Custom ROM designed to give the user the closest possible Stock Android experience. In fact, the ROM is developed to perform better and is more stable than the Stock ROM running on LG G6. The ROM was most recently updated on August 8th and is currently running the latest stable version of Android Nougat 7.1.2
It comes with a lot of essential features like Lockscreen and quick settings customizations, status bar icons, and some useful gestures. If you are new to the world of Custom ROMs, then you can begin your journey with crDroid since it gives you the feel of using the purest form of Android with no unnecessary apps or features.
Don't miss: Free Header Apps for Custom ROMs
5. AquariOS
Similar to the Resurrection Remix Custom ROM, the AquariOS for the LG G6 is also a feature-rich ROM with tons of features and offers heavy customizability options. The ROM was only most recently released so it does not have an active community yet. But, on the upside, it runs the latest version of Android Nougat 7.1.2 and has the latest security patch updates.
The ROM supports both the H870 and the US997 variants of the LG G6. It also comes with substratum theme supports which work even without root enabled. You can customize individual aspects of your phone with this feature as a theme for the settings app, a different one for your dialer and contacts app and so on. It also has a lot of interesting features like lockscreen weather, battery bar, and fingerprint gestures.
Hope you were able to choose your favorite custom ROM for your LG G6 from the above list. Let us know in the comments below about your favorite one!