At Droidviews, we already have a post on the best custom ROMs for the Galaxy Note 2 GT-N7100 which was written back in October 2012, and though I kept updating it from time to time, I feel now that it would be better to create an all-new post rather than updating the old one. It's 2013 and things have changed a lot and now we have new ROMs that are better than the "best". Check out the best custom ROMs for Galaxy Note 2 listed below and try one of them.
With the passage of time, the Galaxy Note 2 has become on of the most popular devices and this popularity has enticed more and more developer to work on it, resulting in a plethora of custom ROMs and mods. At one hand the availability of a large number of ROMs gives you the freedom to choose one for your device, on the other, it also hurls into a situation where we find ourselves too overwhelmed to pick a suitable one for us. And that is where this article might be useful for you.
It has just been written to help you choose from some of the best custom ROMs available out there. The parameter for choosing the ROMs has been OS-specific variations like AOSP, CM, Stock, and Hybrid quality so that you can easily select a custom ROM that suits your preferences. Moreover, all the ROMs listed below have also been put to tests like smoothness, fast performance, the capability of customization, battery-life and, of course, the features. That's why, when we talk about best ROMs, our selection is not limited to one. All are the best in their own right and category.
Don't Miss: Things to Do Before and After Installing a Custom ROM
Disclaimer:
We have not developed any of the ROMs. Our only aim was to bring some of the nice ones at one place for the convenience of our users. Flashing a custom ROM might prove risky for your Note 2 and, in rare cases, might brick it too. We, or the developers, shall not be liable to any damages done to your device.
To be able to install a custom ROM on your Galaxy Note 2 must be rooted and have ClockworkMod or TWRP Recovery installed on it. If you have not done it yet, you can root it using our handy rooting tutorial on the topic.
Installing a Custom ROM on Note 2:
Most custom ROMS come with a special installation note from the developer. Here is a short installation guide that can be used for flashing any custom ROM on your device.
Download the ROM file from the link below. Do not extract the zip and copy it to your phone's external or internal SD Card.
If applicable, also download the Google apps file in zip (do not extract)and just copy it to your device using a USB cable (internal or external memory).
Charge your device to 70% level and back up the important data like contacts, messages, apps, etc.  stored on internal storage.
Open phone Settings and enable USB Debugging Mode from Developer Options.
Turn off your Galaxy Note 2 and boot it into CWM Recovery mode: press and hold Volume Up+Home+Power buttons simultaneously till the screen turns up and Samsung logo with Galaxy Note 2 text blinks for two times. Now release the Power key but keep the Volume Up and Power keys pressed till you see a black screen with blue text.
Use the volume keys to scroll the list of options and the Power key to select it.
Important: Scroll down to "backup and restore" and backup your current ROM to external SD card.
Then go back and select "wipe data/factory reset> yes".
Then "wipe cache partition".
Finally, go to "advanced" and select "wipe dalvik cache".
Go back again and choose "install zip from sdcard> choose zip from sd card" option and select the ROM file from the path you have copied the ROM.
Select the ROM file and confirm the choice.
If the ROM comes with a separate Google Apps package, you will have to flash it separately right after flashing the ROM. Install the Gapps using Step 11.
When the installation finishes, select the "reboot system now" option.
The first boot will take a few minutes so do not panic. Set up your data connection, Gmail, Google Wallet, etc. and enjoy the newly installed ROM.
So, here begins our list of some of the best ROMs for the Samsung Galaxy Note 2. Please note that this is not a countdown and the listing has been made in no particular order.
1. monxDIFIED ROM [Aroma-Blueslate]
Developer: monx®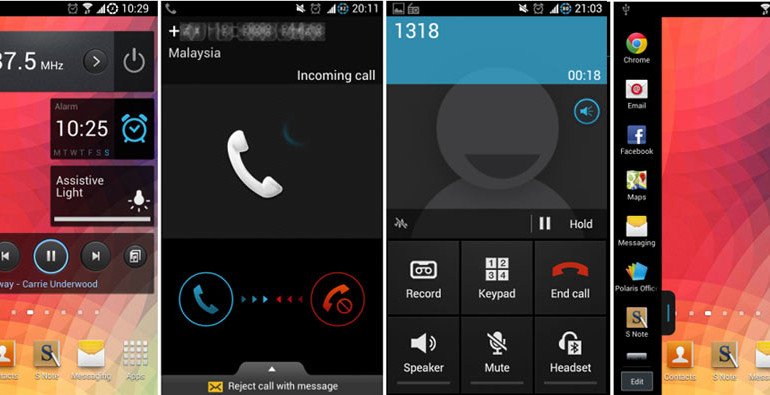 ROM Review
The reason why the monxDIFIED ROM is the first in the list has many reasons. The ROM has been developer by monx® and has been optimized and tweaked to give you good performance. It is themed in blue and black and therefore has a refreshing experience. It takes you away from the stale TouchWiz UI look and still contains all the goodness of it. I have tried many other launchers replacing the stock TouchWiz and always felt nothing is better than it.
The monxDIFIED ROM looks beautiful but not at the cost of performance. The Aroma installer lets you choose what to install and what not to and thus you have full control over how you want your phone to look and behave. As for speed, the ROM is fast enough and feels a lot smoother than the stock. The battery life too is much better. My Note 2 lasted more than 25 hours on a single charge with a 50 minutes of telephonic conversation, an hour of web browsing, watching the Bond movie "Skyfall", sync on and GoogleTalk chat ( battery performance might differ from user to user and depends on configuration).
Best AROMA customization wizard UI
The unsecured framework lets you add your own apps without worries about boot loops
Modded Toggles with nice slate theme
Advanced Power Menu
Latest best selected common apps (AdAway, RescanSD, etc)
Latest GApps pre-loaded
Latest Google Maps and StreetView with Worldwide Navigation activated
Latest Google Play supporting true multi-DPI
Latest YouTube supporting HD mode
Modded frameworks to match Holo theme (blue slate)
Themed in blue.
Simple boot animation
Automatic apk installation from ext sd card
Latest pre-loaded & pre-configured apps (Terminal,Total Commander,etc)
Minimum recent tasks preview size (for privacy wise)
If you prefer a custom ROM that is near TouchWiz and gives you feel-good experience. Go with the monxDIFIED ROM and you will not be disappointed. Download the ROM from below and install using the steps given at the beginning of the post. If you would like the icons and color to be turned as shown in the image below, also flash the Simplistic framework patch after installing the ROM (using "install zip from sdcard" option).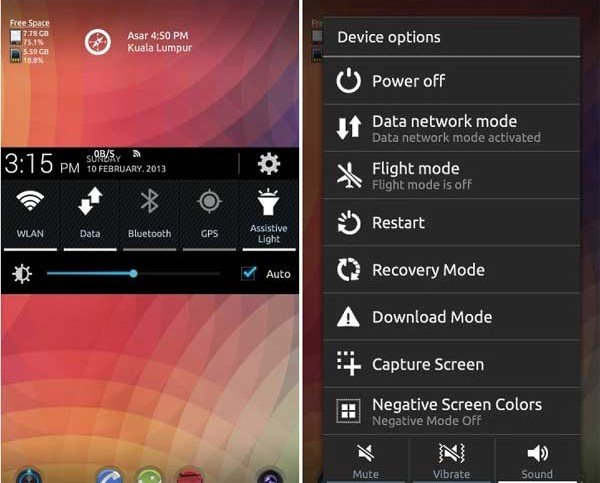 2. LiquidSmooth ROM (JB 4.2.2)
Developer: deadman96385
ROM Review
If you would like to experience the pure AOSP environment on your Galaxy Note 2 the LiquidSmooth ROM might be one good choice for you. Being stripped of almost all bloatware, it is able to yield a far smoother and faster experience. The ROM is based on the latest Android 4.2.2, the most advanced version of the OS, and features all the new things and improvements associated with it.
Some of the feature of the LiquidSmooth ROM for Note 2 include:
Customizable lockscreen buttons and sliders
Chronus clock widget
Customizable hardware and software keys
Transparent navbar and status bar
Customizable navbar ring
Navigation bar widgets
Customizable power menu
Notification power widget
Customizable quick settings panel
Statusbar mods
Theme engine
Quiet hours
Volume rocker music controls
Full Rotation
Customizable battery and notification light
As for the battery life, which is always a subject of major concern for the users of a device like Note 2, LiquidSmooth ROM will give you more lasting battery performance than most  ROMs available for the device currently.
3. Android Revolution HD ROM Note 2
Developer: mike1986.
ROM Review
The Android Revolution HD ROM does not need an introduction you have been flashing your high-end Android phone with custom ROMs. The ROM is also available for a range of phones and tablets for a long time and it has always been known for its tweaks and awesome performance. For a device with the magical S Pen, it is important to use a ROM that gives you a good battery backup, smoother feel, and fast response and which, at the same, does not mar or affect any of the functionalities present on your phone with stock ROM.
As for myself, flashing and testing ROMs to be able to write an article like this becomes a part of life, but whatever custom ROM I might use, there is always an undercurrent desire to get back home with the stock firmware. Most people turn to custom ROMs with an aim to get a better battery life, smoothness, and a few add-ons. The Android Revolution HD ROM is one such ROM that you would like to stick for a long time.
4.  PhoeniX ROM Note 2
Developer: tamirda (Donate)
ROM Review
Phoenix, the mythical bird that is said to rise from its own ashes, symbolizes regeneration and renewal. The PhoeniX ROM for the Galaxy Note 2 GT-N7100 has been aptly named because it is really capable of giving you a refreshed feeling as you keep using it. The ROM turns your phone into a powerhouse with lots of features and options for customization. Fast performance, great stability, and nice awesome battery performance are the stuff the PhoeniX ROM is all about.
Tamirda, the ROM developer, has brought together some of the best features from other nice ROMs and the work of different modders to produce an all-new product that surpasses most ROMs. Here are just a few features that hallmark this ROM:
Fully Deodexed, 

Latest BusyBox
Flash Player support
Call Recorder
Phone with no increasing ringtone
All supported languages enabled
All supported languages for Samsung Keyboard enabled
Call Delay After call End Reduced to 0 ms
Enable sub Symbols on Stock Samsung keyboard
Enable call button in the contact list
Disabled Converting Effect Between SMS MMS
Multi-window control
New Settings app for advanced configuration
OTA update feature
Since the PhoeniX  ROM is installed via Aroma installer, all power comes to your hands. It's you who decides what features and apps you want on your Galaxy Note 2. In a few words, this ROM is a great choice if you want a ROM with all TouchWiz features and stunning performance.
The ROM works best with Perseus Kernel. If you want to enjoy very good battery life, install this Kernel (link below) before flashing the ROM using "install zip from sdcard" option in CWM recovery.
5. Carbon ROM [JB 4.2.2]
Developer: Carbon Team
ROM Review:
Carbon ROM is youngest of all ROMs listed above and yet it is surprisingly mature in its performance and the impact it leaves on the user. It's a simple, low-sized and performance-oriented ROM that is capable of surprising anyone with its facets of customization. It's numerous features and options are more than enough to keep you engaged for a couple of weeks and its stability and battery output might force you to use as a daily driver.
Please note that if you are a hardcore TouchWiz fan, you might not like an AOSP or CM based ROM because they do not allow you to use the S Pen, S Note, Air View, Multi-window and various other typical feature found on stock ROM. But if you do not like the lag delays, and the terrible response of the TouchWiz UX and love to taste Jelly Bean it is natural raw flavor, you'll love Carbon ROM.
The ROM is available as Stable and Nightly builds. For good performance, install the stable version found under "release" folder and to get a peek into the latest features choose "nightly builds".
Droidviews Recommendations:
If you just read our ROM reviews, it should not be any nut cracking business for you to pick a daily driver for your Galaxy Note 2 GT-N7100. However, if you expect from us to be more explicit in our verdict, here it is:
If you wish to enjoy the features of stock Samsung ROM further tweaked to deliver good performance and nice battery life, go for Phoenix ROM.
If you like a lightning-fast ROM with powerful performance and real stock Android feel without any puddings, Carbon ROM is what you need.
As we test new ROMs and find any really deserving one that gives you most out of the Galaxy Note 2, we will be back to the action and add a few more. Enjoy these ROMs and let us know if our selection was apt. Do you have in mind another ROM that belongs to the class of the best? Do share with us. Cheers!