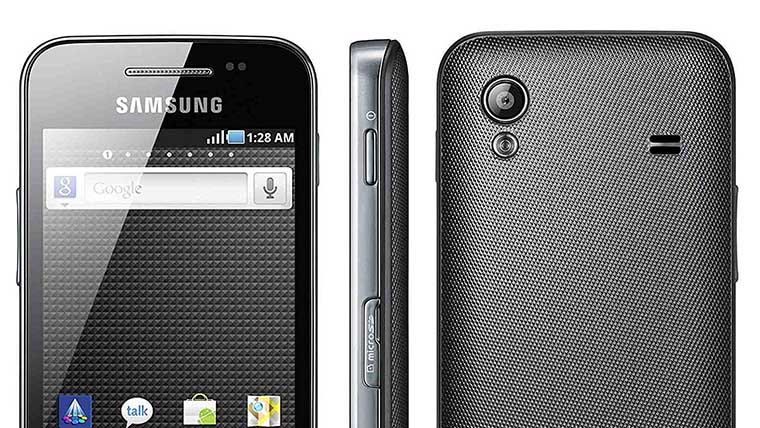 Samsung Galaxy Ace S5830i  isn't as spectacular a phone as its name suggests, but it is a competent budget smartphone. The little monster has a 3.5 inch 320 x 480-pixel display, an 800 MHz processor, a 5.0 MP 2592 x 1944 pixels rear camera with auto-focus and LED flash, WiFi, and 1350 mAh Li-Ion battery. The phone was released in March 2011 with Android 2.2 Froyo which has now been updated to Android 2.3.6 Gingerbread. if you have been looking for some amazing Galaxy Ace S5830i ROMs, check out our list.
If you have this phone and are looking for an Ice Cream Sandwich or Jelly Bean update from Samsung, you are simply beating about the bush. That is not to say that there are no chances of enjoying ICS or Jelly Bean on your Samsung Galaxy Ace S5830i. Remember it the awesome world of Android where impossible is nothing and nothing is impossible. It is another thing that is a low-end smartphone, all Galaxy Ace phones have not got due attention from our developers. Still, there is not a complete void if we talk about a custom ROM for the Galaxy Ace S5830i.
Please note that before being able to install a custom ROM on your Samsung Galaxy Ace S5830i, you will have to root your phone. Moreover, it must have ClockworkMod Recovery installed on it. If you already have a rooted phone, you can directly jump to the custom ROMs section. In case you have rooted and installed CWM Recovery on your  Ace S5830i, head over to our handy tutorial by clicking on the link below.
Guide: How to Root and Install CWM Recovery on Galaxy  Ace S5830i
Disclaimer
Before you actually proceed to install custom ROM on your Galaxy Ace 5830i, let me warn you that it is a risky procedure. Do not move ahead unless you are fully aware of what you are going to do. The method and ROMs listed below have been tested by thousands of people successfully but if you are not duly careful through the procedure, your case might be an exception. Neither Droidviews nor the developers of the ROMs will, at any rate, be responsible for any mishap. Being the owner of your phone, you know better what is good for you.
Making Preparations:
Well, if you ready to flash a custom ROM on your Galaxy Ace 5830i, you need to do a few things before proceeding to flash the ROM.  Among the other things you need to do before installing this ROM are:
Get your Galaxy Ace 5830i fully charged.
Backup all your contacts, messages and other important data. Use these free apps to backup all data.
Turn on the USB Debugging mode on your device. Go to Settings> Applications>Development> USB Debugging> check the box.
Download the ROM  you like from the links below. Do not extract the zip file and copy it to the main directory of your device's SD Card (not in a sub-folder).
Download Google Apps for your phone from below (do not extract) and copy it to the same location as the ROM file.
1. Jelly Blast JB 4.1.1 Galaxy Ace S5830i
Developer: Styrke @xda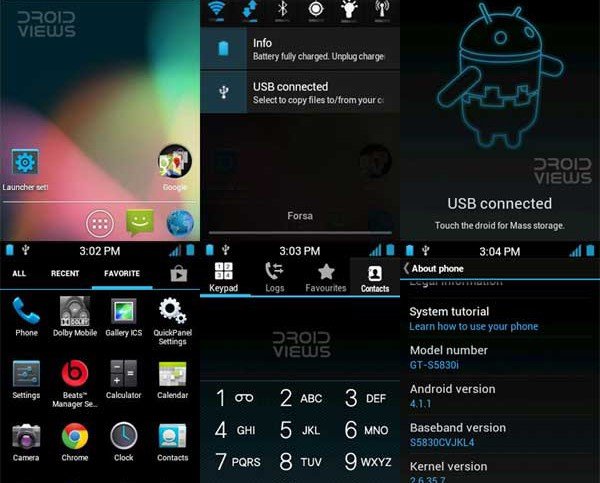 Review:
The Jelly Blast ROM for the Galaxy Ace S5830i is one of the best choices out there if you want to upgrade your phone to the latest version of Android Jelly Bean. The ROM is based on CyanogenMod 10 and lets you enjoy Android 4.1.1 Jelly Bean with all new features. The ROM is a port from the Jelly Blast ROM for the Galaxy Y. The Galaxy Ace version is very fast and smooth. Needless to say, it is a battery-friendly ROM. If your mind is stuffed with Jelly Bean, go for it and it would not disappoint you. Being based on CM, the ROM also supports themes which can be downloaded from the Play Store.
How to Fix JellyBlast Headset Bug:
After installing this ROM, if you get problems with audio or earphone not detecting issue, download and install the SoundAbout app from the Play Store. Open the app, search audio media and check the Wired Headset (with Mic) option. Connect your earphone to phone. To go back to the normal mode change it to "Let the Phone Decide" option.
How to install: Go to the beginning of the post for installation instructions. Please flash this ROM on your phone after updating your phone to the latest version of stock firmware, otherwise, you might face camera and headphone issues.
2. Simplicity V3 ROM Final Ace S5830i + Themes:
Developer: Abhi922 @xda

Review:
Do you own a Samsung Galaxy Ace S5830i and are crazy about iPhone, you can enjoy the look and feel of the iOS on your very Ace S5830i with the Simplicity V3 Final ROM for your phone. The ROM does not only lets you enjoy the iOS look on your Ace, but it also comes with Xperia Arc and Xperia S themes that completely revamp the look of your Galaxy Ace S5830i.
I would like to recommend this theme for your phone not only for its theming capabilities but also for its smooth performance and features. The only known bugs of the ROM are Kies and Camera not working. The Camera bug, however, can be fixed by installing the camera app (download below). Copy the Camera.apk to your device's SD card and install it from File Manager.
How to Install:
Install the ROM using the steps given in the tutorial given the beginning of the post.
To install the themes and Adobe Flash Player on your Galaxy Ace S5830i, follow the following steps:
Download the zips (do not extract them)
Boot the phone into CWM Recovery.
Scroll down to "install zip from sd card> choose zip from sd card>",  select the desired zip and confirm your choice by selecting "yes".
When the file is installed, go back to the main menu of the CWM and scroll to "advanced' option and "wipe dalvik cache".
Return to the main menu and select "reboot system now".
Done! Enjoy the new theme!
3. MindCr SGS3 Styled ROM for Galaxy Ace S5830i
Developer: MindCr @xda
Review:
Enjoy the look and feel of the Samsung Galaxy S3 on your very Galaxy Ace S58230i by dressing up your phone with the MindCr SGS3 styled Rom. It is a feature-packed ROM that ports most of the Galaxy S3 UI design. The ROM is fast, smooth and battery-friendly as well. The ROM is based on Android 2.3.6 Gingerbread. To know what features it brings to your phone, just throw your eyes below.
Features of the ROM:
Rom 2.4 Deodexed MindCr Gingerbread.BGHL4 (XXLH3)
Bootanimation – Blue Android Particles.
SGS3 themed: Looks like SGS3, Sounds SGS3, Dialer SGS3, Wallpapers & Ringtones SGS3
15 buttons in the scroll-bar (6 visible).
6 screen lock styles.
Swipe notifications to remove it
Center Clock
Fix Host file for AdFree
Removed some useless applications.
Holo Launcher 1.2.8
Tweaks and battery performance.
Memory and Internet Tweaks
Mod Touchscreen sensibility
Automatic Zipaling every 5 starts.
Improved sound (Mega Bass Beats + Dsp Manager)
SD cache size 1024
ZRam 72 MB
Kernel Rafael Baugis 201211201515
Quick panel and ROM settings support language: English, Spanish, Italian and Polish
How to Install:
If you are going to install this ROM over another custom ROM, follow the guide given the beginning. In case, you are to flash it over a stock ROM, follow the following steps:
Copy the ROM file.zip, ClockWorkRec.zip and Flash Player.zip files in the root (main) directory of your SD Card.
Turn off the phone and boot it into Recovery Mode by pressing: Volume up + home + power. (To navigate the menu use the volume keys, to select the home, and back to return).
Go to "apply update from sdcard" and choose ClockworkRec.zip
Then wipe data / reset – YES
Go to advanced>Wipe Dalvik Cache>yes
Return to the main menu
Go to "mounts and storage> format /system> yes"
mount /system (it change to unmount) – Press Back
Select "install zip from sd" / "choose zip from sd card"
Select the ROM file and confirm
When the installation is finished, go back to main menu and reboot phone.
Enjoy the Galaxy S3 styled ROM on your Galaxy Ace S5830i!
4. Ace-i-Sure ROM (Recommended)
Developer: brijeshep @xda
Ace-i-Sure is in fact a Gingerbread ROM with Holo launcher that makes it look like a Jelly Bean based ROM. Since most of the so-called Jelly Bean based custom ROMs are not really up to the mark,  Ace-i-Sure is one that will make you happy. It's one of the most perfect and bugless ROMs for the Galaxy Ace S5830i.
Here are some of the features of the ROM:
Based on Stock Kernel
Modded Holo Launcher for better performance
6 lockscreen themes
New Status Bar & Notification Area + 15 toggles in notifications
Swipe to Remove Notifications
Quick Brightness Control
280+ Languages Support
Battery Charging Animation in the status bar
New Settings layout
DSP Audio Settings
100 Built-in Direct Wallpapers
Dialer Themes
Perfect Keyboard
New ringtones and alarm Sounds
Several build.prop Tweaks added
My Files replaced by ES File Explorer
Voice Recorder replaced by Ultimate Voice Recorder
Google Play Store v.3.10.9
Google Maps 6.12.0
Google YouTube 4.1.47
Jorte Calendar 1.4.17
Read Next: List of 5000+ Android Device Codenames