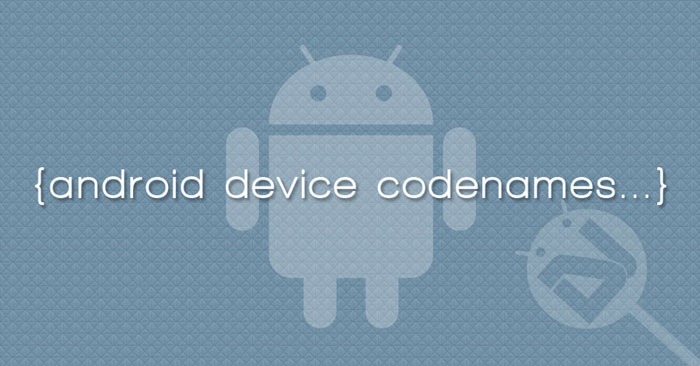 All Android devices have a unique codename that is used in development projects. In some cases, you might need to know the codename for the Android phone or tablet you own. Below, we have listed Android device codenames for more than 5 thousand devices.
All Android devices have a codename. You must have seen them listed in some custom ROM, TWRP recovery and CF-Auto-Root archives. Ever wanted to know what's the codename of the device you own? Below, we have listed thousands of Android phones and tablets from all major manufacturers for the sake of easy reference. The code names have been taken from the Google Play Developer Console.
List of 5000+ Android Device Codenames
All devices names listed below have been arranged alphabetically.
Manufacturer

Device Name

Codename

Acer

A1-713
acer_aprilia
A1-811
mango
A1-830
ducati
A110
a110
A200
picasso_e
A211
picasso_e2
A3-A10
zara
A3-A20FHD
acer_harleyfhd
A510
picasso_m
A701
picasso_mf
Acer E320-orange
C6
Aspire A3
aa3-600
AT390
T2
B1-710
B1-710
B1-711
B1-711
B1-720
b1-720
B1-721
b1-721
B1-730
vespatn
B1-A71
B1-A71
CloudMobile S500
a9
DA220HQL
DA220HQL
DA221HQL
da1
DA222HQL
da2
DA222HQLA
da222hqla
DA223HQL
da3
DA241HL
DA241HL
DA245HQL
da245hql
E120
K2
E130
K3
E140
k4
E210
k5
E310
c4
E310
C4R
E330
C7
E350
C8
E350
C8n
G1-715
G1-715
G100W
maya
Icona One 7
vespa
Iconia One 7
G1-725
Iconia One 7
vespa2
Iconia One 8
vespa8
Iconia Tab 10
acer_harley
Iconia Tab 7
acer_apriliahd
Iconia Tab 8
ducati2hd3g
Iconia Tab 8
ducati2fhd
Iconia Tab 8
ducati2hd
Iconia Tab A100 (VanGogh)
vangogh
Iconia TalkTab 7
acer_a1_724
Liquid
a1
Liquid C1
I1
Liquid E2
C11
Liquid E3
acer_e3
Liquid E3
acer_e3n
Liquid E600
e600
Liquid E700
acer_e39
Liquid Jade
acer_S55
Liquid Jade S
acer_S56
Liquid Metal
a4
Liquid S2
a12
Liquid X1
s3
Liquid Z200
acer_z200
Liquid Z205
acer_z205
Liquid Z205
acer_z205p
Liquid Z3
acer_ZXR
Liquid Z3
ZX
Liquid Z4
acer_Z6
Liquid Z410
acer_z410
Liquid Z5
acer_ZXL
Liquid Z500
acer_Z500
Liquid Z520
acer_z520
Picasso
picasso
Picasso
ventana
S300
a5
Stream
a3
TA272HUL
ta2
Tab 7
td070va1
TD600
T603T
V360
C10
Z110
Z1
Z120
Z2

Anydata

Aquaris I8
bq_Aquaris
ASP320Q_ANDi
ASP320Q_GSM
Auchan MID7317CP Tablet
MID7317CP
Carrefour CT710
M755ND
Carrefour CT720 / Emdoor EM63 Tablet
EM63
Coby MID1065
MID1065
COBY MID7055
MID7055
Coby MID7065
MID7065
Coby MID8065
MID8065
D2-721G
D2-721G
D2-727G
D2-727
Digix TAB-840_G
TAB-840_G
DOPO GMS-718 Tablet / Discovery
DT088
DOTPAD DP3D8 / Gadmei
E8-3D
ematic EGP008
EGP008
ematic EGP010
EGP010
ematic EGS004
EGS004
ematic EGS102
EGS102
essentielb ST8003/FT8001 Tablet
M805ND
Eviant MT8000
PDM829MD
Grundig GR-TB10S Tablet
GR-TB10S
HCL ME TABLET PC U2
M712MC
HKC P771A
P771A_WIFI
HKC P774A
P774A
HKC P776A
P776A
HKC P778A
HKCP778A
HKC P886A
P886A
HS_7DTB14
HS_7DTB14
iCraig CMP748
CMP748
iCraig CMP749
CMP749
Insignia NS-13T001 Tablet
oracle
Jiateng JT1241
JT1241
Lazer MD7305 Tablet / AMTC
MD7305
Leader I10A-LE
I10A-LE
LePanII
LePanII_wifi
Mach_Speed Trio G2 Tablet
Trio_Stealth_G2
Marquis Tablet
marquis_tablet
Monster M7 Tablet
MONSTERM7
Nextbook Next7D12 Tablet
M757ND
Nextbook Next7P12
M727MC
Nextbook NX007HD Tablet
M7000ND
Nextbook NX008HD8G Tablet
M8000ND
Nextbook NX008HI Tablet / Carrefour CT810
M909NP
Pendo PNDPP48GP
PNDPP48GP
Philips W336
Crane
Philips W536
Philips_WG-MANTO-RU_B
Philips W626
sangfei73_gb
Philips W632
robot
Philips W832
Philips_WG-ROVER-RU_A
Prestigio PMT5877C
PMT5877C
Prestigio PMT7287C3G
PMT7287C3G
Prestigio PSP5307DUO
PSP5307DUO
Proscan PLT7223G
PLT7223G
Proscan PLT7777
AMLMID710K
Proscan PLT8223G
PLT8223G
PSP5047DUO
MT6589
PSP5457DUO
MT6572
RCA RCT6078W2
AMLEM62
TecToy TT-2500
AML757ND
Visual Land Prestige 7D
PRO7D
Vivitar Camelio Tablet
PI070H04CA
Vivitar XO Tablet
PI070H08XO
Zeki TBDG773
TBDG773

Arcadyan TV

Bbox Miami
HMB4213H

Archos

101 Childpad
A101CHP
101 Cobalt
AC101CO
101 G9
A101
101 Neon
A101NE
101 Platinum
A101PL
101 Titanium
A101TI
101 Xenon
a101xe
101 XS
A101XS
101b XS2
ac101bxs2
101XS2
AC101XS2
40 Titanium
a40ti
40b Titanium
a40btisr
45 Helium 4G
a45he
45 Titanium
a45ti
45c Platinum
ac45cpl
50 Helium 4G
a50he
50 Neon
a50ne
50 Oxygen
a50ox
50 Titanium
a50ti
50b Platinum
ac50bpl
50c Oxygen
a50cox
53 Titanium
a53ti
70 Cobalt
AC70CO
70 Neon
ac70ne
70 Titanium
A70TI
70 Xenon
a70xe
70b Titanium
A70BTI
79 Neon
a79ne
79 Platinium
AC79PL
79 Xenon
a79xe
80 Carbon
AC80CA
80 Childpad
A80CHP
80 Cobalt
A80CO
80 G9
A80
80 Platinum
A80PL
80 Titanium
A80TI
80 Xenon
A80XE
80 XS
A80XSK
80b Platinum
A80BPL
90 Neon
a90ne
90b Neon
ac90bne
97 Carbon
A97C
97 Cobalt
AC97CO
97 Platinum
A97PL
97 Titanium HD
A97TIHD
97 Xenon
A97XE
97b Platinum
AC97BPL
97b Titanium
A97BTI
Archos 101 Copper
ac101cv
Archos 101 Internet Tablet
A101S
ARCHOS 101 Oxygen
ac101ox
Archos 101 Xenon
ac101cxe
Archos 101b Neon
ac101bne
Archos 101b Platinum
ac101bpl
Archos 101c Neon
ac101cne
ARCHOS 35b Titanium
ac35bti
Archos 40c Titanium
ac40ctiv2
Archos 45 Neon
ac45ne
Archos 45b Helium
ac45bhe
ARCHOS 50c Helium
ac50che
Archos 59 Titanium
ac59ti
Archos 64 Xenon
ac64xe
Archos 70 Copper
ac70cv
Archos 70b Cobalt
a70bco
Archos 70b Xenon
ac70bxe
Archos 70c Cobalt
ac70cco
Archos 70it 2
A70it2
Archos 79 Cobalt
ac79co
Archos 80 Helium
ac80he
Archos 80b xenon
ac80bxe
ARCHOS 80G9
A80S
ARCHOS 90 Copper
ac90cv
Archos ArcBook
a101db
Auchan Qilive 40
ql40
Auchan QiLive 45
ql45
Auchan QiLive 50
ql50
Auchan Qilive8
QiLive8
Auchan Qilive8QC
QiLive8QC
Auchan Qilive97
QiLive97
Auchan Qilive97R
QiLive97R
Auchan Selecline 10
SELECLINE10
Bush 4″ Android Phone
ac40cti
Bush 5″ Android Phone
ac50bne
Bush 7.0 MyTablet
ac70pl
Bush 8.0 MyTablet
ac80cpl
Bush Mytablet 2
a80bu
Bush MyTablet 7
ac70bu
ChefPad
A97CFP
FamilyPad 2
A133FP2
GamePad
A70GP
GamePad 2
A70GP2
HomeSmartphone d800
d800
Hudl HT7S3
ht7s3
Kuno
KUNO4
KUNO 4+
kuno4p
My Tablet 101
ac101bu
MyTablet 79
ac79bu
QiLive 101
aqilive101
Qilive 53
msm8625
Qilive 7
qilive7
Qilive 97R2
qilive97r2
Qilive79
Qilive79
Qilive7V2
ql70v2
Quechua Phone 5
A50RG11
Quechua Tablet 8
A80RG11
Smart Home Tablet
hometablet
Smartphone 5″ Q.4094
ac50bhe
technika8
tsc80
TV Connect
LUDO

Asus

ASUS ETBW11AA
ETBW11AA
ASUS Fonepad 7
K01F
ASUS Fonepad 7 LTE
K00Y
ASUS Fonepad 8
K016_2
ASUS Fonepad 8
K016_3
ASUS Fonepad 8
K016_4
ASUS Fonepad 8(FE380CG)
K016_1
ASUS Fonepad ME371MG
ME371MG
Asus Fonepad Note 6
K00G
Asus MeMo Pad 7
K012_2
ASUS MeMO Pad 7 (ME572CL)
K00R
ASUS MeMO Pad FHD 10
ME302KL
ASUS MeMo Pad ME302C
ME302C
ASUS MeMO Pad Smart 10
ME301T
Asus Pad TF303CL
K014
ASUS Transformer AiO P1801
P1801-T
ASUS Transformer AiO P1802
P1802-T
ASUS Transformer Book Trio
TX201LA
ASUS Transformer Pad
K010_1
ASUS Transformer Pad
K010
Asus Transformer Pad
K018
ASUS Transformer Pad Infinity
TF700KL
ASUS Transformer Pad TF300T
TF300T
ASUS Transformer Pad TF300TG
TF300TG
ASUS Transformer Pad TF300TL
TF300TL
ASUS Transformer Pad TF502T
TF502T
ASUS Transformer Pad TF600T
TF600T
ASUS ZenWatch
anthias
Eee Pad
EeePad
Eee Pad Slider
SL101
Eee Pad TF101
TF101
Eee Pad TF101-WiMAX
TF101-WiMAX
Eee Pad Transformer Prime
TF201
Fonepad 7
K01N_2
Fonepad 7
K00Z
Fonepad 7
K01N_1
Fonepad 7
K012
Fonepad 7 (FE375CG)
K019_1
Fonepad 7 (FE375CXG)
K019_4
Fonepad 7 (FE375CXG)
K019_3
Fonepad 7 LTE
K01Q
Fonepad 7(FE375CXG)
K019_2
Fonepad HD7
K00E
Garmin-Asus A10
a10
K00F
K00F
K00L
K00L
ME171
EP71
ME173X
ME173X
MeMO PAD
me172v
MeMO Pad 7
K013C
Memo Pad 7
K01U_1
Memo Pad 7
K01U_2
MeMO Pad 7
K01A
MeMO Pad 7
K013_1
MeMO Pad 7
K017
MeMO Pad 7
K013
MeMO Pad 7 LTE
K00X
MeMO Pad 7 ME572C
K007
MeMO Pad 8
K011
MeMO Pad 8
K011_1
MeMO pad 8 ME581C
K01H
MeMO pad 8 ME581CL
K015
MeMo Pad HD 7
K00U
Memo Pad HD7 Dual SIM
ASUS-K00S
MeMO Pad ME103K
K01E_2
MeMO Pad ME103K
K01E_1
Nuvifone
a50
PadFone
PadFone
PadFone 2
A68
PadFone E
ASUS-T008
PadFone Infinity Lite
ASUS-A80
PadFone mini
ASUS_T00E
PadFone mini
ASUS-T00C
Padfone mini
ASUS-T00S
PadFone S
ASUS_T00N
PadFone T004
ASUS-A86
Padfone X
ASUS-T00D
T101TA
T10xTA
T50
ASUS_X002
TF700T
TF700T
Transformer 10(TF103CE)
K010E
Transformer Pad
K010_3
Transformer Pad Infinity
K00C
Transformer Pad TF303K
K01B
Transformer TF101G
TF101G
TX201LAF
TX201LAF
ZenFone 4
ASUS_T00Q
ZenFone 4
ASUS_T00I
ZenFone 5
ASUS_T00J1
ZenFone 5
ASUS_T00J
ZenFone 5
ASUS_T00F1
ZenFone 5
ASUS_T00F
ZenFone 5
ASUS_T00K
ZenFone 5 LTE
ASUS_T00P
ZenFone 6
ASUS_Z002
ZenFone 6
ASUS_T00G
ZenFone C
ASUS_Z007

BYD

DynaVox T10
T10
FarEastone Smart 502
Smart502
INHON G3
G3
K-Touch E815
E815
M601
M601
Moii E996+
E996plus
Prestigio PAP5430
PAP5430
PT452E
PT452E
SI4301
SI4301
Smart 401
tianyu72_wet_jb3
Smart 402
hawaii_garnet_c_w68tk
Solo S350
S350
SOLO S450
S450
SP355AWG
msm7627a_sku3
WISKY W032I
W032I
X910
X910
Zippers
Zippers

Barnes and Noble

NOOK® HD+
ovation
NOOK® HD
hummingbird

CJSC Explay

4Game
4Game
Air
Air
Atom
Atom
ATV
ATV
Bit
Bit
Cosmic
Cosmic
Craft
Craft
Discovery
Prime
Easy
Easy
Favorite
Favorite
Fresh
Fresh
Gravity
T4728
Hit
Hit
Joy TV
Joy_TV
Light
Light
M1 Plus
Fog
Onliner 4
G4187
Onyx
Onyx
Phantom
Phantom
Pulsar
Pulsar
Rio Play
RioPlay
Style
T5246
Surfer777 3G
Leader
Tab Mini
TabMini
Tornado
Tornado
Tornado 3G
Tornado3G
Vega
Vega

Cellon

C3668
C3668
Alpha Ice
M8047
BB8252
Bigben-TAB
C8646
C8646
CI
Dream-C1
CJ-1984
C8690
EASY1
EASY1
EI
Dream-E1
EIII
Dream-E3
Endeavour101
Blaupunkt
i-mobile IQ X
M8047SA
i-mobile IQ X2A
M8050SA
i-mobile IQ5-2
IQ5-2
i-STYLE7A
c8669SA
ICON
ICON
IQ 1.1
IQ1-1
iris pro 30
pro30
LUVO-001L
LUVO-001L
M8046IU
M8047IU
Philips_W3500
Philips_W3500
PLT7100G
PLT7100G
PLT7130G
PLT7130G
PLT9606G
PLT9606G
Q
M8047XT
S21
S21
SI
Dream-S1
SM55
C8660
Starmobile KNIGHT
KNIGHT
starTIM1
starTIM1
TM1088
fiber-wifibt
VEON_C8680
C8680
WEBPAD1002
Listo

Compal

A600
CAP5
A600
CAP6
A8
CAP7
Andy
cap2
Antares
TL66
Antares
TL_Antares
AX 8.6
penguin
BenQ F3
F3
BenQ F4
benq_a3s
CAT B15
TOUGH
CAT B15Q
B15Q
COSMO DUO
CA22
i4901
i4901
MiiA MT-733G
MT-733G
PMT3277_3G
PMT3277_3G
PMT3287_3G
PMT3287_3G
Polaroid A7X_PTAB735X
PTAB735X
TANK 4.5
ka09

Coolpad

5832
CP5832
5860E
CP5860E
5860S
msm7627a_5860S
5880
CP5880
7266
msm7627a_7266
801E
801E
801EM
801EM
8810
dkb
8870
CP8870
8970L
8970L
9120
msm7627a_9120
Bs501
cp8870u
Coolpad 3700A
3700A
Coolpad 5010
msm7627a_ea58
Coolpad 5109
Coolpad5109
Coolpad 5210
msm7627a_ea92
Coolpad 5216D
5216D
Coolpad 5217
msm8610
Coolpad 5218S
msm8x25q_a5y_5218s
Coolpad 5219
5219
Coolpad 5820
msm7627_5820
Coolpad 5891
Coolpad5891
Coolpad 5891S
Coolpad5891S
Coolpad 5951
Coolpad5951
Coolpad 7019
7019_msm7627a
Coolpad 7061
CP7061
Coolpad 7230S
Coolpad7230S
Coolpad 7232
CP7232
Coolpad 7251
Coolpad7251
Coolpad 7270
Coolpad7270
Coolpad 7270I
7270I
Coolpad 7275
CP7275
Coolpad 7290
Coolpad7290
Coolpad 7295A
Coolpad7295A
Coolpad 7296
Coolpad7296
Coolpad 7620L
Coolpad7620L
Coolpad 8079
Coolpad8079
Coolpad 8122
Coolpad8122
Coolpad 8198W
Coolpad8198W
Coolpad 8297D
Coolpad8297D
Coolpad 8670
Coolpad8670
Coolpad 8702
Coolpad8702
Coolpad 8729
Coolpad8729
Coolpad 8730L
Coolpad8730L
Coolpad 8732
Coolpad8732
Coolpad 8736
8736
Coolpad 8971
8971
Coolpad 9080W
Coolpad9080W
Coolpad 9150W
Coolpad9150W
Coolpad 9190_T00
Coolpad9190_T00
Coolpad 9970L
9970L
Coolpad 9976A
Coolpad9976A
Coolpad 9976T
Coolpad9976T
Coolpad Flo
7560T
Coolpad W706+
msm7627_w706
Coolpad W706+
msm7627_w706T
Coolpad W708
msm7627_w708
Coolpad5218D
msm7627a_a5y_5218d
Coolpad5315
msm8610_s10_cp5315
Coolpad5872
Coolpad5872
Coolpad5879T
Coolpad5879T
Coolpad5891Q
Coolpad5891Q
Coolpad5892
Coolpad5892
Coolpad5950
Coolpad5950
Coolpad5950T
Coolpad5950T
Coolpad7270_W00
Coolpad7270_W00
Coolpad7295C
Coolpad7295C
Coolpad7295C_C00
Coolpad7295C_C00
Coolpad7295I
Coolpad7295I
Coolpad7295T
Coolpad7295T
Coolpad7296S
Coolpad7296S
Coolpad7298A
Coolpad7298A
Coolpad7298D
Coolpad7298D
Coolpad7320
Coolpad7320
Coolpad7728
CP7728
Coolpad801ES
801ES
Coolpad8085Q
Coolpad8085Q
Coolpad8198T
8198T
Coolpad8297
Coolpad8297
Coolpad8297W
Coolpad8297W
Coolpad8705
Coolpad8705
Coolpad8720L
Coolpad8720L
Coolpad8908
8908
CP5108
msm7627a_a8_5108_new
CP5210A
msm7627a_d7_5210a
CP5310
cp5310
CP5660S
5560S
CP5952
Coolpad5952
cp7236
msm8610_w7_cp7236
CP8021
Coolpad8021
CP8089
CP8089
CP8089Q
CP8089Q
CP8295M
8295M
CP8735
8735
CP8750
8750
CP9190L
Coolpad9190L
CP9250L
Coolpad9250L
CP9970
9970
CPA520
CoolpadA520
CPT1
CoolpadT1
Forward_EVOLVE
Forward_EVOLVE
Idea ULTRA
Coolpad7295S
Karbonn Titanium S5 Plus
Karbonn
MEDION P5001
MEDION
MEDION P5001
P5001
Mtag 353
msm7627a_ea92_mts
MTS-SP150
msm7627_SP150
N930
CP9130
Nivo
7560U
PAP4000
msm7627a_PAP4000
Spice Mi-496
Coolpad7268I
STARADDICT III
cp8861u
Vodafone Smart 4G
cp8860u
VodafoneSmart4
VodafoneSmart4
VodafoneSmart4turbo
VodafoneSmart4turbo
YL-Coolpad 9960
9960

Dell

101DL
streakpro
Cloud Connect
capri_wyse
Dell Aero
Dell_Grappa
Dell Streak
qsd8250_surf
Dell Streak 10 Pro
Streak10Pro
Dell Streak 7
streak7
Dell Venue
venue
Streak
streak
Venue 7
LW
Venue 7
thunderbird
Venue 7
Venue7
Venue 8
BB
Venue 8
yellowtail
Venue 8
Venue8

Digi-In

776TPCIII
776TPCIII
7DTB25
7DTB25
A2272PWHT
AOC_WW
A712
A712
AD7003
AD7003
Allfine M721
86S
Allfine PC1038Q
fine10_Joy
Beeline Tab
Beeline_Tab
C08TA
C08TA
Carrefour CT820
M878LP
CT8
CT8
D711HC_PG
D711HC_PG
D7911L3BC_OGS
D7911L3BC_OGS
Danew Dslide 1013
DSlide1013
Danew DSlide 750
Danew_DSlide750
Digital2 Platinum
D2-963G
Digital2 Plus
Digital2Plus
DISNEY_Tablet_PC
DISNEY_Tablet_PC
DIT702201
DIT702201
DL700D
DL700D
DL785D
DL785D
DP7856K
DP7856K
DPA23D
polaris-wifionly
DSlide 710
Dslide710
EGD078
EGD078
EGD170
EGD170
EGD172
EGD172
EGD213
EGD213
EGQ337
EGQ337
EGQ780
EGQ780
ELITE10Q
Elite10Q
ELITE7Q
Elite7Q
ELITE8Q
ELITE8Q
ELITE8QS
Elite8QS
ELITE9Q
ELITE9Q
Ematic EGD103
EGD103
Ematic EGQ327M
EGQ327M
EMATICEGS109
EGS109
ET7050D
ET7050D
eZee'Tab7Q11-M
Tab7Q11
eZee'Tab7D14-S
STOREX7526
eZeeTab7D15-M
eZeeTab7D15-M
FunTab 2
FunTab2
GAMETAB-ONE
GAMETAB-ONE
GoTab GBT10
GBT10
GTAB700
GTAB700
GTAB900
GTAB900
H-27
H-27
HANNSpree HSG1279
HANNSpad
Hipstreet HS-10DTB8
HS-10DTB8
HS-10DTB12
Hipstreet
HS-7DTB27
HS-7DTB27
HS-7DTB39
HS-7DTB39
HS-9DTB7A
HS-9DTB7A
IRULU_MID
IRULU_MID
KLIPAD_SMART_D71
KLIPAD_SMART_D71
KLIPAD_SMART_D791
KLIPAD_SMART_D791
KTAB
KTAB
LINSAY F-7HD2CORE / F-7HD4CORE / F-10HD2CORE /F-10XHD4CORE
F-7HD2CORE
M7s Dual Core
NB116_NB117_NB118
MegaFon MT3A
MT3A
MFC191
MFC191
MID_9526CM
MID_9526CM
MID7526CM
MID7526CM
MID9526CM
MID9526CM
Monster M10
M10
MPDC1006
MPDC1006
MPDC706
MPDC706
MW-7615P
MW-7615P
MW6617
MW6617
NB07
NB07
NB7022S
NB7022S
NB7850S
NB7850S
Ncredible NV8
NV8
NID_7010
NID_7010
NS-15AT07
NS-15AT07
NV8-HD
NV8-HD
NX700QC
nxm7100lvd_wm
NX785QC
nxm865lvd_wm
NX785QC8G
NXM865FD
OT-310
OT-310
P1001
P1001
P791
P791
PLT7803G
PLT7803G
PLT7804G
PLT7804G
PMT3677_Wi
PMT3677
PNDPP44QC10
PNDPP44QC10
PNDPP44QC7
PNDPP44QC7
POLAROID A7_PTAB735
A7_PTAB735
Prestige 7G
Prestige-7G
Prestige PRO10D
PRO10D
PRO7DS
PRO7DS
PRO8D
PRO8D
PRO9D
PRO9D
Q.3778
Q3778
QPOINT
QPI-1
QUANTUM_700S/QUANTUM 700S
QUANTUM_700S
RCT6002W46
RCT6002W46
RCT6103W46
RCT6103W46
RCT6273W26
RCT6273W26
RCT6573W23
RCT6573W23
RCT6672W23
RCT6672W23
S1052
S1052
S221C3A
MMD_WW
S7842
S7842
S952
S952
SAT2242 WorkTab
ADP_WW
SENSEIT L301
SENSEIT-L301
Slim_Tab_8
Slim_Tab_8
SMARTAB ST700
ST700
Sprout Channel Cubby
Cubby
SurfTab ST70204-3
TREKM7100KLD
T1144
T1144
TAB-740_G
TAB-740_G
Tab734
Tab734
Tablet Tsunami TSTA080D1
MG080D1T
TBDG734
TBDG734
TM705
TM705
TQ700/QUANTUM 700/TAB
TQ700
Trio AXS 3G
Trio_AXS_3G
TU7_58212_18222
TU7_58212
W3568
Philips_W3568
W3620
W3620
W6500
Philips_W6500_A
W6610
Marathon
W8555
Pride
WA-U420D
WA-U420D
WETAB700DG
WETAB700DG
ZOOTI PAD ZT-701
ZT-701

Doro

Liberto 810
Liberto810
Liberto 810
Liberto810_S12
Liberto 820
Liberto820
Liberto 820 Mini
820Mini

ECS

A.O.I.
TR10CS1_11
Any 302
TR10CS2_3
Any 302
TR10CS1_15
Any 302
TR10CS2_2
Any 303
TR10CD2_2
Any 303
TR10CD2_3
i-Buddie
TR10CD1_11
i-Buddie
TR10CD1_10
ILIUM PAD E10Si
iLium_Pad_E10Si_1
JP SA COUTO, S.A. _MG070A2T
TA71CA5_1
Ketablet
TR10CS1_6
MiiA
TA10CA1_2
NBX-T1014N
TA10CA2
NESO N810 i7
N810_i7_1
TA10CA1
TA10CA1
TA10CA3
TA10CA3
TA10CA4
TA10CA4
TA10TA2
TA10TA2_1
TA70CA1
TA70CA1
TA70CA2
TA70CA2_1
TA70CA3
TA70CA3_1
TA71CA1
TA71CA1
TA71CA2
TA71CA2_1
TA71CA3
TA71CA3_1
TA71CA5
TA71CA5
TA80CA1
TA80CA1_2
TA80CA1
TA80CA1
TA80CA2
TA80CA2_1
TA80TA1
TA80TA1_1
TR10CD1
TR10CD1_4
TR10CD1
TR10CD1_2
TR10CD1
TR10CD1_5
TR10CD1_P
TR10CD1
TR10CD1(PVT2)
TR10CD1_6
TR10CS1
TR10CS1_2
TR10CS1
TR10CS1_7
TR10CS1
TR10CS1_3
TR10CS1_P
TR10CS1

Enspert

Barry
s7811
Carrefour CT1010
Carrefour
CINK SLIM
s8073
CINK SLIM 2
s8074
Cynus F3
s7511
DARKSIDE
s9301
E-TAB
E-TAB
E350
E350
E400
E400
enspert_e201
e201
ESP_E301VE
ESP_E301
HIGHWAY
s9320
IGGY
s7521
ITP-S100WD
illuminus
Lazer X40E
X40E
Lazer X4508
X4508
Logicom S504
S504
MG
MGA930
orion
orion
Qilive W55
W55
S732
rk3026
Selecline X35T
X35T
STAIRWAY
s9111
Sugar
s9121
vanitysmart
vanitysmart
WIKO
s5501
Wiko CINK FIVE
s9201
WIKO CINK PEAX
s9091
WIKO CINK+
s7505
WIKO SUBLIM
s9070

FLY

Fly Ego Art 2
Fly_Ego_Art_2
Fly Era Energy 1
IQ4502_Quad
Fly Era Life 2
IQ456
Fly Era Nano 6
Era_Nano_6
Fly ERA Nano 7
Fly_IQ4407
Fly Era Nano 8
IQ4400
Fly Era Nano 9
IQ436i
Fly Era Style 3
IQ4415_Quad
Fly EVO Chic 1
IQ4405_Quad
Fly Evo Chic 2
IQ459
Fly Evo Energy4
IQ4501
Fly Evo Tech 3
IQ4414_Quad
Fly IQ434
IQ434
Fly IQ4490i
IQ4490i
Fly IQ4503
IQ4503
Fly IQ4503 Quad
IQ4503_Quad
Fly IQ4504 Quad
IQ4504_Quad
Fly IQ4505
IQ4505
Fly IQ4505 Quad
IQ4505_Quad
Fly IQ4512 Quad
IQ4512_Quad
Fly IQ4513
IQ4513
Fly IQ4513 Octa
IQ4513_Octa
Fly IQ4514 Quad
IQ4514_Quad
Fly IQ4515 Quad
IQ4515_Quad
Fly IQ4516 Octa
IQ4516_Octa
Fly IQ458 Quad Evo Tech 2
IQ458
Fly IQ4602
Fly_IQ4602
Fly IQ4602
IQ4602_Quad
Fly Iris
FLY_IQ4400
Fly Phoenix 2
IQ4410i
Flylife Connect 10.1
Flylife_Connect_101_3G_2
Flylife Connect 7 3G 2
Flylife7
Flylife Connect 7.85 3G 2
Flylife
IQ4401
IQ4401
IQ4409 Quad
IQ4409_Quad
IQ4413 Quad
IQ4413_Quad
IQ4415
IQ4415
IQ4416
IQ4416
IQ4417 Quad
IQ4417_Quad
IQ4418
IQ4418
IQ4601
IQ4601
KAZAM Thunder 345
Thunder_345
KAZAM Thunder 345 LTE
Thunder_345_LTE
KAZAM Thunder 345L
Thunder_345L
KAZAM Thunder 347
Thunder_347
KAZAM Thunder 350L
Thunder_350L
KAZAM Thunder2 45L
Thunder2_45
KAZAM Thunder2 50
Thunder2_50
KAZAM Tornado 348
Tornado_348
KAZAM Tornado 350
KAZAM_Tornado_350
KAZAM Tornado2 50
Tornado2_50
KAZAM Trooper 450
KAZAM_Trooper_450
KAZAM Trooper 451
Trooper_451
KAZAM Trooper2 40
Trooper2_40
KAZAM Trooper2 45
Trooper2_45
KAZAM Trooper2 50
Trooper2_50
KAZAM Trooper2 60
Trooper2_60
KAZAM TV 4.5
KOT49H
KAZAM TV 4.5
TV_45
R200
R200
T700_TABLET
T700_TABLET
Tornado One
IQ4511_Octa

Foxconn International Holdings Limited

A3
A3
A5
A5
AboCom A08SM
A08
Agora 4G
Agora_4G
AM506
AM506
Axioo-VIGO410
vigo410
AZPEN A720
wing-inet
BenQ A3c
BenQ_A3c
BenQ B50
B50
BenQ B502
B502
BenQ F5
BENQ_F5
BenQ F5_18
F5
BenQ T3
T3_17A
BLUEDOT BNT-700K
BNT-700K
Camangi-FM600
fm600
Camangi-Mangrove7
mangrove7
Camelus L10
TR-10HBT
Camelus L7
TR-7U
Carrefour CT1020W
M1010FP
Changhong H5018
far2
cherry mobile-SUPERION
superion
cherry-MagnumHD
magnumhd
Cherry-MUSN-T800
musn-t800
Cisco Desktop Collaboration Experience DX70
CP-DX70
Cisco Desktop Collaboration Experience DX80
CP-DX80
ClickN Kids
g04e
CN51
CN51_NCF
CN51
CN51_QN0
CN51
CN51_QC0
CN51
CN51_QCU
CN51
CN51_NN0
CN51
CN51_NC0
CN51
CN51_NCU
CN51
CN51_QCF
Commtiva N700
n700
Commtiva-HD710
hd710
CSL Spice MI700
mi700
CSL-MI410
mi410
DANEW Dslide971DC
Dslide971DC
Diginnos DG-D07S/GP
DG-D07SGP
Digital2 Deluxe
nuclear-D2_Deluxe
DL1010Q
DL1010Q
DL701Q
DL701Q
DMX-ST7A
DMX-ST7A
Dolphin 70e Black
dblack
DOPO GS-918
GS_918
Ematic EGQ307
EGQ307
Ematic EGS017
EGS017
Ematic ETH102
ETH102
EssentielB Smart'TAB 7800
fiber-785q6
EssentielB Smart'TAB 9001
fiber-smart
Ex-Handy 09
XP6700Z1
FE6
FE6
FieldBook E1
FieldBook_E1
FIH-FB0
fb0
FXC-5A
FXC-5A
General Mobile E-tab 4
mehmet
GSmart-G1305
G1305
Honeywell Dolphin 70e Black
dblack_gn
Honeywell Dolphin 70e Black
dblack_wo
Honeywell Dolphin 70e Black
dblack_wn
Honeywell Dolphin 70e Black
dblack_go
ICRAIG CMP 756
Omega9
ICRAIG CMP 759
Omega7
IN265
IN265
IN610
MG2
IN810
VKY
IN815
VK3
InFocus FP-U320-INF-WLTW
U320-WF
InFocus IN260
IN260
InFocus IN335
IVM
InFocus M310
H1W
Infocus M320e
M320e
InFocus NewTab F1
f1
INSIGNIA 550i
INSIGNIA_550i
INSIGNIA FLEX 8'' LTE Android Tablet
ns_15t8lte
iView 778TPC
778TPC
iView 788TPCII
iView_788TPCII
iView 920TPC
920TPC
iView SupraPad i700
g01i
iView SupraPad i785Q
anchor
KD Interactive Kurio10S
C13300A
KD Interactive Kurio4S
C13200A
KD Interactive Kurio7S
C13000A
Kogan 4G+
Agora_4G_PLUS
Kurio Tab – Extrem
g03k
LifeWatch V , FGL-00004
hp6577_cts
M210
M210
M24IS810
MX24
M24IS820
fst01ms
M320
M320
M320m
M320m
MachSpeed TrioStealth-7
TrioStealth-7
Mad Catz M.O.J.O.
mojo
MTN-S620
MTN-S620
MTN-S720i
MTN-S720i
MUCHTEL-A2
muchtela2
MultiPad Thunder 7.0i
g01p
MUSN COUPLE
couple
MUSN-M500
m500
MUSN-T800
t800
Nuvola NP-1
nuvola
oioo Model 2
wecct
oioo Model 3
wecct3
OmnisOne
OmnisOne
Orange_Boston
Boston
PICOpad-QGN
axioo
PLT1077G_16G
PLT1077G_16G
PLT1077G(1GB/8GB)
PLT1077G
PLT7109G
PLT7109G
PLT7602G
PLT7602G
PLT8802G
PLT8802G
PLT9602G
PLT9602G
PLT9609G
PLT9609G
PMT3177_3G
PMT3177_3G
PMT5487_3G
PMT5487_3G
PMT5777_3G
PMT5777_3G
PMT5887_3G
PMT5887_3G
PMT7177_3G
PMT7177_3G
PMT7287_3G
PMT7287_3G
Polaroid A/S10
wing-AS10
Polaroid A/S7
wing-AS7
Polaroid A/S8
wing-AS8
Polaroid V7
nuclear-M7021
Prestigio PMT7077_3G
PMT7077_3G
QOOQV3
QOOQ
RangerX
iX101T1_2G
RangerX
iX101T1
RCA RCS13101T
RCS13101T
RCA RCT6077W2
RCT6077W2
RCA RCT6077W22
RCT6077W22
RCA RCT6272W23
RCT6272W23
RCA RCT6378W2
RCT6378W2
RCA RCT6691W3
RCT6691W3
RCT6293W23
RCT6293W23
SAKAISIO FP-U320-711-WWAN
U320-3G
SF4Y6
SF4Y6
SH530U
sh530u
SHARP SH630E
SAE
SHARP SH631W
S2U
SHARP SH837W
S1U
Smart-Ex 01
XP7700Z1
Smart501
Smart501
STARADDICT 4
staraddict4
T2 HD
T2HD
T3
T3
T3000
P7M
TAB-750_G
TAB-750_G
TaiwanMobile A5C
A5C
TaiwanMobile A6S
A6S
TC55CH
TC55CH
Trio MST711
nuclear-MST711
Turk Telekom E4
722T
V-T100
vt100
V5
V5
VENSTAR2050
VENSTAR2050
ViewPad7
viewpad7
ViewPad7X
viewpad7x
ViewPhone3
viewphone3
ViewSonic-V350
v350
vizio VP800
FCN
WellcoM-A800
a800
WellcoM-A800
A800
WellcoM-A89
a89
WellcoM-A99
a99
XOLO
AZ510
XOLO_X1000
SI1
XP6
XP6700
XP7
XP7700
YotaPhone C9660
yotaphone
Zeki TBDG1073
TBDG1073
Zeki TBQC1063B
TBQC1063B
Fuhu
nabi 2 Tablet
mt799
nabi 2S Tablet
nabi2S
nabi Big Tab HD™ 20″
DMTAB-NV20A
nabi Big Tab HD™ 24″
DMTAB-NV24A
nabi DreamTab HD8 Tablet
DMTAB
nabi DreamTab HD8 Tablet
t8400n
Fujitsu
ARROWS A SoftBank 201F
SBM201F
ARROWS A SoftBank 202F
SBM202F
ARROWS A SoftBank 301F
SBM301F
ARROWS Kiss F-03D
f11sky
ARROWS Kiss F-03E
F03E
ARROWS M305
M305
ARROWS M555
M555
ARROWS Me F-11D
F11D
ARROWS mu F-07D
f11apo
ARROWS NX F-06E
F06E
ARROWS S EM01F
EM01F
ARROWS Tab F-05E
F05E
ARROWS Tab FJT21
FJT21_jp_kdi
ARROWS Tab LTE F-01D
blaze_tablet
ARROWS Tab Wi-Fi FAR70B
FAR70B
ARROWS V F-04E
F04E
ARROWS X F-02E
F02E
ARROWS X F-10D
F10D
ARROWS X LTE F-05D
blaze
ARROWS Z FJL22
FJL22_jp_kdi
Disney Mobile on docomo F-07E
F07E
F-01F
F01F
F-02F
F02F
F-02G
F02G
F-03F
F03F
F-03G
F03G
F-04F
F04F
F-05F
F05F
F-06F
F06F
F-09D ANTEPRIMA
F09D
F-09E
F09E
F-12C
f11eif
FARTM9334P1
FARTM9334
FARTM933KZ
FARTM933KZ
FARTMB611Y
FARTMB611Y
M01
M01
Raku-Raku SMART PHONE F-12D
F12D
Raku-Raku SMART PHONE2 F-08E
F08E
REGZA Phone T-02D
T02D
STYLISTIC M350/CA2
M350
STYLISTIC M532
mx532
STYLISTIC M702
M702
STYLISTIC MH350
MH350
STYLISTIC S01
S01
SZJ-JS101
SZJ101

Fujitsu Toshiba Mobile Communications Limited

ARROWS ef FJL21
FJL21
ARROWS A SoftBank 101F
SBM101F
ARROWS ES IS12F
FJI12
ARROWS Z ISW11F
FJI11
ARROWS Z ISW13F
FJI13
REGZA Phone IS11T
TSI11
REGZA Phone T-01C
tg03

Fujitsu-ten

A-DA
e1853

Funai Electric

ALM-001J
smdkv210

Garmin

Nuvi 3595
scorpio
Monterra
monterra

Gigabyte

9788
9788
AMTC MD1001 Tablet
MD1001
AMTC MD7008
MD7008A
AMTC MD7081
MD7081A
AOC-A2472PW4T
G3SMNTA24
Arty A3
Arty_A3
Audiovox T752 Tablet
AD7L
Audiovox T852 Tablet
MID30801
AV10
RCT6203W46
AZDroid
AZDroid
Bitmore Tab870
Tab870
Boston 4G
boston_4g
DigitalStream DWA1015D Tablet
DWA1015D
DM65UXR\DM65USR\DM85UXR
mstarnapoli_atsc
E9771
E9771
EM_I8180
em_i8180
EMTEC F400
f400
Enjoy TV Quad-Core Box
ATV581
ENVIZEN DIGITAL V917G
GK-MID9022
essentielb ST7001 Tablet
ST7001
eZeeTab10D12-S
eZeeTab10D12-S
Galapad S6
GALAPAD_S6
GDENTMY7317
GDENTMY7317
Gigabyte SB506
SB506
Gigabyte SB510 / IBT-102
SB510
GSmart Aku A1
Aku_A1
GSmart Alto A2
Alto_A2
GSmart G1310
G1310
GSmart G1315
G1315
GSmart G1317
G1317D
GSmart G1317S
G1317S
GSmart G1345
msm7627_sku2
GSmart G1355
G1355
GSmart G1362
G1362
GSmart GS202
GS202
GSmart GS202+
GSmart_GS202
GSmart GSmart SX1
GBC_bravo
GSmart Guru G1
Guru_G1
GSmart Maya M1
MayaM1
GSmart Maya M1 v2
Maya_M1_v2
GSmart Rey R3
Rey_R3
GSmart Rio R1
Rio_R1
GSmart Roma R2
Roma_R2
GSmart Sierra S1
GSmart_Sierra_S1
GSmart T4
GSmart_T4
GSmart Tuku T2
Tuku_T2
GX2
GBC_ares
Hipstreet 9DTB7 / Lazer MY9308P
AMLMY9308P
HKC A79 Tablet
EM62
i7
RCT6773W22
iDeaUSA CT10
CT10
iDeaUSA CT7
CT7
Intenso Tab814S
Tab814S
JM-250
JM-250
Lazer MD1005 Tablet
MD1005
Lazer MY1306P
MY1306P
LOGICOM E1052GP
E1052GP
LOGICOM E852GP
E852GP
LUXYA MID704DC Tablet / Bitmore Tab770
MY7317P
MachSpeed Trio Stealth_10 Tablet
D_10AL
MachSpeed Trio Stealth_8 Tablet
D_8AL
MachSpeed Trio Stealth_9 Tablet
D_9AL
MD7053G
MD7053G
mexico
Lanix
MH-CHANNELS
MH-CHANNELS
Mika M2
Mika_M2
NAXA NID-7011
NID-7011
Nobis NB09
M9025
NS-15AT10
TA120
ODYS UNO X10
UNO_X10
ODYS UNO X8
UNO_X8
Orange Zilo
Orange_Zilo
P102g
P102g
PAPILIO G1
inhon77_cidals
PHP-S231C4AFD
G3SMNTS23
PIONEER R1
RCK8726Y703H
Play
Play
PMT7787_3G
PMT7787_3G
Polaroid MID1028
MID1028
Prestigio PMT5587_Wi
AML8726-MXS
PROSCAN PLT1066 / MAG MAGPAD / TEAC TEACTAB / DOPO GS-1008
MID1005_K
PROSCAN PLT8235G Tablet
MID807_K
Q882
Q882
RCA DAA730R / RCA DAA738R
MD7081
SAF3011
SAF3011
Saga_S3
Saga_S3
Siragon SP-5000
SP-5000
TB100
TB100
TBQG1084
TBQG1084
TBQG855
TBQG855
TC55
TC55
TECNO P3S
P3S
THOMSON PRIMO7 Tablet
PRIMO7
THOMSON PRIMO8 Tablet
AMLMY8306P
TM105
TM105
TM105A
TM105A
TM75A
TM75A
TM75A-V
TM75A-V
TM75A-V2
TM75A-V2
TM785CH
tm785ch
TMAX TM9S775
MID908A-K
V100MD
V100MD
VSD231
VSD231-VSA
W337
W337
W5510
W5510
W6360
W6360
W6620
W6620
WeTab1004B
WeTab1004B
Zeki TBDG874 Tablet
TBDG874B
Zeki TBQG774
TBQG774
Zeki TBQG884
TBQG884
Zilo
Zilo

Gigaset

Maxwell 10
maxwell_10
SL930
lion_s

Google

Galaxy Nexus
toro
Nexus 10
manta
Nexus 4
mako
Nexus 5
hammerhead
Nexus 6
shamu
Nexus 7
flo
Nexus 7 (2012)
grouper
Nexus 7 (2012)
tilapia
Nexus 7 (2013)
deb
Nexus 9
flounder
Nexus Player
fugu
Nexus S
crespo4g
Nexus S
crespo
Revue
ka

Google ATAP

Project Tango Tablet Development Kit
yellowstone

Google TV

TV G
smartbox
Android TV
cosmo
Android TV G3
eden
BRAVIA Smart Stick
NSZGU1
Cube
asus_google_cube
Hisense TV
hisense_gx1200v
Internet TV
eagle
Internet TV
asura
NeoTVPrime
NeoTV
NSZGS7
NSZGS7
StreamPlayer
VAP430

HP

10
spruce
10 Plus
torsa
7 G2
redwood
7 Plus
Ilex
7 Plus G2
deschutes
7 Tablet
Mesquite
7 Voice Tab
klondike
7 VoiceTab
yukon
7.1
Holly
8
Fir
8 G2
maple
HP Slate 7
pine
HP SlateBook 10 x2 PC
3645
Pro Slate 12
dane
Pro Slate 8
malamute
Slate 10 Plus
linkplus
Slate 17
franky
Slate 21 Pro
ranger
Slate 6 Voice Tab
pomegranate
Slate 6 Voice Tab II
avocado
Slate 6 VoiceTab Plus
mekong
Slate 7 Beats Special Edition
fairfax
Slate 7 Extreme
olive
Slate 7 HD
bonsai10
Slate 7 HD
bonsai7
Slate 7 VoiceTab Ultra
charm
Slate 8 Plus
vogue
Slate 8 Pro
dogwood
Slate21
phobos
Slate7 Plus
birch
Slate8 Pro
fig
SlateBook 14
200a
Tablet 10
balsa
Voice Tab 7
almond

HTC

ADR6325
lexikon
ADR6330VW
blissc
ADR6425LVW
vigor
Aria
liberty
Butterfly S
dlxpul
Chacha
chacha
Desire
bravo
Desire
bravoc
Desire 510
htc_a11ul8x26
Desire 516 dual sim
htc_v2_dcg
Desire 626
htc_a32dcgl
Desire D820mini
htc_a31dtul
Desire HD
ace
Desire L by HTC
cp2u
Desire S
saga
Desire VC
primodd
Droid Eris
desirec
Droid Incredible
inc
EVO 3D
shooter
Evo 4G
supersonic
EVO Shift 4G
speedy
Flyer
flyer
G1
trout
G1
dream
G2
vision
Hero
heroc
HTC 0P9C8
htc_a5dwgl
HTC 619d
zarawl
HTC 710C
htc_a5chl
HTC 8060
t6dug
HTC 8088
t6tl
HTC 809d
t6dwg
HTC 8160
t6uhl
HTC 9088
dlpdtu
HTC Butterfly
dlxub1
HTC Butterfly
dlxu
HTC Butterfly 2
htc_b2ul
HTC Butterfly s 9060
dlpdug
HTC D316d
htc_v2_c
HTC D610t
htc_a3tl
HTC D816d
htc_a5dwg
HTC D816e
htc_a5dugl
HTC D816t
htc_a5tl
HTC Desire 200
gtou
HTC Desire 210 dual sim
htc_v0_dug
HTC Desire 300
g3u
HTC Desire 310
htc_v1_u
HTC Desire 310
htc_v1_dug
HTC Desire 320
htc_v01_u
htc desire 400 dual sim
cp2dug
HTC Desire 500
z4u
HTC Desire 500 dual sim
z4dug
HTC Desire 501
htc_csnu
HTC Desire 501 dual sim
csndug
HTC Desire 5088
z4td
HTC Desire 510
htc_a11ul
HTC Desire 510
htc_a11chl
HTC Desire 516
htc_v2_dtg
HTC Desire 516 dual sim
htc_v2_dug
HTC Desire 526G+ dual sim
htc_v02_dug
HTC Desire 600 Dual SIM
cp3dug
HTC Desire 600c Dual SIM
cp3dcg
HTC Desire 601
zaracl
HTC Desire 601 dual sim
zaradug
HTC desire 608t
cp3dtg
HTC Desire 610
htc_a3ul
HTC Desire 610
htc_a3qhdul
HTC Desire 616 dual sim
htc_v3_dug
HTC Desire 620
htc_a31ul
HTC Desire 620G dual sim
htc_a31mg_dug
HTC Desire 700 dual sim
cp5dwg
HTC Desire 700 dual sim
cp5dug
HTC Desire 7088
cp5dtu
HTC Desire 816
htc_a5ul
HTC Desire 816 dual sim
htc_a5dug
HTC Desire 816G dual
htc_a5mgp_dug
HTC Desire 816G dual sim
htc_a5mg_dug
HTC Desire 820
htc_a51ul
HTC Desire 820s
htc_a50ml_dtul
HTC Desire 826
htc_a52dtul
HTC Desire C
golfu
HTC Desire C
golfc
HTC Desire D626w
htc_a32ml_dtul
HTC Desire EYE
htc_eyeul
HTC Desire Eye
htc_eyeul_att
HTC Desire EYE
htc_eyetuhl
HTC Desire P
magniu
HTC Desire SV
magnids
HTC Desire V
primods
HTC Desire X
protou
HTC Desire X dual sim
protodug
HTC Desire XC dual sim
protodcg
HTC DROID DNA
dlx
HTC DROID Incredible 4G LTE
fireball
HTC EVO 3D ISW12HT
shooterk
HTC EVO 3D X515m
shooteru
HTC EVO 4G LTE
jewel
HTC Explorer A310e
pico
HTC first
mystul
HTC Flyer
express
HTC Hero
hero
HTC Incredible E S715e
tagh
HTC J Butterfly
dlxj
HTC J One
m7wlj
HTC J Z321e
valentewxc9
HTC M8t
htc_m8tl
HTC One
m7cdug
HTC One
m7cdtu
HTC One
m7
HTC One
m7wlv
HTC One
m7wls
HTC One (E8)
htc_mecul
HTC One (E8)
htc_mecwhl
HTC One (E8)
htc_mectl
HTC One (E8) dual sim
htc_mecdwg
HTC One (E8) dual sim
htc_mecdug
HTC One (M8)
htc_m8
HTC One (M8)
htc_m8wl
HTC One (M8)
htc_m8dwg
HTC One (M8)
htc_m8whl
HTC One (M8)
htc_m8dug
HTC One Dual 802d
m7cdwg
HTC One M8 eye 4G LTE 移动定制版
htc_melstuhl
HTC One M8 eye 4G LTE联通版
htc_melsuhl
HTC One max
t6whl
HTC One max
t6ul
HTC One mini
htc_m4
HTC One mini 2
htc_memul
HTC One remix
htc_memwl
HTC One S
villec2
HTC One S
ville
HTC One S Special Edition
villeplus
HTC One SC
cp2dcg
HTC One SV
k2ul
HTC One SV
k2plccl
HTC One SV
k2cl
HTC ONE SV
k2u
HTC One V
primoc
HTC One V
primou
HTC One VX
totemc2
HTC One X
endeavoru
HTC One X+
enrc2b
HTC One X+
evitareul
HTC One XL
evita
HTC One XL
evitautl
HTC One_E8
htc_mecul_emea
HTC Rhyme S510b
bliss
HTC Salsa C510e
icong
HTC Sensation XL with Beats Audio X315e
runnymede
HTC Velocity 4G
holiday
HTC Wildfire S A515c
marvelc
HTC_Amaze_4G
ruby
HTC_D820f
htc_a51tuhl
HTC_D820u
htc_a51dtul
HTC_P515E
expresskt
HTC_X515E
rider
HTC909d
dlpdwg
HTCDesire612VZW
htc_a3qhdcl
HTCEVODesign4G
kingdom
HTCOneMaxVZW
t6wl
HTL23
htc_b2wlj
Incredible 2
vivow
Incredible S
vivo
ISW13HT
valentewx
KDDI Infobar A02
imnj
Legend
legend
myTouch 3G
sapphire
myTouch 3G Slide
espresso
myTouch 4G
glacier
myTouch 4G Slide
doubleshot
Nexus One
passion
Puccini
puccinilte
Sensation 4G
pyramid
Thunderbolt
mecha
Touch Viva
opal
Wildfire
buzz
Wildfire CDMA
bee
Wildfire S
marvel

Haier

A-TT00
A-TT00
AT7003
AT7003
CMP_765
CMP_765
CT715
CT715
CT725
CT725
CYCLONE_ODYSSEY
CYCLONE_ODYSSEY
D2-751G
d2PAD
D2-927G
D2-927G
D2-961G
D2-961G
GF88
I7A-LE
Haier
PAD69H
Haier
Homesurf744
Haier
PAD_D85
HG-9041
HG-9041
HomeSurf742_AT7003
HomeSurf742_AT7003
Homesurf844
Homesurf844
HS-7DTB25
HS-7DTB25
HT-I860
HT-I860
INGO-TAB
INGO-TAB
LE39M7000CF
LE39M7000CF
MEGAFON MS3A
Megafon
MT-700
MT-700
P2
P2
PAD1021
PAD1021
PAD1042
PAD1042
PAD712
PAD712
PAD722
PAD722
PAD841
PAD841
PADCT1010W
PADCT1010W
PNDPP410GP
PNDPP410GP
PNDPP47GP
PNDPP47GP
polaris_Condroid_X7
polaris-Condroid_X7
SP-5100
SP-5100
T785B
T785B
TAB-700
TAB_700
W757
W757
W860
W860

Hisense

AD683G
AD683G
AD688G
AD688G
AD689G
AD689G
Andromax AD687G
AD687G
Andromax-c
AD686G
C_5
u970_5
C-4
C_4
C1+
C1Plus
C2LEAD688G
C2LEAD688G
CMB405
L690AE
CMB501
u970_carrefour
CMB510
L696
E100T
E100T
E100TAE
E100TAE
E200T
E200T
E2070
mt8312
E260T
E260T
E601M
E601M
E860
E860
E910
E910
E926
E926
EG680
eg980ae
EG680
eg680
EG68AE
EG668AE
EG68BE
EG668BE
EG929
EG929_TW
EG950
EG950TW
EG970
EG970TW
EG978
EG978
EG978TW
EG978TW
EG98
EG98
EG98
EG98TW
EG980
eg980tw
EG981
EG981
ETL-S4521
u939e_2
ETL-S5042
u970_4
F270BW
F270BW
F5070
mt8389
F5180
f5180
F5281CH
rk3288
G1
G1
G2-3GP
G2-3GP
G610M
G610M
H800T
H800T
Hisense
U606
Hisense
U688
Hisense
EG936D
Hisense E613M
E613M
Hisense E620M
E602M
Hisense EG606
EG606_TW
Hisense I631M
i631m
Hisense I632M
I632M
Hisense I632T
I632T
Hisense I639M
I639M
Hisense I639T
I639T
Hisense I639T
I639TA1
Hisense I639T
I639TA
HS-E600M
E600M
HS-E620M
E620M
HS-E820
E820
HS-E912
E912
HS-E912S
E912S
HS-E917
E917
HS-E920
E920
HS-E930
E930
HS-E936
E936
HS-E956
E956
HS-E956Q
E956Q
HS-E968
E968
HS-EG870
EG870
HS-EG876
EG876
HS-EG901
EG901
HS-EG909
EG909
HS-EG916
EG916
HS-EG929
EG929
HS-EG939
EG939
HS-EG950
EG950
HS-EG958
EG958
HS-EG966
EG966
HS-EG970
EG970
HS-EG971
EG971
HS-EG980
eg980
HS-EG98C
EG98C
HS-M170AT
TP9101
HS-T818
T818
HS-T909
t909
HS-T926
t926
HS-T928
t928
HS-T950
t950
HS-T958
t958
HS-T959
t959
HS-T959S
t959s
HS-T960
t960
HS-T966
HS-T966
HS-T967
HS-T967
HS-T968
t968
HS-T968S
t968s
HS-T970
t970
HS-T978
t978
HS-T980
t980
HS-U8
U8
HS-U820
U820B
HS-U820
U820A
HS-U820
U820AVN
HS-U820
U820
HS-U860
U860
HS-U9
U9
HS-U909
U909
HS-U909
U909B_6
HS-U909B
U909B
HS-U912
U912
HS-U912
U912C
HS-U912
U912B
HS-U912
U912A_1
HS-U929
u929de_3
HS-U929
u929de
HS-U936
U936
HS-U939
u939
HS-U939
u939e_5
HS-U939
u939e_1
HS-U939
u939e_4
HS-U939
u939e_3
HS-U939
u939e_6
HS-U950
U950
HS-U950
U950_5
HS-U950
U950_ae
HS-U950
U950_6
HS-U958
U958
HS-U960Q
U960Q
HS-U966
u966ae
HS-U966
u966
HS-U970
u970s_export
HS-U970
u970e_6
HS-U971
U971AE
HS-U978
u978
HS-U98
U98_FR
HS-U98
U98
HS-U980
u980be_2
HS-U980
u980ce_3
HS-U980
u980
HS-U980
u980be_1
HS-U980
u980ce_5
HS-U980
u980be
HS-U980
u980ce_1
HS-U980
u980ce_4
HS-X5T
X5T
HS-X68T
x68t
HS-X6T
X6T
HS-X8C
x8c
HS-X8T
X8T
I300T
I300T
I630U
I630U
L691
l691
L691
l691e_2
LED46K660X3D
hisense6a801
LED55K600A3D
mt5880
LT610
LT610
lt971
LT971
M1101AT
TP9102
M3101BCD
m3101bcd
M3101BW
m3101
M370BW
m370
M470BSA
m470
M470BSD
m470bsd
M470BSE
m470bse
M470BSG
m470bsg
M470BSS
m470bss
M701
M701
M811
m811
M811
m811hk
MEDION E4001
E4001
MEDION E4502
E4502
MEDION X4701
x4701
MEDION-P4013
P4013
MegaFon SIM+
SIMPlus
NBX-T7014
E270BSA
New Andromax-i
AD685G
NEWAD688G
NEWAD688G
ODYSSEY
ODYSSEY3G
Oysters Pacific 800
x4701ae
P4501
P4501
PHS-601
phs601
PX1900
atm7039c
PX2700
g18ref
Sero 8
rk3188
Sero7
rk3168
SoundTab MA-317
rk3028a
U2
U2
U2S
U909B_MN
U3
U950_MN
U606AE
U606AE
U607
U607
U609
U609
U610
U610
U800
U800
U800E-1
U800E_1
U966
u966e_1
U970
u970e_8
U988
U988
U988E-1
U988E_1
U988E-2
U988E_2
VH777
VH777
W2
EG606_YE
W2400
W2400
W270BD
W270BD
WA912
U912ATW
WA960
U960Q_1
WA966
u966e_2
WA978
u978e_1
WM8
wm8980s
XOLO
us9230e1

Hisense TV

55H6SG
Vision
Vidaa
helium3
Vision 2.5
vision2_5
vision2_1
vision2_1
Vision2_2
vision2_2

Hon Hai Precision Industry Co., Ltd.

nabi_XD
XD
Cisco CP-DX650
CP-DX650
Germany
S9714
PocketBook A10
EP10_wifi
PocketBook A7
EP5A_wifi

Huawei

004HW
msm7227
007HW
hwu8850
201HW
hwu9201L
A01HW
hwS7-901w
A199
hwa199
Ascend D
hwu9500
B199
hwB199
C8500
hwc8500
C8512
hwc8512
C8600
hwc8600
C8600
C8600
C8650
hwc8650
C8800
hwc8800
C8813DQ
hwC8813DQ
C8815
hwC8815
C8816
hwC8816
C8816D
hwC8816D
C8817D
hwC8817D
C8817E
hwC8817E
C8817L
hwC8817L
C8860V
hwc8860V
Che1-CL20
Che1
Che2-UL00
hwChe2
CHT8000
CHT8000
CM980
hwcm980
CM990
hwCM990
d-01G
d-01G
D2
hwD2-6070
dtab01
dtab01
eH811
hweH811
ES8100
hwes8100
G350
hwg350
G350
HWG350
G506
hwG506-U151
G510
hwG510-0010
G510
hwG510-0100
G520
hwG520-5000
G521-L076
HWG521-L
G526
hwG526-L33
G526
hwG526-L11
G526
hwG526-L22
G527
hwG527-U081
G535-L11
hwG535-L11
G6
hwG6-T00
G6-C00
hwG6-C00
G6-L11
hwG6-L11
G6-L22
hwG6-L22
G6-L33
hwG6-L33
G6-U00
hwG6-U00
G6-U10
hwG6-U10
G6-U251
hwG6-U251
G6-U34
hwG6-U34
G606
HWG606
G610
hwG610-T00
G610
hwG610-U30
G610
hwG610-U00
G610-T01
hwG610-T01
G610-T11
hwG610-T11
G610-U15
hwG610-U15
G610-U20
hwG610-U20
G610C
hwG610-C00
G615-U10
hwG615-U10
G616-L076
HWG616-L
G620-L72
hwG620-L72
G620-L75
hwG620-L75
G620S-L01
hwG620S-L01
G620S-L02
hwG620S-L02
G620S-L03
hwG620S-L03
G620S-UL00
hwG620S-UL00
G621-TL00M
hwG621-TL00
G628-TL00
HWG628-TL
G630-U00
hwG630-U00
G630-U10
hwG630-U10
G630-U20
hwG630-U20
G630-U251
hwG630-U251
G660-L075
hwG660-L075
G7-L03
hwG7-L03
G7-TL00
hwG7-TL00
G700
hwG700-U00
G700
hwG700-T00
G700-T01
hwG700-T01
G700-U10
hwG700-U10
G700-U20
hwG700-U20
G716
hwG716-L070
G718
hwg718
G730
hwG730-T00
G730
hwG730-C00
G730
hwG730-U00
G730-L075
hwG730-L075
G730-U10
hwG730-U10
G730-U251
hwG730-U251
G730-U27
hwG730-U27
G730-U30
hwG730-U30
G740
hwG740-L00
G750-T00
hwG750-T00
G750-T01
hwG750-T01
G750-T01M
hwG750-T01M
G750-T20
hwG750-T20
G750-U10
hwG750-U10
G7500
HWG7500
GL07S
hwu9700L
GS02
hwu8860
GS03
hwu9200-92
H30-C00
hwH30-C00
H30-L02
hwH30
H30-T00
hwH30-T00
H60-J1
hwH60
H60-L21
hwH60-L21
H866C
hwh866c
H882L
hwh882l
Hol-T00
HWHol-T
Hol-U10
HWHol-U
Honor3
hwH30-U10
Honor3
hwhn3-u00
Honor3
hwH30-T10
Honor3
hwhn3-u01
HUAWEI C199
hwC199
HUAWEI C8650+
hwc8650e
HUAWEI C8655
hwc8655
HUAWEI C8810
hwc8810
HUAWEI C8812
hwc8812
HUAWEI C8812E
hwc8812E
HUAWEI C8813
hwc8813
HUAWEI C8813Q
hwC8813Q
HUAWEI C8825D
hwc8825D
HUAWEI C8826D
hwc8826D
HUAWEI C8860E
hwc8860E
HUAWEI C8860E
hwC8860E
HUAWEI C8950D
hwc8950D
HUAWEI D2-2010
hwD2-2010
HUAWEI G510-0251
hwG510-0251
HUAWEI G520-T10
hwG520-T10
HUAWEI G525-U00
hwG525-U00
HUAWEI G630
hwG630-T00
HUAWEI G7-L01
hwG7-L01
HUAWEI G7-UL20
hwG7-UL20
HUAWEI H868C
hwh868c
HUAWEI H871G
hwh871g
HUAWEI H881C
hwh881c
HUAWEI IDEOS U8500
U8500
HUAWEI MediaPad
hws7300u
HUAWEI MediaPad
hws7300w
HUAWEI MediaPad
hws7300c
HUAWEI MediaPad 10 Link+
hws10231l
HUAWEI MediaPad 7 Youth2
hws7721u
HUAWEI MediaPad M1 8.0
hws8301l
HUAWEI MediaPad X1 7.0
hw7d501l
HUAWEI MT1-U06
hwmt1-u06
HUAWEI P2-0000
hwp2-0000
HUAWEI P2-6011
hwp2-6011
HUAWEI P6
hwp6-u06
HUAWEI T8300
T8300
HUAWEI T8600
T8600
HUAWEI T8808D
hwT8808D
HUAWEI T8828
T8828
HUAWEI T8833
hwt8833
HUAWEI T8950
hwt8950
HUAWEI T8950N
hwt8950N
HUAWEI T8951
hwt8951
HUAWEI U8661
hwu8661
HUAWEI U8666E
hwu8666e
HUAWEI U8666E-51
hwu8666e-51
HUAWEI U8666N
hwu8666n
HUAWEI U8681
hwu8681
Huawei U8800-51
hwu8800-51
HUAWEI U8825-1
hwu8825-1
HUAWEI U8825D
hwu8825D
HUAWEI U8950-1
hwu8950-1
HUAWEI U8950-51
hwu8950-51
HUAWEI U8950D
hwu8950D
HUAWEI U8950N-1
hwu8950N-1
HUAWEI U8950N-51
hwu8950N-51
HUAWEI U9508
hwu9508
HUAWEI U9510
hwu9510
HUAWEI U9510E
hwu9510e
HUAWEI Y 220T
hwy220t
HUAWEI Y210-0010
hwy210-0010
HUAWEI Y210-0100
hwy210-0100
HUAWEI Y210-0151
hwy210-0151
HUAWEI Y210-0251
hwy210-0251
HUAWEI Y210-2010
hwy210-2010
HUAWEI Y536-A1
hwY536A1
HUAWEI Y610
HWY610-U
HUAWEI Y618
HWY618-T
HUAWEI-C8850
hwc8850
Huawei-H867G
hwh867g
HUAWEI-M860
hwm860
HUAWEI-M920
hwm920
HUAWEI-M931
hwm931
Huawei-U8652
hwu8652
Huawei-U8665
hwu8665
HUAWEI-U9000
hwu9000
HuaweiES8500
hwes8500
HW-01E
hwu9501L
HW-03E
HW-03E
hw204HW
hw204HW
Ice-Twist
Ice-Twist
IDEOS
U8150
IDEOS
u8150
Ideos S7
qsd8k_s7
IDEOS S7 Slim
qsd8k_slim
IDEOS X5
msm7230
Leopard MF808
hwy210-0200
Luno
Luno
M220
hwmediaqm220
M310
hwsingleboxm310w
M620
M620
M650
hwm650
M660
hwm660
M835
hwm835
M860
M860
M860
msm7625
M865
hwm865
M865C
hwm865c
M866
hwm866
M868
hwm868
m881
hwm881
M886
hwm886
Mate
hwmt1-t00
Mate2
hwmt2-c00
MediaPad 10 FHD
hws10101w
MediaPad 10 FHD
hws10101u
MediaPad 10 LINK
hws10201u
MediaPad 7 Lite
hws7930w
MediaPad 7 Lite
hws7930u
MediaPad 7 Youth 2
hws7721g
MediaPad Vogue
hws7601u
MediaPad Youth
hws7701w
MediaPad7
hws7601us
MS4C
hwMS4C
MT2-L01
hwmt2-l01
MT2-L02
hwmt2-l02
MT2-L03
hwMT2L03
MT2-L05
hwmt2-l05
MT2L03LITE
hwMT2L03LITE
MT7-TL10
hwmt7
MTC Viva
hwu8816
MTS-SP101
hwc8511
Netphone 501
hwu8180
Orange Daytona
hwG510-0200
ORINOQUIA C8688V
orinoquiac8688V
P2
hwp2-6070
P6
hwp6-c00
P6
hwp6-t00
P6S
hwP6s-l04
P6S-L04
hwp6s-l04
P6S-U06
hwp6s-u06
P7 mini
hwP7Mini
P7-L12
hwp7
Prism
hwu8651
Prism II
hwu8686
Pulse
Pulse
RBM2
rbm2
S10
hws10201l
S10
hws10103l
S42HW
hwS42HW
S7
hws7601c
S7
hws7701u
S7
hws7961w
S7
hws7601w
S7
hws7951w
SC-CL00
HWSC-CL00
SONIC
hwu8660
T-Mobile myTouch
hwu8680
T-Mobile myTouch Q
hwu8730
T-Mobile Pulse
u8220
T-Mobile Pulse
u8230
T-Mobile Pulse
U8100
t1_8p0
hws8701
T101
hwt101
T102
hwt102
T801
hwt801
T802
hwt802
T8620
hwt8620
T8830
hwt8830
T8830Pro
hwT8830Pro
T9200
hwt9200
T9510E
hwt9510e
TSP21
U8110
U8120
U8120
U8180
HuaweiU8180
U8185
hwu8185
U8186
hwu8186
U8220
U8220
U8230
msm7201a
U8230
U8230
U8230
hwu8230
U8300
U8300
U8350
hwu8350
U8500
msm7225
U8500
hwu8500
U8510
hwu8510
U8520
hwu8520
U8600
hwu8600
U8650
hwu8650
U8652-51
hwu8652-51
U8655-1
hwu8655
U8666-51
hwu8666
U8666-51
hwu8666-51
U8667
hwu8667
U8687
hwu8687
u8800
hwu8800
u8800
u8800
U8800Pro
hwu8800Pro
U8812D
hwu8812D
U8815
hwu8815
U8815N
hwu8815n
U8818
hwu8818
U8820
hwu8820
U8832D
hwu8832D
U8836D
hwu8836D
U8867Z
hwu8867Z
U9200
hwu9200
U9200E
hwu9200E
U9202L-1
hwU9202L
UM840
hwum840
V858
hwu8160
Y210
oay210
Y220
HWY220-U
Y220-T10
hwy220-t10
Y221-U22
HWY221-U
Y300
hwY300-0151
Y300
hwY300-0100
Y300-0000
hwY300-0000
Y301A1
hwY301A1
Y301A2
hwY301A2
Y320
hwy320-c00
Y320-T00
HWY320-T00
Y320-U01
HWY320
Y320-U10
HWY320-U
Y321
HWY321-U
Y321
hwy321-c00
Y325-T00
HWY325-T
Y330
hwY330-U05
Y330-C00
hwY330-C00
Y330-U01
hwY330-U01
Y330-U07
hwY330-U07
Y330-U08
hwY330-U08
Y330-U11
hwY330-U11
Y330-U15
hwY330-U15
Y330-U17
hwY330-U17
Y336-A1
hwY336-A1
Y340-U081
hwY340-U081
Y360-U03
HWY360-U
Y511-T00
HWY511-T
Y511-U10
HWY511-U
Y516-
HWY516-T
Y518-T00
HWY518-T
Y520-U12
HWY520-U
Y523-L176
HWY523
Y530
hwY530-U00
Y530-U051
hwY530-U051
Y535
HWY535-C00
Y535D-C00
HWY535D-C00
Y540-U01
HWY540-U
Y550-L01
hwY550-L01
Y550-L02
hwY550-L02
Y550-L03
hwY550-L03
Y600
HWY600-U
Y600D-C00
HWY600D-C00
Y625-U03
KVY625-U
Y625-U13
HWY625-U

Humax TV

B tv smart
BHX-S100

INQ Mobile

INQ Cloud Touch
camden

Intel

AQ710A
Salitpa
AZ210A
noonhill
Orange avec Intel Inside
AZ210B
Orange San Diego
AZ210A
SP-A20i
SP-A20i
SurfTab xintron i 7.0
st70408_4_coho
Xolo_X900
blackbay
Yolo
zeeyabeach

JVC KENWOOD Holdings, Inc.

RY-AP1
gener

KT Tech

EV-S100
s100
KM-S120
s120
KM-S200
s200
KM-S220
s220
KM-S220H
s220H
KM-S300
s300
KM-S330
s330
TAKE SUIT
e100

KYOCERA corporation

Zio
zio
Zio
msm7627_kb60

Kaon TV

B tv smart
BKO-S200

Kobo

Arc 10HD
macallan
Arc 7
lbp8
Kobo Arc
zeus
Kobo Vox
pegasus

Kyocera Corporation

DM015K
DM015K
BASIO
KYV32
Brigadier
E6782
DIGNO
KYL22
DIGNO
KYI11
DIGNO C
404KC
DIGNO Dual
WX04K
DIGNO R
202K
DIGNO S
KYL21
DIGNO T
302KC
DuraForce
E6762
DuraForce
E6560L
DuraForce
E6560
DuraForce
E6560C
DuraScout
E6782L
Echo
M9300
Echo
KSP8000
Event
C5133
HONEY BEE
101K
Honeybee Touch
201K
Hydro
C5171
Hydro
C5170
Hydro EDGE
C5215
Hydro Elite
C6750
Hydro ICON
C6730
Hydro LIFE
C6530N
Hydro LIFE
C6530
Hydro PLUS
C5171R
Hydro VIBE
C6725
Hydro XTRM
C6721
Hydro XTRM
C6522
Hydro XTRM
C6522N
INFOBAR A03
KYV33
IQX KEN
IQX_KEN
KC-01
KC-01
LUCE
KCP01K
Milano
C5121
Milano
C5120
Rise
C5156
Rise
C5155
TORQUE
SKT01
Torque
E6710
TORQUE G01
KYY24
TorqueXT
E6715
URBANO L01
KYY21
URBANO L02
KYY22
URBANO L03
KYY23
URBANO PROGRESSO
KYY04
URBANO V01
KYV31
WX06K
WX06K
WX10K
WX10K
Zio
SCP-8600
zio
pls8600

LG

Optimus Pad
lu6900

LGE

070 touch
w3voip
Ally
aloha
Eve
EVE
F60
e2nac
F60
e2
F60
e2ds
F60
e2nam
F60
e2nas
F60
e2nav
F60
e2n
G Pad 10.1
e9wifin
G Pad 10.1
e9wifi
G Pad 10.1 LTE
e9lte
G Pad 7.0
e7wifi
G Pad 8.0
e8wifi
G pad 8.0 LTE
e8lte
G Pro Lite
luv90nfc
G Pro Lite
luv90ds
G Pro Lite
luv90ss
G Pro2
b1
G Pro2
b1w
G Vista
b2l
G Vista
b2lds
G Vista
x10
G Watch
dory
G2 MINI
g2mss
G2 MINI
g2mds
G2 MINI
g2m
G2 mini 4G LTE
g2mv
G3 Beat
jagdsnm
G3 Beat
jagn
G3 S
jag3gds
G3 S
jag3gss
G3 S
jagnm
G3 Screen
liger
G3 Stylus
b2lss
G3 Stylus
b2lssn
G3 Stylus
b2ldsn
G3 Vigor
jagc
Gx2
b2ln
Intuition
batman_vzw
KU9500
ku9500
L Bello
luv80ds
L Fino
l70p
L Fino
l70pds
L Fino
l70pn
L20
luv20ds
L20
luv20ss
L20
luv20ts
L30 Sporty
luv30ds
L30 Sporty
luv30ss
L45
lo_2
L45
lo_2_ds
L50 Sporty
luv50ssn
L50 Sporty
luv50ds
L50 Sporty
luv50ss
L60
lo_1
L65
w55n
L65
w55ds
L65
w55
L70
w5
L70
w5c
L70
w5ts
L70
w5ds
L70
w5n
L90
w7n
L90
w7ds
L90
w7
L90 Dual
w7dsn
LBello
luv80ss
LG Connect 4G
cayman
LG DOUBLEPLAY
lgc729
LG Enlighten
VS700
LG Esteem
MS910
LG F70
f70n
LG F70
f70
LG G Flex
zee
LG G Flex2
z2
LG G Pad 8.3
awifi
LG G Pad 8.3 Google Play Edition
palman
LG G Pad 8.3 homeBoy
awifi070u
LG G Pad 8.3 LTE
altev
LG G2
g2
LG G3
g3
LG G3 A
tigers
LG G3 Cat.6
tiger6
LG Gx
omegar
LG Gx
omega
LG L39C
l4ii_cdma
LG L80 Dual
w6ds
LG L80 Single
w6
LG Lucid 2
l1v
LG Mach™
l2s
LG Motion 4G
l0
LG Optimus 3D
cosmopolitan
LG Optimus Elite
m3s
LG Optimus F3Q
fx3q
LG Optimus F7
fx1
LG Optimus G
geehdc
LG Optimus G
geeb
LG Optimus G
geehrc4g
LG Optimus G
geehrc
LG Optimus G Pro
geefhd4g
LG Optimus G Pro
geefhd
LG Optimus HUB
univa_arb-xx
LG Optimus HUB
univa_tur-xx
LG Optimus HUB
univa_222-01
LG Optimus HUB
univa_cis-xxx
LG Optimus HUB
univa_esa-xx
LG Optimus HUB
univa_eur-xx
LG Optimus HUB
univa_open-eu
LG optimus it L-05D
l_dcm
LG optimus it L-05E
L05E
LG Optimus L1II
v1
LG Optimus L1II
v1ts
LG Optimus L1II
v1ds
LG Optimus L3
e0_open_eur
LG Optimus L3
e0
LG Optimus L3 Dual
e1
LG Optimus L3 II
vee3e
LG Optimus L3 II
vee3ds
LG Optimus L4 II
vee4ss
LG Optimus L4 II Dual
vee4ds
LG Optimus L4 II Tri
vee4ts
LG Optimus L5 Dual
m4ds
LG Optimus L5 II
vee5nfc
LG Optimus L5 II
vee5ss
LG Optimus L5 II
vee5ds
LG Optimus L7
u0
LG Optimus L7 II
vee7e
LG Optimus L7II
vee7ds
LG Optimus L9
u2
LG Optimus L9 II
l9ii
LG Optimus LTE Tag
lge_120_kt
LG Optimus LTE Tag
lge_120_skt
LG optimus LTE2
d1lu
LG optimus LTE2
d1lkt
LG optimus LTE2
d1lsk
LG Optimus LTE3
fx1sk
LG OPTIMUS M+
m3_mpcs_us
LG Optimus One
thunderg
LG OPTIMUS ZIP
lgl75c
LG Optimus Zone 2
w3c
LG Pecan
pecan
LG Revolution
bryce
LG Spectrum
VS920
LG Spirit
my70
LG Spirit 4G LTE
c70n
LG Volt
my70ds
LG Volt
x5
LG-AS855
AS855
LG-C710h
alohag_302-220
LG-D150
w35
LG-D157f
w35ds
LG-E510
univa_525-05
LG-E510
univa_neu-xx
LG-E510
univa_525-01
LG-E510
univa_bal-xxx
LG-E510
univa_228-01
LG-E510
univa_454-xx
LG-E510
univa_open_cn
LG-E510
univa_tmo-gr
LG-E510
univa_vdf-es
LG-E510f
univa_tha-xx
LG-E510f
e510_724-XX
LG-E510g
univa_722-34
LG-E720
alessi
LG-E985T
gvarfhd
LG-KU8800
x2_450-08
LG-L95G
l95g
LG-LS700
ls700
LG-LU3000
hub
LG-LU3100
lu3100
LG-LU6200
msm8660_surf
LG-P690
gelato_460-xx
LG-P690
gelato_win-it
LG-P690
gelato_sgp-xx
LG-P690
gelato_are-xx
LG-P690
gelato_hkg-xx
LG-P690
gelato_262-xx
LG-P690
gelato_bal-xx
LG-P690
gelato_ngr-xx
LG-P690
gelato_tur-xx
LG-P690
gelato_mor-xx
LG-P690
gelato_tmb-sk
LG-P690f
gelato_425-02
LG-P692
gelato_nfc_tim-it
LG-P692
gelato_nfc_530-24
LG-P692
gelato_nfc_234-10
LG-P698
gelatods_bal-xxx
LG-P698
gelatods_open-xx
LG-P698
gelatods_ngr-xxx
LG-P698f
gelatods_tha-xxx
LG-P920
cosmo_ESA-XXX
LG-P920
cosmo_MOR-XXX
LG-P920
cosmo_VDF-XXX
LG-P920
cosmo_OPEN-CN
LG-P920
cosmo_CIS-XXX
LG-P920
cosmo_OPT-XXX
LG-P920
cosmo_TMO-XXX
LG-P920
cosmo_268-06
LG-P920
cosmo_466-92
LG-P920
cosmo_454-XXX
LG-P920
cosmo_515-XXX
LG-P920
cosmo_505-XXX
LG-P920
cosmo_525-05
LG-P920
cosmo_H3G-XXX
LG-P920
cosmo_BAL-XXX
LG-P920
cosmo_525-01
LG-P920h
cosmo_724-02
LG-P920h
cosmo_724-05
LG-P920h
cosmo_viv-br
LG-P920h
cosmo_724-xxx
LG-P920h
cosmo_tcl-mx
LG-P925g
cosmo_302-720
LG-P925g
p925g
LG-P940
p940
LG-P970
bproj_BAL-xxx
LG-P970
bproj_454-xxx
LG-P970
LGP970
LG-P970
bproj_231-01
LG-P970
bproj_222-88
LG-P970
bproj_228-03
LG-P970
bproj_OPEN-CN
LG-P970
bproj_VDF-XXX
LG-P970
bproj_234-33
LG-P970
bproj_260-03
LG-P970
bproj_530-XXX
LG-P970
bproj_232-05
LG-P970
bproj_226-10
LG-P970
bproj_214-07
LG-P990
p990_525-01
LG-P990
p990_466-92
LG-P990
p990_BAL-xxx
LG-P990
p990_214-01
LG-P990
p990_219-10
LG-P990
p990_525-05
LG-P990
p990_esa-xxx
LG-P990
p990_262-02
LG-P990
p990_505-xxx
LG-P990
p990_466-xxx
LG-P990
p990_234-xx
LG-P990
p990_226-01
LG-P990
p990_208-10
LG-P990
p990_454-xxx
LG-P990
p990_228-01
LG-P990h
p990h_724-05
LG-P990h
p990h_730-03
LG-P990h
p990h_716-10
LG-P990h
p990h_CTM-xxx
LG-P990h
p990h_730-01
LG-P990h
p990h_722-34
LG-P990h
p990h_SSV-xxx
LG-P990h
p990h_334-020
LG-P990h
p990h
LG-P990hN
star
LG-P993
p993
LG-V900
v900aus
LG-V901
v901twn
LU2300
lu2300
Marquee
LG855
Marquee
L-07C
Marquee
bproj_CIS-xxx
Marquee
LS855
My touch 4G
e739
Optiimus Black
bproj_208-01
Optimus 2
as680
Optimus 2X
p990_EUR-xx
Optimus 2X
p999
Optimus 2X
p990hN
Optimus 2X
su660
Optimus 2X
p990_262-xx
Optimus 2X
p990
Optimus 2X
star_450-05
Optimus 2X
p990_CIS-xxx
Optimus 3D
su760
Optimus 3D
cosmo_450-05
Optimus 3D
p920
Optimus 3D
cosmo_MEA-XXX
Optimus 3D
cosmo_EUR-XXX
Optimus 3D MAX
cx2
Optimus 4X HD
x3
Optimus Big
justin
Optimus Big
lu6800
Optimus Black
bproj_724-xxx
Optimus Black
bproj_302-220
Optimus Black
bproj_sea-xxx
Optimus Black
ku5900
Optimus Black
bproj_EUR-XXX
Optimus Black
bproj_214-03
Optimus Black
bproj_334-020
Optimus Black
black
Optimus Black
blackg
Optimus Black
bproj_ARE-XXX
Optimus Black
lgp970
Optimus Black
LGL85C
Optimus Black
bproj_262-XXX
Optimus Chat
hazel
Optimus chat
elini
Optimus EX
x2_450-05
Optimus EX
x2
Optimus F3
fx3
Optimus F5
l1e
Optimus F6
f6
Optimus G Pro
geevl04e
Optimus GK
gvfhd
Optimus Hub
univa_viv-br
Optimus Hub
lgc800g
Optimus Hub
univa_ctm-xxx
Optimus Hub
univa_730-01
Optimus Hub
univa_214-04
Optimus Hub
univa_tcl-mx
Optimus Hub
univa_ssv-xxx
Optimus Hub
univa_ufn-mx
Optimus Hub
univa_tlf-es
Optimus Hub
univa_740-01
Optimus Hub
univa_usc-mx
Optimus Hub
univa_730-03
Optimus Hub
univa_ent-cl
Optimus Hub
univa_724-05
Optimus Hub
univa_clr-br
Optimus Hub
univa_open-de
Optimus Hub
univa_open-br
Optimus Hub
lgc800
Optimus L40
w3ds
Optimus L40
w3
Optimus L40
w3ts
Optimus L5
m4
Optimus LIFE
l1_dcm
Optimus LTE
i_u
Optimus LTE
lgp935
Optimus LTE
l1a
Optimus LTE
lgp930
Optimus LTE
i_skt
Optimus LTE
iproj
Optimus LTE
i_dcm
Optimus Mach
lu3000
Optimus Mach
LU3000
Optimus Net
gelato_302-610
Optimus Net
lgl45c
Optimus Net
gelato_cis-xx
Optimus Net
gelato_sea-xx
Optimus Net Dual
gelatods_cis-xxx
Optimus Net Dual
gelatods_open-br
Optimus Net Dual
gelatods_ind-xxx
Optimus Net Dual
gelatods_sea-xxx
Optimus Net Dual
gelatods_are-xxx
Optimus One
ku3700
Optimus One
thunder_kor-08
Optimus One
thunderc
Optimus One
lu3700
Optimus One
su370
Optimus One
thunder_kor-05
Optimus Pad
v901kr
Optimus Pad
v909
Optimus Pad
v905r
Optimus Pad
v901ar
Optimus Pad
v901tr
Optimus Pad
v900
Optimus Pad
l06c
Optimus Pad
v909mkt
Optimus Pad
v900asia
Optimus Plus
m3_acg_us
Optimus Pro
muscat
Optimus Q
lgl55c
Optimus Q2
bssq
Optimus Q2
bssq_450-06
Optimus Slider
VM701
Optimus Sol
victor
Optimus Spirit
gelato_eur-xx
Optimus Spirit
gelato_505-01
Optimus Vu
325
Optimus Vu
batman
Optimus Vu
batman_dcm
Optimus Vu
batman_skt
Optimus Vu
batman_lgu
Optimus Vu
vu10
Optimus Vu
lge_325_skt
Optimus Vu2
vu2u
Optimus Vu2
vu2kt
Optimus Vu2
vu2sk
Optimus Z
su950
Optimus Zone
e0v
PecanV
pecanV
PRADA 3.0
p2
Shine Plus with Google
alohag
Spectrum
i_vzw
Spectrum 2
d1lv
Spirit 4G
l1m
Splendor
u0_cdma
Spray
e2jps
Swift
swift
TBD
aka
Thrill 4G
p925
Thrill 4G
cosmo_310-410
USCC-US760
envt2
USCC-US855
US855
VU3
vu3
Wine Smart
vfp

LGE TV

Hello TV Smart
SX930C_CJ
LAP250U
hg2
SFR-G8800
stb_dvb_sfr
Smart Box HD
SH940C-LN
Smart TV II
stb_catv_cnm
ST940I-UP
tvg2

Lenovo Mobile

A1_07
A1_07
A10
A10
A1000
A1000F
A1000-G
A1000G
A1000L
A1000LF
A208t
A208t
A2107A
A2107A-H
A2107A-H
lenovo75_a2_att_ics
A218t
A218t
A269
A269
A269i
A269i
A278t
A278t
A3000
A3000
A305E
A305e
A308t
A308t
A30t
A30t
A318t
A318t
A369
A369
A369i
A369i
A370e
A370e
A375e
A375e
A376
A376
A378t
A378t
A390t
A390t
A398t
A398t
A516
A516
A516
A516_ROW
A630
A630e
A656
A656
A658T
A658t
A66t
T702T
A670t
A670t
A678t
A678t
A706
armani
A706_ROW
armani_row
A720e
andorrap
A750e
athenae
A760
audi
A766
A766
A770e
athenaep
A820
A820
A820e
andorra
A830
A830
A850
A850_ROW
A860e
artini
B6000-H
B6000
B8000-H
B8000
E4002
E4002
IdeaTab A1010
A1010T
IdeaTab A1020
A1020T
IdeaTab A2107A-F
a2_wifi_row
IdeaTab A2107A-H
lenovo75_a2_ics
IdeaTab A2107A-H
a2_3g_data
IdeaTab A5000
A5000E
IdeaTab K2110A-F
K2110A-F
IdeaTab S6000
S6000
IdeaTabA2109A
A2109A
IdeaTabA2207A-H
A2207A-H
IdeaTabS2109A-F
S2109A
IdeaTabS2110AH
msm8960
IdeaTabV2007A
sanpaolo
IdeaTabV2010A
santiago
ideatv S31
ideatv_S31
ideatvK82 60LX750A 52LX750A 46LX750A 60LX850A 70LX850A 80LX850A
ideatv_K82
Indigo
Indigo
K800
K800
K900
K900_ROW
K900
K900
K910
kitonw
LaVieTab PC-TE508S1W/LaVieTab PC-TE508S1L
PC-TE508S1_nec
LaVieTab PC-TE510S1L
PC-TE510S1_nec
Lenovo
A3500F
Lenovo
A708t
Lenovo
A880
Lenovo A1-32AB0
amazon_w
Lenovo A2105
Lenovo_A2105
Lenovo A228t
A228t
Lenovo A238t
A238t
Lenovo A288t
A288t
Lenovo A298t
A298t
Lenovo A300
austin
Lenovo A300t
A300t
Lenovo A316
A316
Lenovo A316i
A316i
Lenovo A319
A319
Lenovo A320t
A320t
Lenovo A326
a326
Lenovo A328
A328
Lenovo A328t
A328t
Lenovo A3300
A3300-T
Lenovo A3300
A3300-HV
Lenovo A3300
A3300-GV
Lenovo A3300
A3300-H
Lenovo A330e
A330e
Lenovo A338t
A338t
Lenovo A3500
A3500HV
Lenovo A3500-FL
A3500FL
Lenovo A3500-H
A3500H
Lenovo A355e
A355e
Lenovo A358t
A358t
Lenovo A360
a360
Lenovo A3600-D
A3600-d
Lenovo A360e
A360e
Lenovo A360t
A360t
Lenovo A366t
lenovo13_td
Lenovo A368t
A368t
Lenovo A370
a370
Lenovo A3800-D
A3800-d
Lenovo A380e
A380e
Lenovo A380t
A380t
Lenovo A385e
A385e
Lenovo A388t
A388t
Lenovo A390
A390
Lenovo A390e
msm7627_ea95
Lenovo A395e
A395e
Lenovo A396
A396
Lenovo A396
A396_TY
Lenovo A398t+
A398tp
Lenovo A399
Aiken
Lenovo A500
a59wg
Lenovo A5000
A5000
Lenovo A505e
A505e
Lenovo A520
lenovo73_gb
Lenovo A520GRAY
a520_gray
Lenovo A526
A526
Lenovo A529
A529
Lenovo A530
A530_msm7627a_alps
Lenovo A536
A536
Lenovo A5500-F
A5500-F
Lenovo A5500-H
A5500-H
Lenovo A5500-HV
A5500-HV
Lenovo A560
A560_msm8610
Lenovo A560
A560_msm8212
Lenovo A580
A580
Lenovo A5800-D
A5800-D
Lenovo A588t
LenovoA588t
Lenovo A60
lenovo73_cu
Lenovo A60
a60id_tel
Lenovo A60
a60tw
Lenovo A60
a60os
Lenovo A60
a60_campus
Lenovo A60+
Android
Lenovo A60+
A60plus
Lenovo A6000
Kraft-A6000
Lenovo A6000-l
Kraft-A6000-l
Lenovo A606
A606
Lenovo A616
A616
Lenovo A628t
A628t
Lenovo A630
A630
Lenovo A65
a65cu
Lenovo A65
a65
Lenovo A65
a65_ph_id_vn
Lenovo A660
A660
Lenovo A668t
A668t
Lenovo A680
A680
Lenovo A688t
A688t
Lenovo A690
A690
Lenovo A690e
A690e
Lenovo A698t
lenovo15_td_ics
Lenovo A7-30GC
A7-30GC
Lenovo A7-30H
A7-30H
Lenovo A7-60HC
A760HC
Lenovo A700e
A700e
Lenovo A710e
A710e_msm7627a
Lenovo A750
lenovo75_cu_gb
Lenovo A750
lenovo75_cu_ics
Lenovo A7600-F
A7600-F
Lenovo A7600-H
A7600-H
Lenovo A7600-HV
A7600-HV
Lenovo A765e
aruba
Lenovo A768t
airplayt
Lenovo A780
A780_msm7627a
Lenovo A780
msm7627a_ha99
Lenovo A780e
A780e
Lenovo A785e
A785e
Lenovo A788t
A788t
Lenovo A789
A789
Lenovo A798t
A798t
Lenovo A806
A806
Lenovo A808t
A808t
Lenovo A808t-i
A808t-i
Lenovo A816
airplayw
Lenovo A820t
A820t
Lenovo A828
A858
Lenovo A828t
A828t
Lenovo A850
A850
Lenovo A850+
A850p
Lenovo A858t
A858t
Lenovo A859
A859_ROW
Lenovo A889
A889
Lenovo A890e
airbuse
Lenovo A916
A916
Lenovo A936
A936
Lenovo B8080
B8080
Lenovo K2
apollohd_w
Lenovo K30-T
Kraft-T
Lenovo K30-W
Kraft-W
Lenovo K800
mfld_pr2
Lenovo K80M
K80M
Lenovo K860
stuttgart_row
Lenovo K860
stuttgart
Lenovo K860i
K860i
Lenovo K910
kiton
Lenovo K910e
kitone
Lenovo K910L
K910L
Lenovo K920/VIBE Z2
kingdom_row
Lenovo K920/VIBE Z2 Pro
kingdomt
Lenovo N300
Lindos2
Lenovo N308
SmartAIO
Lenovo P70
P70-A
Lenovo P70
P70-t
Lenovo P700
p700_ph
Lenovo P700
p700
Lenovo P700i
P700i
Lenovo P770
P770
Lenovo P90
P90
Lenovo S2-38AH0
apollo_wg
Lenovo S2-38AH0
Lenovo_S2
Lenovo S2-38AT0
apollo_td
Lenovo S560
S560
Lenovo S580
S580
Lenovo S60
sisleylt
Lenovo S60
sisleylw
Lenovo S650
S650
Lenovo S650_ROW
S650_ROW
Lenovo S658t
S658t
Lenovo S660
S660
Lenovo S668t
S668t
Lenovo S696
sicily
Lenovo S760
apollozero_w
Lenovo S810t
shellt
Lenovo S820
S820_AMX_ROW
Lenovo S850
S850
Lenovo S850t
S850t
Lenovo S856
shellr_s
Lenovo S856
shellw
Lenovo S856
shellr
Lenovo S856
shellamx
Lenovo S858t
Selected
Lenovo S860
S860
Lenovo S860e
shelle
Lenovo S880
s880_row
Lenovo S880
s880
Lenovo S880i
S880i
Lenovo S890
S890
Lenovo S898t+
S898tp
Lenovo S899t
S899t
Lenovo S90
sisleye
Lenovo S90-T
sisleyt
Lenovo S90-U
sisleyw
Lenovo S920_ROW
S920_ROW
Lenovo S930
S930
Lenovo S930_ROW
S930_ROW
Lenovo S938t
S938t
Lenovo S939
S939
Lenovo S960
S960_AMX_ROW
Lenovo S968t
S968t
Lenovo TAB 2 A7-10F
Tab2A7-10F
Lenovo TAB 2 A7-30F
A7-30F
Lenovo TAB 2 A7-30HC
A7-30HC
Lenovo TAB 2 A7-30TC
A7-30TC
Lenovo TAB A10-80HC
A10_80HC
Lenovo TAB S8-50F
S8-50F
Lenovo TAB S8-50L
S8-50L
Lenovo TAB S8-50LC
S8-50LC
Lenovo X2
X2-EU
Lenovo X2
X2-AP
Lenovo X2-CU/VIBE X2
X2-CU
Lenovo X2-TO/VIBE X2
X2-TO
Lenovo X2-TR/VIBE X2
X2-TR
Lenovo YOGA Tablet Pro-830LC/Yoga Tablet 2
YT2
Lenovo Z2
z2r
Lenovo Z2
z2t
Lenovo Z2w
z2w
LenovoTV 50S52;AQUOS LCD-50S1A
bumblebee
Lenvo S960
S960_ROW
LIFETAB E10310
LIFETAB_E10310
LIFETAB E10316
LIFETAB_E10316
LIFETAB E10320
LIFETAB_E10320
LIFETAB E7310
LIFETAB_E7310
LIFETAB E7313
LIFETAB_E7313
LIFETAB E7316
LIFETAB_E7316
LIFETAB E732X
LIFETAB_E732X
LIFETAB S1033X
LIFETAB_S1033X
LIFETAB S785X
LIFETAB_S785X
LIFETAB_S9512
LIFETAB_S9512
LNV-Lenovo A600e
A600e_msm8625
LNV-Lenovo A790e
msm7627a
LNV-Lenovo_A560e
A560e_msm7627a
MD_LIFETAB_P9516
MD_LIFETAB_P9516
microstar E10319
E10319
P780
P780_ROW
P780
P780
PC- TS507N1S
PC-TS507N1S
PC-508T1W
508T1W
PC-708T1W
708T1W
PC-TE307N1W
PC-TE307N1W
PC-TE510N1B
LaVieTab
S2005A-H
S2005A-H
S5000
S5000
S6000L
S6000L
S61
ideatv_S61
S680
seoul
S686
Alaska
S720
S720
S750
S750
S820
S820_ROW
S820
S820
S820e
applee
S850e
sichuan
S868
S868t
S870e
S870e
S898t
S898t
S920
S920
S960
S960
SmartTabII7
SmartTabII7
Spice Mi-350
mi_350
ThinkPad Tablet
18382AU
ThinkVision28
ThinkVision28

Lumigon

T2
msm7630_fw8911

MSI

Primo73
N71J
Primo76
N728
Primo81
N821
Primo81
Primo81

Mediatek

A10
A10_sprout
Canvas A1
AQ4501_sprout
Dream Uno
Mi-498_sprout
One
H940_sprout
Sparkle V
Sparkle_V_sprout

Micromax

A110
s9081
A111
A111
A116
A116
A210
A210
A240
A240
A27
A27
A44
tinnoes13_s7050
A45
tinnoes73_s8030_2g
A50
kpt73_gb
A54
A54
A56
A56
A57
A57
A72
A72
A73
A73
A75
A75
A78
Micromax
A84
A84
A87
A87
A88
A88
A89
A89
A91
A91
BOLT
A69
BOLT
A068
BOLT
A069
BOLT
A24
BOLT
A67
BOLT
A34
CANVAS 2 COLOURS
A120
CANVAS 2 PLUS
s9086b
CANVAS 2 PLUS
A110Q
CANVAS 4
s9111b
CANVAS BEAT
A114R
CANVAS BLAZE
MT500
CANVAS DOODLE 3
MicromaxA102
CANVAS DUET
AE90
CANVAS DUET 2
EG111
CANVAS ELANZA 2
A121
CANVAS ENGAGE
A091
CANVAS ENTICE
A105
CANVAS GOLD
A300
CANVAS KNIGHT
s9320ae
CANVAS KNIGHT
A350
CANVAS MAGNUS
s9203
CANVAS POWER
A96
CANVAS TUBE
A118R
CANVAS TURBO
A250
CANVAS TURBO
s9311
CANVAS TURBO MINI
s8513a
CANVAS UNITE 2
A106
MICROMAX MAD
A94
MICROMAX UNITE
A092
P275
P275
P300
crane-M701C_mmx

Mobiwire

R45
Revel_R45
Ahiga
Ahiga
Bouygues Telecom Bs 451
Bs_451
Cygnus
Cygnus45
Cygnus mini
Cygnus_mini
Essentielb- Black Diamond
bird77_a_cu_ics2
H5S
up09_tecno_h5s
H7S
qp16_tecno_h7s
Ice Phone Mini
ice_phone_mini
LUVO 001
luvo_001
M3
up11_tecno_m3s
P5
up08_tecno_p5s
Pegasus
Pegasus
PRO5023PW
up06_h25_polaroid
Pyxis
pyxis_boulanger
Star Shine II
up11_sfr_mensa
Star Trail 5
STARTRAIL5
Star Trail by TT
startrail3_tt
Star Trail III
mobiwire_startrail3
Tele2fon V4
Tele2fon_v4
Tele2fon V5
Tele2fon_v5
TLink 455
TLINK455
TROOPER X3.5
KAZAM
V.35
up11_h1_vsn
V.35
up11_vsn_h1_single
V.45
H26-VSN
VSN V.45
up06_h26_v45
X405
up09_infinix_x405_gms

Motorola

MZ505
Graham
101T MEDIAS
NEC-101
A1680
umts_lucky
AGT10
AGT10
Atrix
olympus
Backflip
motus
Casio G'zOne Commando
C771
CASIO G'zOne Commando 4G LTE
C811
Charm
umts_basil
Citrus
cdma_ciena
CLIQ
morrison
Cliq-XT
zeppelin
D000-000002-W01
LT-W1_1
Defy
umts_jordan
Defy Mini
tinboost_umts
Defy Mini
TinBoost
Defy Pro
XT560
Disney Mobile on docomoN-03E
N-03E
Droid
umts_sholes
Droid
miler
Droid
sholes
Droid 4
cdma_maserati
Droid Bionic
cdma_targa
Droid II
cdma_droid2we
Droid II
cdma_droid2
Droid MAXX
obake-maxx
Droid Mini
obakem
Droid Pro
cdma_venus2
DROID RAZR
cdma_spyder
DROID RAZR HD
vanquish
DROID RAZR HD
vanquish_u
DROID RAZR i
smi
DROID RAZR M
scorpion_mini
Droid Razr M
scorpion_mini_t
DROID Turbo
quark
Droid Ultra
obake
Droid X
cdma_shadow
Droid X2
daytona
Electrify M
solstice
Flipout
umts_ruth
G'z One IS11CA
IS11CA
G'zOne TYPE-L CAL21
CAL21
G'zOne CA-201L
CA201L
Glam XT800
titanium
i867
destino
i940
fawnridge
Iron Rock
umts_irock
LifeTouch B
LTB019G
LifeTouch B
LTB013
LifeTouch B
LTB018
LifeTouch B
LTB028
LifeTouch B
LTB019W
LifeTouch L
LTTLA16
LifeTouch L
D000000039
LifeTouch L
D000000023
LifeTouch L
D000000035
LifeTouch L
LTTLA32
LifeTouch Note
D000000010N
LifeTouch Note
D000000011N
LifeTouch Note
LTNA7
LifeTouch Note
LTNA7F
LifeTouch S
LifeTouch_D7
LifeTouch S
LifeTouch_D1
LifeTouch W
LifeTouch_W1
LifeTouch W
LT-W1_2
MB200
morr
MB501
zepp
MB508
umts_sage
MB520
umts_kobe
MB611
umts_begonia
MB612
cdma_kronos
MB865
edison
ME632
umts_elway
ME863
umts_solana
MEDIAS BR IS11N
IS11N
MEDIAS CH 101N
101N
MEDIAS ES N-05D
N-05D
MEDIAS LTE N-04D
N-04D
MEDIAS N-04C
N-04C
MEDIAS NE-202
NE-202
MEDIAS NEC-101S
MAGNUM
MEDIAS NEC-102
NEC-102
MEDIAS PP N-01D
N-01D
MEDIAS TAB N-06D
N-06D
MEDIAS TAB UL N-08D
N-08D
MEDIAS U N-02E
N-02E
MEDIAS U NE-103T
NE-103
MEDIAS W N-05E
N-05E
MEDIAS WP N-06C
N-06C
MEDIAS X N-04E
N-04E
MEDIAS X N-06E
N-06E
MEDIAS X N-07D
N-07D
Milestone
A853
Milestone2
umts_milestone2
MILESTONE3
cdma_solana
Moto 360
minnow
Moto Defy XT
tinboostplus_umts
Moto Defy XT
tinboostplus_cdma
Moto Defy XT
XT535
Moto E
condor_udstv
Moto E
condor_umtsds
Moto E
condor_cdma
MOTO E
condor_umts
Moto G
falcon_cdma
Moto G
titan_udstv
Moto G
falcon_umtsds
MOTO G
titan_umts
Moto G
titan_umtsds
Moto G
falcon_umts
Moto G w/4G LTE
peregrine
Moto MAXX
quark_umts
Moto X
ghost
Moto X
victara
Motoluxe
XT615
Motoluxe
ironmaxct_cdma
Motoluxe
ironmax_umts
Motoluxe
XT611
Motoluxe
ironmaxtv_umts
Motoluxe
XT682
Motoroi
sholest
Motorola Atrix HD
qinara
MOTOROLA ELECTRIFY 2
cdma_yangtze
Motorola Master Touch
umts_primus
Motorola Photon
asanti_c
MOTOROLA RAZR M
smq_t
Motorola RAZR M
smq
Motorola Razr V
umts_yangtze
Motosmart
silversmart_umts
Motosmart
XT390
Motosmart
argonmini_umts
Motosmart
XT389
MOTWX435KT
Triumph
MT620
TAHITI
MZ505
graham_wifi
MZ616
pasteur
NE-201
NE-201
NEC
NEC909e
NEC909e
Opus One
rubicon
Photon 4G
sunfire
Quench XT3
XT502
RAZR D1
hawk35_umts
RAZR D3
hawk40_umts
Spice
sesame
XOOM
umts_everest
XOOM
umts_hubble
XOOM
wifi_hubble
XOOM
stingray
XOOM
wingray
XOOM 2 ME
fleming
XT311
XT311
XT316
XT316
XT316
dominoq_umts
XT317
XT317
XT319
XT319
XT530
XT530
XT531
XT531
XT532
XT532
XT550
ArgonSpin
XT550
argonspin_umts
XT560
tinq_umts
XT603
cdma_pax
XT605
umts_jorian
XT610
umts_venus2
XT701
choles
XT711
choi
XT800+
cg_tita2
XT800W
ttu_skt
XT806
qilin
XT882
swordfish
XT905
smq_u
XT905
scorpion_mini_u
XT910
umts_spyder

NVidia

Shield
roth
SHIELD Tablet
shieldtablet
TegraNote
tegranote
TegraNote
tegranote7c

Nikon

COOLPIX S810c
s810c
COOLPIX
S800c

OpenPeak

cius
cius
CIUS-7
CIUS-7
CIUS-7-AT
CIUS-7-AT

Oppo

N1
N1
N1T
N1T
N1W
N1W
OPPO Ulike2
Ulike2
R2001
R2001
R8007
R8007
R809T
R809T
R815
R815
R815T
R815T
R815W
R815W
R819
R819
R819T
R819T
R820
R820
R821
R821
R821T
R821T
R823T
R823T
R827
R827
R827T
R827T
R829
R829
R829T
R829T
R830
R830
R831
R831
R831T
R831T
R833T
OPPO82_13067
R850
R850
U707
U707
U707T
U707T
Ulike2
U705W
X9007
X9007
X909
FIND5

Panasonic Corporation

Boukenkun-reciever
VW_RCBKK1
CEA1
CEA1
ELUGA U
ELUGA_U
FZ-A1
toughpad
FZ-B2
fz_b2bb
FZ-X1
FZ-X1VU
FZ-X1
FZ-X1
FZ-X1
FZ-X1VUC
JT-B1
B1
JT-H580VT
H580VT_A
JT-H581VT
H581VT_A
KX-PRXA10
KX-PRXA10
KX-PRXA15
KX-PRXA15
LUMIX CM1
DMC-CM1
Panasonic ELUGA A
ELUGA_A
Panasonic ELUGA I
ELUGA_I
Panasonic ELUGA S
ELUGA_S
Panasonic P11
P11
Panasonic P31
P31
Panasonic P41
P41
Panasonic P41 HD
P41HD
Panasonic P51
P51
Panasonic P55
P55
Panasonic P61
P61
Panasonic P81
P81
Panasonic T11
T11
Panasonic T21
T21
Panasonic T40
T40
Panasonic T41
T41
Panasonic T51
T51
SmartTVBox
C01AS
SV-ME1000
K1
UN-MT300
A1
UN-W700
F1

Panasonic Mobile Communications

003P
pana1
101P
pana2_2s
102P
pana2_4s
EB-4063-X
EB-4063-X
ELUGA
pana2_4o
ELUGA dL1
pana2_4v
ELUGA P
P-03E
ELUGA Power
P-07D
ELUGA V
P-06D
ELUGA X
P-02E
P-01D
pana2_1
P-02D
pana2_2
P-04D
pana2_4d
P-05D
pana2_4a
P-07C
laputa
P-08D
P-08D

Pantech

ADR910L
ADR910L
ADR930L
ADR930L
Apache
ADR8995
AT1
at1
Burst
presto
Crossover
moon
ef14lv
ef14lv
EF33S
ef33s
EF34K
ef34k
EF35L
ef35l
Element
pororo
Flex
oscar
IM-840SP
IM-A840SP
IM-A730S
ef30s
IM-A775C
ef34c
IM-A800S
ef39s
IM-A810K
ef40k
IM-A810S
ef40s
IM-A830K
ef45k
IM-A830KE
ef45kv
IM-A830L
ef46l
IM-A830S
ef47s
IM-A840S
IM-A840S
IM-A850K
ef49k
IM-A850L
ef50l
IM-A850S
ef48s
IM-A860K
ef51k
IM-A860L
ef51l
IM-A860S
ef51s
IM-A870K
ef52k
IM-A870L
ef52l
IM-A870S
ef52s
IM-A880S
EF56S
IM-A910K
ef63k
IM-A910L
ef63l
IM-A910S
ef63s
IM-A920S
ef65s
Izar
sp33k
Mirach
ef13s
Mirach
ef13l
MIRACH_J
mirachj
P9090
magnus
PLANET
mini
PTL21
maruko
Sirius
ef10s
SIRIUS α
jmasai
Vega
ef12s
Vega LTE M
ef65l
VEGA Secret Note
EF59K
VEGA Secret Note
EF59L
VEGA Secret Note
EF59S
VEGA Secret UP
EF61K
VEGA Secret UP
ef60s
VEGA Secret UP
EF62L
VEGA Secret UP
ef62l
VEGA Secret UP
ef61k
VEGA Secret UP
EF60S
Vega X
ef18k
Vega X
ef14l

Pegatron

Amazing A8
D78
Amazing X3
TX3
Android Tablet PC
Duke3G
Android Tablet PC
DukeWifi
Android Tablet PC
TabletPC
chagall
chagall
Cintiq Companion Hybrid 13HD
CintiqCompanionHybrid13HD
CS1 8.0
cs180
Discovery II Mini
Discovery_II_Mini
Getac Z710
z710
Harris 12131-1000
msm8660_cougar
InFocus M2
LSO
InFocus M2+
LSC
InFocus M510t
TID
InFocus M530
G20
InFocus M550 3D
ZD1
InFocus M810
VNA
M2_3G
G10
M330
D77
M511
TID_TWN
M511
TID_CHT
M512
MC2_CN
M518
MC2_APT
MaxiIQ
MaxiIQ
Mika M3
Mika_M3
MTC SMART Run
SMART_Run
Olipad
OP111
P4S
P4S
Smart503
MC2
TC69CA2
GTB801
TC69CA2
TC69CA2_1
TL10RA3
TL10RA3_1
TR10CD3
TR10CD3_1
TR10CD3
TR10CD3_2
TR10CS1
TR10CS1_8
V1 Viper I4G
V1_Viper_I4G
V1 Viper L
V1_Viper_L

Philips Electronics

HMP8100/93
HMP8100_ATV_93
HMP8100/98
HMP8100_ATV
Philips GoGear Connect
SA2CNTxx
Philips_PI5000
Philips_PI5000
PI2000
PI2000
PI2010
PI2010
PI2011
PI2011
PI3100/51
PI3100_51
PI3100/58
PI3100_58
PI3100/93
PI3100_93
PI3100/98
PI3100_98
PI3100Z3/93
PI3100Z3_93
PI3105
PI3105
PI3106
PI3106
PI3110
PI3110
PI3205G
PI3205G_93
PI3210G
PI3210G
PI3900
T7p_Duo_93
PI3900/51
PI3900_51
PI3900/58
PI3900_58
PI3900/98
PI3900_98
PI3910
PI3910
PI4010G
PI4010G
PI7100/93
PI7100_93
SA3CNT
Philips_GGC3
T8 PI7000
Tablet_8

Positivo

Positivo AB7
YPY_AB7D
Positivo AB7D
YPY_AB7DC
Positivo BGH Y200
T710
Positivo mini I
mini_i
Positivo S380
S380
Positivo SX1000
SX1000
Positivo T1060
t1060
Positivo T701 TV
T701
Positivo T705
T705
Positivo T750
t750
Positivo Ypy 07FTB
YPY_07FTB
Positivo Ypy 07FTBF
YPY_07FTBF
Positivo Ypy 07STB
YPY_07STB
Positivo Ypy 07STBF
YPY_07STBF
Positivo Ypy 10FTB
YPY_10FTB
Positivo Ypy 10FTBF
YPY_10FTBF
Positivo Ypy 10STB
YPY_10STB
Positivo Ypy 10STBF
YPY_10STBF
Positivo Ypy AB10
YPY_AB10D
Positivo Ypy AB10D
YPY_AB10DC
Positivo Ypy AB10E
YPY_AB10EC
Positivo Ypy AB10H
YPY_AB10H
Positivo YPY AB7
YPY_AB7
Positivo Ypy AB7F
YPY_AB7F
Positivo Ypy S350p
YPY_S350
Positivo Ypy S405
YPY_S405
Positivo Ypy TQ7
YPY_TQ7
Positivo YPY7 3G
TB07FTA
Positivo YPY7 3G
YPY_07FTA
Positivo YPY7 wifi
TB07STA
Positivo YPY7 wifi
YPY_07STA
S440
S440
S480
S480
Ypy
T701_AR
YPY 10 3G
YPY_10FTA
Ypy AB10DP
YPY_AB10DP
Ypy AB10E
YPY_AB10E
Ypy AB7K
YPY_AB7K
Ypy Kids
YPY_L700
Ypy L1000
YPY_L1000
Ypy L1050
YPY_L1050
Ypy L1050E
YPY_L1050E
YPY S400
YPY_S400
Ypy S450
YPY_S450
Ypy S460
YPY_S460
Ypy S500
YPY_S500

Quanta Corporation

Cherry W900 LTE
al7
CT2200
CT2200
eye3
UY3-PCW
FaceVsion OC1020A
OC1020A
FT103
FT103
INFINITY G NK2
infinity_g
KALOS
FG6Q_N
Kate
Wenu
Le Pan TC1010
FG6A-LP
Le Pan TC1020
FG6Q
Le Pan TC802A
UY8
Lifetab P9514
LIFETAB_P9514
M363/P
UY1
MDB342X
qnbml
MiSS
MiSS
NEBUPOS3
UY3A
Nirvana_Tablet
Nirvana_Tablet
OP110
OP110
PT2200
PT2200
TA1013
nk1
VSD220
VSD220
VSD221
VSD221
VSD241 Smart Display
VSD241
XOLO LT900
LT900

SEMC

Xperia X10
SonyEricssonSO-01B

SHARP

AQUOS PAD SHT21
SHT21
306SH
SG306SH
401SH
SG401SH
A01SH
A01SH
ADS1
ADS1
AQUOS CRYSTAL X
SG402SH
AQUOS PAD SH-06F
SH-06F
AQUOS PAD SH-08E
SH-08E
AQUOS PAD SHT22
SHT22
AQUOS PHONE CL IS17SH
SHI17
AQUOS PHONE es WX04SH
WX04SH
AQUOS PHONE EX SH-02F
SH-02F
AQUOS PHONE EX SH-04E
SH04E
AQUOS PHONE f SH-13C
SH13C
AQUOS PHONE IS11SH
SHI11
AQUOS PHONE IS12SH
SHI12
AQUOS PHONE IS13SH
SHI13
AQUOS PHONE IS14SH
SHI14
AQUOS PHONE SERIE ISW16SH
SHI16
AQUOS PHONE SERIE mini SHL24
SHL24
AQUOS PHONE SERIE SHL21
SHL21
AQUOS PHONE SERIE SHL22
SHL22
AQUOS PHONE SERIE SHL23
SHL23
AQUOS PHONE SH-01D
SH01D
AQUOS PHONE SH-06D
SH06D
AQUOS PHONE SH-12C
SH12C
AQUOS PHONE SH90B
SH90B
AQUOS PHONE si SH-01E
SH01E
AQUOS PHONE si SH-07E
SH-07E
AQUOS PHONE SL IS15SH
SHI15
AQUOS PHONE slider SH-02D
SH02D
AQUOS PHONE SoftBank 006SH
SBM006SH
AQUOS PHONE SoftBank 102SH
SBM102SH
AQUOS PHONE SoftBank 102SH II
SBM102SH2
AQUOS PHONE SoftBank 103SH
SBM103SH
AQUOS PHONE SoftBank 104SH
SBM104SH
AQUOS PHONE ss 205SH
SBM205SH
AQUOS PHONE st SH-07D
SH07D
AQUOS PHONE sv SH-10D
SH10D
AQUOS PHONE THE HYBRID SoftBank 007SH
SBM007SH
AQUOS PHONE THE HYBRID SoftBank 007SH J
SBM007SHJ
AQUOS PHONE THE HYBRID SoftBank 101SH
SBM101SH
AQUOS PHONE THE PREMIUM SoftBank 009SH
SBM009SH
AQUOS PHONE WX05SH
WX05SH
AQUOS PHONE Xx 206SH
SBM206SH
AQUOS PHONE Xx 302SH
SBM302SH
AQUOS PHONE Xx mini 303SH
SBM303SH
AQUOS PHONE Xx SoftBank 106SH
SBM106SH
AQUOS PHONE ZETA SH-01F
SH-01F
AQUOS PHONE ZETA SH-02E
SH02E
AQUOS PHONE ZETA SH-06E
SH-06E
AQUOS PHONE ZETA SH-09D
SH09D
AQUOS SERIE mini SHV31
SHV31
AQUOS SERIE SHL25
SHL25
AQUOS SH-M01
SH-M01
AQUOS Xx 304SH
SG304SH
AQUOS ZETA SH-01G
SH-01G
AQUOS ZETA SH-04F
SH-04F
Disney Mobile DM014SH
DM014SH
Disney Mobile on docomo SH-02G
SH-02G
Disney Mobile on docomo SH-05F
SH-05F
DM009SH
DM009SH
DM010SH
DM010SH
DM011SH
DM011SH
DM012SH
DM012SH
DM013SH
DM013SH
DM016SH
DM016SH
EB-A71GJ
EB-A71GJ
EB-WX1GJ/EB-W51GJ
Galapagos
GALAPAGOS SoftBank 003SH
SBM003SH
GALAPAGOS SoftBank 005SH
SBM005SH
INFOBAR A01
SHX11
INFOBAR C01
SHX12
IS01
SHI01
IS03
SHI03
IS05
SHI05
LYNX 3D SH-03C
SH03C
PANTONE 5 SoftBank 107SH
SBM107SH
PANTONE 6 SoftBank 200SH
SBM200SH
Q-pot.Phone SH-04D
SH04D
RW107
RW107
SBM204SH
SBM204SH
SC-S01
scallop
SH-01E Vivienne Westwood
SH01EVW
SH-01F DRAGON QUEST
SH-01FDQ
SH-03F
SH03F
SH-05E
SH05E
SH-06D NERV
SH06DNERV
SH7218T
SH7218T
SH80F
SH80F
SH8118U
msm7627_surf
SH8128U
msm7627
SH8188U
SH8188U
SH8268U
SH8268U
SH8288U
SH8288U
SH8298U
SH8298U
SoftBank 007SH KT
SBM007SHK
SoftBank 107SH B
SBM107SHB
SoftBank 305SH
SG305SH
SoftBank AQUOS PHONE Xx 203SH
SBM203SH
Yahoo! Phone SoftBank 009SH Y
SBM009SHY

SK Telesys

STB7012
STB7012
All&G PAD
mypad2
AN200
AN200
Bic camera
Si01BB
CHN-UCAN MJ
lefhd
CP-D403
CP-D403
CUBE
myphone_cube
Cynus T6
Cynus_T6
DREAM PAD
delight
E-Tab10
blue_eye
Falcon
falcon
Fly
htt77_ics2
Forward_Prime
Forward_Prime
Ice-Phone Forever
z262_wvga_mge
icube-830
icube-830
Infinite
MID1324
Infinity
Infinity
ITP-E410W
willow
ITP-R208W
rk30sdk
K2401
K2401
Kurio Phone
C14500
Master
Master
Nexttab N3
N3
NGM_Dynamic_Stylo
NGM_Dynamic_Stylo
NOBA
NOBA
R370H
R370H
S150
msm8255_k5
Si01BE
Si01BE
SK-S100
qsd8250_s1
SK-S170
K4
Smart Fun
SmartFun
STB7013
AVOCA
STB8098
STB8098
STB9097
STB9097
T720
T720
T730
T730
T750
T750
UTA200
htt75_nand_6628_ics

Samsung

Absolute
GT-B9120
Acclaim
SCH-R880
Admire
SCH-R720
Baffin
baffinltelgt
Behold II
SGH_T939
Behold II
sgh-t939
Captivate Glide
SGH-I927
China Telecom
kylevectc
Conquer
SPH-D600
DoubleTime
SGH-I857
Droid Charge
SCH-I510
EK-KC120K
gd1ltektt
Europa
GT-I5500L
Europa
GT-I5500B
Europa
GT-I5500M
Europa
GT-I5510L
Europa
GT-I5503T
Exhibit
SGH-T759
Galaxy
gt-i7500
Galaxy (China)
GT-B9062
Galaxy 070
hendrix
Galaxy A
archer
Galaxy A3
a3ltechn
Galaxy A3
a3ltezh
Galaxy A3
a3ulte
Galaxy A3
a33g
Galaxy A3
a3lte
Galaxy A3
a3ltectc
Galaxy A5
a5ltezh
Galaxy A5
a5ltezt
Galaxy A5
a5ulteskt
Galaxy A5
a5lte
Galaxy A5
a5ultektt
Galaxy A5
a5ltectc
Galaxy A5
a5ultelgt
Galaxy A5
a53g
Galaxy A5
a5ltechn
Galaxy A7
a7alte
Galaxy A7
a7ltektt
Galaxy A7
a7ltelgt
Galaxy A7
a7lteskt
Galaxy Ace
GT-S5830T
Galaxy Ace
GT-S5830
Galaxy Ace
heat3gou
Galaxy Ace
GT-S5839i
Galaxy Ace
heatlte
Galaxy Ace
GT-S5830L
Galaxy Ace
GT-S5830C
Galaxy Ace
GT-S6358
Galaxy Ace
SHW-M240S
Galaxy Ace
GT-S5830B
Galaxy Ace
GT-S5830G
Galaxy Ace
GT-S5838
Galaxy Ace
GT-S5830F
Galaxy Ace
GT-S5830i
Galaxy Ace
SCH-I619
Galaxy Ace
GT-S5830D
Galaxy Ace
GT-S5831i
Galaxy Ace
GT-S5830M
Galaxy Ace 4
vivaltods5m
Galaxy Ace 4 Lite
vivalto3g
Galaxy Ace Advance
GT-S6800
Galaxy Ace Duos
SCH-i589
Galaxy Ace Duos
SCH-I589
Galaxy Ace Duos
GT-S6802B
Galaxy Ace Duos
GT-S6352
Galaxy Ace Duos
SCH-i579
Galaxy Ace Duos
SCH-I579
Galaxy Ace Duos
GT-S6802
Galaxy Ace Plus
GT-S7508
Galaxy Ace Plus
GT-S7500L
Galaxy Ace Plus
GT-S7500W
Galaxy Ace Plus
GT-S7500T
Galaxy Ace Plus
GT-S7500
Galaxy Ace Q
SGH-I827D
Galaxy Ace Style
heat3gtfnvzw
Galaxy Ace Style
heatnfc3g
Galaxy Ace Style
heatqlte
Galaxy Ace2
GT-I8160L
Galaxy Ace2
GT-I8160
Galaxy Ace2
GT-I8160P
Galaxy Ace2 X
kylessopen
Galaxy Ace3
logan
Galaxy Ace3
logands
Galaxy Ace3
loganlte
Galaxy Ace3
loganrelte
Galaxy Ace3
logan3gcmcc
Galaxy Ace3 Duos
loganu3gcmcc
Galaxy Ace3 Duos
loganlite3g
Galaxy Ace3 Duos TV
logandsdtv
Galaxy Ace4
vivaltonfc3g
Galaxy Ace4
vivaltolte
Galaxy Ace4
vivalto5mve3g
Galaxy Ace4 Lite
vivalto
Galaxy Ace4 Neo
vivalto3mve3gltn
Galaxy Admire
SCH-R820
Galaxy Admire 2
goghcri
Galaxy Alpha
sltechn
Galaxy Alpha
sltecan
Galaxy Alpha
slte
Galaxy Alpha
slteskt
Galaxy Alpha
sltektt
Galaxy Alpha
slteatt
Galaxy Alpha
sltelgt
Galaxy Amp
kyleatt
Galaxy Apollo
GT-I5800
Galaxy Apollo
GT-I5801
Galaxy Apollo
GT-I5800D
Galaxy Appeal
SGH-I827
Galaxy Attain
SCH-R920
Galaxy Avant
afyonltetmo
Galaxy Axiom
infiniteusc
Galaxy Beam
GT-I8530
Galaxy Beam
GT-I8250
Galaxy Camera
gd1
Galaxy Camera
gd1att
Galaxy Camera
u0lte
Galaxy Camera
gd1ktt
Galaxy Camera
gd1can
Galaxy Camera
gd1wifiany
Galaxy Camera
gd1wifi
Galaxy Camera
gd1skt
Galaxy Camera
gd1ltelgt
Galaxy Camera
gd1ltevzw
Galaxy Camera
gd1lteskt
Galaxy Camera 2
sf2wifi
Galaxy Centura
amazing3gtrf
Galaxy Chat
zanin
Galaxy Core
afyonlteMetroPCS
Galaxy Core
arubaslim
Galaxy Core
afyonltecan
Galaxy Core Advance
cane3gskt
Galaxy Core Advance
cane3g
Galaxy Core Lite
victorlte
Galaxy Core LTE
cs03lte
Galaxy Core LTE
afyonlte
Galaxy Core Max
kleoslte
Galaxy Core Plus
cs02
Galaxy Core Plus
cs023g
Galaxy Core Plus
cs02ve3gdtv
Galaxy Core Plus
cs02ve3gss
Galaxy Core Prime
rossalte
Galaxy Core Prime
rossaltexsa
Galaxy Core Prime
rossaltectc
Galaxy Core Prime
core33g
Galaxy Core Prime
coreprimelte
Galaxy Core Safe
arubaslimss
Galaxy Core2
kanas3gcmcc
Galaxy Core2
kanas3gnfc
Galaxy Core2
kanas3g
Galaxy Core2
kanas
Galaxy Core2
kanas3gctc
Galaxy Discover
amazingtrfcd
Galaxy Discover
amazing3gcri
Galaxy Duos
aruba3gcmcc
Galaxy E7
e7lte
Galaxy Europa
GT-I5500
Galaxy Europa
GT-I5510
Galaxy Europa
GT-I5508
Galaxy Europa
GT-I5503
Galaxy Exhibit
codinavid
Galaxy Exhibit
codinatmo
Galaxy Exhibit
codinaMetroPCS
Galaxy Exhibit2
SGH-T679
Galaxy Exhilarate
SGH-I577
Galaxy Express
expresslte
Galaxy Express
expressziglteatt
Galaxy Express
expressatt
Galaxy Express2
wilcoxlte
Galaxy Fame
nevisds
Galaxy Fame
nevisp
Galaxy Fame
nevis3g
Galaxy Fame
nevisvess
Galaxy Fame
nevis3gcmcc
Galaxy Fame
nevis
Galaxy Fame
nevisnvess
Galaxy Fame
SCH-I629
Galaxy Fame Lite Duos
nevisw
Galaxy Fit
GT-S5670
Galaxy Fit
GT-S5670L
Galaxy Fit
GT-S5670B
Galaxy Gio
GT-S5660L
Galaxy Gio
GT-S5660M
Galaxy Gio
SHW-M290K
Galaxy Gio
SHW-M290S
Galaxy Gio
SCH-i569
Galaxy Gio
GT-S5660
Galaxy Gio
GT-S5660B
Galaxy Gio
GT-S5660V
Galaxy Golden
ks02lte
Galaxy Golden
ks02ltektt
Galaxy Golden
ks02lteskt
Galaxy Golden 2
pateklte
Galaxy Grand
baffinvetd3g
Galaxy Grand
baffinvektt
Galaxy Grand
baffinltektt
Galaxy Grand
baffinss
Galaxy Grand
baffinrd
Galaxy Grand
baffinveskt
Galaxy Grand
baffinlteskt
Galaxy Grand
baffin3gduosctc
Galaxy Grand
baffincmcc
Galaxy Grand duos
baffin
Galaxy Grand Max
grandmaxltechn
Galaxy Grand Neo
baffinlitedtv
Galaxy Grand Neo
baffinq3g
Galaxy Grand Neo
baffinlite
Galaxy Grand Neo Plus
grandneove3g
Galaxy Grand Neo+
baffinq3gduosctc
Galaxy Grand Prime
fortunaltectc
Galaxy Grand Prime
fortunalte
Galaxy Grand Prime
fortunaltezh
Galaxy Grand Prime
fortuna3gdtv
Galaxy Grand Prime
fortuna3g
Galaxy Grand Prime
fortunaltezt
Galaxy Grand Prime
grandprimelte
Galaxy Grand-Max
grandmaxltekx
Galaxy Grand2
ms013g
Galaxy Grand2
ms01lte
Galaxy Grand2
ms01ltelgt
Galaxy Grand2
ms013gdtv
Galaxy Grand2
ms013gss
Galaxy Grand2
ms01lteskt
Galaxy Grand2
ms01ltektt
Galaxy Indulge
SCH-R915
Galaxy Indulge
SCH-R910
Galaxy Infinite
infinite3gduosctc
Galaxy J
hltejs01tw
Galaxy J1
j13g
Galaxy K
SHW-M130K
Galaxy K Zoom
m2altecan
Galaxy K Zoom
m2a3g
Galaxy K Zoom
m2altelgt
Galaxy K Zoom
m2alte
Galaxy M Pro2
lucas
Galaxy M Style
vastoicmcc
Galaxy M Style
SHW-M340L
Galaxy M Style
SHW-M340S
Galaxy Mega 2
mega23g
Galaxy Mega 5.8
crater3gctc
Galaxy Mega 5.8
craterss
Galaxy Mega 5.8
crater
Galaxy Mega 5.8
cratertd3g
Galaxy Mega 6.3
meliusltecan
Galaxy Mega 6.3
meliuslte
Galaxy Mega 6.3
meliuslteatt
Galaxy Mega 6.3
melius3g
Galaxy Mega 6.3
meliuslteskt
Galaxy Mega 6.3
meliusltektt
Galaxy Mega 6.3
meliusltelgt
Galaxy Mega 6.3
meliusltespr
Galaxy Mega 6.3
meliuslteusc
Galaxy Mega 6.3
melius3gduosctc
Galaxy Mega 6.3
meliuslteMetroPCS
Galaxy Mega Plus
craterq3g
Galaxy Mega Plus
megapluslte
Galaxy Mega2
mega2lteatt
Galaxy Mega2
mega2lte
Galaxy Mega2
vastaltezh
Galaxy Mega2
vastalte
Galaxy Mega2
vasta3g
Galaxy Mini
SGH-T499
Galaxy Mini
GT-S5570
Galaxy Mini
SGH-T499Y
Galaxy Mini
SGH-T499V
Galaxy Mini
GT-S5570B
Galaxy Mini
GT-S5570L
Galaxy Mini
GT-S5570I
Galaxy Mini
GT-S5578
Galaxy Mini2
GT-S6500
Galaxy Mini2
GT-S6500D
Galaxy Mini2
GT-S6500T
Galaxy Mini2
GT-S6500L
Galaxy Music
ivoryss
Galaxy Music Duos
ivory
Galaxy Neo
SHW-M220L
Galaxy Nexus
maguro
Galaxy Nexus
toroplus
Galaxy Note
SHV-E160S
Galaxy Note
GT-I9220
Galaxy Note
SHV-E160K
Galaxy Note
SGH-I717D
Galaxy Note
GT-I9228
Galaxy Note
SGH-I717R
Galaxy Note
SCH-i889
Galaxy Note
SC-05D
Galaxy Note
SGH-I717
Galaxy Note
GT-N7005
Galaxy Note
GT-N7000
Galaxy Note
SGH-I717M
Galaxy Note
SHV-E160L
Galaxy Note
SGH-T879
Galaxy Note 10.1
p4notewifi43241any
Galaxy Note 10.1
lt03lteskt
Galaxy Note 10.1
p4notewifiktt
Galaxy Note 10.1
p4noteltespr
Galaxy Note 10.1
p4notewifiany
Galaxy Note 10.1
p4notewifi
Galaxy Note 10.1
p4notelteskt
Galaxy Note 10.1
lt033g
Galaxy Note 10.1
p4noteltektt
Galaxy Note 10.1
p4notewifiww
Galaxy Note 10.1
lt03ltelgt
Galaxy Note 10.1
p4notelte
Galaxy Note 10.1
lt03ltektt
Galaxy Note 10.1
p4notelteusc
Galaxy Note 10.1
p4noterfktt
Galaxy Note 10.1
p4noteltevzw
Galaxy Note 10.1
p4noteltelgt
Galaxy Note 10.1
p4noterf
Galaxy Note 10.1 2014 Edition
lt03lte
Galaxy Note 10.1 2014 Edition
lt03wifikx
Galaxy Note 10.1 2014 Edition
lt03wifiue
Galaxy Note 10.1 2014 Edition
lt03ltevzw
Galaxy Note 10.1 2014 Edition
lt03wifi
Galaxy Note 8
konalteatt
Galaxy Note 8.0
kona3g
Galaxy Note 8.0
konalte
Galaxy Note 8.0
konawifiany
Galaxy Note 8.0
konaltecan
Galaxy Note 8.0
konawifi
Galaxy Note Edge
tbltetmo
Galaxy Note Edge
tbelteskt
Galaxy Note Edge
tblteusc
Galaxy Note Edge
tbltespr
Galaxy Note Edge
tbeltektt
Galaxy Note Edge
tbltecan
Galaxy Note Edge
tbltevzw
Galaxy Note Edge
tblteatt
Galaxy Note Edge
tbeltelgt
Galaxy Note Edge
tbltechn
Galaxy Note Edge
SCL24
Galaxy Note Edge
tblte
Galaxy Note II
t03g
Galaxy Note Pro 12.2
v1awifi
Galaxy Note Pro 12.2
viennaltekx
Galaxy Note Pro 12.2
v1awifikx
Galaxy Note Pro 12.2
viennaltevzw
Galaxy Note Pro 12.2
v1a3g
Galaxy Note Pro 12.2
viennalte
Galaxy Note Pro 12.2
viennalteatt
Galaxy Note2
t03gchnduos
Galaxy Note2
SC-02E
Galaxy Note2
t03gcuduos
Galaxy Note2
t0lte
Galaxy Note2
t0ltetmo
Galaxy Note2
t0lteatt
Galaxy Note2
t0ltespr
Galaxy Note2
t03gchn
Galaxy Note2
t0ltevzw
Galaxy Note2
t0lteskt
Galaxy Note2
t0ltelgt
Galaxy Note2
t03gcmcc
Galaxy Note2
t0ltecmcc
Galaxy Note2
t03gctc
Galaxy Note2
t0lteusc
Galaxy Note2
t0ltedcm
Galaxy Note2
t0ltecan
Galaxy Note2
t0ltektt
Galaxy Note3
SCL22
Galaxy Note3
hltevzw
Galaxy Note3
SC-02F
Galaxy Note3
hlteskt
Galaxy Note3
ha3g
Galaxy Note3
hltektt
Galaxy Note3
hlteusc
Galaxy Note3
hltecan
Galaxy Note3
hltetmo
Galaxy Note3
hltespr
Galaxy Note3
hltelgt
Galaxy Note3
hlteatt
Galaxy Note3
hlte
Galaxy Note3 Neo
frescoltelgt
Galaxy Note3 Neo
frescolteskt
Galaxy Note3 Neo
hllte
Galaxy Note3 Neo
hl3g
Galaxy Note3 Neo
frescoltektt
Galaxy Note3 Neo
hl3gds
Galaxy Note4
trltevzw
Galaxy Note4
trhplte
Galaxy Note4
trlteusc
Galaxy Note4
tre3g
Galaxy Note4
tre3caltelgt
Galaxy Note4
trltecan
Galaxy Note4
treltektt
Galaxy Note4
trltetmo
Galaxy Note4
trelteskt
Galaxy Note4
treltelgt
Galaxy Note4
tre3caltektt
Galaxy Note4
trltechn
Galaxy Note4
trelte
Galaxy Note4
trlte
Galaxy Note4
trltespr
Galaxy Note4
tre3calteskt
Galaxy Note4
trltechnzh
Galaxy Note4
trlteatt
Galaxy NX
u0lteue
Galaxy Player
YP-GB70
Galaxy Player 3.6
YP-GS1
Galaxy Player 4
YP-GB1
Galaxy Player 4.0
YP-G1
Galaxy Player 4.2
YP-GI1
Galaxy Player 5
YP-G70
Galaxy Player 5.8
harrisonkrlgt
Galaxy Player 5.8
harrisonkrktt
Galaxy Player 5.8
harrison
Galaxy Player 50
YP-G50
Galaxy player 70 Plus
YP-GB70D
Galaxy Pocket
GT-S5302
Galaxy Pocket
GT-S5300L
Galaxy Pocket
GT-S5300B
Galaxy Pocket
GT-S5300
Galaxy Pocket
GT-S5302B
Galaxy Pocket Neo
corsicass
Galaxy Pocket Neo
d2aio
Galaxy Pocket Neo
corsica
Galaxy Pocket Neo
corsicaveds3gvj
Galaxy Pocket Neo
corsicave3g
Galaxy Pocket Plus
coriplus
Galaxy Pocket2
pocket2ss3g
Galaxy Pocket2
pocket23g
Galaxy Pop
superiorlteskt
Galaxy Pop (CDMA)
SCH-i559
Galaxy Precedent
SCH-M828C
Galaxy Premier
superiorcmcc
Galaxy Premier
superior
Galaxy Prevail
SPH-M820
Galaxy Prevail2
raybst
Galaxy Pro
GT-B7510
Galaxy Pro
GT-B7510B
Galaxy Pro
GT-B7510L
Galaxy Proclaim
SCH-S720C
Galaxy Q
SGH-T589W
Galaxy Q
SGH-T589R
Galaxy Q
SGH-T589
Galaxy R-Style
jaguarl
Galaxy R-Style
jaguark
Galaxy R-Style
jaguars
Galaxy Reverb
iconvmu
Galaxy Round
flteskt
Galaxy Rugby
comanchecan
Galaxy Rugby Pro
comancheatt
Galaxy Rush
prevail2spr
Galaxy S
SGH-T959V
Galaxy S
GT-I9003
Galaxy S
SHW-M190S
Galaxy S
SGH-I897
Galaxy S
GT-I9018
Galaxy S
GT-I9050
Galaxy S
SCH-S950C
Galaxy S
SC-02B
Galaxy S
GT-I9000T
Galaxy S
GT-I9008L
Galaxy S
SCH-i909
Galaxy S
GT-I9000B
Galaxy S
GT-I9010
Galaxy S
GT-I9000M
Galaxy S
SHW-M110S
Galaxy S
SCH-I500
Galaxy S
GT-I9003L
Galaxy S
SGH-T959W
Galaxy S
SPH-D700
Galaxy S
GT-I9000
Galaxy S Advance
GT-I9070
Galaxy S Advance
GT-I9070P
Galaxy S Aviator
SCH-R930
Galaxy S Blaze
SGH-T769
Galaxy S BlazeQ
apexqtmo
Galaxy S Captivate
SGH-I896
Galaxy S Continuum
SCH-I400
Galaxy S DUOS
kyleopen
Galaxy S Duos
kylechn
Galaxy S Duos
kyletdcmcc
Galaxy S Duos2
kyleprods
Galaxy S Duos3
vivalto3gvn
Galaxy S Fascinate
SGH-T959P
Galaxy S Glide
SGH-I927R
Galaxy S Lightray
SCH-R940
Galaxy S Plus
GT-I9001
Galaxy S Stratosphere
SCH-I405
Galaxy S Vibrant
SGH-T959
Galaxy S Vibrant
SGH-T959D
Galaxy S2
SC-02C
Galaxy S2
SGH-T989
Galaxy S2
GT-I9108
Galaxy S2
SHW-M250S
Galaxy S2
SHW-M250L
Galaxy S2
GT-I9100M
Galaxy S2
SHW-M250K
Galaxy S2
GT-I9210T
Galaxy S2
GT-I9100
Galaxy S2
t1cmcc
Galaxy S2
GT-I9103
Galaxy S2
GT-I9100P
Galaxy S2
SGH-I777
Galaxy S2
SHV-E110S
Galaxy S2
GT-I9100T
Galaxy S2
SGH-S959G
Galaxy S2
SCH-R760X
Galaxy S2 Duos
SCH-i929
Galaxy S2 Epic
SCH-R760
Galaxy S2 Epic
SPH-D710VMUB
Galaxy S2 Epic
SPH-D710BST
Galaxy S2 Epic
SPH-D710
Galaxy S2 HD LTE
SHV-E120S
Galaxy S2 HD LTE
SHV-E120K
Galaxy S2 HD LTE
SHV-E120L
Galaxy S2 HD LTE
SGH-I757M
Galaxy S2 LTE
SC-03D
Galaxy S2 LTE
SGH-I727R
Galaxy S2 LTE
GT-I9210
Galaxy S2 Plus
GT-I9100G
Galaxy S2 Plus
s2vep
Galaxy S2 Plus
s2ve
Galaxy S2 Skyrocket
SGH-I727
Galaxy S2 Wimax
ISW11SC
Galaxy S2 X
SGH-T989D
Galaxy S3
d2tmo
Galaxy S3
m0
Galaxy S3
d2cri
Galaxy S3
d2usc
Galaxy S3
m0skt
Galaxy S3
d2can
Galaxy S3
SC-03E
Galaxy S3
m0ctc
Galaxy S3
d2ltetmo
Galaxy S3
d2mtr
Galaxy S3
d2spr
Galaxy S3
m3dcm
Galaxy S3
d2vzw
Galaxy S3
d2att
Galaxy S3
d2tfnvzw
Galaxy S3
m0chn
Galaxy S3
m0apt
Galaxy S3
m3
Galaxy S3
d2xar
Galaxy S3
m0cmcc
Galaxy S3
m0ctcduos
Galaxy S3
c1lgt
Galaxy S3
c1ktt
Galaxy S3
d2dcm
Galaxy S3
d2lteMetroPCS
Galaxy S3
d2spi
Galaxy S3
d2vmu
Galaxy S3
c1skt
Galaxy S3
c1att
Galaxy S3
d2tfnspr
Galaxy S3
d2lterefreshspr
Galaxy S3 Mini
goldenltebmc
Galaxy S3 Mini
goldenltevzw
Galaxy S3 Mini
golden
Galaxy S3 Mini
goldenlteatt
Galaxy S3 Mini Value Edition
goldenve3g
Galaxy S3 Mini Value Edition
goldenvess3g
Galaxy S3 Neo
s3ve3gdsdd
Galaxy S3 Neo
s3ve3gdd
Galaxy S3 Neo
s3ve3gds
Galaxy S3 Neo Plus
s3ve3g
Galaxy S3 Progre
SCL21
Galaxy S4
jflteusc
Galaxy S4
jfltetfntmo
Galaxy S4
jfltevzw
Galaxy S4
jaltektt
Galaxy S4
jalteskt
Galaxy S4
SC-04E
Galaxy S4
jflteatt
Galaxy S4
ja3gduosctc
Galaxy S4
jflteaio
Galaxy S4
jaltelgt
Galaxy S4
ja3g
Galaxy S4
jfwifi
Galaxy S4
ks01ltektt
Galaxy S4
jfltecan
Galaxy S4
jfltetfnatt
Galaxy S4
jfltecsp
Galaxy S4
jflterefreshspr
Galaxy S4
jflte
Galaxy S4
jfltespr
Galaxy S4
jfvelte
Galaxy S4
jfltelra
Galaxy S4
ks01lte
Galaxy S4
ks01ltelgt
Galaxy S4
jfltetmo
Galaxy S4
jfltecri
Galaxy S4
jftdd
Galaxy S4 Active
jactivelte
Galaxy S4 Active
jactivelteatt
Galaxy S4 Active
jactivelteskt
Galaxy S4 Duos
ja3gchnduos
Galaxy S4 Google Play Edition
jgedlte
Galaxy S4 LTE-A
ks01lteskt
Galaxy S4 Mini
serranove3g
Galaxy S4 Mini
serranoltelra
Galaxy S4 Mini
serranoltekx
Galaxy S4 Mini
serranoltevzw
Galaxy S4 Mini
serranods
Galaxy S4 Mini
serranoltespr
Galaxy S4 Mini
serranoltebmc
Galaxy S4 Mini
serranolteusc
Galaxy S4 Mini
serranovelte
Galaxy S4 Mini
serrano3g
Galaxy S4 Mini
serranolte
Galaxy S4 Mini
serranovolteatt
Galaxy S4 Mini
serranoltektt
Galaxy S4 Zoom
mprojectlteskt
Galaxy S4 Zoom
mprojectltelgt
Galaxy S4 Zoom
mprojectlteatt
Galaxy S4 Zoom
mproject3g
Galaxy S4 Zoom
mprojectqlte
Galaxy S5
kltespr
Galaxy S5
klteskt
Galaxy S5
klte
Galaxy S5
klteMetroPCS
Galaxy S5
klteatt
Galaxy S5
k3g
Galaxy S5
klteacg
Galaxy S5
SCL23
Galaxy S5
klteusc
Galaxy S5
lentisltektt
Galaxy S5
lentisltelgt
Galaxy S5
kltelra
Galaxy S5
klteaio
Galaxy S5
kwifi
Galaxy S5
kltecan
Galaxy S5
lentislteskt
Galaxy S5
kltevzw
Galaxy S5
kltetmo
Galaxy S5
kltelgt
Galaxy S5
klteduoszn
Galaxy S5
kltektt
Galaxy S5 Active
klteactive
Galaxy S5 Active
klteattactive
Galaxy S5 Active
kltecanactive
Galaxy S5 Google Play Edition
kgedlte
Galaxy S5 K Sport
kltesprsports
Galaxy S5 LTE-A
kccat6
Galaxy S5 mini
kminilteatt
Galaxy S5 mini
kminiwifi
Galaxy S5 Mini
kmini3g
Galaxy S5 Mini
kminilteusc
Galaxy S5 mini LTE
kminilte
Galaxy Spica
spica
Galaxy Spica
GT-I5700L
Galaxy Spica
GT-I5700
Galaxy Star
mint
Galaxy Star
mintss
Galaxy Star Plus
logan2g
Galaxy Star Trios
mintts
Galaxy Star2 Plus
higgs2g
Galaxy Stellar
jaspervzw
Galaxy Style Duos
aruba3gduosctc
Galaxy Tab
SHW-M180S
Galaxy Tab
GT-P1010
Galaxy Tab
SCH-I800
Galaxy Tab
GT-P1000
Galaxy Tab
GT-P1000T
Galaxy Tab
SHW-M180K
Galaxy Tab
GT-P1000L
Galaxy Tab
GT-P1000R
Galaxy Tab
SHW-M180L
Galaxy Tab
GT-P1000N
Galaxy Tab
SGH-T849
Galaxy Tab
GT-P1013
Galaxy Tab
SHW-M180W
Galaxy Tab
SMT-i9100
Galaxy Tab
GT-P1000M
Galaxy Tab
SC-01C
Galaxy Tab 10.1
SHW-M300W
Galaxy Tab 10.1
SHW-M380S
Galaxy Tab 10.1
SCH-I905
Galaxy Tab 10.1
GT-P7500D
Galaxy Tab 10.1
SHW-M380W
Galaxy Tab 10.1
SC-01D
Galaxy Tab 10.1
SHW-M380K
Galaxy Tab 10.1
SGH-T859
Galaxy Tab 10.1
GT-P7503
Galaxy Tab 10.1
GT-P7500
Galaxy Tab 10.1 N
GT-P7501
Galaxy Tab 10.1 N
GT-P7511
Galaxy Tab 10.1 v
p3
Galaxy Tab 4 8.0
milletwifikx
Galaxy Tab 7.0
SPH-P100
Galaxy Tab 7.0 Plus
GT-P6200
Galaxy Tab 7.0 Plus
SC-02D
Galaxy Tab 7.0 Plus
GT-P6201
Galaxy Tab 7.0 Plus
GT-P6211
Galaxy Tab 7.0 Plus
SHW-M430W
Galaxy Tab 7.0 Plus
SGH-T869
Galaxy Tab 7.0 Plus
GT-P6200L
Galaxy Tab 7.0 Plus
GT-P6210
Galaxy Tab 7.7
GT-P6800
Galaxy Tab 7.7
SCH-I815
Galaxy Tab 7.7
GT-P6810
Galaxy Tab 7.7 Plus
SC-01E
Galaxy Tab 8.9
SHV-E140K
Galaxy Tab 8.9
SGH-I957D
Galaxy Tab 8.9
SGH-I957M
Galaxy Tab 8.9
SHV-E140S
Galaxy Tab 8.9
SGH-I957
Galaxy Tab 8.9
SCH-P739
Galaxy Tab 8.9
GT-P7310
Galaxy Tab 8.9
SHV-E140L
Galaxy Tab 8.9
GT-P7320
Galaxy Tab 8.9
SGH-I957R
Galaxy Tab 8.9
SHW-M305W
Galaxy Tab 8.9
GT-P7300
Galaxy Tab Pro 10.1
picassowifi
Galaxy Tab Pro 10.1
picassolte
Galaxy Tab Pro 10.1 Chef Collection
picassowificc
Galaxy Tab Pro 12.2
v2wifi
Galaxy Tab Pro 12.2
v2lte
Galaxy Tab Pro 8.4
mondrianwifiue
Galaxy Tab Pro 8.4
mondrianlte
Galaxy Tab Pro 8.4
mondrianwifikx
Galaxy Tab Q
q7
Galaxy Tab S 10.5
chagallwifi
Galaxy Tab S 8.4
SC-03G
Galaxy Tab S 8.4
klimtltevzw
Galaxy Tab2 10.1
espresso10wifi
Galaxy Tab2 10.1
espresso10rf
Galaxy Tab2 10.1
espresso10spr
Galaxy Tab2 10.1
espresso10tmo
Galaxy Tab2 10.1
espresso10vzw
Galaxy Tab2 10.1
espresso10can
Galaxy Tab2 10.1
espresso10att
Galaxy Tab2 7.0
espressowifi
Galaxy Tab2 7.0
espressorf
Galaxy Tab2 7.0
espressovzw
Galaxy Tab3
lt01wifikx
Galaxy Tab3 10.1
santos10wifi
Galaxy Tab3 10.1
santos103g
Galaxy Tab3 10.1
santos10lte
Galaxy Tab3 7.0
lt023gdtv
Galaxy Tab3 7.0
lt02lte
Galaxy Tab3 7.0
lt02wifi
Galaxy Tab3 7.0
lt02ltetmo
Galaxy Tab3 7.0
lt02wifilgt
Galaxy Tab3 7.0
lt02lteatt
Galaxy Tab3 7.0
lt023g
Galaxy Tab3 7.0
lt02ltespr
Galaxy Tab3 8.0
lt01wifi
Galaxy Tab3 8.0
lt01lte
Galaxy Tab3 8.0
lt013g
Galaxy Tab3 8.0
lt02lduwifi
Galaxy Tab3 Kids
lt02kidswifi
Galaxy Tab3 Lite
goyawifi
Galaxy Tab3 Lite
goya3g
Galaxy Tab3V 7.0
goyavewifixtc
Galaxy Tab3V 7.0
goyave3gsea
Galaxy Tab4
matissewifigoogle
Galaxy Tab4 10.0
matisselte
Galaxy Tab4 10.0
matisseltevzw
Galaxy Tab4 10.0
matisse3g
Galaxy Tab4 10.0
matisselteatt
Galaxy Tab4 10.0
matisselteusc
Galaxy Tab4 10.1
matissewifi
Galaxy Tab4 10.1
matissewifikx
Galaxy Tab4 10.1
matissewifiue
Galaxy Tab4 7.0
degas3g
Galaxy Tab4 7.0
degaswifiue
Galaxy Tab4 7.0
degaswifidtv
Galaxy Tab4 7.0
403SC
Galaxy Tab4 7.0
degaswifi
Galaxy Tab4 7.0
degaswifiopenbnn
Galaxy Tab4 7.0
degaslte
Galaxy Tab4 7.0
degasltevzw
Galaxy Tab4 7.0
degasltespr
Galaxy Tab4 8.0
milletlteatt
Galaxy Tab4 8.0
milletltevzw
Galaxy Tab4 8.0
milletltetmo
Galaxy Tab4 8.0
milletwifiue
Galaxy Tab4 8.0
milletwifi
Galaxy Tab4 8.0
milletltelgt
Galaxy Tab4 8.0
milletltektt
Galaxy Tab4 8.0
milletlte
Galaxy Tab4 8.0
millet3g
Galaxy Tab4 Active
rubenswifi
Galaxy Tab4 Active
rubenslte
Galaxy Tab4 Nook 10.1
matissewifiopenbnn
Galaxy TabS 10.5
chagalllteatt
Galaxy TabS 10.5
chagallhltektt
Galaxy TabS 10.5
chagallltespr
Galaxy TabS 10.5
chagallhlteskt
Galaxy TabS 10.5
chagallhltelgt
Galaxy TabS 10.5
chagallltevzw
Galaxy TabS 10.5
chagalllteusc
Galaxy TabS 10.5
SCT21
Galaxy TabS 10.5
chagallltetmo
Galaxy TabS 10.5
chagallltecan
Galaxy TabS 10.5
chagallwifikx
Galaxy TabS 10.5
chagalllte
Galaxy TabS 8.4
klimtlte
Galaxy TabS 8.4
klimtltecan
Galaxy TabS 8.4
klimtlteatt
Galaxy TabS 8.4
klimtwifi
Galaxy TabS 8.4
klimtwifikx
Galaxy Tap Pro 8.4
mondrianwifi
Galaxy Trend
kyleve
Galaxy Trend
kyleve3gcmcc
Galaxy Trend Duos
kylepluschn
Galaxy Trend Duos
kyleichn
Galaxy Trend Lite
kylevess
Galaxy Trend Plus
kylepro
Galaxy Trend2
garda3gcmcc
Galaxy Trend2
gardave3gcmcc
Galaxy Trend2
kyleplusctc
Galaxy Trend3
cs02ctc
Galaxy Trend3
cs02ve
Galaxy Trend3
cs02ve3g
Galaxy Trend3
cs02cmcc
Galaxy U
SHW-M130L
Galaxy Victory
goghvmu
Galaxy Victory
goghspr
Galaxy W
GT-I8150
Galaxy W
GT-I8150T
Galaxy W
GT-I8150B
Galaxy W
SGH-T679M
Galaxy Win
deloslteskt
Galaxy win
delos3gss
Galaxy Win
delos3geur
Galaxy Win
delosltelgt
Galaxy Win
delos3gduosctc
Galaxy Win
delos3gcmcc
Galaxy Win Duos
delos3gchn
Galaxy Win Pro
wilcoxds
Galaxy Win Pro
wilcoxctc
Galaxy Win Pro
wilcox3g
Galaxy Win2
coreprimeltedtv
Galaxy Xcover
GT-S5690R
Galaxy Xcover
GT-S5690M
Galaxy Xcover
GT-S5690L
Galaxy Xcover
GT-S5690
Galaxy Xcover2
skomer
Galaxy Y
GT-S5368
Galaxy Y
GT-S5360T
Galaxy Y
GT-S5369
Galaxy Y
SCH-i509
Galaxy Y
SCH-I509
Galaxy Y
GT-S5363
Galaxy Y
GT-S5360B
Galaxy Y
GT-S5360
Galaxy Y
GT-S5360L
Galaxy Y Duos
GT-S6102B
Galaxy Y Duos
GT-S6102
Galaxy Y Duos
GT-S6102E
Galaxy Y Plus
coriplusds
Galaxy Y Pop
GT-S6108
Galaxy Y Pro
GT-B5510B
Galaxy Y Pro
GT-B5510L
Galaxy Y Pro
GT-B5510
Galaxy Y Pro Duos
GT-B5512B
Galaxy Y Pro Duos
GT-B5512
Galaxy Y TV
GT-S5367
Galaxy Young
roydtv
Galaxy Young
royssdtv
Galaxy Young
roy
Galaxy Young
royssnfc
Galaxy Young
royss
Galaxy Young2
young2nfc3g
Galaxy Young2
young23g
Galaxy Young2
young23gdtv
Galaxy Young2
young2ds2g
Garda
gardalteMetroPCS
Gear Live
sprat
Gem
SCH-I100
GT-B9388
ironcmcc
GT-I5510M
GT-I5510M
GT-I5510T
GT-I5510T
GT-I5800L
GT-I5800L
GT-I8262D
aruba3gchn
GT-I9260
superiorchn
GT-N7000B
GT-N7000B
GT-P3108
espressorfcmcc
GT-P7300B
GT-P7300B
GT-P7320T
GT-P7320T
GT-P7500M
GT-P7500M
GT-P7500R
GT-P7500R
GT-P7500V
GT-P7500V
GT-S5698
GT-S5698
GT-S5820
GT-S5820
GT-S5830V
GT-S5830V
Hennessy
hennessy3gduosctc
Homesync
spcwifi
IceTouch
gokey
Illusion
SCH-I110
Infuse
SGH-I997
Infuse
SGH-I997R
Moment
sph-m900
Moment
SPH-M900
Montblanc
montblanc3gctc
olleh
ik1
Replenish
SPH-M580
Replenish
SPH-M580BST
Repp
SCH-R680
Roy VE DTV
royvedtv
Roy VE DTV
royssvedtv
Rugby Smart
SGH-I847
Samsung Galaxy S4
jflteMetroPCS
Samsung Galaxy S4 Zoom
mprojectltektt
Samsung Galaxy Stratosphere2
aegis2vzw
Samsung Garda
gardaltetmo
Samsung Homesync
spcwifiany
SC-01F
SC-01F
SC-01G
SC-01G
SC-02G
SC-02G
SC-04F
SC-04F
SCH-I339
SCH-I339
SCH-I405U
SCH-I405U
SCH-I425
godivaltevzw
SCH-I519
SCH-I519
SCH-I559
SCH-I559
SCH-I659
SCH-I659
SCH-I699
SCH-I699
SCH-I779
SCH-I779
SCH-i809
SCH-i809
SCH-i919
SCH-i919
SCH-I919U
SCH-I919U
SCH-W2013
m0grandectc
SCH-W899
SCH-W899
SCH-W999
SCH-W999
SGH-I987
SGH-I987
SGH-S730G
amazingtrf
SHV-E150S
SHV-E150S
SHW-M115S
SHW-M115S
SHW-M135K
SHW-M135K
SHW-M135L
SHW-M135L
SHW-M340D
SHW-M340D
SHW-M340K
SHW-M340K
SHW-M460D
SHW-M460D
SHW-M480S
p4noterfskt
Sidekick
SGH-T839
SM-N9007
htdlte
SM-P607T
lt03ltetmo
SM-T255S
q7lteskt
SPH-L500
stunnerltespr
Transfix
SCH-R730
Transform
SPH-M920
Transform Ultra
SPH-M930
Transform Ultra
SPH-M930BST
VinsQ
SPH-M910

Sanyo

Benesse
41EA04
Benesse
40TL04
Benesse
31TL04

Sony

NW-F800
icx1227
NW-F880 Series
icx1237
NW-ZX1
icx1240
NWZ-Z1000
icx1216
SmartWatch 3
tetra
Sony Tablet P
nbx02
Tablet S
nbx03
Xperia A2
SO-04F
Xperia C3
D2533
Xperia C3 Dual
D2502
Xperia E3
D2202
Xperia E3
D2203
Xperia E3
D2206
Xperia E3
D2243
Xperia E3 Dual
D2212
Xperia M2 Aqua
D2406
Xperia M2 Aqua
D2403
Xperia T2 Ultra
D5316N
Xperia T3
D5102
Xperia T3
D5106
Xperia T3
D5103
Xperia Tablet S
txs03
Xperia Z2
D6503
Xperia Z2
SO-03F
Xperia Z2
D6502
Xperia Z2
D6543
Xperia Z2 Tablet
SGP512
Xperia Z2 Tablet
SGP561
Xperia Z2 Tablet
SOT21
Xperia Z2 Tablet
SO-05F
Xperia Z2 Tablet
SGP511
Xperia Z2 Tablet
SGP551
Xperia Z2 Tablet
SGP521
Xperia Z2a
D6563
Xperia Z3
SOL26
Xperia Z3
D6653
Xperia Z3
401SO
Xperia Z3
D6643
Xperia Z3
D6603
Xperia Z3
D6616
Xperia Z3
SO-01G
Xperia Z3 Compact
D5833
Xperia Z3 Compact
D5803
Xperia Z3 Compact
SO-02G
Xperia Z3 Dual
D6633
Xperia Z3 Tablet Compact
SGP621
Xperia Z3 Tablet Compact
SGP641
Xperia Z3 Tablet Compact
SGP611
Xperia Z3 Tablet Compact
SGP612
Xperia Z3v
D6708
Xperia ZL2
SOL25

Sony Ericsson

Live with Walkman
WT19i
LT15a
LT15a
WT18i
WT18i
WT19a
WT19a
X10 Xperia Mini
robyn
Xperia A
SO-04E
Xperia Acro
IS11S
Xperia Acro
SO-02C
Xperia acro HD
IS12S
Xperia acro HD
SO-03D
Xperia acro S
LT26w
Xperia active
ST17i
Xperia Arc
SO-01C
Xperia Arc
LT15i
Xperia arc S
LT18a
Xperia arc S
LT18i
Xperia AX
SO-01E
Xperia C
C2304
Xperia C
S39h
Xperia C
C2305
Xperia E
C1505
Xperia E
C1504
Xperia E dual
C1604
Xperia E dual
C1605
Xperia E1
D2005
Xperia E1
D2004
Xperia E1
D2114
Xperia E1 Dual
D2105
Xperia E1 Dual
D2104
Xperia Go
ST27a
Xperia Go
ST27i
Xperia GX
SO-04D
Xperia ion
LT28i
Xperia ion
LT28h
Xperia ion
LT28at
Xperia J
ST26i
Xperia J
ST26a
Xperia L
C2105
Xperia L
C2104
Xperia M
C1905
Xperia M
C1904
Xperia M dual
C2004
Xperia M dual
C2005
Xperia M2
D2303
Xperia M2
D2306
Xperia M2
D2305
Xperia M2 dual
D2302
Xperia mini
ST15a
Xperia mini
S51SE
Xperia mini
ST15i
Xperia mini pro
SK17i
Xperia mini pro
SK17a
Xperia Miro
ST23i
Xperia miro
ST23a
Xperia neo
MT15a
Xperia Neo
MT15i
Xperia neo L
MT25i
Xperia neo V
MT11a
Xperia neo V
MT11i
Xperia P
LT22i
Xperia PLAY
R800at
Xperia PLAY
SO-01D
Xperia Play
Zeus
Xperia PLAY
R800a
Xperia Play
R800i
Xperia PLAY
R800x
Xperia pro
MK16i
Xperia pro
MK16a
Xperia ray
ST18i
Xperia ray
SO-03C
Xperia ray
ST18a
Xperia S
LT26i
Xperia S
SO-02D
Xperia SL
LT26ii
Xperia sola
MT27i
Xperia SP
C5302
Xperia SP
M35t
Xperia SP
C5303
Xperia SP
M35c
Xperia SP
M35h
Xperia SX
SO-05D
Xperia T
LT30p
Xperia T
LT30a
Xperia T
LT30at
Xperia T2 Ultra
D5306
Xperia T2 Ultra
D5303
Xperia T2 Ultra
D5322
Xperia T2 Ultra
D5316
Xperia Tablet Z
SO-03E
Xperia Tablet Z
SGP312
Xperia Tablet Z
SGP321
Xperia Tablet Z
SGP311
Xperia Tablet Z
SGP351
Xperia Tablet Z
SGP341
Xperia Tipo
ST21i
Xperia Tipo
ST21i2
Xperia tipo
ST21a
Xperia tipo dual
ST21a2
Xperia TX
LT29i
Xperia U
ST25i
Xperia U
ST25a
Xperia UL
SOL22
Xperia V
LT25c
Xperia V
LT25i
Xperia VL
SOL21
Xperia X10
X10i
Xperia X10
X10a
Xperia X10
SO-01B
Xperia X10 Mini
E10i
Xperia X10 Mini
SonyEricssonE10i
Xperia X10 Mini Pro
U20i
Xperia X8
E15i
Xperia Z
C6616
Xperia Z
C6606
Xperia Z
L36h
Xperia Z
C6603
Xperia Z
C6602
Xperia Z
SO-02E
Xperia Z Ultra
SGP412
Xperia Z Ultra
XL39h
Xperia Z Ultra
SOL24
Xperia Z Ultra
C6806
Xperia Z Ultra
C6833
Xperia Z Ultra
C6843
Xperia Z Ultra
C6802
Xperia Z1
L39t
Xperia Z1
C6902
Xperia Z1
SO-01F
Xperia Z1
C6903
Xperia Z1
C6906
Xperia Z1
SOL23
Xperia Z1
C6916
Xperia Z1
C6943
Xperia Z1
L39h
Xperia Z1
L39u
Xperia Z1 Compact
D5503
Xperia Z1 Compact
M51w
Xperia Z1f
SO-02F
Xperia ZL
C6506
Xperia ZL
C6503
Xperia ZL
C6502
Xperia ZR
C5502
Xperia ZR
C5306
Xperia ZR
C5503

Spice

Smart Flo Mi-449
SpiceMi449
Smart Flo Mi-449
hongyu72_wet_jb3
Stellar Mi-438
Spice
Stellar Mi-506
SpiceMi506

Sumitomo Electric Networks

Hikari-iFrame/WDPF-703SE
dhe1100

Symphony Teleca

MTN-5982C3
MTN-TBW5982C3
1100
1100
1105
1105
1107
1107
3005
3005
3006
Mirror3
3007
3007
3008
3008
A9x/PTAB935x
A9xPTAB935x
AD6B1H
AD6B1H
Air
Mobicel_Air
Aquaris E10
Aquaris_E10
Aquaris E10 3G
Aquaris_E10_3G
Aquaris E4
Aquaris_E4
Aquaris E4.5
Aquaris_E45
Aquaris E5
Aquaris_E5
Aquaris E5 FHD
Aquaris_E5_FHD
Aquaris E5 HD
Aquaris_E5_HD
Aquaris E6
Aquaris_E6
B15Q
CatB15Q
Beeline Smart 3
Beeline_Smart3
Beeline Tab 2
Tab_2
BIRDY
BIRDY
BLOOM
s4700
Bolt
AD4500
Bolt
A066
Bolt
A067
bq Edison 3 3G
Edison_3_3G
Canvas 4+
A315
Canvas Fire
A104
Canvas Fire
A093
Canvas HD Plus
A190
Canvas Knight Cameo
A290
Canvas L
A108
Canvas Nitro
A310
Canvas Nitro
A311
Canvas XL2
A109
CDP7TAB4C8
CDP7TAB4C8
CETAB10KML9
CETAB10KML9
CETAB7ML9
CETAB7ML9
CETAB9ML9
CETAB9ML9
Clempad 4.4 Basic Special
Clempad2_special
Clempad 4.4 Plus
Clempad2_plus
Clempad 4.4 XL
Clempad2_XL
CT1030
CT1030
CT825
fiber-a31stm
Danamic Now
DynamicNow
Discovery Air
Discovery_Air
Dynamic Racing 3
NGM_Dynamic_Racing_3
Edison 3
Edison_3
Edison_3_mini
Edison_3_mini
Emerson EM749/748
EM749_748
Endurance
ForwardEndurance
Flag Mill v2
MG101A2T_BT
FreeTAB 10.1 Silver
silver
FW8977-ED
FW8977-ED
GETAWAY
s8812
GOA
s3511
Grace X3
PSP3455DUO
Grace X5
PSP5470DUO
Graphos A10
Graphos_A10
GV7790
GV7790
HIGHWAY SIGNS
s4750
HS-10DTB4
HS-10DTB4
HS-7DTB29-8GB
HS-7DTB29-8GB
HS-9DTB37
HS_9DTB37
hudl 2
HTF8A4
ILIUM S670
Ilium_S670
Ilium_S130
Ilium_S130
Infinity-10.1-v2
Infinity-101-v2
Infinity-10.1-v3
Infinity_101_v3
Infinix X505
X505
JIMMY
s4300ae
JLab_PRO-7
polaris-p1gms
KITE
l4020
Konnect_350
Konnect_350
LENNY
s5201ap
Logicom S9782
Logicom-S9782
M-MP7NB3G
7_Plus_HD3G
M2
M2
M3
M3
M4
M4
M5
MINT-M5
MACARON
l8401_international
Matrix
Matrix
MD210
MD210
MegaFon Login 3
MFLogin3
MFLogin3T
MFLogin3T
MFLoginPh
MFLoginPh
Micromax Bolt
A082
Micromax Bolt
A065
Micromax Bolt
A064
Mini Mill v2
MG070A2T_BT
MTN-8978P
MTN-8978P
MultiPad Wize 3037 3G
PMT3038_3G
MultiPhone 5453 DUO
PSP5453DUO
MultiPhone 5455 DUO
PSP5455DUO
MultiPhone 5504 DUO
PSP5504DUO
MultiPhone 5505 DUO
PSP5505DUO
Multiphone 5508 DUO
PSP5508DUO
MultiPhone 5517 DUO
PSP5517DUO
My first Clempad 4.4 Basic Special
MFC2_Special
My first Clempad 4.4 Plus
MFC2_Plus
N1
Nokia_N1
N1 mimi
N1mini
N5110
N5110
N5117
N5117
NEO10-1
NEO10-1
NEO7-1
NEO7-1
NEO7-2
NEO7-2
NEO8-1
NEO8-1
netsurferDUAL 7
FMT-NM7116-01
OnePlus One
A0001
P10/Q10/PTAB1040/PTAB1041
pq10-Polaroid
P6
P6
P7/Q7/PTAB740/PTAB741
pq7-Polaroid
P9/Q9/PTAB940/PTAB941
pq9-Polaroid
PAD_1042
PAD_1042
Platiunm vp.1
VerssedVP1
Platiunm vp.2
VerssedVP2
PMT3008_Wi
PMT3008_Wi_C
PMT3047_3G
PMT3047_3G
PMT5001_3G
PMT5001_3G
PMT5002_Wi
PMT5002_Wi
PMT5018_3G
PMT5008_3G
PMT5287_4G
PMT5287_4G
PMT7008_4G
PMT7008_4G
PNDPP44Q7GPBLK
PNDPP44Q7GPBLK
Polaroid K7
PTAB782
Polaroid P900
P900
Prestigio Grace
PSP7557
Prestigio MultiPad Wize 3009
PMT3009_Wi_C
Prestigio MultiPad Wize 3017
PMT3017_WI
Prestigio MultiPad Wize 3018
PMT3018_WI
PSP3404DUO
PSP3404DUO
PSP3405DUO
PSP3405DUO
PSP3450DUO
PSP3450DUO
PSP3502DUO
PSP3502DUO
PSP5454DUO
PSP5454DUO
PSP5507DUO
PSP5507DUO
PSP5550DUO
PSP5550DUO
R1001
R1001
R2010
R2010
R2017
R2017
R5
R5
R6006
R3
R6007
R6007
R7007
R7007
R8000
R1S
R8001
R8001
R8006
R8006
R8201
R1x
R8207
R1C
R830S
R830S
R831K
R831K
R831L
R831L
R831S
R831S
RACE Blot2
Infinix_X454
RAINBOW 4G
l5503
RealPad MA7BX2
RealPad_MA7BX2_1
Retro
Retro
Ruby
ForwardRuby
S5.1
S5_1
S5.5
S5_5
S50
CatS50
Skill
Skill
SLIDE
s8321
Smart 403
msm8226
Smart 505
Smart505
Smart 63
SMART63
Smart 66
SMART66
SMART Sprint
SMARTSprint
SMART64
SMART64
Smartab SRF79
SRF79
Smartab ST10
ST10
Smartab ST7
ST7
Smartab STJR76
STJR76
Smartfren Andromax AD681H
AD681H
Smartfren Andromax AD682H
AD682H
Smartfren Andromax AD9A1H
AD9A1H
SP4
SP4
StarQ_Q5002
StarQ_Q5002
Status
Status
STR-9.6-Tablet
STR_96_Tablet
SUNSET
s4011
Swift
Swift
TECNO-A7S
TECNO-A7S
TECNO-M6S
g335_b1
TM800A510L
TM800A
tolino tab 8
tolino8
TR10CS1
TR10CS1_12
TR10RS1
TR10RS1_2
Trio 7.85 vQ
Trio-785-vQ
Trio MINI
Trio-MINI
TRIO-7.85
astar-y3
Trio-Stealth G4 7
Trio-Stealth-G4-7
Trio-Stealth-G4-101
Trio-Stealth-G4-101
Trio-Stealth-G4-7.85
Trio-Stealth-G4-785
U3
U3
ULTRA
Ultra
V4S
V4S
VERSSED platinum vp.2.1
VERSSEDvp2-1
VIA T7D
VIA-T7D
VIA T7D 3G
VIA-T7D-3G
VIA_T41
VIA_T41
W032I_C3
w032i_c3
W717
W717
X9000
X9000
X9006
X9006
X9070
X9070
X9076
X9076
X9077
FIND7
X9077
X9077
Xino Z46 X4+
xino_z46
xtreme
X_treme_Play_Tab
YotaPhone2
yotaphone2

TCL TV

L55E6700UDS
movo_la
LE50UHDE5692G
movo

TCT Mobile Limited (Alcatel)

5038D
SOUL45_GSM
6016E
Miata_3G
6037K
Eclipse
6042D
CROSSAPAC
7040T
Yaris5TMO
7045Y
RIO5
8030Y
HERO2
9005X
PIXO8_3G
A556C
A556C
A851L
Viper_gsm
ALCATEL A564C
Yaris5NA
ALCATEL ONE TOUCH 4005D
Beetle_Lite_Edge_GSM
ALCATEL ONE TOUCH 4010X
Beetle_Lite_GSM
ALCATEL ONE TOUCH 4030X
Beetle_GSM
ALCATEL ONE TOUCH 5020D
Megane_GSM
ALCATEL ONE TOUCH 5020N
Megane
ALCATEL ONE TOUCH 5035D
Camry_GSM
ALCATEL ONE TOUCH 5036D
YarisL_GSM
ALCATEL ONE TOUCH 6030X
Diablo
ALCATEL ONE TOUCH 6032
Alpha
ALCATEL ONE TOUCH 6040X
DIABLOX
ALCATEL ONE TOUCH 7024W
Rav4
ALCATEL ONE TOUCH 8008D
Scribe5HD
ALCATEL ONE TOUCH 8020D
SCRIBEPRO
ALCATEL ONE TOUCH 903D
one_touch_903D_gsm
ALCATEL ONE TOUCH 916
one_touch_916_gsm
ALCATEL ONE TOUCH 916A
one_touch_916A_gsm
ALCATEL ONE TOUCH 916D
one_touch_916D_gsm
ALCATEL ONE TOUCH 918
one_touch_918_gsm
ALCATEL ONE TOUCH 918A
one_touch_918A_gsm
ALCATEL ONE TOUCH 918D
ONE_TOUCH_918D_umts
ALCATEL ONE TOUCH 918D
one_touch_918D_gsm
ALCATEL ONE TOUCH 918N
one_touch_918N_gsm
ALCATEL ONE TOUCH 918N
ONE_TOUCH_918N_umts
ALCATEL ONE TOUCH 918S
one_touch_918S_gsm
ALCATEL ONE TOUCH 928D
ONE_TOUCH_928D_gsm
Alcatel one touch 985
one_touch_985A_gsm
ALCATEL ONE TOUCH 985D
one_touch_985D_gsm
ALCATEL ONE TOUCH 985N
one_touch_985N_gsm
ALCATEL one touch 986+
OT986
ALCATEL one touch 990C
one_touch_990C_cdma
ALCATEL one touch 990C+
one_touch_990C_Plus_cdma
ALCATEL ONE TOUCH 991
ONE_TOUCH_991_gsm
ALCATEL ONE TOUCH 991A
ONE_TOUCH_991A_gsm
ALCATEL ONE TOUCH 991D
one_touch_991D_gsm
ALCATEL ONE TOUCH 991D
ONE_TOUCH_991D_gsm
ALCATEL ONE TOUCH 991S
one_touch_991S_gsm
ALCATEL ONE TOUCH 991T
one_touch_991T_gsm
ALCATEL ONE TOUCH 992D
Martell_lite_GSM
ALCATEL ONE TOUCH 993D
one_touch_993D_gsm
ALCATEL ONE TOUCH 997D
Martell_GSM
ALCATEL ONE TOUCH D668
DANIEL
ALCATEL one touch J320
Iris
ALCATEL ONE TOUCH P310A
POP7
ALCATEL ONE TOUCH P320A
POP8
ALCATEL ONETOUCH POP D3
SOUL4NA
ALCATEL OT 918
OT_918_gsm
ALCATEL OT 919
OT_919_gsm
ALCATEL OT 919 HelloKitty
OT_919_HelloKitty_gsm
Alcatel OT-980
OT-980_gsm
Alcatel OT-980A
OT-980A_gsm
Alcatel OT-980A
msm7627_ffa
Alcatel OT-981A
OT-981_gsm
Alcatel OT-981A
OT-981A_gsm
ALCATEL_ONE_TOUCH_6010X_Orange
ONE_TOUCH_6010X_gsm
ALCATEL_ONE_TOUCH_6030X_Orange
ONE_TOUCH_6030X_gsm
ALCATEL_one_touch_890
one_touch_890_gsm
ALCATEL_one_touch_891
one_touch_891_gsm
ALCATEL_ONE_TOUCH_903
one_touch_903_gsm
ALCATEL_ONE_TOUCH_903
one_touch_903A_gsm
ALCATEL_one_touch_906Y
OT-906
ALCATEL_one_touch_908A
one_touch_908A_gsm
Alcatel_one_touch_908F_Orange
one_touch_908F_gsm
ALCATEL_one_touch_908M
one_touch_908M_gsm
ALCATEL_one_touch_908S
one_touch_908S_gsm
ALCATEL_one_touch_909A
one_touch_909A_gsm
ALCATEL_one_touch_909S
one_touch_909S_gsm
ALCATEL_one_touch_910
one_touch_910_gsm
ALCATEL_one_touch_910A
one_touch_910A_gsm
ALCATEL_one_touch_913D
OT-913D
ALCATEL_one_touch_918D
one_touch_918D_umts
ALCATEL_one_touch_918M
one_touch_918M_umts
ALCATEL_ONE_TOUCH_918M
one_touch_918M_gsm
ALCATEL_one_touch_918N
one_touch_918N_umts
ALCATEL_one_touch_976
OT-976
ALCATEL_one_touch_978
OT-978
ALCATEL_one_touch_979_HelloKitty
OT-979
ALCATEL_one_touch_983A
ONE_TOUCH_983A_gsm
ALCATEL_one_touch_988
one_touch_988_cdma
ALCATEL_ONE_TOUCH_991_Orange
one_touch_991_gsm
ALCATEL_one_touch_995A
one_touch_995A_gsm
ALCATEL_one_touch_995S
one_touch_995_gsm
ALCATEL_OT_990M
OT_990M_gsm
ASB-D T918
B-GriffinPlus_TD
ASB-D T918
ASB-D_T918
BASE_Varia
BASE_Varia_gsm
D820X
HERO8
DL900
YARISXL
EVO7
EVO7
freebit PandA_m14
YARIS_55
Hero2C
Hero2C
I-L1
mercury
I216A
PIXI7
I220
PIXI8
IDOL 2 S
EOS_lte
IDOL 2 S
EOS4G
Idol S
DiabloHD_LTE
Idol S
Diablo_LTE
Idol2 MINI S
MIATA_lte
Juke-A554C
A554C
M812C
M812
Megafon Login
OT-930
MegaFon_SP-A10
MegaFon_SP-A10
MOVE
MOVE_gsm
move 2
move_2_gsm
MS4B
Viper_LTE
MTC 960
MTC_960_gsm
MTC 982
MTC_982
MTC-962
MTC-962_gsm
ONE TOUCH 4007X
Pixo_GSM
ONE TOUCH 4011X
BeetleliteJB
ONE TOUCH 4015X
Yaris35_GSM
ONE TOUCH 4033X
Yaris_M_GSM
ONE TOUCH 6012A
California_GSM
ONE TOUCH 6012D
California
One Touch 890D
one_touch_890D_gsm
one touch 906
Martini
One Touch 906
one_touch_906_gsm
One Touch 908
one_touch_908_gsm
ONE TOUCH 983
one_touch_983_gsm
ONE TOUCH 983
ONE_TOUCH_983_gsm
ONE TOUCH 983M
ONE_TOUCH_983M_gsm
One Touch 990
one_touch_990_gsm
One Touch 990A
one_touch_990A_gsm
One Touch 990S
one_touch_990S_gsm
one touch 995C+
one_touch_995C_cdma
ONE TOUCH C505C
ONE_TOUCH_C505C_cdma
one touch D920
one_touch_D920
ONE TOUCH EVO7HD
E710
ONE TOUCH EVO8HD
E720
ONE TOUCH SCRIBE 5
Scribe5_gsm
ONE TOUCH T10
GR-TB7
one touch T20
T20
ONE TOUCH TAB 7
T011
ONE TOUCH TAB 7HD
T016
ONE TOUCH TAB 8HD
T021
ONE TOUCH Ultra 960c
RadioShack
ONE TOUCH Ultra 960c
Alltel
ONE TOUCH Ultra 960c
vulcan
ONE TOUCH Ultra 960c
ONE_TOUCH_960C
ONE TOUCH Ultra 960c
nTelos
onetouch T60
T60
OP070
OP070
Orange_Sego
Orange_Sego
OT-990C
OT-990C_cdma
OWN S4010
Telsa
OWN S5010
DiabloHD
P330X
Pop7_LTE
P350X
POP8_LTE
P688L
Rio5C
Panasonic T31
T31
PIXI3(3.5)
PIXI3_35
Pixo 7
PIXO7
POP 2
Alto45
POP S3
RIO_4G
POP S3
RIO4G_TF
POP S9
RIO6_lte
RASPG3201
RASPG3201_umts
RPSPG3201
RPSPG3201_umts
Smartphone Android by SFR STARADDICT II
one_touch_996_gsm
Soul 3.5
SOUL35
Soul 4
SOUL4
TAB 7 DUAL CORE
T015
TAB 7 DUAL CORE
T017
TCL A506
TCL_A506
TCL A510
TCL_A510
TCL A865
TCL_A865
TCL A909
TCL-A909_A909_gsm
TCL A919
A919_gsm
TCL A966
TCL_A966_gsm
TCL A968
TCL_A968
TCL A980
TCL_A980_gsm
TCL A986
TCL_A986_gsm
TCL A988
one_touch_993_gsm
TCL A998
TCL_A998_gsm
TCL C990+
TCL_C990_Plus_cdma
TCL C995
TCL_C995_cdma
TCL D40 DUAL
D40
TCL D515
TCL_D515_cdma
TCL D662
TCL_D662_cdma
TCL D706
EG502
TCL D768
EG501
TCL D920
TCL_D920
TCL E928
E928_TD
TCL E928
Griffin_TD
TCL i718M
EOS_Plus
TCL J210C
TCL_J210C_cdma
TCL J310
MeganeB
TCL J320C
Daniel_lite
TCL J600T
Iris2TD
TCL J620
md501
TCL J630T
Iris2PlusTD
TCL J900T
Camry2_TD
TCL J928
Prius
TCL J938M
RIO55_LTE
TCL M2M
CROSS2
TCL P301M
TCL_P301M
TCL P331M
TCL_P331M
TCL P606
Rav4_GSM
TCL P631M
Civic_X
TCL P728M
CROSS_LTE
TCL S300T
TCLS300T
TCL S500
TCL_S500_GSM
TCL S520
TCL_S520_GSM
TCL S600
TCL_S600_GSM
TCL S700
TCLS700
TCL S700T
TCLS700T
TCL S720T
Cross55
TCL S725T
Cross55_TD_Plus
TCL S800
TCL_S800_GSM
TCL S900
S900
TCL S960
DIABLOXPLUS
TCL W969
TCL_W969_gsm
TCL Y900
Scribe5HD_GSM
TCL_A988
TCL_A988_gsm
TCL_J636D
msm7627a_a5y_j636d
TCL_U980
TCL_U980
TCL_W939
TCL_W939_gsm
TCL_W969
TCL_A919_umts
TCL-J320D
Daniel_lite_2S
TCL-J900C
TCL_J900C
TCL-P306C
Ford50
TCL-S806
TCL-S806
Telenor_Smart
one_touch_985_gsm
USCC_ALCATEL_one_touch_909B
one_touch_909B_cdma
Vancouver_Orange
Vancouver_gsm
Venture
adr2045
VF 860
Vodafone_Smart_II_gsm
VF685
VF685
Vodafone 785
Vodafone_785
Vodafone 861
one_touch_922_gsm
Vodafone 975N
SmartIII4
Vodafone 985N
Vodafone985N
Vodafone Smart III
Vodafone_975
Vodafone Smart III (with NFC)
Vodafone_975N
Vodafone Smart mini
Vodafone_875
Vodafone Smart Tab 4
Vodafone_Smart_Tab_4
Vodafone_Smart_Tab_3G
Vodafone_Smart_Tab_3G
Vodafone_Smart_Tab_4G
Vodafone_Smart_Tab_4G
X35E
X35E
X50D
X50D

TPVision TV

Philips Android 2014
philipstv

Technicolor

T-Hub2
omap4_WT3

Teleepoch

Chaser
chaser-921
Essentiel B SmartTab 1002
T9660R
MTN-E70
MTN-E70
Philips W8510
Topaz
PMI920
MaxBravo
SOSMART T5
SOSMART_T5
U670C
U670C
U675
U675
UMX U680C
U680C

Toshiba Corporation

AT200
tostab05
A204
tos14ast10
AT10-A/AT15-A (Japan: AT503)
tostab12BL
AT100
tostab03
AT10LE-A/AT15LE-A/AT10PE-A/AT15PE-A (Japan: AT703)
tostab12BA
AT400
tostab12AL
AT7-A
tost7t
AT7-B
tos13t7gt
AT7-C
tos14riy20
DB50
tosebook01
Hikari-iFrame/WDPF-703TI
WDPF-703TI
JP:REGZA Tablet AT570 Others:TOSHIBA AT270
tostab11BS
JPN:REGZA Tablet AT500 Other countries:TOSHIBA AT300
tostab11BA
JPN:REGZA Tablet AT830 Other countries:TOSHIBA AT330
tostab11BT
L4300
l4300
L5450/L5400
tostv14rtk1
L5450/L5400
tostv14rtk2
L5450C
l5450
L9450
l9450
LT170
tostabg1
NTT docomo Photopanel 05
Pascal
Thrive 7
tostab04
TOSHIBA STB10
TOSPASB
tt300/tt301/tt302
Mozart

Vertu

Aster
alexa
Constellation V
gambit
Signature Touch
odin
VERTU Ti
hermione

Vestel

VP100+
ephesus
VP73
wing-ibt
VP73_Telefunken
Telefunken
VP74
wifionly-gms
VSP145M
VSP145M
VSP250g
VSP250g
VSP250s
VSP250s
VSP355g
g55
VSP355s
s55
VT10E
VT10E
VT10E2
VT10E2
VT785P2
VT785P2

Vizio, Inc.

VTAB1008
VTAB1008

Wind River

Ellipsis 7 (QMV7A)
QMV7A
Ellipsis 8
QTAQZ3
L55
L55
PIVOT 8741/8753
thor_6dq

Xiaomi

China
casablanca
China
braveheart
China
HM2013023
HM 1SLTETD
HM2014501
HM 1STD
HM2014011
HM 2LTE-BR
HM2014819
HM 2LTE-CMCC
HM2014813
HM 2LTE-CT
HM2014812
HM 2LTE-CU
HM2014811
HM 2LTE-IN
HM2014818
HM 2LTE-SA
HM2014817
HM NOTE 1LTETD
dior
HM NOTE 1S CT
gucci
HM NOTE 1TD
lcsh92_wet_tdd
HM NOTE 1W
lcsh92_wet_jb9
Hong Mi
HM2013022
MI 2A
taurus
MI 2S
aries
Mi 3
pisces
MI 3W
cancro
MI NOTE LTE
virgo
MI PAD
mocha
MiBOX2
dredd
MiTV2
entrapment

ZTE

ZTE U795
U795
009Z
bladeplus
402ZT
ZTE-402ZT
A2
A2
Amazing A1
roamer2
Amazing p5_Lite
V77
Android Edition Starnaute
amigo
Android Edition StarText
turies
Avea inTouch 4
msm8916_32
Baker
ZTE-Baker
Blade
blade
Blade G LTE
oceanus
Blade S
blade2
Bouygues Telecom Bs 402
P172G10
Cosmote Xplore
Cosmote-Xplore
Cosmote Xplore
Cosmote
D930
D930
Grand S Flex
iris
Grand X
P175A20
Grand X Pro
P177A20
K75
crane-zte7
K97
K97
MF97A
MF97A
MF97W
MF97W
MS4A
kiska
MS4A
roundtop
Mtag 281
mooncake2
myPad P5
K78
N720
N720
N762
roamer
N765_APT
N765
N800
nex
N8000_WHTE_CKT
N8000
N8010_APT
N8010_APT
N810
fluid
N8300_Reliance
N8300_Reliance
N850
sean
N850L
seanplus
N855D
hope
N860
arthur
N861
warp2
N910
arthur4g
N9100
hayes
N9101
apollo
N9130
speed
N9180
N9180
N918St
N918St
N9500
gordon
N9515
warp4
N9516
eridani
N9520
stormer
N958St
N958St
N9810
quantum
N986D
P188F10
NE501J
NE501J
NX402
NX40X
NX403A
NX403A
NX404H
NX404H
NX405H
NX405H
NX406E
NX406E
NX40X
NX402
NX501
NX501
NX503A
NX503A
NX503J
NX503J
NX505J
NX505J
NX506J
NX506J
NX507J
NX507J
NX601J
NX601J
Orange Hi 4G
Orange_Hi_4G
Orange Reyo
P172D10
Orange Rono
Vec4G
QB7211
QB7211
Racer
mooncake
RACERII
racer2
S8Q
MT8123
Skate4.3 H
skateplus
SmartTab10
V11A
SmartTab7
V71A
soft stone
P726N
STARNAUTE II
V6600
STARTRAIL 4
P172E10
STARXTREM
prindle
T77
T77
tmn smart a7
sailboat
Turkcell Maxi Plus 5
nice
TURKCELL T40
TURKCELL-T40
U880
U880
U9180
U9180
V55
V55
V6020_Claro
V6020_Claro
V66
V66
V68
V68
V72A
ZTE-V72A
V72C
v72c
V72M
eos
V8000_USA_Cricket
V8000
V8100_Z55
V8100_Z55
V8110
V8110
V8200_EE_UK
V8200_EE_UK
V8200-Memphis-orange-Slovakia
V8200_OSK
V8200plus
V8200plus
V8285
MT8382
V8300_Z39
V8300_Z39
V865M
hct77_jb
V865M
hct77_ics2
V9
v9
V9180
V9180
V961
whistler
V96A
V96A
V9A
v9plus
V9S
V9S
VF945
P727A
Vodafone 945
joe
X500_USA_General
X500
X501_USA_OM
X501
X9180
X9180
Z667
demi
Z667T
bonnie
Z730
ada
Z740
metis
Z750C
Z750C
Z752C
eros
Z753G
faerie
Z768G
Z768G
Z777
betty
Z787
apus
Z792
giant
Z795G
ZTE-Z795G
Z796C
Z796C
Z797C
carol
Z826
herculis
Z830
gruis
Z933
glaucus
Z936L
gift
Z970
draconis
Z980L
cygni
Z992
aviva
Z995
becky
ZTE A880
ZTE-A880
ZTE Blade C370
ZTE_Blade_C370
ZTE Blade G
ZTE-Blade-G
ZTE Blade G LTE
coeus
ZTE Blade G Lux
P172F10
ZTE Blade HN
ZTE_Blade_HN
ZTE Blade III Pro
Blade-III-Pro
ZTE Blade L2
P182A10
ZTE Blade L3
P182A20
ZTE Blade Q Lux
P632A10
ZTE Blade Q Mini
P172G10_UK_VIRGIN
ZTE Blade V
ZTE-Blade-V
ZTE Blade Vec
P692S20_Q82
ZTE Blade Vec Pro
P692S20_M92
ZTE C310
P172D04
ZTE G601U
P172E02
ZTE G717C
P692N30
ZTE G718C
ZTE-G718C
ZTE G719C
ZTE-G719C
ZTE G720C
ZTE-G720C
ZTE G720T
P839T30
ZTE G720T
V_P839T30
ZTE GEEK II Pro
ztexasp92_wet_jb9
ZTE Grand Era
enterprise_HK
ZTE Grand Era
enterprise_RU
ZTE Grand Memo LTE
Grand-Memo
ZTE Grand S
ZTE-Grand-S
ZTE Grand S
Grand-S
ZTE Grand S II
P541T50
ZTE Grand S II
P897A21
ZTE Grand S II LTE
msm8974
ZTE Grand X 2
P682F06
ZTE Grand X Quad Lite
P188F07
ZTE Kis 3
ZTE-P821E10
ZTE Kis Q
P172D02
ZTE LEO M1
V883M
ZTE LEO S1
V972M
ZTE LEO S2
V982M_Z64
ZTE M901C
P692N60
ZTE N5
ZTE-N5
ZTE N5L
prmthus
ZTE N5S
P189F10
ZTE N798+
ZTE_N798P
ZTE N798+
ZTE_N798
ZTE N799D
ZTE-N799D
ZTE N807
ZTE-N807
ZTE N818
ZTE-N818
ZTE N880F
ZTE-N880F
ZTE N880G
ZTE-N880G
ZTE N881E
ZTE-N881E
ZTE N881F
ZTE-N881F
ZTE N900
ZTE-N900
ZTE N900D
ZTE-N900D
ZTE N909
ZTE-N909
ZTE N909D
ZTE-N909D
ZTE N9120
elden
ZTE N919
ZTE-N919
ZTE N919D
ZTE-N919D
ZTE N970
dana
ZTE N980
ZTE-N980
ZTE N983
P177F03
ZTE N9835
chovar
ZTE N986
P188F02
ZTE N988
ZTE-N988
ZTE Q101T
P810T10
ZTE Q201T
P172T24
ZTE Q2S-T
P826T50
ZTE Q301C
APT_TW_P810N30
ZTE Q301C
P810N30
ZTE Q501T
P172T31
ZTE Q501U
P172F04
ZTE Q503U
P682V53
ZTE Q505T
P826T20
ZTE Q507T
P682T20
ZTE Q509T
P632T31
ZTE Q7
P839V50
ZTE Q705U
P682V60
ZTE Q801T
P181L30
ZTE Q801U
P826V30
ZTE Q802D
ZTE-Q802D
ZTE Q802T
P826T30
ZTE Q805T
P120T55
ZTE R83
demeter
ZTE S118
P189S10
ZTE Switch X1
deepblue
ZTE T12
P173A30T
ZTE T28
bluetick
ZTE T760
P173A10T
ZTE T792
ZTE-T792
ZTE T81
iliamna
ZTE T82
frosty
ZTE U5
enterprise
ZTE U5S
P188T51
ZTE U788
U788
ZTE U788+
z788
ZTE U790
U790
ZTE U791
P810T01
ZTE U793
P810T02
ZTE U795+
z795
ZTE U807
P117A11
ZTE U807N
P117A13
ZTE U808
P825T10
ZTE U816
P988T20
ZTE U817
P117A20
ZTE U818
P172T21
ZTE U819
P188T20
ZTE U879
P172T30
ZTE U880E
U880E
ZTE U880F
ventana_U880F
ZTE U880F1
U880F1
ZTE U880s
U880s
ZTE U880s2
P810A10
ZTE U885
U885
ZTE U887
P810A20
ZTE U889
P183T30
ZTE U930
ventana_U930
ZTE U930HD
U930HD
ZTE U935
P117A30
ZTE U950
enterprise_U950
ZTE U956
P188T10
ZTE U960D
msm7630_zteu960
ZTE U960E
P117T21
ZTE U960s2
U960s2
ZTE U960s3
U960s3
ZTE U968
P682T51
ZTE U969
P682T50
ZTE U9815
P945T20
ZTE U985
enterprise_U985
ZTE U988S
pluto
ZTE V5S
P189F13
ZTE V70
ZTE-V70
ZTE V7073
V7073
ZTE V72
V72
ZTE V768
V768
ZTE V768
P253A20
ZTE V769M
V769M
ZTE V779M
ZTEV779M
ZTE V791
P175A40
ZTE V792C
P810D01
ZTE V793
P175A60
ZTE V795
P172D01
ZTE V797
P172D03
ZTE V807
P177E01
ZTE V808
P172E01
ZTE V809
P172A10
ZTE V811
ZTE-V811
ZTE V811C
P810E01
ZTE V811W
P821E10
ZTE V813W
P172B20
ZTE V815W
P172R10
ZTE V817
ZTE-V817
ZTE V818
P172F01
ZTE V829
P172A30
ZTE V880E
atlas40
ZTE V880G
ZTE-V880G
ZTE V887
P177A10
ZTE V889F
ZTE-V889F
ZTE V889M
P175A10
ZTE V9500
okmok
ZTE V955
ZTE-V955
ZTE V956
ZTE-V956
ZTE V965
P188F03
ZTE V969
P682F01
ZTE V975
redhookbay
ZTE V9820
ZTE-V9820
ZTE V983
P177A30
ZTE V985
enterprise_V985
ZTE V987
P188F04
ZTE V988
ZTE-V988
ZTE V993W
ZTE_V993W
ZTE Z932L
warplte
ZTE_LEO_Q1
hct72_wet_jb3
ZTE_N9511
hera
ZTE_Q701C
ZTE-Q701C
ZTE_Q801L
ZTE-Q801L
ZTE-BLADE
P729C
ZTE-C N780
banana
ZTE-C R750
r750
ZTE-C X500
X500MMB
ZTE-SKATE
skate
ZTE-T T9
T9
ZTE-T T98
cardhu
ZTE-T U805
U805
ZTE-T U812
U812
ZTE-T U830
U830
ZTE-T U960s
U960s
ZTE-U N721
N721
ZTE-U V760
ztenj73_gb
ZTE-U V760
p173a10
ZTE-U V857
V857
ZTE-U V857
zte_v857
ZTE-U V875m
V875m
ZTE-U V889F
ZTE-U-V889F
ZTE-U X876
P722G
ZTE-V6500
V6500
ZTE-V856
zte_v856
ZXY-ZTE N8300
N8300_CT
ZXY-ZTE_N8010
N8010_YM
ZXY-ZTE_N8010
N8010_CT
ZXY-ZTE_N8010
N8010_CT_BL
ZXY-ZTE_V6700
V6700

iRIver

W1011A
w1011a
Cybook Tablet
cybtt10_bk
DMT580D
m805_892x
i-mobile i-note WiFi 1.1
M1703
ILT-MX100
smdkc110
Insignia Flex 10.1
ns_14t004
Insignia Flex 8″
ns_15at08
INSIGNIA NS-14T002
ns_14t002
MM3202
mm3201
TrekStor tolino tab 7
tolino7
TrekStor tolino tab 8.9
tolino89
Wow TAB +
itq701
WOW Tab+(ITQ1000)
itq1000
Wow(Window of the world)
itq700
WPT005
wikipad
Read Next: 25 Hidden Android Tricks, Settings You Must Check Out