With the launch of Google ARCore, augmented reality apps have been making their way to Android devices gradually. Augmented reality apps haven't really taken off as well as expected. AR apps aren't really as popular as one might have expected them to be a few years ago. However, this does not mean that augmented reality apps aren't worth checking out. There are some great AR apps available on the Google Play Store for Android smartphones. And to help you choose the best out of them, we've created a list of the best augmented reality apps for Android devices.
We've thrown in a couple of AR games as well in our list that truly is worth your time. However, if you want to discover more AR games, then check out the best Augmented Reality games for Android. The list is in no particular order. So without any further ado, let's check out the best augmented reality apps for Android.
Just a Line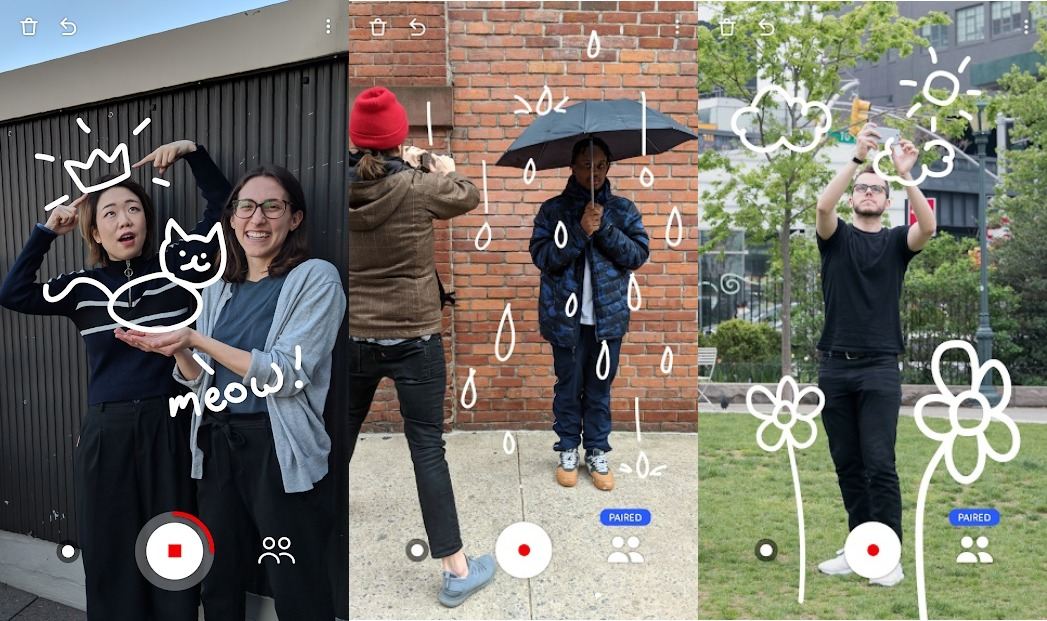 If you're looking for some quick entertainment, this is an app you must check out. Just a Line is a fun augmented reality app that lets you create AR lines. Well, that sounds pretty boring, right? It's far from boring. You could draw lines or create shapes and even rotate around them to see them in a 360-degree view. What makes the app super cool is how well the lines manage to stay in the same place you drew them.
[googleplay url="https://play.google.com/store/apps/details?id=com.arexperiments.justaline"]
Assemblr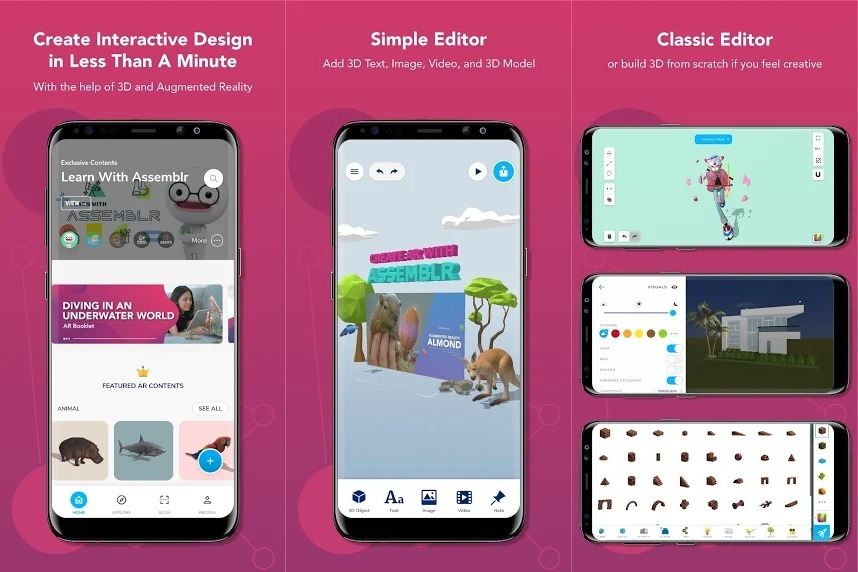 On our mission to find the best augmented reality apps, we found Assemblr to be the coolest of them all. The app lets you create your very own custom 3D designs which you can view in AR. The entire experience relies on your creative skills. You can create 3D posters, flyers, catalogs, greeting cards, and a lot more using the app's built-in editor. Moreover, you can purchase scannable AR books for the apps' store to entertain your kids or even yourself.
[googleplay url="https://play.google.com/store/apps/details?id=com.octagonstudio.assemblr"]
Measure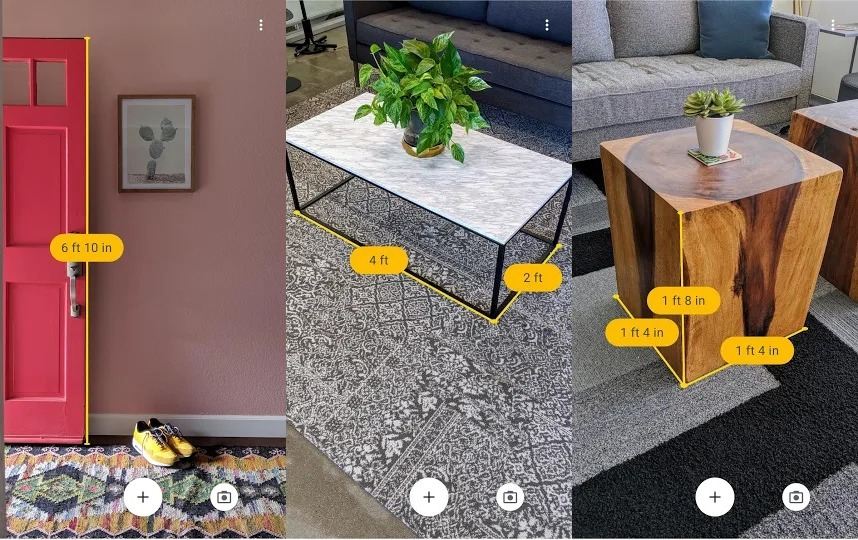 Not everyone carries a measuring tape everywhere they go. Fortunately, with Measure, you can say goodbye to measuring tapes. This is one of the best augmented reality apps when it comes to being useful. The app lets you measure the length and height of objects by just moving your camera around. It's perfect to measure the size of your sofa, bed, desk, or other similarly sized objects. Of course, the measurements provided with Measure are just rough estimates. Therefore, if you require precise measurements, then you might have to stick to the good ol' measuring tape for a few years more.
[googleplay url="https://play.google.com/store/apps/details?id=com.google.tango.measure"]
Houzz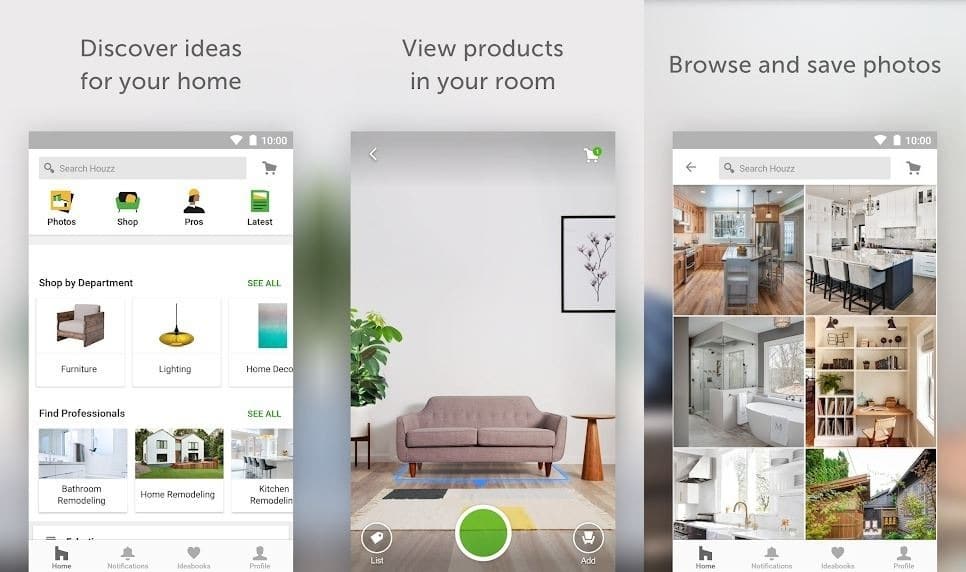 In case you're planning to remodel your entire house or are just looking to by a new couch, you must try out Houzz. This fantastic app lets you shop for more than 10 million products and materials. However, it's in our best augmented reality apps list because it lets you view those products in your room in AR. Having access to a feature like this would greatly improve your purchase decisions. Because you'd be able to have a rough view of how the product would fit in and look in your room.
[googleplay url="https://play.google.com/store/apps/details?id=com.houzz.app"]
Playground
Google has a bunch of augmented reality apps on Android, and Playground is the most entertaining of them all. The app was previously known as AR Stickers. Playground lets you place a bunch of cool 'Playmoji' characters around you who react to you as well as the other characters in the virtual space. This cool app from Google is perfect for entertaining kids.
[googleplay url="https://play.google.com/store/apps/details?id=com.google.vr.apps.ornament"]
SketchAR
There are a ton of augmented reality apps that let you draw in the virtual space. However, Sketch AR takes drawing to the next level. If you aren't good at sketching or drawing, then you must try out the app as it allows you to easily trace pre-made sketches. The app simply displays an augmented reality sketch onto a piece of paper and then allows you to trace over the sketch. Of course, you might face a few issues since the AR lines might move from their original position at times. But it's a great app to begin learning how to sketch.
[googleplay url="https://play.google.com/store/apps/details?id=ktech.sketchar"]
Ingress Prime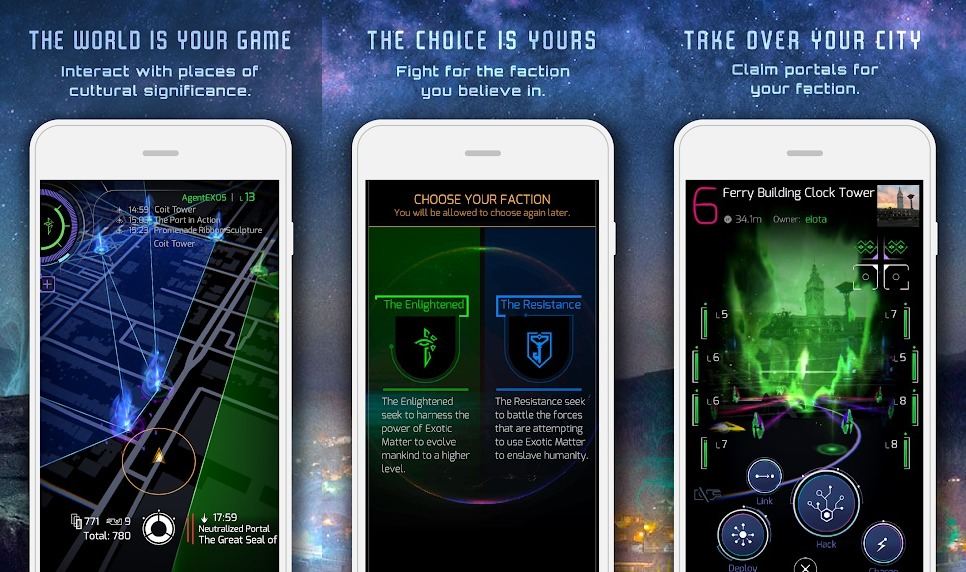 Here's another cool augmented reality game from Niantic, Inc, the developer behind the successful Pokémon GO app. Ingress Prime is an MMO which has two factions in which the players are divided into. You then have to collect the virtual material called Exotic Matter (XM). Using this matter you can capture virtual portals. As you and players on your faction take over portals in an area, you would be able to control that area. The game does require some strategy and you must be willing to move about in real life as well.
[googleplay url="https://play.google.com/store/apps/details?id=com.nianticproject.ingress"]
Civilisations AR
BBC's Civilisations AR app is easily one of the most polished and educational augmented reality apps out there. The app lets you see and learn about ancient civilizations and their artwork. It's perfect for those who love learning about our history. You can view the virtual collection of over 30 historic artifacts in augmented reality. Furthermore, you can interact with the AR objects to learn interesting facts about them and who created them.
[googleplay url="https://play.google.com/store/apps/details?id=uk.co.bbc.civilisations"]
Pokémon GO
You've probably already heard of Pokémon GO. However, if you still haven't tried out the AR game, then you might want to give it a go. You need to head out into the real world and capture Pokémon lurking in the wild. The app uses GPS to track your movements and you place the virtual world in the real one with the smartphone's camera. Of course, there's a lot to wrap your head around at the start. However, there are instructions for everything you could do in the game.
[googleplay url="https://play.google.com/store/apps/details?id=com.nianticlabs.pokemongo"]
INKHUNTER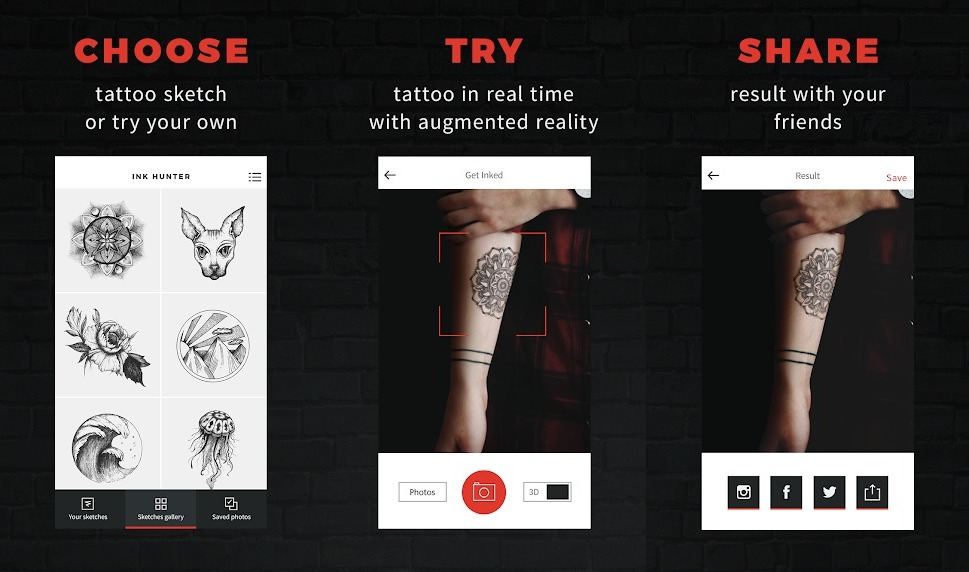 If you've been wanting to get inked, we'd suggest taking a look at Ink Hunter. This cool augmented reality app lets you try out tattoo designs on your own body. There are a bunch of pre-made tattoos to choose from. However, you could even add your own designs to the app. Ink Hunter lets you rotate and resize the tattoos in any manner based on your preference. It gives you a decent idea of how a tattoo would look on your body. Of course, you could also use the app for fun and try and trick your friends or family into believing you've got a tattoo.
[googleplay url="https://play.google.com/store/apps/details?id=tattoo.inkhunter"]
What's your favorite AR app on the list? Let us know in the comments below.