Innovation is what allows us to develop new technologies, new experiences and new ways of doing things. The world of technology is constantly evolving, often bringing to astonishing outcomes. When innovation meets old concepts, opportunities can turn into reality. Just a Line, an augmented reality app from Google, takes something as simple as a drawing white lines in the 3D space and transforms it into a new way of expressing our creativity. As a result, your finger becomes the pencil and the world becomes your canvas in this amazing augmented reality app for Android. Keep reading to learn how to take your creativity to the next level!
Introduction to Augmented Reality
Augmented reality is what allows Just a Line to work. This technology has been around for a while, but only recently we've started seeing some important improvements. Years of development have allowed making it more versatile and precise. Now, the main goal is making it available to everyone. As a result, Google has decided to launch its own augmented reality platform called ARCore and Just a Line is the first augmented reality app from the tech giant. If you want to see it more in depth, you may be interested in the following article:
ARCore currently supports several Android devices and, more recently, it has also reached iOS. If you want to check the compatibility, you'll find all the information on the official supported devices page. If your device is certified, you can download the framework from Play Store (link below). Regarding iOS devices, the framework is integrated directly into the supported apps.
[googleplay url = "https://play.google.com/store/apps/details?id=com.google.ar.core"]
ARCore allows the camera and the sensors in your smartphone to analyze and understand the environment. Then, various applications can use the acquired data to provide information or generate virtual objects. Additionally, the use of artificial intelligence makes this platform more advanced than anything we've ever seen before. Let's see how Just a Line uses it to create the biggest canvas ever!
Just a Line Overview and Download
Just a Line is a free augmented reality app developed by Google Creative Lab in collaboration with Uncorked Studios as an augmented reality experiment. This app is available for both Android and iOS, the only requirement is having an ARCore supported device. We'll leave the Play Store link below, so you can check if it's compatible. Once installed, it will ask for a couple essential permissions and you'll be ready to go!
In case your device isn't supported yet, don't worry about it. Google is actively working with various manufacturers to ensure the best augmented reality experiences. This means that even more models will receive the certification very soon. Keep an eye on the official page, you never know when new entries are added!
[googleplay url = "https://play.google.com/store/apps/details?id=com.arexperiments.justaline"]
How to use Just a Line
The app is incredibly intuitive and easy to use, with a very clean interface and few controls. Before going into it, it's a good idea to make sure that the environment is well lit. The requirements may vary depending on the quality of each camera, so keep this in mind. Once you start the app, the software will take a second to understand the structure of the place. In case the lighting conditions are not ideal, you'll be notified.
After this part is complete, you'll be ready to start drawing. In order to do this, there are two main methods: moving your finger or your device. When you draw something with your finger, you'll be more precise but you'll only take advantage of two dimensions. Instead, moving your device will allow you to use all the available space. The best part of the experience is being able to walk around your creations, or even inside of them!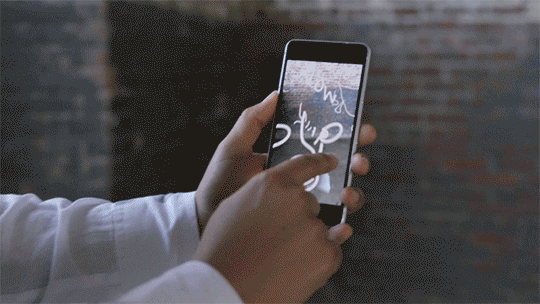 Other features include an undo button, as well as an erase all tool to start from scratch. Additionally, you'll get three pencil sizes, so you'll be able to balance precision and thickness. With future updates, we'll probably receive a color picker to expand the possibilities. Lastly, the app includes a clip recorder, so you can easily share quick videos of your masterpieces. Google encourages posting them on Twitter with the #justaline tag.
Don't miss: List of 70 OK Google Commands for Google Assistant
Multiplayer Experience
Among all functionality, the multiplayer support is the most awesome implementation in Just a Line. You'll be able to connect to another device, and the app will move the session to the Cloud. All data will be synchronized between the two, so you'll see each other's actions in real time. As a result, you can have fun with your friends wherever you want and the canvas becomes a playground!
Not only that, but cross-platform support is an option, too! If your friends are using iOS devices, as long as they have a Google account, you'll be able to play with them. All this results in a simple yet fun experience you absolutely have to try out! Check out the following video:
Read next: 8 Effective Battery Saving Tips for Android