Android is the most loved platform for mobile devices and one of reasons behind its popularity lies in its being an open source operating system. The possibility of gaining root access over the system files of Android device makes space for immense customization.
The root storage on Android devices contains several partitions that keeps sensitive data. Messing up with some partitions might make a device completely unusable. Since root access makes those partition accessible and modifiable. In this way, root access also increases the chances of messing up with those partitions.
The EFS partition is one such highly sensitive on Android, and especially Samsung device. The EFS partition contains data like device specific essential information such as the IMEI (International Mobile Station Equipment Identity), wireless device MAC address, baseband version, product code, system ID and NV data. It means that any disturbance in the EFS data might result in null IMEI and baseband version.
Connectivity services are the essence of a smartphone and losing the IMEI of a smartphone simply deprives it of all network and data services. If you are an enthusiastic Android user who loves to root and customize his/her device and play with custom ROMs and mods, corruption of EFS data is a probability you must keep in mind. And, to avoid any mishap, we highly recommend that you backup your phone's EFS/IMEI data.
In the past, we did detailed tutorials on backing up and restoring EFS for various Android devices. Today, we have come up with a very useful app called Samsung Tools that helps you backup and restore EFS or IMEI data on Samsung devices very easy. If you own a rooted Samsung Galaxy S5, backing up the EFS data should be a thing of utmost priority to you. Besides the Galaxy S5, Samsung Tools is compatible with various other Galaxy devices like—
Galaxy S3 GT-I9300
Galaxy S3 LTE GT-I9305
Galaxy S4 LTE GT-I9505
Galaxy S4 GT-I9500
Galaxy Note 2 GT-N7100
Galaxy Note 2 LTE GT-N7105
Galaxy Note 3 SM-N900
Galaxy Note 3 LTE SM-N9005
AT&T Galaxy S5 SM-G900A
Galaxy S5 LTE SM-G900F
Galaxy S5 (Exynos) SM-G900H
T-Mobile Galaxy S5 SM-G900T

Galaxy S5 SM-G900I

Sprint Galaxy S5 SM-G900P
Canadian Galaxy S5 SM-G900W8
Sprint Galaxy S3 SPH-L710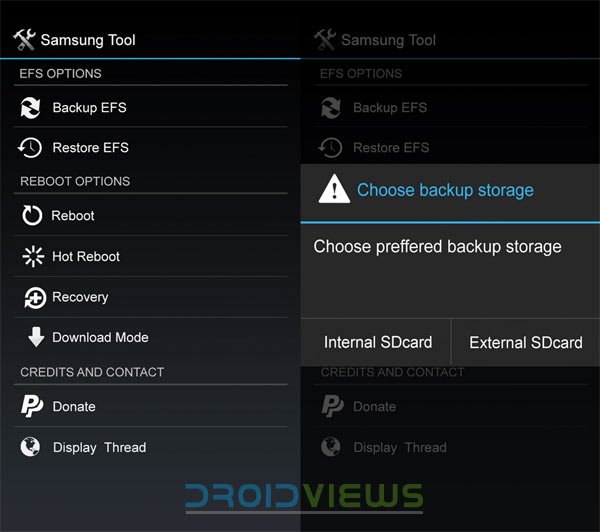 Samsung Tools is very easy to use app. After installing it on your Samsung Galaxy S5, just open the app and tap the Backup EFS option. The app will ask you to select internal or external storage to save the backed up data in a folder called "Samsung Tools". Do not forget to save this folder on your computer too. If you lose your phone's IMEI in future, you can easily restore the backup and get its IMEI back.
Download:
Please note that to be able to use Samsung Tool to backup the EFS on your Galaxy S5, you need to root your device first. If you have rooted your S5 yet, you can use our rooting tutorials.
Samsung_Tools_V5.0_Universal.apk   
Just download Samsung Tools app from above, install it on the device and backup and restore Galaxy S5 EFS data in a few seconds. Enjoy!