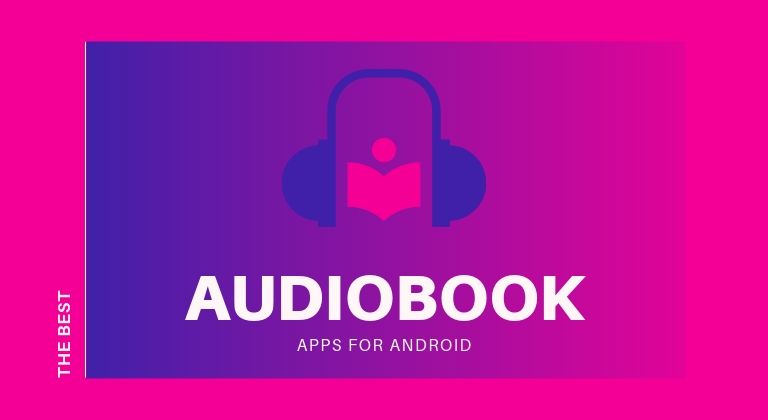 Not all of us have the time or energy to read books these days. Fortunately, thanks to our pocket PCs, we can now listen to audiobooks at just about any time and anywhere. Of course, not at work. Well, at least if you aren't looking to get into trouble. Audiobook apps allow you to listen to your favorite books narrated by professionals. Here are 8 of the best audiobook apps available for Android at the Google Play Store.
There are a few excellent audiobook applications available on the Google Play Store. But not all audiobook apps offer the same user experience and have a vast variety of audiobooks to pick from. To save you the time and effort, we've tried and tested just about every audiobook app. Here's what we think are the best audiobook apps currently available for Android.
Audiobooks from Audible
Audible from Amazon needs no introduction and it have become synonymous to audiobook apps over the years. It is the most famous audiobook platform at the moment and also has the most books in its library. The app works based on a monthly subscription fee of $14.95. This would let you pick 1 audiobook and 2 Audible Originals. Audible is available in several countries and the price may vary based on your region.
The application's UI could have been better, however, by no means is it terrible. What's even more interesting is that first time users are eligible for one free audiobook. With your free credit each month, you can purchase absolutely any audiobook on the platform regardless of the price.
You could even access your audiobooks on Alexa-enabled devices and the Amazon Kindle. To make things interesting, you can check out the Stats section and collect badges by completing certain tasks. You could even see the total number of hours you've spent listening to audiobooks on Audible.
[googleplay url="https://play.google.com/store/apps/details?id=com.audible.application"]
Storytel: Audiobooks and E-books
The Storytel app is a subscription-based audiobook app similar to Audible. You can try the app for free and if you decide to stick with it, then you would have to pay the small monthly fee to continue listing to audiobooks. The app, unfortunately, isn't available in the USA.
Nonetheless, for users in supported countries, Storytel has thousands of audiobooks for you to choose from. Unlike a few other audiobook apps which only offers a few audiobooks with your monthly subscription, Storytel lets you listen to unlimited books.
Here are a few features in the app that are worth mentioning: Downloads, Pre-set snooze, Adjust listening speed, and the Reading mode.
[googleplay url="https://play.google.com/store/apps/details?id=grit.storytel.app"]
Don't Miss: 5 Best Android Apps for Artists
Kobo Books – eBooks & Audiobooks
Kobo Books has a vast selection of audiobooks to choose from. The app does also offers a free month trial for new users. This free trial includes one free audiobook that's yours to keep even if you decide not to continue using the app. If you're feeling like reading books, then you can do that too within the app.
The apps user interface follows the material design theme from Google. You can even use the in-built audiobook players UI to quickly navigate back and forth the book. Fortunately, if you aren't willing to spend money on books, you have the option to pick free of cost books from the app's library.
[googleplay url="https://play.google.com/store/apps/details?id=com.kobobooks.android"]
Audiobooks.com
There aren't many audiobook apps that are as good as Audiobooks.com's Android application. The application offers over 8,000 free books to choose from. However, if you're willing to subscribe to the service, you'd get two audiobooks for free every month.
As a bonus, new users who sign up would receive two audiobooks completely free. There's also an option to download and store your audiobooks offline. This would allow you to listen to the books without the need to have an active internet connection.
Those who love listening to podcasts would also be happy to know that the app gives you access to just about every podcast out there.
[googleplay url="https://play.google.com/store/apps/details?id=com.audiobooks.androidapp"]
Serial Box
Here's an app that tries to differentiate itself from the crowd. Serial Box has a sizeable collection of short and interesting stories. This means rather than having to spend hours listening to a traditional audiobook you could listen to several bite-sized books on Serial Box.
The apps vast majority of books are well-produced sci-fi, fantasy, and thriller narrated stories that would get you hooked on in no time. Like a few other apps on the list, you can switch back and forth between listening and reading. Those who love listening or reading at night would be pleased to know that the app has a dark mode option.
You can sign up with Facebook or Google for a quicker registration experience. The UI is fairly intuitive and well designed.
[googleplay url="https://play.google.com/store/apps/details?id=com.serialboxpublish.serialbox"]
LibriVox Audio Books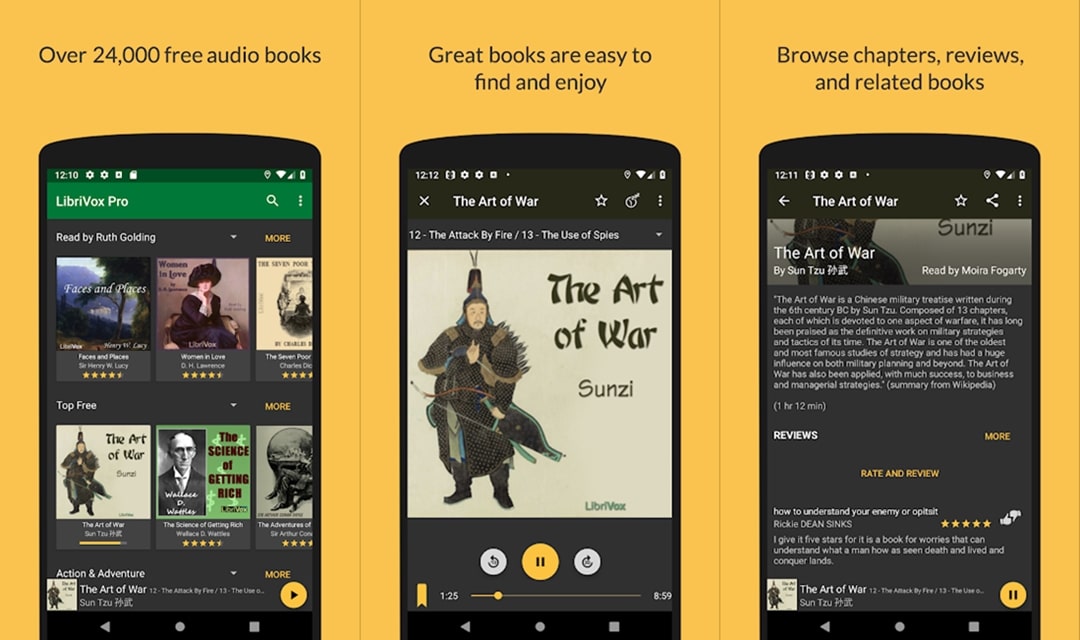 LibriVox is an excellent and one of the best audiobook apps that have over 24,000 audiobooks. There are no hidden fees or charges for listening to books. Most titles in the app are engaging and worth a listen. You can listen to any book at any time without any monthly restrictions.
Must Read: 5 Best Local Multiplayer Games for Android
The application does support Android Auto and Google Cast. Therefore, you can listen to your narrated stories in your vehicle. New books are added daily hence you wouldn't run out of interesting books to listen too. If you're in the US, then you also have the option to purchase from 75,000 professional audiobooks from some of the best sellers.
[googleplay url="https://play.google.com/store/apps/details?id=app.librivox.android"]
Google Play Books
Of course, we cannot leave out Google's own Android apps to read and listen to books. Unlike other audiobook apps that require you to subscribe with a monthly fee, Google Play Books is a pay-for-what-you-use app. The app is an all-in-one for books since you can even purchase comics and textbooks.
However, its an excellent app for downloading audiobooks too. If you're someone who listens to books occasionally, Google Play Books would be a great choice. Only pay for the audiobooks you want to listen to. There are also a few books that you can listen to for free.
[googleplay url="https://play.google.com/store/apps/details?id=com.google.android.apps.books"]
Audiobooks Now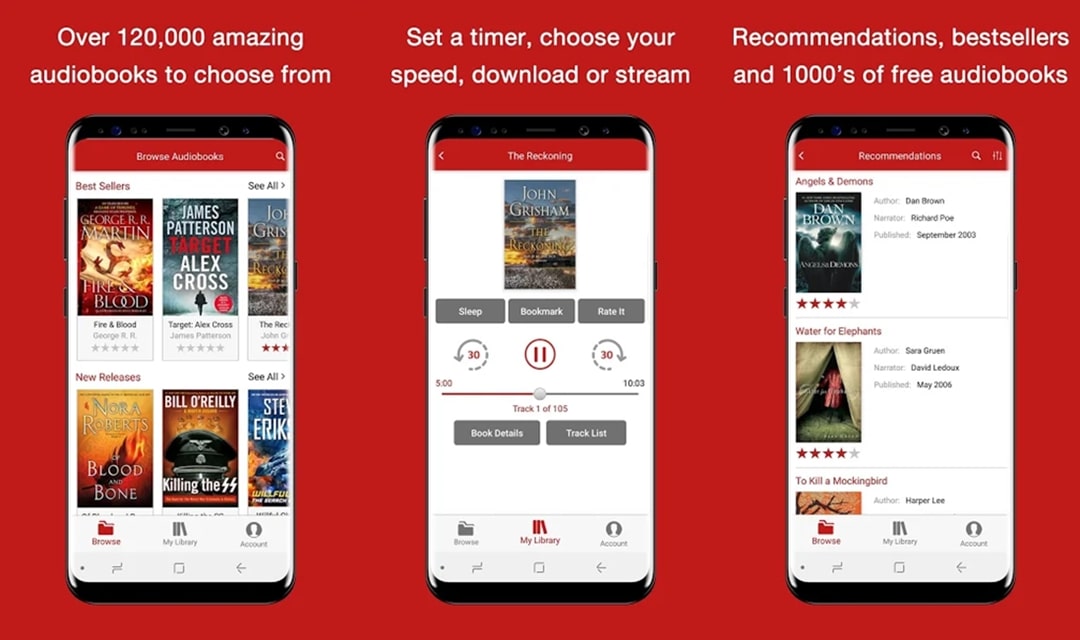 Audiobooks Now has a collection of over 120,000 audiobooks to pick from. For those who aren't keen on subscribing, the app does offer over 1,000 free professionally narrated books. You can also purchase books at a lower price without the Club Pricing Plan subscription.
However, if you do decide to subscribe to the Club Pricing Plan, you'd be able to purchase audiobooks at much lower prices. The application also awards users rewards for every dollar spent purchasing books for the apps market place. You can download the books for offline listening, set a sleep timer, change the playback speed and more. It is one of the best audiobook apps for Android available now.
[googleplay url="https://play.google.com/store/apps/details?id=com.audiobooksnow.app"]
These are currently the best applications for listening to audiobooks on Android. What's your favorite app to listen to books? Let us know in the comments below.
Read next: 5 Best Paid Android Apps for Free Right Now