Today, we have the Asus ROG Phone stock wallpapers in full HD+  resolution and the stock ringtones too. You can download them from below. The ROG Phone is a powerful Gaming phone like the Xiaomi Black Shark.
For a while, people have been saying that the smartphone revolution has come to a point where everything that is being done has been done before. Sure, the new trends in the industry aren't as exciting as they used to be, but new things are certainly happening. Notches are now everywhere, hardly a year since their introduction. More and more smartphones are losing the headphone jack. The number of camera sensors on a smartphone is the new spec bump and 2018 has been a year for gaming smartphones. Since Razer, there have been a couple of others such as the Asus ROG Phone. While the phone hasn't yet gone on sale, you can download its stock wallpapers right now.
Asus ROG Phone Design
Unlike the sleek and stylish glassy smartphones that are replacing all the metal in the smartphone industry, the Asus ROG phone isn't glass. It's a gaming smartphone and in that sense, it takes inspiration from gaming laptops for its design. A design that's eccentric and unconventional, to say the least.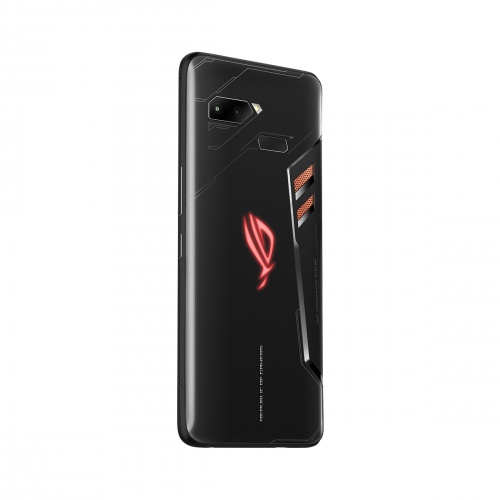 While the design is unique, you've got to be into that kind of a style to find it appealing.
Asus ROG Phone Specs
As you'd expect from a gaming smartphone, the ROG Phone features top of the line specs with an overclocked Snapdragon 845. It has a full HD+ AMOLED display to run at 90Hz which is lower than the Razer Phone's 120Hz but still more than the traditional 60Hz you get on other devices. In any case, most Android games don't make use of anything above 60Hz so that doesn't really make much difference when it comes to gaming. That can also be said about HDR Playback which is good for videos but doesn't affect gaming much. The ROG phone does support it anyways.
The 8GB of RAM on offer is more than enough for any games you throw at it. Similarly, there's an inbuilt storage space of 128GB but there's also a variant with 512GB of space. At the front is a standard 8MP camera with a dual 12MP and 8MP camera set up on the back. Also on the front, is a dual stereo speaker setup which is expected out of a gaming smartphone. The phone has a large 4000mAh battery but considering some budget, non-gaming smartphones come with 5000mAh batteries, it doesn't sound that huge. The Zenfone Max Pro M1 from Asus themselves has a larger battery. It does support Quick charge 4.0 and Asus' own HyperCharge so the battery should charge fairly quickly.
Download Asus ROG Phone Stock Wallpapers and Ringtones
This wallpaper pack contains a total of 15 stock wallpapers from the Asus ROG Phone. The resolution of the wallpapers is 2160 x 2160 px and 2527 x 2527 px which are the same as the ROG Phone's display. For the sake of convenience of those who would use the wallpapers on their phone, we've cropped the wallpapers into 1080 x 2160 px size. The full-sized wallpapers can be downloaded at once using the link downloaded below.
Download Links
Asus ROG Phone Stock Wallpapers.zip (1080 x 2160)
Asus ROG Phone Stock Wallpapers.zip (2160 x 2160)
Asus-ROG-Phone-Stock-Ringtones.zip
Install Asus ROG Phone's PixelMaster Camera Port
Download All Asus Stock Wallpapers
You may also like