Google Play, the mobile app service which allows users from all over the world to download, install and use the latest apps from developers ruled in 2015. Google has reported staggering numbers of Android apps, somewhere in the millions. It is an impressive feat for sure, and some of the biggest contributors and the ever-increasing portion of the market – games.
Games on the Play Store are a varied and very numerous bunch, divided into categories for action, racing, casual, and so on though most of them can be considered social. This is due to the mechanic of being able to play the game alone but also with friends, share scores, comment and more via different platforms like Facebook, Twitter, Google+ and others. For those who are trying their luck online, there is an excellent array of social games for Android users.
Casino games had had an impact as well, thanks to the emerging trend of the free to play model where you can play for fun and earn coins and rewards based on your skill and in regards to other players. You can check out this list of the best Android casino games and see which ones fared the best in 2015.
Let's check some of the biggest games that had made 2015 great and how they fared in terms of downloads, play hours and other statistics.
Starting off with a real media juggernaut, the Clash of Clans app should be known to people outside of social gaming, thanks to their immensely popular marketing campaign featuring world-class model Kate Upton and Hollywood movie star Liam Neeson.  This excellent strategy game for mobile users where the whole idea is destroying the opponents base and claiming the highest ladder in the fantasy world of clans has reached the dazzling number of over 500 million downloads in 2015 and is considered one of the top games on Google Play.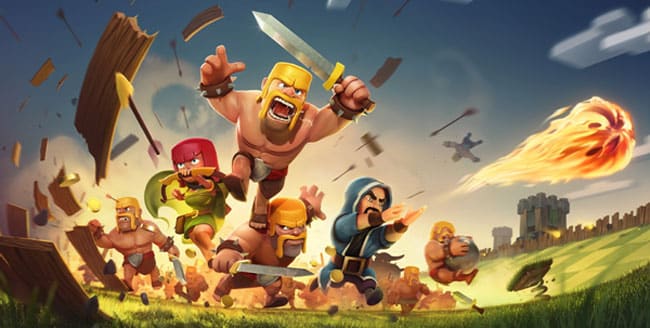 Another smash hit that completely rocked the social gaming portion on Google Play was the official Fallout app by Bethesda Softworks. Fallout Shelter has been released months ahead of Fallout 4 and has seen both critical and fan appraisal for its inventive gameplay, excellent visuals and story, and mechanics that stay true to the Fallout world. With close to 50 million downloads, no one expected this app to explode and resonate so well with non-fans of the long-running series.
A fan favorite, Temple Run 2 is still counted amongst the best and widely played apps on the Play Store, with players constantly trying to outdo the global score that continues to elude even the most dedicated players. Over 500 million people have downloaded Temple Run 2 and it is a true sentiment as to why this game is so fun and sought after by players.
Game apps, however, do not need complex storylines nor over the top gameplay to inspire players in their millions. Such was the case with Piano Tiles 2 (Don't Tap…2) which garnered more than 500 million downloads in 2015. This very simple to pick up and play yet hard to master puzzle game, charmed many mobile players and had their fingers rolling on the sound of moving blocks in the form of piano tiles. Smart yet effective.
If you use Android Auto and are not happy with the official Google app, do not forget to check out these best Android Auto alternatives.