Search Results - arise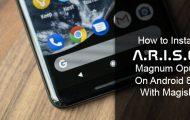 If you're wondering what ARISE Magnum Opus is, we've already explained that in a guide about installing ARISE Magnum Opus
ARISE is probably not the most famous sound mod there is for rooted Android devices. That crown could safely be given to Viper4Android.
If you're a rooted Android device user, you might have tried many sound mods to enhance the sound quality on your device. There
  The Internet of Things (IoT) is growing rapidly, with new IoT devices from large companies and small startups popping up.
These days Instagram is undoubtedly one of the most popular apps. Over 1 billion people use Instagram every month and more than 500
Android's open-sourced operating system is a reliable and efficient OS, as we Android users know. But nothing is perfect. The OS
No Code is a platform that allows users to build software applications, like web and mobile apps, without having to write any code.
If you're an Android and Google Docs user, you'll be glad to know that developers made Google Docs for Android easy to use.