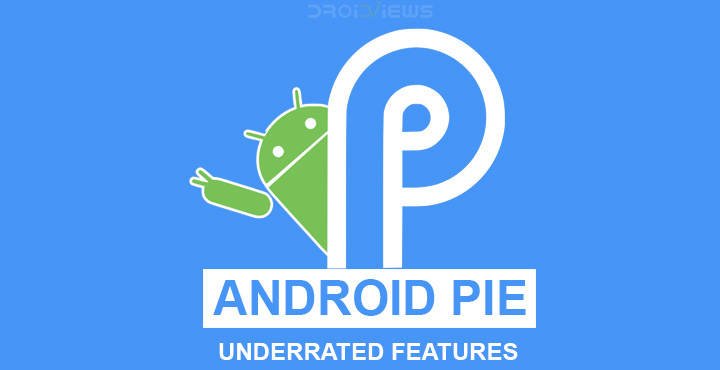 It has been around a month since Android 9.0 Pie was officially released and a lot has been said about it already. Sure most Android users still don't officially have Android Pie unless they have a Google Pixel or the Essential Phone. Some devices do have various beta versions of the software though. I've been using Android Pie since the days of the Developer Previews. It has some great features that you've most probably heard of. Android Pie also has some equally great features that have somewhat passed under the radar and are hence underrated.
If we were to count those there'll probably be about 10 to 15 such features some of which are as boring as HEIF image support. For most users, features like that don't even matter so they probably deserve being passed under the radar. Although, some of them like the contextual force rotation button in the navigation bar are so useful and something everyone should know about. So here are 5 such Android Pie features that haven't been talked about a lot but do deserve more attention.
5 Underrated Android Pie Features
1. Force rotate
When we got our first smartphone (which for me was an Android) didn't we all just gushed about how cool auto rotate was? I sure did. Somewhere down the line, most of us decided to just disable the auto rotate feature because, well, it got annoying. Anytime you want to use your phone laying down in bed getting comfy, the screen would just turn around. Google has found the perfect solution to this problem. Android Pie's navigation bar is more contextual than before. Anytime you rotate your phone, assuming auto rotate is off, an auto rotate button appears in the navigation bar.
If you tap it, the screen rotates and if you don't, it stays the same. This does not change the overall system setting. If you want to rotate the screen back to portrait mode you'd have to rotate your phone and tap on the button again when it appears. Keep in mind though that this only happens when you have an app open that supports landscape mode.
Don't miss: 25 Hidden Android Settings You Must Check Out
2. Improved Bluetooth
Starting with Android Pie, users can connect their Android devices to a maximum of 5 Bluetooth devices at once. Not only that but switching between the different devices is also pretty seamless. If you get a while you're connected to all these Bluetooth devices, Android will automatically switch to the device capable of handling an audio call.
Android Pie also remembers your volume preference for each Bluetooth audio device whether it is your wireless headphones or your car's Bluetooth system.
3. Text selection magnifier
There was a time when I was a Sony Xperia guy and one of the coolest little additions Sony did to Android was the text selection magnifier. Basically, when you're selecting text It doesn't sound like much but when you're selecting text or moving around the cursor using a finger, it makes all the difference.  Like many of Sony's better attempts at a smartphone, most of their useful tweaks on top of Android were underrated as well. This is why I'm not surprised that this feature, even though it's now included in Android Pie, hasn't been talked about much.
Must read: How to Speed Up a Lagging Android Device
4. Lockdown
When a fingerprint reader was first included on the iPhone, I considered it just a fancy feature that wouldn't be of much use to people like me who, at the time, lived with roommates. It's quite possible after all, that someone uses your finger to unlock your phone without waking you up. Soon, fingerprint readers were on every smartphone and there was no escaping them. I tried them and understood how convenient they were but I was still concerned. Call me paranoid but I used to just disable the fingerprint reader before I went to sleep.
Knowing all that you've just known, you can imagine how Lockdown would be such great news for someone like me. Although, it was probably intended for more serious Hollywood-ish situations. You can enable lockdown under Settings > Security & Lockscreen > Lockscreen preferences. Then you can activate it anytime from the Power menu. Once you activate it, the screen will be locked, your notification contents will be hidden and your phone cannot be accessed without your PIN, pattern or password. All other forms of authentication are disabled including fingerprint and face unlock. Everything goes back to normal once you enter the PIN, pattern or password.
5. An intelligent mobile hotspot
Another really nice Sony Xperia feature I missed on Android was how the hotspot automatically turned off after a while when no devices were connected to it. Sometimes I forget to turn it off and several hours later it has eaten through the battery. That won't be a problem with Android Pie. Just turn on a simple toggle for the same in Settings > WiFi & Internet > WiFi hotspot.
Editor's pick: How to Copy Text from a Real Book or Document with Google Lens
Do you love any Android Pie feature that you think should get more attention or that you think will help others too? Sound off in the comments below.