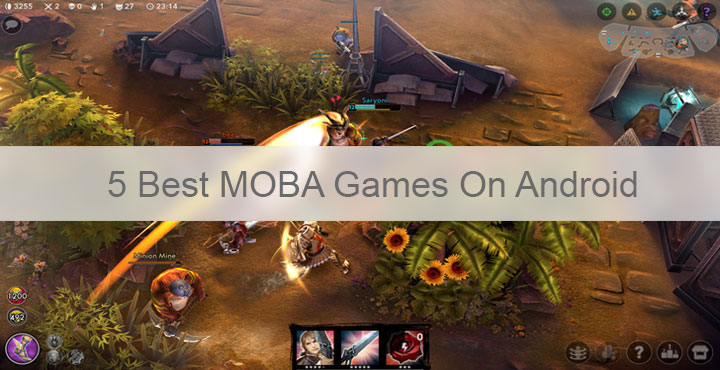 League of Legends, Dota 2, Heroes of the Storm, and several MOBA games have others have literally taken the world by the storm. For the uninitiated, MOBA stands for Multiplayer Online Battle Arena. The concept is simple, two teams try to destroy the other's base by leading their heroes and automated creeps against defensive towers, eventually breaking through to the other side. These games offer tremendous depth and complexity for those who want them. While most MOBA games are confined to a PC, there are some that'll let you become the Champion on the go. We're talking about MOBA games on Android if it wasn't clear somehow.
1. VainGlory
[googleplay url="https://play.google.com/store/apps/details?id=com.superevilmegacorp.game"/]
Vainglory is the most popular MOBA on mobile right now and for good reason. The game is available both on Android and iOS. It has a professional eSports community, a solid following on Twitch and other streaming platforms. Obviously, because there is also the huge number of users. the game features 3-on-3 combat and 30-minute matches. The length of matches sort of hinder the portability aspect but there's a Battle Royale mode as well centered on shorter 7-10 minute matches.
Unlike traditional MOBA games on PC, there is only a single lane which makes the matches a bit unpredictable at times. The controls are a little difficult to use on a smaller phone but they are much easier to use on bigger screens.
2. Ace of Arenas
Update: The Game is no more available in the Google Play store.
If you've never played a MOBA game, this is the one you can get started with. Ace of Arenas is a run-of-the-mill MOBA boasting a large user base. Large enough to make sure that you won't be able to get into a game right away. But at least you can play as many games as you want without having to buy "energy" or anything.
The game has decent graphics and the controls are unique in that you have to use both tapping and swiping. This shows that the game has been designed keeping touch controls in mind.
Don't miss: Best Racing Games for Android
3. Heroes of Order and Chaos
[googleplay url="https://play.google.com/store/apps/details?id=com.gameloft.android.ANMP.GloftHOHM"/]
Heroes of Order and Chaos is an entry from the Gameloft itself. Gameloft is a big name in the mobile gaming industry so it is only natural that they'd want to compete with a MOBA of their own. Like many other Gameloft games, Heroes of Order and Chaos is a solid entry into the genre, complimented by its variety of characters, modes, and items.
The game also includes a talent tree and a variety of, what the game calls, inscriptions. If you've played RPG games on PC you'd be familiar with talent trees. It features the same PC like three lanes, 5v5 combat but somehow it is not as much fun as something like Vainglory. And it is hard to pinpoint why since the game does almost everything good. Guess you'd have to try it out yourself.
4. Heroes of SoulCraft
[googleplay url="https://play.google.com/store/apps/details?id=de.mobilebits.soulcraftarena"/]
Heroes of SoulCraft started out at first as an action-RPG so its transition into a MOBA wasn't very unnatural. The game has a rather funny, some might say shameless, app description on the Play Store that starts like "Dont remain in vain, glory and victory is near."
But the best part about this game really is that you can play it with a controller while sitting on a couch on your Android TV. Of course, you can also choose to play it with onscreen controls on your phone. The developers have gone with an interesting hybrid between 3v3 5-minute matches, and 5v5 15-minute matches. Oh and this one is also available on PCs as well as iOS. So a lack of userbase is definitely the least of the problems you may face while playing.
Must read: 10 Best Android Games Under 10 MB
5. Call of Champions
Update: This game has been taken down from the Play Store. You can find more MOBA games here.
MOBA is relatively a newer genre compared to something like an RPG. Yet, when you look across the board you'll find most of the games are more or less the same. Despite its young age, the MOBA genre has been showing a lack of innovation. Call of Champions isn't afraid of standing out of the pack though. The game ditches the lanes and minions in favor of power-ups and the Orb of Death, which travels on a track, forcing players to engage in a thrilling tug-of-war.
The Heroes in Call of Champions fall into five categories: mages, fighters, tanks, assassins, and support heroes. The biggest feature is the short game lengths where most games are over inside of five minutes. This provides the game an edge considering it is meant for a mobile, portable platform. Another thing to love about the game is nobody quits. Well, it is obviously an option but the game does not simply end when one player leaves. It replaces the player with an AI and the game continues like nothing happened.