Multiplayer games are massively popular in today's market. They occupy a significant portion of the games available for Android. However, multiplayer is quite a vague term and can be further classified as online multiplayer and local multiplayer.
Online multiplayer games are far greater in number than local multiplayer games. Same goes in terms of popularity. The Google Play Store is blooming with some intense breathtaking online multiplayer games.
Worth Reading: 5 Google Play Music Tips and Tricks
However, if you flip the coin the case is just very different. There are not many good local multiplayer games when compared to the online category. So, today I'm going to discuss the five best local multiplayer games that are available for Android. Below, in no particular order is listed the fives best local multiplayer games available for Android.
DUAL!
DUAL! is one of the best local multiplayer games for Android I have played till now. Due to its unique design style, it stands out among the crowd. Two Android devices are required to spark the action. The two devices just need to be connected using BlueTooth or Wi-Fi which normally is the baseline requirement for a local multiplayer game.
Talking about the game, the devs have fairly kept it simple. Yet it is entertaining enough to indulge players for quite a long time. The best aspect about this app is that it is totally ad-free. The game features three game modes duel, defend and deflect. All of them are equally interesting and intriguing. Stats, Leaderboards, and Achievements, this game has covered it all. There are also few collectibles such as spaceships to unlock and battle with.
Must read: 5 Best Arcade Games for Android
However, the game is not completely free, but only a trial version which limits some of its awesome features. So, if you like this game then make sure to purchase it. It is a one time purchase after which the game really shines and shows its true color.
[googleplay url="https://play.google.com/store/apps/details?id=com.Seabaa.Dual"/]
Doodle Army 2: Mini Militia
Doodle Army 2 features both online and offline mode. The online mode has support for up to six players while the offline mode has support for up to freaking twelve players. This is an action based game wearing a retro style army skin. Due to its massive community and fans, the game gets frequent updates and patches which sometimes includes new game modes and features.
Speaking of the features, the game has various modes including a breathtaking survival mode to play in. Various types of maps and weapons to keep the players engaged for a long time. This game does it pretty well.
Another thing worth mentioning is that the game also allows its player to change their avatars. There are quite a few custom avatars to choose from. The game is available on the Google Play Store for free. This is definitely a game to get your hands on.
[googleplay url="https://play.google.com/store/apps/details?id=com.appsomniacs.da2″/]
LWP – LAN Multiplayer FPS
As the name clearly suggests, this game is an FPS (First Person Shooter) and falls under the action genre in the Google Play Store. The game has been designed such that it can run on almost any device, even on the low specced ones.  The game has support for up to ten players on local multiplayer and an offline mode where players can play with bots. Five increasing bot difficulty levels to choose from.
The game is totally free without any ads. Apart from this, the game also has a survival mode, customizable pieces of equipment, weapons including grenades and lot of fun stuff to gear up with.
Don't miss: 10 Best Engaging Android Games You Might Not Have Tried #2
However, if you are playing on a small screen then all the UI can get cramped up and you might accidentally press one of the on-screen buttons. The UI screen is customizable, that, is, customizable controls. Therefore, it is recommended to keep the screen bare minimum with only required on-screen buttons.
The Google Play Store description about this app also informs its users on how to join or create a local multiplayer server. In case you face any sort of difficulty then do refer to it.
[googleplay url="https://play.google.com/store/apps/details?id=com.OldProduct.LocalWarfarePortable"/]
Must Read: How to Block System-wide Ads on Android without Root or Battery Drain
BombSquad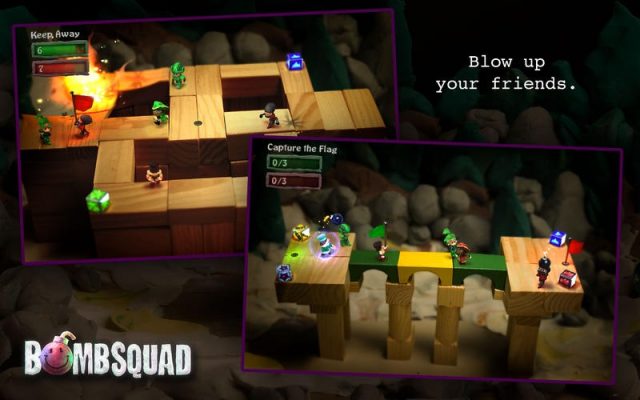 BombSquad has been out there for quite a while now. It has sure gained some serious attention. Above that, it is the editor's choice of the Google Play Store, if that matters to you. The gameplay is fantastic and unique with vibrant colors and characters exploding all over the screen. Definitely fun to look at.
The game features a few different modes, including capture-the-flag mode, hockey mode, to name a few. Apart from this, the game features eight players local multiplayer as well as networked multiplayer. The game also has a handful of bizarre looking characters such as ninjas, barbarians, chefs, and a lot more.
BombSquad has support for various types of controllers. There is also an app named as BombSquad Remote which can be used to use another Android tablet or smartphone as a controller, in case you don't have one. The game has also support for Android TV. In case you own an Android TV, then make a run for it. It is totally available for free.
[googleplay url="https://play.google.com/store/apps/details?id=net.froemling.bombsquad"/]
Spaceteam
Last on our list is Spaceteam. This game is all about co-operative technobabble shouting. Definitely, this is a word based game. The main concept is to shout in sync with your partner to save the spaceship from falling apart. What to shout? All the technobabble that will be listed on the screen. Sure a fun game to try out.
The features simple and sci-fi UI elements and support up to eight players on the local network. The game is available for free to download. Make sure to try it.
[googleplay url="https://play.google.com/store/apps/details?id=com.sleepingbeastgames.spaceteam"/]
You may also like: 10 Best Android Games Under 10 MB
That's it, guys! Those were the five best local multiplayer games of all time. All of them can be downloaded for free from the Google Play Store. Do you prefer a local LAN party over the online matchmaking games? Did you try any of the above-mentioned games? How was your experience? Do let us know in the comments below. It doesn't hurt to try a new game.