Reading books is the best type of exercise one's mind can get. Some people prefer reading actual books while some prefer reading eBooks. Reading eBooks is not any different from reading actual books. There are a lot of Android apps that can read eBooks. Moreover, the ways in which eBook reader apps can enhance our reading experience is amazing. Just as choosing books are a matter of personal preference, choosing eBook reader app for Android is no different.
Do Not Miss: 5 Google Play Music Tips and Tricks
Now, in the modern era, the format of digital books is not limited to PDF. They come in a variety of different formats such as EPUB, RTF, MOBI, HTML, DOC, FB2, to name a few. So, when choosing an eBook reader app one should be careful that it supports all sorts of formats that one has in its digital library.
Apart from this, there are various factors which can hugely affect the reading experience one can have. For instance, the way the paper turns or looks, the font type and its size, dictionary, and a few more. We have kept all in mind and created a list of 5 best eBook readers available for Android. At least one will match your reading style for sure. So, in no particular order, the eBook reader apps are listed below.
Best eBook Readers for Android
Cool Reader
This reader had to be on our list. The app supports almost all of the popular formats including MOBI EPUB, HTML, TXT, DOC, to name a few. What made is app stand out in the crowd is the reading experience. The app features an old age script like texture and color which adds a unique feel to it. The screen almost feels like real paper, at least till you touch the glass.
The app also features a dictionary and has an inbuilt library. The library is where you can download books for free. The collection is nice if you have just started reading. Nevertheless, if you do not like the free books available in the library, then you can always put in your own books.
[googleplay url="https://play.google.com/store/apps/details?id=org.coolreader"/]
Amazon Kindle
Now, some might disagree with me here but an app like Kindle had to be on our list. The honest reason is its massive library. The collection of books available for the Kindle is more than one can desire. You name it, they have it. Moreover, if you are an Amazon Prime member then you can get some heavy discounts while purchasing books.
Since Amazon has its own book library, the Kindle app doesn't have support for any other format except MOBI. Moreover, that getting the Kindle app to recognize the eBook can get quite choppy, especially if you are new to this.
[googleplay url="https://play.google.com/store/apps/details?id=com.amazon.kindle"/]
Aldiko Book Reader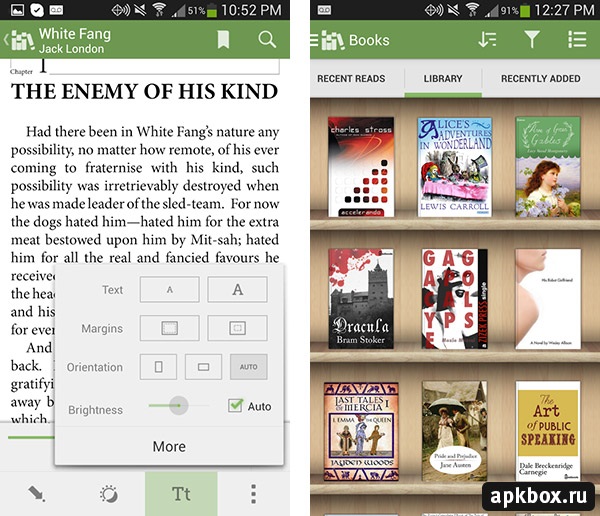 Aldiko Book Reader is the best choice if you are looking for an all round experience and want to take the real out of the eBook apps. This app features a dictionary which is always handy at times. Like Cool Reader, this app also has a library where you download books from. The library is not as huge as that of the Kindle but is definitely larger than the library which the Cool Reader provides.
This app also has some useful features hidden under his sleeve like a global word search, better sorting, and organization of books, support for Adobe DRM encrypted files and what not. Not to mention that not all the features are available in the free version. To access all the features you need to download the full version of the app.
[googleplay url="https://play.google.com/store/apps/details?id=com.aldiko.android"/]
Editor's Choice: Looking for a Free Professional Video Editor for Android? Try MOCR!
Moon+ Reader
If you are looking for some simple and straightforward design language with no gimmicky stuff then look no further. Moon+ Reader is the app to count on. The app features material design UI which looks a lot like the Google Play Books.
Like other apps, Moon+ Reader also supports all the popular formats that one will possibly ever need. There is both a free and a paid version of this app. So, if you like the free app then I would definitely suggest purchasing the full version which comes with a lot of handy and extra features.
[googleplay url="https://play.google.com/store/apps/details?id=com.flyersoft.moonreader"/]
Google Play Books
The discussion to this app is kind of controversial. There a few features about the Google Play Books which cannot be ignored. First of all is its library. The Google Play Books has a decent collection of books. Not as big as the Kindle library but there is hardly anything that you will miss.
The most important reason for this eBook reader to be here is its text to speech feature. This feature, when turned on, will read the book for you. The voice tone along with the speed at which the app reads can also be adjusted. This is surely a handy feature for those who are blind or just too tired to hold your device and read.
[googleplay url="https://play.google.com/store/apps/details?id=com.google.android.apps.books"/]
Must Read: Open All File Types on Android with These Apps
The Google Play Books comes pre-installed in most of the Android devices and can also be downloaded from the Google Play Store for free. Definitely worth giving a shot.
That's it, guys. Those were the 5 best eBook readers available for Android currently. Hope you enjoyed reading this. So, what are your favorite apps to read eBooks? Do you prefer to read the actual book than the digital copy? Were you using any of the apps we mentioned here? If so, how was your experience? Do let us know in the comments below.