The sweetest part of Android is its customizability. Whether you are a veteran or a noob, it has something for everybody. With Android, you get the freedom to alter each and everything and make your device dance on your fingers. You can easily put together something that's unique and different than what everybody else is rocking.
I bet I can't be the only one who gets bored of their setup after a week, two weeks at max. Since I've not rooted my device yet, the only form of customization I can do is changing stuff like launchers, wallpapers, and icon packs. That's the basic level of customization anyone can do even if you are just a beginner.
We, at DroidViews, are suckers for customization and share some awesome customization tips to help you freshen up your device from time to time. In this series, we will be focusing on icon packs, which, I think, is one of the easiest ways of breathing a new life in your device. With that said, here are 4 awesome icon packs you'll love for sure.
See also: 4 Awesome Icon Packs You'll Love [#2]
Faded Icon Pack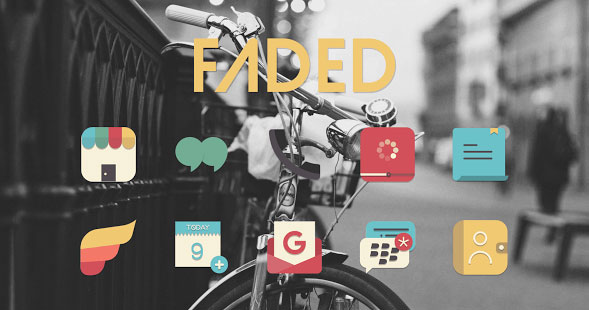 Faded, by Not Just Another Designer, has 2200 high-quality icons, 40 plus wallpapers, and 1 KWGT widget. Each icon is created with extreme detail and creativity. With this icon pack, the developer has successfully implemented the modern design with a retro color palette. With subtly shadows, rich colors, and fun artwork, this icon pack stands out from other similar icon packs.
Boldr – Icon Pack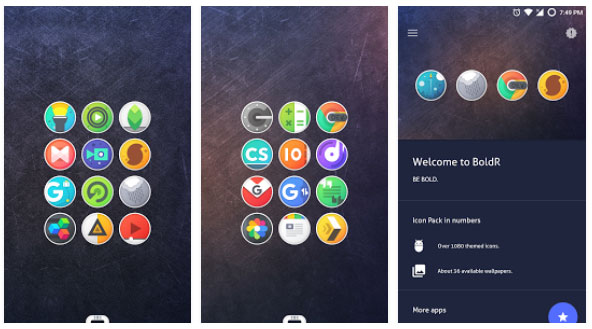 Boldr, by FLATEDGE, is a round icon pack with rich and vibrant colors and a white circular border. The icon pack offers more than 1900 extremely high-quality icons and a bunch of cloud bases HD wallpapers that match the overall color scheme of the icons.
Glim – Free Flat Icon Pack
Glim, by Maximilian Keppeler, is an amazingly crafted material design icon pack with smooth and soothing colors. In the trend of super creative icon packs, this one goes back to the basics and provides a minimal and understandable icon design without completely changing the original app icons.
Glim has more than 800 high-quality icons and 10 cloud-based HD wallpapers. You can get all of this for just a dollar.
Don't miss: 4 Awesome Wallpaper Apps for Android [#2]
Pangpang Icon Pack
Pangpang, by Sipentil, is a squircle-shaped icon pack with vibrant colors. As of now, this icon pack is a bit short on the numbers i.e. it only has 469 icons along with 6 wallpapers. These numbers are expected to increase in the near future. The icon pack supports all the major third-party launchers and comes with Muzei live Wallpaper support.