Icon packs for Android come in all shapes, sizes, and design. Some people like colorful icons while others prefer simple ones. Some are crazy about round icons while others love square ones. Whichever icon theme you like, the purpose is just one and that is getting an awesome home screen setup. Our today's collection of icon packs includes some of the best faded icon packs for Android.
While vivid and colorful icons reflect the happy mood, the faded icon packs display a somber one. All of us try different styles for the home screen depending on our mood and preferences. If you have been looking for some faded icon packs for Android, you must check out our list below.
See also: 4 Awesome Icon Packs You'll Love [#2]
Faded Icon Pack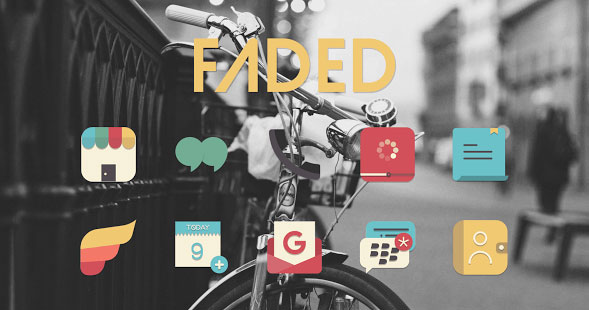 Faded, by Not Just Another Designer, has 2200 high-quality icons, 40 plus wallpapers, and 1 KWGT widget. Each icon is created with extreme detail and creativity. With this icon pack, the developer has successfully implemented the modern design with a retro color palette. With subtly shadows, rich colors, and fun artwork, this icon pack stands out from other similar icon packs.
[googleplay url="https://play.google.com/store/apps/details?id=njad.faded.ifyourereadingthisitstoolate.iconpack"/]
Boldr – Icon Pack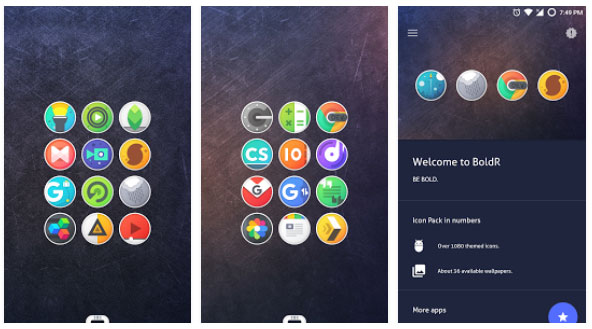 Boldr, by FLATEDGE, is a round icon pack with rich and vibrant colors and a white circular border. The icon pack offers more than 1900 extremely high-quality icons and a bunch of cloud bases HD wallpapers that match the overall color scheme of the icons.
[googleplay url="https://play.google.com/store/apps/details?id=com.boldr.icons.flatedge.iconpack"/]
Glim – Free Flat Icon Pack
Glim, by Maximilian Keppeler, is an amazingly crafted material design icon pack with smooth and soothing colors. In the trend of super creative icon packs, this one goes back to the basics and provides a minimal and understandable icon design without completely changing the original app icons.
Glim has more than 800 high-quality icons and 10 cloud-based HD wallpapers. You can get all of this for just a dollar.
Don't miss: 4 Awesome Wallpaper Apps for Android
[googleplay url="https://play.google.com/store/apps/details?id=com.icons.glim.lite"/]
Pangpang Icon Pack
Pangpang, by Sipentil, is a squircle-shaped icon pack with vibrant colors. As of now, this icon pack is a bit short on the numbers i.e. it only has 469 icons along with 6 wallpapers. These numbers are expected to increase in the near future. The icon pack supports all the major third-party launchers and comes with Muzei live Wallpaper support.
[googleplay url="https://play.google.com/store/apps/details?id=com.sipentil.pangpang2.icons"/]
Read Next: Which is the Best Android Launcher App?