It's 2017 and the way we view news has changed, thanks to the internet. Long gone are the days when we used to sit in front of a TV at a specific time to watch all days happenings.
Smartphones are like pocket TVs but with a lot more power. Getting your daily fix of news on your smartphone isn't something new or odd. There are so many services providing so many information, it has become difficult to keep track of them. Here are 3 awesome news aggregators for Android.
Read – Simple RSS Reader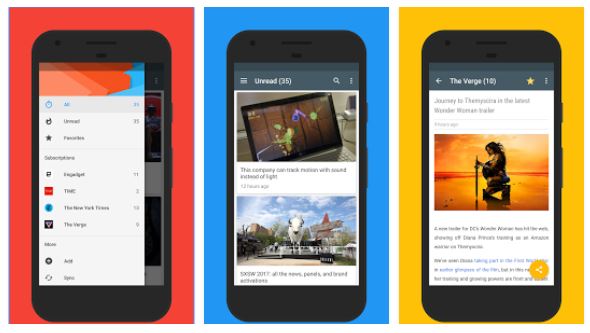 Read is a minimal RSS reader with elegant design. It gives you complete control over the type of news you want you to read. It doesn't show you any news by default, but you'll have to add various sources via the "add" section of the app. The cool thing is that not only it lets you subscribe to a website, you can also subscribe to a particular tag. Say, you want to subscribe to The Verge. Now, The Verge covers various topics – tech, Google, Android, science, photography – to name a few. With Read, instead of subscribing to the whole website, you can subscribe to a single topic of your interest.
The reader interface is extremely minimal as well. At the end of an article, you can visit the website to submit your thoughts.
Headlines
Headlines is a news summarizer of sorts. It doesn't really provide news articles to read but it shows the headlines. Upon launching the app, you'll have to select from the reputable news sources for different topics like sports, business, entertainment, etc.
The app looks clean. But, it doesn't offer much when it comes to content. There's a fixed set of sources so you can't add your own. When you tap on a headline, it directs you to the website to read the full news. Sure, it seems like a good idea for those who don't want to read the whole article but still want to get the news in short. However, I don't think this app is for everyone.
Feedmesh
FeedMesh is another amazing news aggregator that works on RSS feed technology. And, it's pretty easy to setup and use. Upon installing, just sign in with your Google account and add topics you would like to read about.
While selecting news source, you can either go with popular websites or look for something else using the search feature. To make things easier, the search area has a list of popular topics you are most likely to search for. Just tap one and get started.
All your added websites are shown on the main page in rows and columns. Each row contains articles from one feed. This layout results in fast access to desired content.
Feedmesh doesn't try to be fancy with different gimmicks. It just shows you the news you want to read with a simple interface.