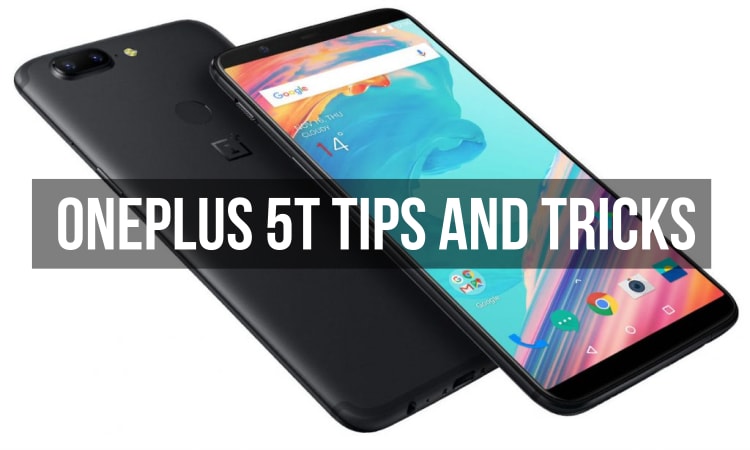 OnePlus announced the latest flagship smartphone from the company after the recently launched OnePlus 5 and this smartphone has been named as the OnePlus 5T. The T version of the OnePlus smartphones was launched last year when the company launched the OnePlus 3T which was the upgraded version of OnePlus 3. Now, the OnePlus 5T is an upgraded version of the OnePlus 5. The smartphone comes with an upgraded camera which is same as the dual camera on the back of OnePlus 5 but it has a better low-light camera. Also, the smartphone comes with a fingerprint sensor on the back which was on the front.
OnePlus launched its latest launcher in the OxygenOS which comes as the default on all the smartphones that are powered by OxygenOS and same is the case with the OnePlus 5T which comes with OxygenOS and it has the OnePlus launcher as its default launcher. Anyway, having played a lot with my new phone, I am going to list no less than 17 OnePlus 5T tips and tricks that I think every user must be familiar with.
1. Change Icon pack in the OnePlus launcher
The OnePlus launcher on the OnePlus 5T comes with an ability to change the Icon pack and the default Icon pack is the OnePlus Icon pack that is applied by default. In order to change the Icon pack on your home screen, you have to follow the steps mentioned below
Long-press on home screen of the OnePlus launcher
Click on the Settings icon to open OnePlus launcher's Settings
Now, click on Icon pack option inside the OnePlus launcher's Settings screen and change the Icon pack to your liking.
2. Change Home Screen layout in the OnePlus launcher
OnePlus launcher offers the ability to change the Home screen layout. You can choose from a different number of columns on the home screen as well as change the Icon size.
Open the Settings of the OnePlus launcher and click on Home screen layout option
Now, choose between different columns and Icon size options and you can also see the preview as seen from the screenshot below.
3. Customize Alert Slider
Open the Settings app on your phone
Tap on the Alert Slider option from Settings -> Customizations -> Alert Slider
You can also customize the On screen buttons that are used for navigation inside the OnePlus 5T's Settings app.
Open OnePlus's Settings application
Now, tap on Buttons option from Settings -> Customizations -> Buttons and customize from the various options.
5. Set Gestures on your OnePlus 5T
Open Settings app on your smartphone
Tap on Gestures option inside the Settings app
6. Customize Status bar on your phone
Open Settings app
Tap on Status bar
Customize your Status bar from various different options
7. Change Font on your OnePlus 5T
Open Settings app
Tap on Font option
Choose from Roboto or OnePlus Slate font.
8. Change default launcher on your phone
Open Settings app
Click on Default Home app option inside Settings app
Select from different launchers installed on your OnePlus 5T
9. Activate Night Mode on your phone
Night Mode helps the user of the smartphone to read on the screen easily without giving too much strain on the eyes. You can activate this mode on your OnePlus 5T from below steps
Open Settings app
Select Display option inside Settings
Tap on Night Mode option from the list of options inside Display
You can also set the Night Mode to turn on automatically or you can set time of your choice to turn Night Mode on.
10. Enable Reading Mode
You can turn on Reading Mode on your OnePlus 5T which turns your device's screen into black and white.
Tap on Settings
Select Display -> Reading Mode
Turn on Reading Mode
11. Calibrate Screen on your device
Open Settings app
Go to Display -> Screen Calibration option
Select from various modes of Screen Calibration
12. Change Theme of your device
OnePlus offers theme selection inside the Settings app. You can choose from Dark, Light or Default option.
Open Settings
Go to Display -> Theme
Select from one of the 3 options
13. Change Accent Color
You can change the Accent Color on your OnePlus 5T and you get many options to set different colors as your default accent color.
Open Settings
Click on Display option inside Settings
Tap on Accent Color option and select from different colors
14. Add fingerprint
Open Settings
Click on Security & Lock screen option
Now, tap on "Add Fingerprint" option from the list
4. Now, place your fingerprint on the sensor located at the back and complete the process
15. Activate Face Unlock
Face Unlock is one of the newest features found on your OnePlus 5T. You can add your face to the device and unlock your phone via face recognition.
Open Settings
Tap on Security & Lock screen option
Now, tap on Face Unlock
Inside Face Unlock, Click on Add Face Data
16. Enable App lock
Open Security & Lock screen option from Settings
Now, tap on App locker from the list
Click on Add apps option and select the app which you want to lock and set security from fingerprint, pattern or pin.
17. Enable Do Not Disturb while Gaming
Open Settings app
Click on Advanced inside Settings
Tap on "Gaming Do Not Disturb" from Settings -> Advanced
We have compiled a list of Tips and Tricks for the OnePlus 5T above. If you have any other tips which you want us to add in this list then you can comment in the section below and we will be glad to add them.