In 2017, most phones utilize a fingerprint scanner, mainly for securing the phone, and in some cases to secure accounts and payments. However, having a touch sensitive button opens the door for many opportunities. The easyHome app aims to unleash all your scanner's potential, let's see how!
The easyHome application allows you to assign different actions to different tasks. In other words, it allows you to simply tap the scanner to perform different tasks. Before trying this out, however, note that the application is aimed at Samsung devices, so it might not work smoothly, or not at all on other phones. The tasks you can perform now are using the scanner as a home, back, lock or task manager key. It can also be used to start Google Now, Camera or show the Notification or Settings shades. Lastly, you can use it to open the last application or the power menu of your phone. You can trigger those by a short or long touch.
As you may have noticed, the app offers a wide variety of settings, which is what makes it the right choice for Samsung devices, rather than other applications out there. You also get to add touch sounds, as well as haptic feedback, which is using your phone's vibration motor, but you will have to get the pro version for that.
Must read: Add New Functions to Your Phone's Home Button with HomeBot
Getting Started:
First, download the easyHome app from the Google Play Store:
Update: easyHome is not available any more.
Then, once you open it, you will need to accept the terms and conditions of using the app, and the give the app usage data access from the window it opens. Once done, you are ready to go! Go into the settings menu and alter the settings as you wish. If you want to know a convenient way to use the app, keep reading below.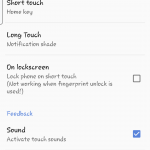 In the screenshot, you can see how I use the app. I have set the short touch to go home, which works perfectly as an alternative to your home button, and it works really quickly and responsively. Next up, I have set the long touch of the scanner to drop the notification shade. For me, this is really useful, since I use a pretty large phone, at 5.5″ display size. Again, you can also use it to drop the settings shade, if that is what you are into, or what you use the most. Moreover, I have disabled the lock screen option, since I use the fingerprint unlock on my phone.
Also read: Tips to Recover Lost Notifications on Android Devices
In terms of feedback, I have opted to purchase the full version of the application, and it is completely worth the money. I have set the feedback at a low setting and disabled the sound feedback. This overall makes for a great experience with the application, and you will quickly get used to not pressing your home button. This is beneficial if your home button does not work, or if you want to protect it from breaking.
Things To Keep in Mind:
Disable power saving for this app to prevent it from stopping. To do this, go to Settings> Battery> Battery Usage> Optimize Battery Usage and disable easyHome.
This application might cause insignificant battery drain, mainly when your device is not in use.
On most Samsung phones, the sensor is in the center of the home button, so make sure you touch there if you want to trigger an action.
If you use a Fingerprint App Lock, Make sure to blacklist it in easyHome. This is to make sure you do not trigger an action while trying to get access to the application.
You can use other apps if this one does not work on your phone. Those can be Fingerprint Gestures, Fingerprint Quick Action, and others.
Don't miss: 5 Types of Apps You Should Stop Using Right Now
Verdict
easyHome is really a useful app and can make your life a bit simpler and more intuitive. If you followed my use of the application above, you would have a seem-less experience. It would be as the phone manufacturer provided it. If you encounter any problems, make sure to tell me in the comments below. I will help you ASAP.