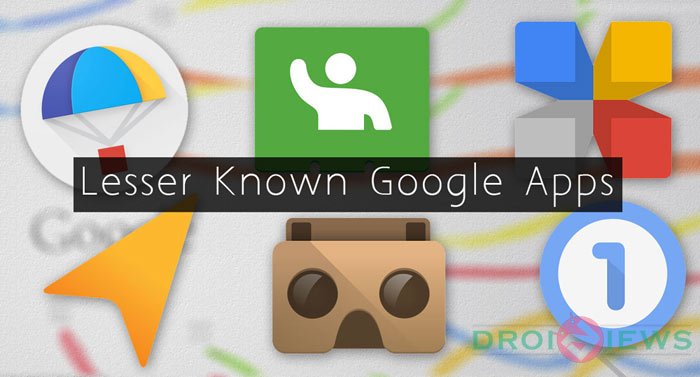 Google is a company every single one of us know. Android is made by Google, so we probably know how important Google is right now. Maybe you came across this post via Google search. You use Google in almost everything you do on the PC or mobile devices, like searching for information, downloading awesome images, watching videos online, making blog posts like us, and obviously chatting with your close ones! We can do all of the above with Google Search, Google Images, YouTube, and Blogger respectively.
You see, Android is the most successful invention of Google, and that's what this whole blog is about! So, you may have used almost every single one app made by Google on your Android phone with the Play Store, right? You may have, but they're some apps made by Google for Android you didn't even know about, or didn't think they would be so useful. This article is a compilation of the lesser known Google apps for Android, available on the Play Store.
1. Google Helpouts
This less known Google application for Android devices provides people with expert videos with regard to some problem. People can also use their expertise and send them in the form of a video, to people who need help. Google Helpouts helps people with regard to almost all the topics, ranging from simple homework, to confusing cable works, just contact a professional math teacher to solve your homework sums, or contact a Computer engineer to help you with computer issues.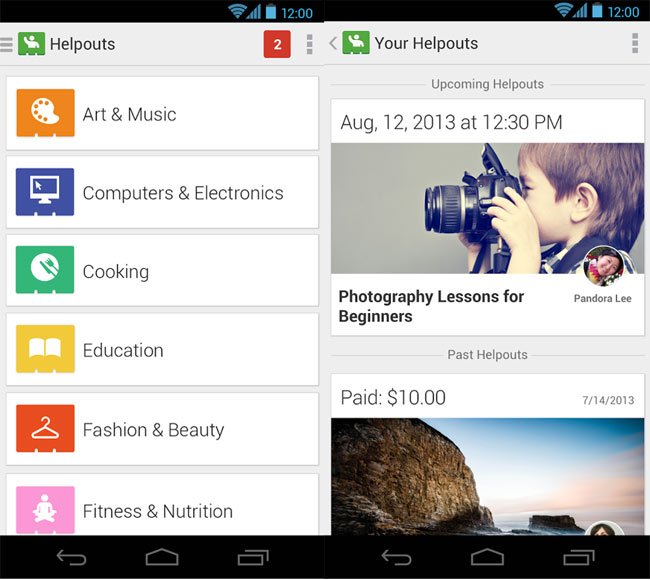 If you're not satisfied with the answer to your problem, or it doesn't work the way it's supposed to, don't worry, Google ensures 100% money back guarantee with this app. You can also schedule Helpouts to be convenient, of course.   Google also allows the use of special promo codes to give you discounts on the lessons, or the video chat with the expert.

You can select experts with qualifications, their availability, their payments, and their ratings and reviews. Helpouts is very efficient as it provides real-time conversations to a human, instead of a silly answer read on the internet. Experts are everywhere, even on Google Helpouts, check it out!
You can pay the experts if they help you, using Google Wallet, another advantage, and easy-to-use features. The Android App is much more simpler to use, it's just a call away!
Download Google Helpouts for Free from the Google Play Store.
Update: The app is not available anymore!
2. Google Cardboard
You all have heard of Oculus Rift, a VR console, which enables the user to experience a 3D world. Well, that's what Google Cardboard does. It is a fold-up piece of cardboard with some components, in which you insert your phone, and the next thing you see through the cardboard is a 3D image of the normal 2D image! This product wasn't a total hit because it required a 'cardboard' device, which one could buy, or make it himself/herself.
There are some applications that take advantage of this amazing feature. YouTube can be used to watch videos on a massive display, on the Google Cardboard. It just feels like you're in a cinema! Google Earth also takes advantage of it! You can fly around the globe with Google Cardboard. Watching Photosphere images has never been so fun! You can watch the PhotoSphere images all around!
There isn't much to write about Google cardboard. That's because you can't explain the experience with words, go get a Cardboard, or simply make one, and download the app!
[googleplay url="https://play.google.com/store/apps/details?id=com.google.samples.apps.cardboarddemo"]
3. Google Snapseed
Every awesome Android developer has at least one image/video editing application for Android. With which you can almost edit everything, and feels like you're a professional. Google Snapseed, is also an awesome image editing application by Google.inc. This application wasn't too hyped, so it didn't make to most of the Android user's devices yet. But, this application comes into our list, so you will now know that Google Snapseed isn't after all joking about its unique editing features. Let's get into more detail.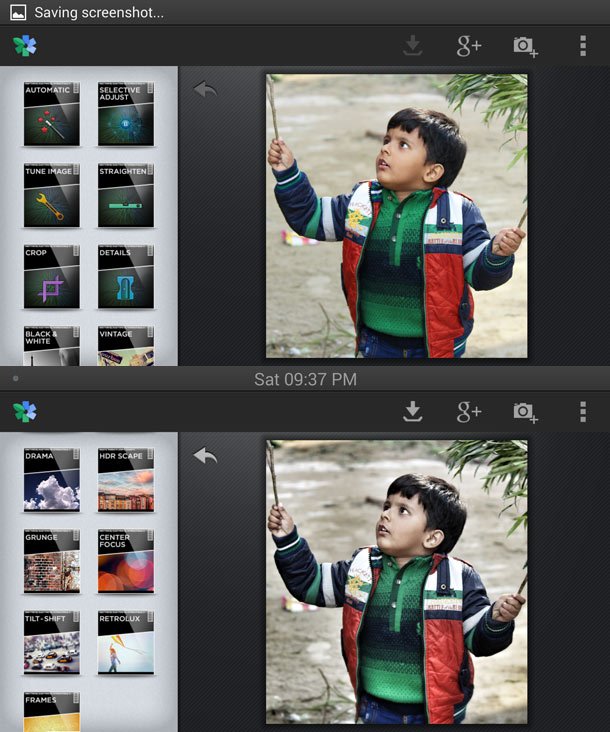 Editing your messed up image with Google Snapseed? No worries, with the one-tap auto-correct feature, it doesn't get any easier than this. The Tune Image feature also enhances and tunes your image, to make it like a professional one. Ever wished you could've focused on the right object while taking the image you love? Worry not, the selective adjust feature will do it for you, just select the area you want to be highlighted, or focused, and your image will be given a new look! A ton of filters are available in this application for free. Just have fun applying them, and change the total perspective of your image!
Google Snapseed didn't make that much audience because of its limitations, it only supported Android 4.0, Ice Cream Sandwich and above, and also because of the fact that it only supported JPEG images. But, leaving these drawbacks, Google Snapseed is a hell of a Image editing application! So make sure you try this free app out!
[googleplay url="https://play.google.com/store/apps/details?id=com.niksoftware.snapseed"]
4. Google Lens
You all must have had this experience where you see something famous, something you don't remember, and try to break your heads down to remember the name of the product. Well, Google Goggles does that. With Google Lens, searching over information from an image has never been so fun! Just take out your device, launch Google Google Lens, take the picture of the object whatsoever, and voila! You have the information about the object in detail. The amazing part is that this application can read a number of languages, including English, French, German, and Italian. Let's get into some detail with this app too.
With GoogleLens, you can scan barcodes of products to get information about them. Scanning QR codes through this application is also supported, especially when you're in need! You can take images of the famous landmarks and let Google Lens do the job of finding valuable information about it! You can even take images of a text written in different language, and translate it to your language, with Google Lens. Or you can even scan business cards, and add that person to your contact list! More fun, you can even solve Sudoku puzzles with Google Lens.
So, after all Google Lens isn't that bad at all, it just wasn't hyped too well! It can be used in a ton of ways to provide the user with information. Make sure you download this free application.
[googleplay url="https://play.google.com/store/apps/details?id=com.google.ar.lens"]
5. Google Gesture Search
This application made by Google is of so much use, you can't even express it! Ever felt that you wanted to launch an app just by a tap, or a gesture, instead of surfing through your device, and finding that app? Well, Google Gesture Search does that for you. Just launch the application, and draw a gesture, say the letter 'D' or even draw a straight line to launch, say WhatsApp. There sin't much to say about this application, because it does what it says. Google Gesture Search can be used to search for contacts, messages, applications, games and even some system applications like clock, calculator, and Email.  You can even search for your beloved music with this application!
With this amazing utility application, you can launch apps in a go! Make sure you check it out!
Update: The app is not available anymore.
So, this was the article, hope you all enjoyed reading it! Make sure you check out the applications, because they are very useful, which may make your daily life easier!